"From House Girl to Being Celebrated Worldwide ": Nigerian Lady Who Never Gave Up Despite Challenges Makes it
A Nigerian lady who grew up as a house-girl for her relatives and reunited with her biological family at age 19 shares story
Her childhood experiences inspired her to pursue public policy, development cooperation and social inclusion in various African countries
She obtained her master's degree in Development Management from Ruhr University Bochum, Germany, with a DAAD scholarship
Chimezie Anajama, a Nigerian lady has shared her inspiring story which documented how she rose from grass to grace.
She was given away as a child and grew up as a house-girl for her relatives, who paid for her public primary and secondary education.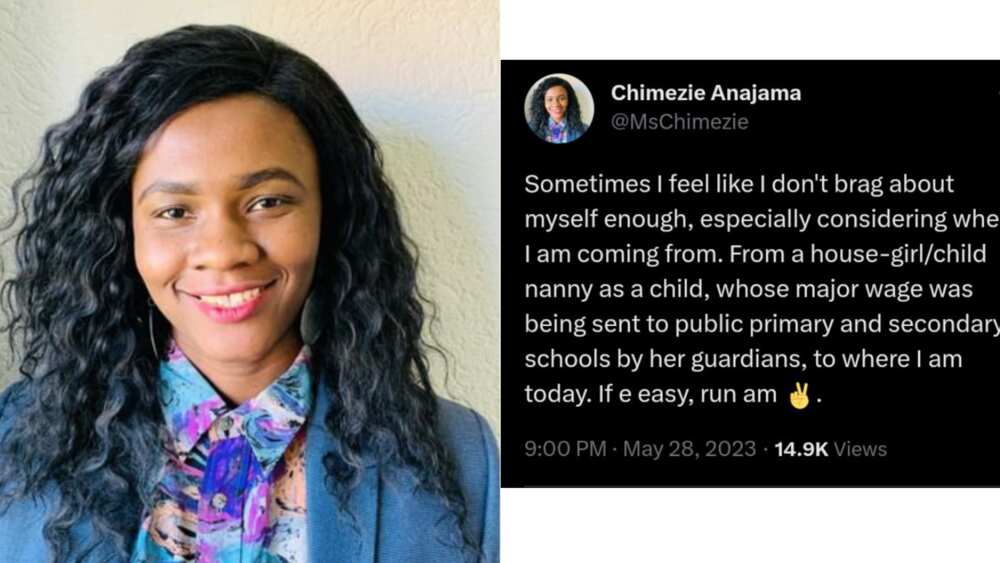 Eldest among children
She is the second eldest of five children and did not reunite with her biological family until she entered university at age 19.
Her childhood experiences shaped her career choice and influenced her decisions.
She developed a passion for public policy, development cooperation and social inclusion, especially in the areas of social protection, governance, extractive, taxation and education.
DAAD Scholar
She has over five years of knowledge and practice in development cooperation, public policy, economic and social sector development in Nigeria, South Africa, Uganda and Germany.
She pursued her master's degree in Development Management at the Institute of Development Research and Development Policy, Ruhr University Bochum, Germany, with a scholarship from the German Academic Exchange Service (DAAD).
She also received political economy and public policy trainings at Mercatus Centre, USA. She was a 2020 tax justice trainee of Tax Justice Network Africa, Kenya.
Research on urban poverty
For her master's thesis, she researched the intersection of cash transfer, food security and urban poverty in Sub-Saharan Africa.
She is also a Mandela Rhodes Scholar for 2019, a prestigious scholarship that recognises young African leaders who have demonstrated academic excellence, leadership potential and commitment to reconciliation.
Chimezie Anajama is an inspiring example of someone who has risen from humble beginnings to achieve remarkable success in her field.
She is not afraid to brag about herself and her achievements, especially considering where she is coming from.
She hopes to inspire others to pursue their dreams and make positive impacts in their societies.
Anajama told Legit.ng that the secret to her success is rooted in self-determination.
She said:
"The secret to my success is that I merged my passion and purpose to my profession and believe me, that was the biggest driver that I needed and I also enjoy this. So I started from junior secondary school to study myself and things that excite me."
She advices young people to continue giving their best:
"Never never never give up. Even when you fail and fail, you just keep trying and showing up. That is where consistency comes in. Know what you want and how to reach it. Understand the gaps you have and how to close them. I am also learning about myself. In every stage of your career, you have to keep reflecting on this."
Nigerian lady becomes successful, makes her first N5m within 1 year of selling clothes
In a related story, Legit.ng reported that a beautiful Nigerian lady, @queen_rutiee, who sells clothes has gone online to show that within one year of running her small business, she made her first N5 million.
Making a video of her success, the lady shared screen recording of some of her transactions in her bank app.
A part of the clip also has her filming bags of clothes she has for sale. The business lady added that she would be celebrating her first year as an entrepreneur very soon.
Source: Legit.ng