Nigerian Woman Kicked Out of Air Peace Airline in Abuja for Treating Air Hostess Badly, Video Trends
A disturbing video of a Nigerian woman getting kicked off an aeroplane has gone viral on several social media platforms
The woman was reportedly sent out of the aeroplane because she was rude and disrespectful to an air hostess
While the woman was getting kicked out, some passengers in the aeroplane criticised the woman and condemned her action
Air Peace Airlines in Abuja witnessed a dramatic scene after an unruly passenger showed off her uncultured side.
The passenger, who was a woman, was accused of being disrespectful to an air hostess.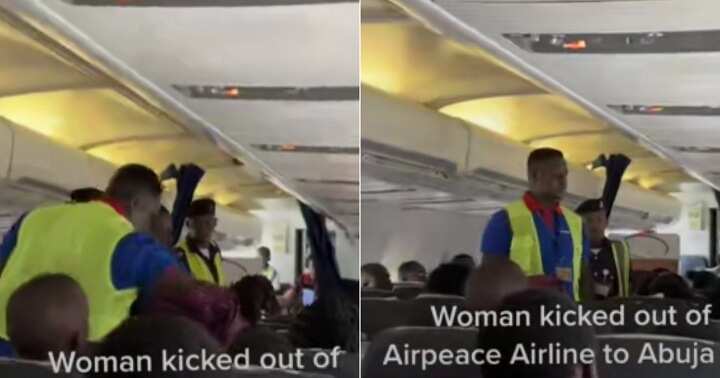 The altercation was not shown on camera, but other passengers on the aeroplane recorded the aftermath.
The flight was grounded to a halt as a result. Airport orderlies and security were called to escort the woman off the plane.
The entire ordeal caused a delay for other passengers, who were heard sighing and aggressively expressing their displeasure.
The woman in question was unwilling to leave the flight calmly and argued with the security personnel.
A particular passenger was recorded using foul and vulgar words to express his opinions, much to the disgust and discomfort of the other passengers who were already having a hard time due to the delayed flight.
Social media reactions
@el4president wrote:
"Quick question: For equity sake, if the tables were turned, who will kick out the hostess?"
@legendqueen23 said:
"That man suppose follow suit..he's more of nuisance too."
@chioma4eva commented:
"That uncle needs to be chastised too for being uncivilized and vulgar causing public nuisance with his foul language with his ABA made phonetic accent. I wonder what the older woman did. She does not seem troublesome, maybe a misunderstanding of sort."
@declutterland said:
"Whose father is wearing Fulani herdsmen hat? I don't support disrespect but the man talks too much."
@chidinmaval said:
"Omo that man, your wife for house de try. Cus obviously you too no get manners. Imagine saying her stupidity is delaying you, flight you know de sure say you go land safely. You are not the only one there."
@jimiolufemi wrote:
"When you travel by air, before and after you board, don't be disrespectful to anyone. When they decide to take you off the flight or stop you from boarding, you will be the ultimate loser."
@sansabankz said:
"Will they refund her? Pls someone should reply."
@naija.bakers commented:
"Just follow the gaddem rules. Rules are made for a reason. If she was right, some people would have stood up for her even though Nigerians hardly do in public transport. It is well."
@fabowalebolajielijah wrote:
"Unruly passengers can be so frustrating. Most of them will be forming. I just came back from the state, they don't do that in America like WF! They don't even know nothing about conventions which determines security measures for different countries. Removal of shoes is as a result of Abdulmutalab, one shoe bomber some years back at the murtala international airport which spoilt the image of the country."
@chikashalon wrote:
"Oga first you wear woman cap secondly is the woman your ex bcos you take it so personal even the foul language you are using is very irresponsible of you. I pity your wife at home from the way you talk you don't have joy."
@omb_b commented:
"I hate when men disrespect women... The man shouting behind needs help."
@jojocollections7 said:
"But their workers and hostess can insult you and go scott free?"
@wesiwe72 commented:
"All the ladies here were only against the man, only men were trying to go by the fact, Nigeria politics."
Watch the video below:
Woman arrested for attempting to open door of aeroplane
Meanwhile, Legit.ng previously reported that a 34-year-old woman, Elom Agbegninou, has gone viral following her scary attempt to open the door of an aeroplane mid-flight. The young woman who boarded Southwest Airlines was arrested after she attempted to force open the door at 37,000 feet (11.2km).
During the flight, Elom forced her way to the plane's rear door, and in process of trying to open the emergency door mid-flight, she bit the inner thigh of another passenger. The flight attendants spotted her standing at the back of the plane staring at the door, and they ordered her to use the bathroom or sit down. She asked to look out the back door window but got negative feedback.
However, instead of going to her seat, she walked past the flight attendant and tried to open the door. Some passengers noticed she was trying to open the door and rushed to restrain her, but she reacted by allegedly biting them continuously on the inner thigh, The Independent reports.
Source: Legit.ng