"They Want to Kill Me": Nigerian Lady Shows Charms Removed From Her Body After She Visited Her Village
A Nigerian lady has taken to social media to show netizens what was removed from her body after she visited her village
She revealed that in her hometown, there is a kind of charm evil people make against people that makes them fall ill suddenly
Displaying the pins, she said that it was not the first time and wondered why "they" wanted her dead
A Nigerian lady has caused a stir on social media as she showcased the six pins removed from different parts of her body.
In a now-deleted TikTok video, reposted by @lindaikejiblogofficial on Instagram, the lady claimed that the pins were removed from her mammary glands, legs, eyes and abdomen by a native doctor.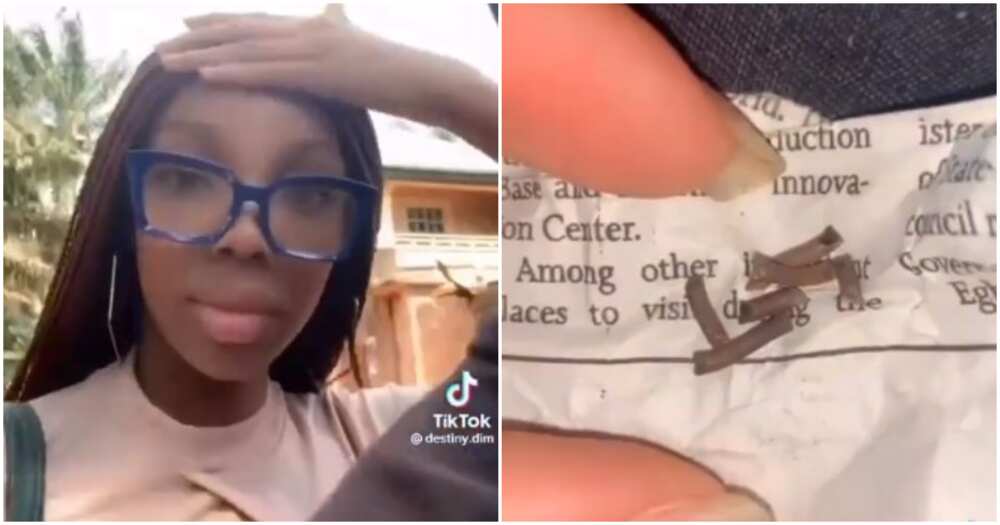 According to her, it was not a surprise as it was not the first time such a thing would happen to her.
She narrated that in her village, there is a charm people do that leaves others sick without them knowing it. She said it involves the use of pins.
In the video, she took a bike to the native doctor's place, where she was stripped naked while the pin-removal exercise was done.
She wondered who wanted her dead and said she only stayed in the village for a few days.
Watch the video below:
Social media reactions
@joejoe.ugwoma said:
"What believes can take a beautiful girl like this to....hmmmmm and once you start seeking help from them, sorry; you and your generations are nolonger serve. May Him that created us be all we need to live. Amen."
@sagebillion_zz said:
"I do not think those things are real. The native doctors play on the intelligence of the so called victim. I had an aunty that died of cancer at some point when she was taken to the native doctor they removed the so called pin, all to no avail just to find out later through proper diagnoses she had bre*ast cancer. Is very unfortunate!"
@adiman_galadima said:
"The Native arrow might be real to some people but u see those things they remove from ur body, it's pure magic. Those are not the arrow, they just want to convince u with that stuff. Thank God u are fine."
@angelicnature4me said:
"Fine girl like you with good English command you still dey believe this kind thing?????? U need Jesus number 1, then the earlier you stop thinking anybody is doing you d better for you.... 3, as young as you are u don dey patronise native doctor so tey u b customer wahala really dey.... From removing things from your body to baba help me tie one man.... Be really careful on the path u are taking seriously....."
@vivianlam_glamour said:
"And the village people joined the Whatspp group nodding their heads in 3D screen…. Everything now is a content."
Man shows charms he found in a newly rented apartment
Meanwhile, Legit.ng previously reported that a Nigerian man had showcased charms he found in a newly rented apartment in Lagos.
The young man, identified as Elkros on Twitter, said he rented space but wanted to change how the floor was, so he broke the tiles to renovate the place.
During the renovation, the workers found charms buried underneath the broken tiles.
"Took a space in Lagos recently, didn't like the flooring, so I decided to break the tiles and add flooring amongst the renovation I was doing there. My tiler sent me these images yesterday. Said he found them buried under the tiles," he tweeted.
Source: Legit.ng