Yasmine Bleeth is among one of the most luxuriant actresses to hit the limelight in the early '90s. Her curvaceous figure and breathless voice made her stand out from other actresses. If anyone was looking to hire a beautiful model and actress, she was the to-go-to lady. Her beauty could be used as the gauge of gorgeousness. She became even more famous after her appearance in the famous movie, Baywatch. She featured in so many other films and soap operas, and her acting career seemed to be on the rise.
In this article, you will get a comprehensive insight on the famous Baywatch character Yasmine Bleeth, her journey as an actress then and now, her age, her net worth, and perhaps the answer most fans have been waiting for; who is her husband?
READ ALSO: Martin Lawrence net worth, age, height, wife, death rumors
Who is Yasmine Bleeth?
Yasmine Amanda Bleeth is one of the most iconic and luxuriant actresses in America. Most people know her as Yasmine Bleeth. She was born in the United States in New York City. She is the daughter of an outstanding model by the name Carina Bleeth, and a business proprietor called Phillip Bleeth. The father; Phillip Bleeth is of German-Jewish and Russian-Jewish descent. On the other hand, the mother; Carina Bleeth was of Algerian and French descent. These diverse descents of her parents bring about her mixed ethnic background.
Bleeth attended the United Nations International School in New York as a child. Her career in the limelight revealed itself in her young age. Just when she was ten months old, she featured in a baby shampoo television commercial for Johnson & Johnson's No More Tears. This opportunity opened more doors because when she was six years old, she appeared on Candid Camera.These filmography opportunities had just begun. This is because later that year she was featured in a cosmetic advertising campaign alongside the amazing model Cristina Ferrare.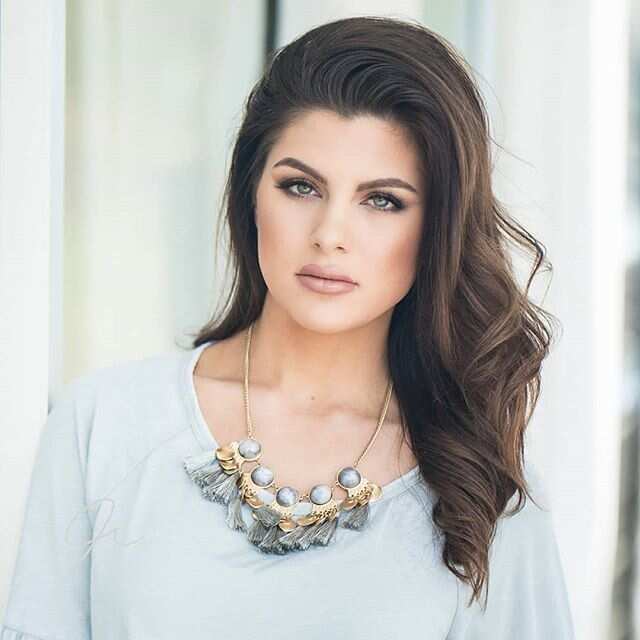 Yasmine Bleeth young's career was definitely picking up, and at a first rate. Just after doing the cosmetic advertising campaign with Cristina Ferrare, she caught the attention of one of the most iconic fashion photographers by the name Francesco Scavullo. Scavullo eventually included the model and her mother in his book called Scavullo Women. Such recognition was very significant, mainly because she wanted to be an actress.
Yasmine Bleeth's acting career
Her breakthrough in acting came when she was just 12 years old.At this young age, she landed her first cast role in the film called Hey Babe! She worked alongside Buddy Hackett in the film. Upon turning 16, she began appearing in the daytime television soap opera by the name Ryan's Hope. It seemed she was doing an impressive job in acting and producers were taking note. However, in 1989, this show was canceled. Even sadder was the fact that in that same year, Bleeth's mother passed away at the age of 47 due to inflammatory breast cancer.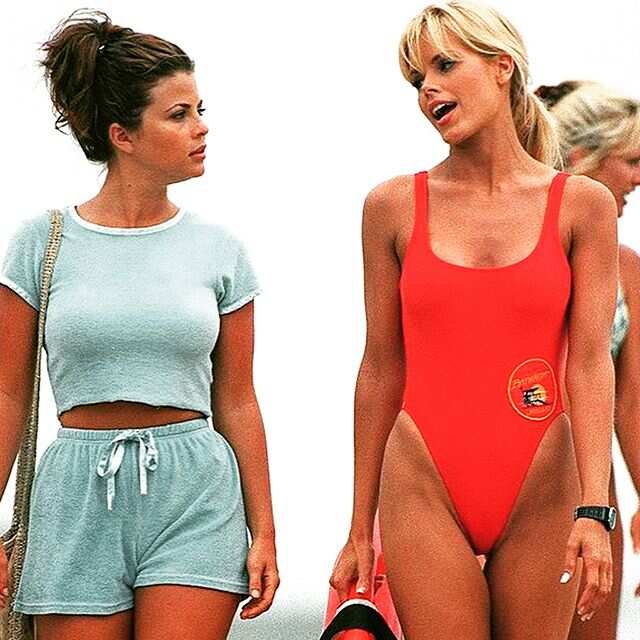 During this grief period, the beauty turned down all the acting opportunities that she acquired. However, eight months after her mother's death, she went back to acting. She won the role of LeeAnn Demerest on One Life to Live, which was a daytime soap opera.Perhaps the most iconic moment in Bleeth's acting career was when she landed a role in the 1993 movie Baywatch.This was one of the movie hits during this period. She was to act as Caroline Holden.
READ ALSO: Mozhan Marnò bio: age, height, measurements, partner and hot photos
In the movie, Yasmine portrayed the role of a hot lifeguard. She got to work alongside famous actors such as David Hasselhoff and Pamela Anderson. Yasmine Bleeth Baywatch role brought her so much attention, such that in 1995, she was recognized by People Magazine among the 50 Most Beautiful People.Even more outstanding, was the fact that between 1996 and 2001, she was among FHM's 100 Sexiest Women in the World.
This was just the start of her stardom because between 2000 and 2003, she was also featured in FHM's U.S. 100 Sexiest Women in each year. Due to this enormous recognition, Bleeth landed multiple acting roles both in films and television.She acquired the acting role of Heather Lane-Williams in the 2000 movie called Titans, and the acting part of Alexia Forman in the 2000 movie called Hidden War.Despite her television career, she was also a model. She ventured into swimwear modeling, making her start her swimwear line called Yaz wear.
How old is Yasmine Bleeth?
Due to her venture in the acting world at quite a young age, it is quite common for fans to speculate about her age. This gorgeous lady was born on June 14, 1968, in New York City.Therefore, as of October 2019, Yasmine Bleeth age will be 51.
Who is the husband of Yasmine Bleeth?
Although most actresses shy away from exposing their spouses or the stories of how they met to the limelight, Yasmine, however, does not seem to shy.During her voluntary stay at the Malibu-based Rehabilitation Clinic in December 2000, she met her husband, Paul Cerrito. Cerrito was a strip club owner. She once commented that it was love at first sight when she saw her future husband. Yasmine Bleeth husband Cerrito was also enrolled in the program in Malibu. On August 25, 2002, Bleeth and Cerrito tied the knot in Santa Barbara, California.
Where is Yasmine Bleeth today?
There have been a lot of questions online regarding Yasmine Bleeth then and now. Most of her fans want to know where Yasmine Bleeth now is. Her career seemed to hit rock bottom on September 12, 2001, when she was pulled over and caught in possession of four syringes with an injectable type of cocaine, and a plastic bag containing cocaine residue.She was arrested and later sentenced to two years probation due to possession of cocaine, and 100 hours of community service. She was also required to pay court fines and undergo regular drug tests.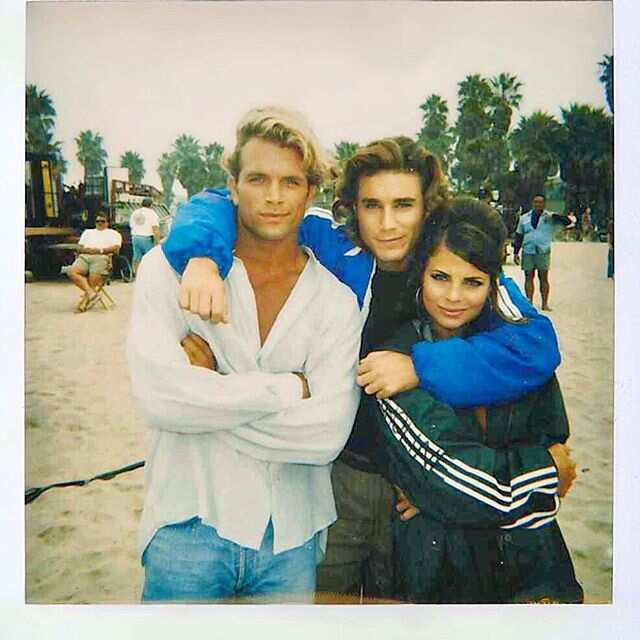 There are notable changes in the physique of Yasmine Bleeth now and then when she featured in the breathtaking movie Baywatch. Yasmine Bleeth 2019 seems to have added a few extra pounds. In the film Baywatch, the model who acted as Caroline Holden had a great figure that most women were dying for. However, in a recent photo taken of Bleeth, there seem to be significant changes in her personality.
Yasmine Bleeth net worth
Despite not being so active in the limelight, the earnings of this actress do not seem to be affected whatsoever. Her estimated net worth is $2 million. This figure is believed to be accumulative of the projects that she participated in prior to her career hitting rock bottom. More so, this figure is also thought to include the earnings Bleeth acquired from the sales she acquired in her swimwear line called Yaz wear.
Due to her cocaine addiction and arrest, Yasmine Bleeth seems to have had major setbacks in her acting career.She appears to have lost the buxom figure that made her make many headlines and receive so much attention in the movie Baywatch. Similarly, after her arrest on September 12, 2001, there seem to be no confirmations regarding any role she has landed to act in any movie or soap opera. Fans cannot help but wonder where the acting career of this once highly recognized model is headed.
READ ALSO: Athlean X guy Jeff Cavaliere biography: age, height, weight, net worth, wife, family