Small Girl, Big Dreams: Meet 18-Year-Old 100Level OAU Female Student with 121 Certifications, Badges & Honours
Young Ogunkeyede Opemipo Grace is the perfect poster girl for the word 'whizkid.'
At only just 18, the brilliant young adult has amassed over 100 certifications, badges and honours from reputable organisations such as the World Health Organisation (WHO) and the US Institute of Peace.
The microbiology student of Obafemi Awolowo University, Ile-Ife (OAU) started acquiring these certifications during her unintentional education hiatus.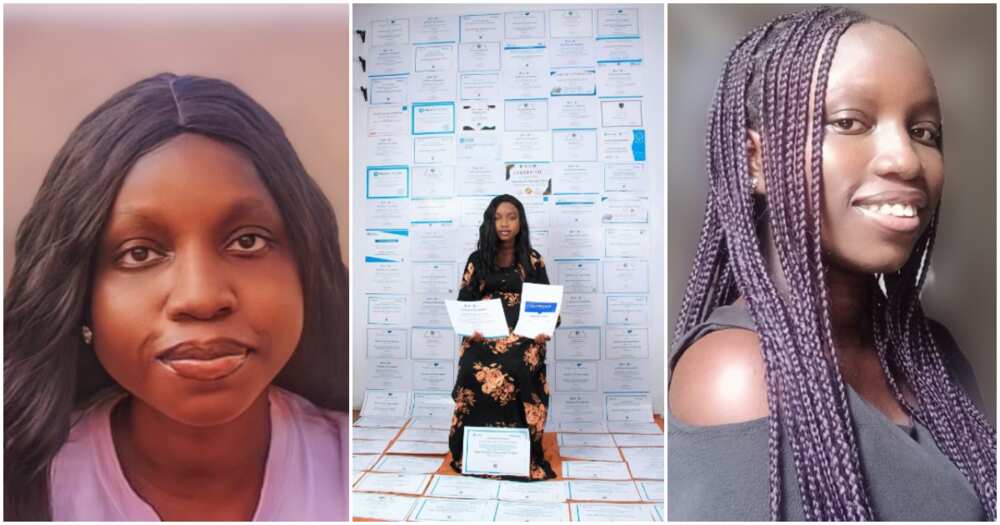 In this exclusive interview with Legit.ng's Victor Duru, the brainy scholar bares it all on how it all started and what inspired her certifications pursuit.
Opemipo had an 'interesting' primary education
In a photo and clip shared on her Twitter handle, Opemipo is surrounded by all her certifications.
PAY ATTENTION: Сheck out news that is picked exactly for YOU ➡️ find the "Recommended for you" block on the home page and enjoy!
As if her acquisition of more than 100 certifications is not mind-boggling enough, Opemipo's primary school education was a stunning experience.
The 18-year-old told Legit.ng that she got double and triple promotions in primary school due to her brilliance and outstanding performance.
"My primary school education was accelerated due to double and triple promotions I received based on my brilliance and outstanding performance in the common entrance examination. I come from a close-knit family who have always encouraged and supported me in my endeavours. I strive to make them proud every day."
Opemipo graduated from secondary school at the age of 14 but became a victim of circumstance.
Opemipo stayed at home for 4 years
Opemipo's high-flying primary and secondary education experienced a setback. It was as if fate had other plans as the Osun state indigene would remain at home for four years because her parents lacked the financial wherewithal for her university education.
In her words:
"I graduated from senior secondary school at age 14, but due to financial challenges, I wasn't able to further my education until I was 18."
Opemipo made lemonade out of lemons
Instead of staying idle while hoping to kickstart her university education one day, Opemipo decided to make lemonade from the lemons life gave her.
According to her, she began to acquire digital and soft skills while staying at home.
"During that time (period she was at home), I self-taught myself 19+ skills (digital and soft skills), including video animation, audio editing, graphic design, brand identity design, photo restoration, and video/photo editing by researching online and watching videos," she said.
How Opemipo began to acquire certifications
When asked how it all started, Opemipo opened up that it all started from an online course that caught her attention.
From that online course, her thirst and desire to increase her skills and expand her knowledge increased and there was no looking back for the young lady.
"It all started with a chance encounter with an online course that piqued her interest, setting her on a path of self-discovery and learning. Determined to expand her knowledge and skills, Opemipo actively sought out more courses and opportunities, resulting in the remarkable collection of certifications she has today.
"From certificates of achievement, records of achievement, certificates of participation, International Organization membership certificates, to certificates of honour and recognition."
She has certifications from WHO and other globally recognised organisations.
"I have been recognized for my achievements beyond my years and was featured in The African Future Leadership Magazine to have earned 121 certifications, badges, and honors from International organizations such as the World Health Organization (WHO), UNICEF, Asian Development Bank Institute (ADBI), HONOR Society, US Institute of Peace, and Young African Leaders Initiative (YALI), among others."
How Opemipo's parents reacted to her quest for certifications
While expressing joy in her achievements so far, Opemipo said her parents were her biggest cheerleaders.
She said they were proud when they learnt of her 121 certifications and noted that they never doubted her abilities for once.
She said:
"My parents were thrilled and immensely proud when they learned of my achievement in obtaining 121 certifications. They have always encouraged me to pursue my interests and aim for self-improvement, and this was no exception.
"They saw the dedication and hard work that went into obtaining each and every certification, and were impressed by the recognition and opportunities that came with having such a diverse range of certifications."
Continuing, she added:
"Throughout my journey, my parents were my biggest cheerleaders, offering their encouragement and support whenever I needed it. They never once doubted my abilities and always believed in me, which gave me the confidence to push through the challenges and persevere.
"I am truly grateful for their love and support, and their unwavering belief in me. I know that I would not have been able to accomplish this without their encouragement and belief in me, and I am proud to share this achievement with them."
Opemipo speaks on the gains of having 121 certifications
The 100 level student said that having over 100 certifications gives her a sense of self-achievement and personal satisfaction. She shared the other benefits of having certifications in different fields.
Her words:
"In addition to the personal satisfaction that I have experienced as a result of obtaining these certifications, I have also received recognition and accolades from my peers and superiors, people I look up to. This recognition has further motivated me to continue pursuing new certifications and expanding my range.
"The certifications have provided me with a sense of self-achievement. Earning each certification has taken dedication, hard work, and a commitment to continuous learning, and it is rewarding to see my efforts pay off."
OAU 3rd class graduate bags first-class abroad
Meanwhile, Legit.ng previously reported that an OAU 3rd class graduate had acquired a first-class degree from a UK varsity.
In a tweet he made on Friday, December 9, Ibukun Mofesola made it known that he previously bagged a 3rd class degree from the Obafemi Awolowo University, Ile-Ife.
While he studied Electronics and Electrical Engineering at OAU, he majored in Computer Science at the University of Hertfordshire. Both degrees are BSc. and this has made many wonder what changed in his academic career. Ibukun wrote while sharing the story:
"Yesterday, 10 years after finishing with a third class from OAU, I graduated from @UniofHerts with a first class in Computer Science. What did they say about what God cannot do again?"
Source: Legit.ng