Nigerian Bikers in Organised Fashion Storm Seme Border as they Welcomed UK-Lagos Biker like a King in Video
Ordinary Nigerians weren't the only persons who anticipated the return of Kunle Adeyanju, a motorcycle group in the country also did
Led by their president identified as Kayode Palmer, the bikers stormed the Seme border to give Kunle a kingly welcome into the country
The President of Bikers with Attitude and Determination, Kayode Kosile-Palmer, has explained how interested Nigerian bikers can be a part of their group
Author and entrepreneur Kunle Adeyanju made history as he completed his self-chosen quest to ride from London to Lagos via a motorbike.
In the afternoon of Sunday, May 29, he entered the country via the Seme border and was treated to a king-like welcome by a Nigerian motorcycle group.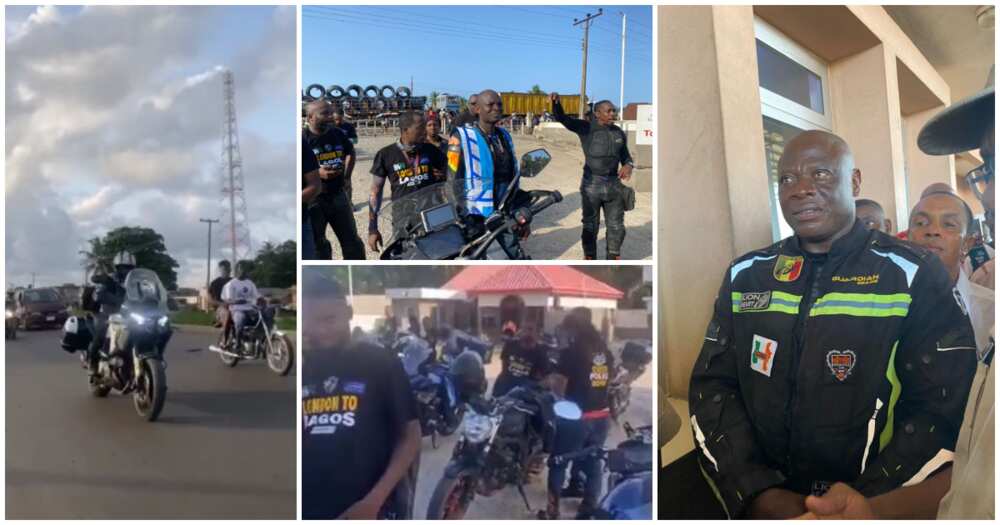 Bikers with Attitude and Determination, a registered group comprising of men and women were ably led by their president, Kayode Palmer.
Kayode led other bikers as he rode his FRSS marshal bike.
PAY ATTENTION: Follow us on Instagram - get the most important news directly in your favourite app!
The group intimated the public about their move via a tweet that was accompanied with a video.
The tweet reads:
"Today we joined other bikers in Nigeria at the Seme border to welcome and accompany @lionheart1759 in Nigeria Our President, @kaypaluk is seen taking the lead from this angle, in his @FRSCNigeria marshal bib.
"#EndPolio #LondonToLagos."
Palmer speaks on why they gave Kunle a king's welcome
Speaking with Legit.ng's Victor Duru, the President of Bikers with Attitude and Determination Kayode Kosile-Palmer described their motive for welcoming Kunle in a grand style with two words - motorcycle and charity.
He explained that his motorcycle group comprises riders that are charity-minded. And so seeing one of them (Kunle) achieve such a feat for charity deserved nothing short of a grand welcome.
"To give a better context – The Bikers with Attitude and Determination is a group made up of motorcycle riders with focus on charity. In the past we have partnered with several charity organisations to promote and support their activities and objectives and we have also rolled out a number of such – recently we helped a hospice raise funds to renovate their home in Mowe.
"So seeing one of us, embark on such journey primarily for a charity cause is indeed a worthy cause and should receive nothing less than a grand welcoming. From my experience riding, I can tell you for free, that it is not an easy task and not cheap. So he deserves such welcome,'' he said.
Palmer says Kunle's adventure is an inspiring one
On his reaction to Kunle's historic bike journey, Palmer thought it is inspiring. He added that Kunle's feat aside from helping the charity purpose it was intended for has also put the Nigerian biking community on the world map.
"It is indeed a courageous and an inspiring adventure. Like I said earlier, I can partly relate to what he would have experienced haven ridden to a number of states in Nigeria and Republic of Benin. Asides from being able to promote the #EndPolioNow campaign he has also indirectly put the Nigerian Biking community on the map."
Palmer spells out how one can join the Nigerian bikers' group
Palmer spelt out how prospective riders can join the country's bikers' group. He said:
"The Bikers with Attitude and Determination is open to all who meet the following criteria:
"-Be above 18 years of age.
"-Know how to ride a motorcycle or graduated from a motorcycle school.
"-Own a motorcycle that is above 250CC.
"Once these criteria are met, he/she can send us an email of expression of interest via info@bgnigeria.com.
"Upon receipt, a representative would further engage the applicant and invite him/her to our rides and events to better assess the applicant. Further to the assessment, If the applicant meets the requirement, he/she would be required to pay a one-time membership fee."
Watch the video below:
Social media reactions
@SirLeoBDasilva said:
"Love this community."
@GGH_007 said:
"Very cool community."
@patodeyhere said:
"He made it!! .. This is exciting to watch."
@Chiora__ said:
"Bikers community will always have my heart!!!!!! I really wish I could ride ."
Zenab, pretty Ivorian lady who supports Kunle arrives Lagos for him
Meanwhile, Legit.ng previously reported that a pretty Ivorian lady who has been supporting the London to Lagos biker had arrived in Nigeria for him.
Kunle had earlier confirmed to Legit.ng that Zenab would arrive via a flight to receive him and she did just that, as seen in a video she shared on her Twitter handle.
Kunle met Zenab in Cote D'Ivoire in the course of his bike trip and she blew him away with a charity support of $1, 000 (N415k) which sent social media into a frenzy after he announced it on Twitter.
Source: Legit.ng