EXPOSED: Top Abuja Cleric Reveals Why Other Pastors Are Angry With Oyedepo, Adeboye, Kumuyi
Nigerians have been warned against some pastors who are envious and jealous of their colleagues in the Christian faith
The warning was issued to citizens by the founder of the Dunamis International Gospel Centre, Pastor Paul Enenche
According to Enenche, some individuals who call themselves men of God are sowing the seed of hate because they are angry that top clerics like Oyedepo, Adeboye and Kumuiyi are still in the ministry
The senior pastor and founder of the Dunamis International Gospel Centre, Paul Enenche has alleged that some clerics are not happy that some of their top and influential colleagues are still in the ministry.
PM News reports that Eneche said that these pastors across the country are simply angry and envious of the factor that pastor William Kumuyi and Enoch Adeboye and Bishop David Oyedepo are still in ministry and functioning beyond expectations.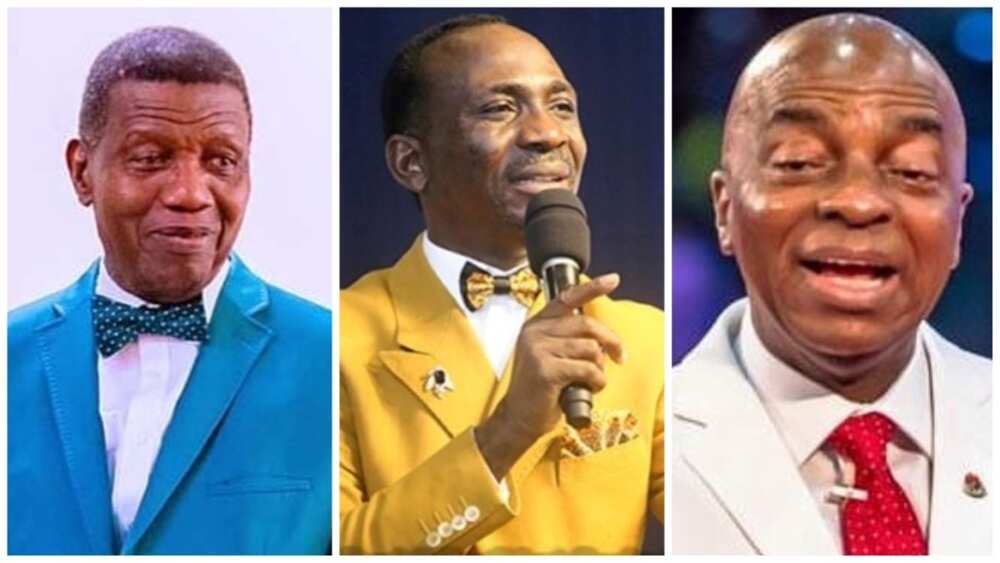 Noting that life works in line with the seed principle, Enenche said that whatever a person reaps is determined by what they sow.
His words:
"As God helps me, I pray consistently and as I am talking now, I am going to intensify it for people ahead of me; Papa Oyedepo, Daddy G.O, Pastor Kumuyi; people that I know in ministry.
"I pray with all my heart. There are those who are angry at where those people are; I have seen some pastors saying, "Oh, what do they want to achieve again? They have already defeated everybody - that is a pastor talking. He has a competitive mentality."
"I say, "Father, may they not sleep until they finish everything You brought them into this world for. Every single deposit in Bishop Oyedepo's life, may it be downloaded. Everything You have in mind for Pastor E. A Adeboye, may one day not be less; may he fulfill all You called him to do."
Sowing seeds that are beneficial
Noting that churches must learn to plant seeds, Enenche also warned against hatred and envy among peers, colleagues and others.
He added:
"Life is so easy; nobody's achievement is stopping your own. Nobody's success is a reason for another person's failure. There are many birds in the sky, all of them are flying and none of them are colliding. When was the last time you heard that two birds collided in the air?
"There are billions of stars in the sky, all of them are shinning. There is no star shinning that dim the shinning of another one. There are many elephants in the forest, they don't run into each other; just 'yeyecious' mentality," he added in a transcript by Church Gist."
Trouble for killers, others in Nigeria as Abuja pastor leads prayers at deliverance crusade
Pastor Paul Enenche had issued a strong warning to killers, armed bandits, and their sponsors scattered all over Nigeria.
The senior pastor of Dunamis International Gospel Centre said the current situation in the country is unprecedented.
According to the pastor during a deliverance crusade, the nation will become the burial ground for these killers and their sponsors alike.
'Don't rig to lead, don't take church, Christians for granted', pastor issues stern warning to politicians
Nigerian politicians have been warned against working against the will of the people before, during and after the 2023 general elections.
This call was made by the senior pastor of the Dunamis International Gospel Centre, Paul Enenche, on Tuesday, July 12.
According to Enenche, leaders who have taken the church and Christians for granted will soon know between them and God who owns the land.
Source: Legit.ng