FirstBank's transfer codes: how to transfer money from FirstBank
FirstBank provides convenient and secure options for transferring funds, allowing you to easily send money to family, friends, or business associates. The FirstBank's transfer code offers a hassle-free way to manage your finances.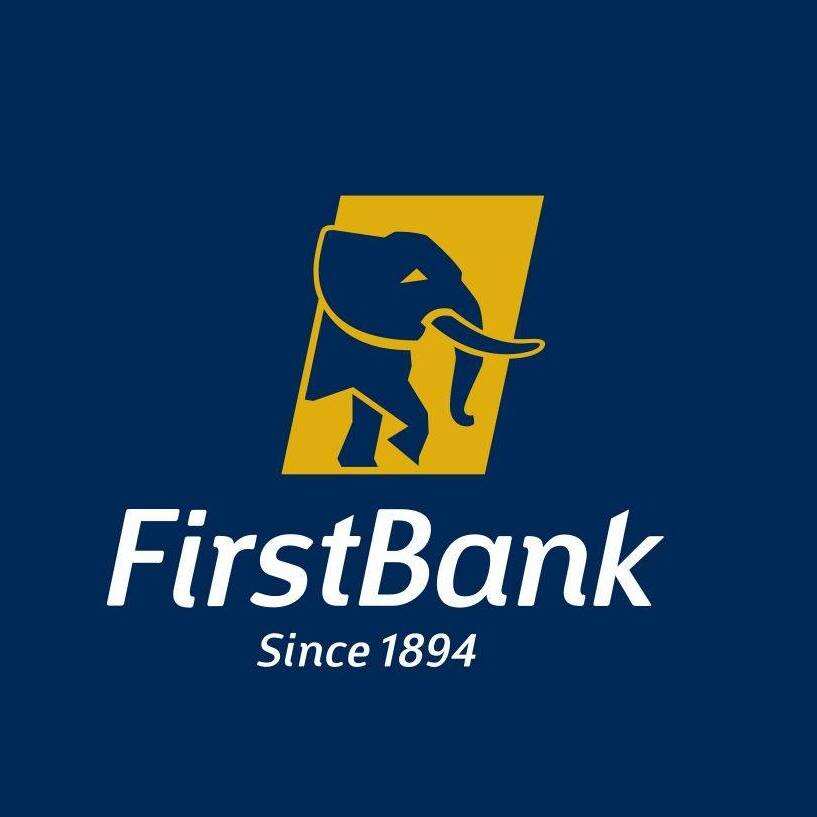 FirstBank is a Nigerian multinational bank based in Lagos, Nigeria. The financial institution offers various financial services, including diaspora banking, personal home loan assets and payment services. Here is the step-by-step procedure if you want to know how to transfer money from FirstBank.
FirstBank's transfer code to other banks
FirstBank, mobile money transfer, is one of the best, fastest, and safest Nigerian mobile banking platforms. You can perform many transactions with its special FirstBank short code *894#.
This code enables you to perform your banking transactions anytime and anywhere conveniently. You can check your account's balance, transfer money from your account to any other (both for the FirstBank and other Nigerian banks), buy credit for your account, etc.
How to use USSD codes for FirstBank
This FirstBank USSD code for transfer enables you to carry out various transactions, including paying bills and funding other accounts. Follow the steps below to use the code.
To make a transfer, ensure you have enough money in your FirstBank account.
Dial *894*amount of money to send*account number#. For example, if you want to transfer N500, dial *894*500*123456789#.
Alternatively:
Dial *894#.
Select "2" to "transfer".
Choose a destination bank.
Enter the recipient's account number
Check the account name of the receiver. It will be displayed for verification purposes.
If it's your first-time transaction, you will be asked to enter a four-digit PIN.
Create a five-digit code to complete the transaction.
Confirm the details of the transaction.
Once you have completed these steps, the money will be transferred to the recipient's account instantly.
NB: Do not forget that you must transfer the money only from the mobile phone linked to your FirstBank account.
How to register FirstBank's transfer code without ATM card or with ATM card
If you want to start using the FirstBank mobile money transfer option, you should have a FirstBank account and mobile number you want to use for the transaction.
This number should be the one you used to open or register with your FirstBank account. Follow the steps below to register a FirstBank account.
Dial *894*0#.
Provide your 10-digit FirstBank account number.
Create a new 5-digit Personal Identification Number.
Now your number is active at the FirstBank USSD Quick Banking Service.
If you want to link an ATM card, follow the steps below.
Dial *894*0#.
A list of debit cards linked to your account will be displayed.
Choose the preferred ATM card you want to use.
You must then put your 4-digit PIN code on your chosen card. Enter the PIN and tap send.
Create a new 5-digit PIN; this PIN will be used to complete or confirm your future transactions.
After that, your mobile line will be activated for the mobile banking service.
More about FirstBank's transfer code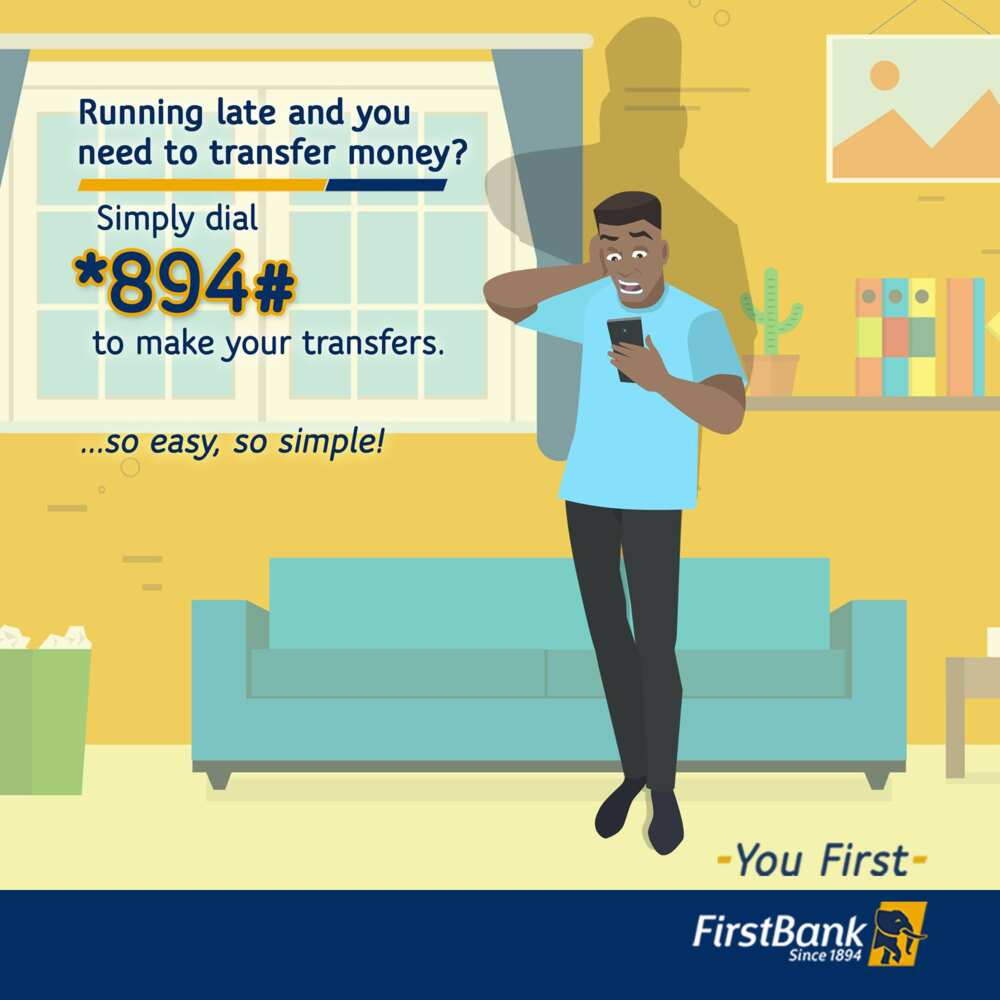 Before utilizing the FirstBank transfer code, there are some important details to consider:
Money transfer: The FirstBank transfer code is specifically designed for sending money. It cannot be used for other banking services.
Availability: The transfer code is accessible 24/7, allowing you to initiate transactions at any time, day or night.
FirstBank account: In order to use the transfer code, you must possess an active FirstBank account.
SIM activation/Linking: The code can only be utilized on SIM cards that have been activated or linked to a FirstBank account.
Data connection not required: Interestingly, the transfer code does not rely on a data connection to send money. It functions independently.
Network compatibility: The FirstBank USSD transfer code is compatible with major networks such as Glo, MTN, Airtel, and 9mobile, ensuring a wide reach for customers across various network providers.
What is the code to buy airtime from FirstBank?
If you intend to buy airtime from FirstBank, dial *894*Amount#. For example, if you want to recharge N1,000 airtime, dial *894*1000#.
What is the FirstBank's transfer code to check balance?
To check your balance, you need to dial *894*00#. You will receive an SMS notification that will show all your account balances.
Note: This service is not offered for free, and there is a fee of N10 each time you check your balance. This amount is deducted from your account as a fee for the service.
Who is the owner of FirstBank in Nigeria?
FBN Holdings PLC, a company with diverse ownership, owns the financial institution. It has over 1.3 million shareholders. The majority shareholder is billionaire Femi Otedola.
How do I contact FirstBank of Nigeria?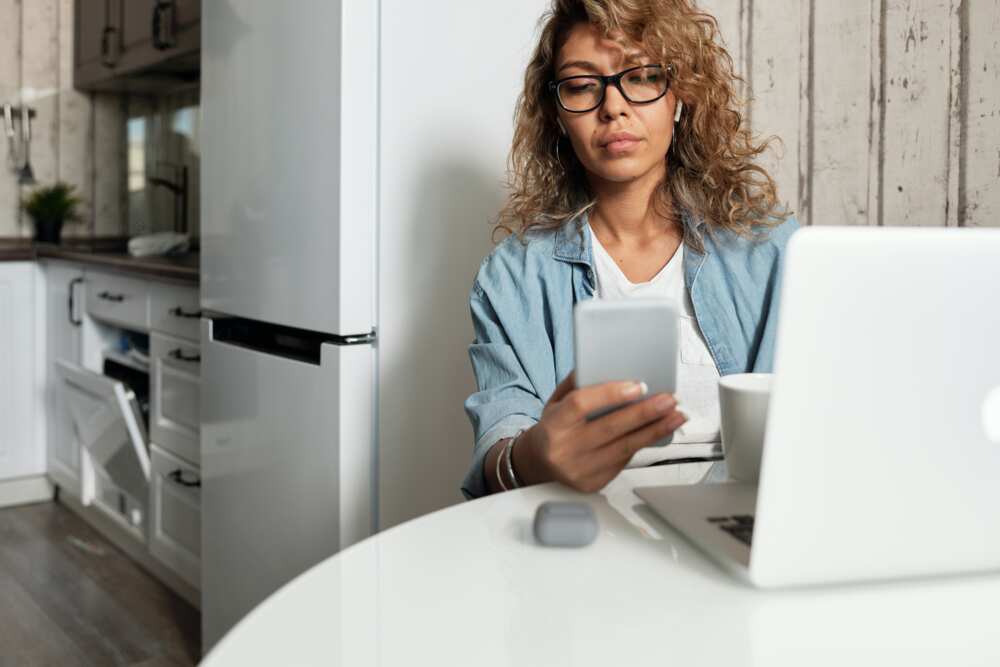 You can contact the financial institution using the details below.
What are some of the FirstBank's USSD transfer codes?
Below is a summary table of all the FirstBank USSD codes you must use for your transactions.
| | |
| --- | --- |
| Function | USSD code |
| To register | *894*0# |
| Airtime recharge for self | *894*Amount# |
| Airtime recharge for others | *894*Amount*Phone Number# |
| For transfer | *894*Amount*Account Number# |
| For mini-statement | *894*Account Number# |
| To check balance | *894*00# |
| For account opening | *894*0# |
| To deactivate your mobile number | *894*911# |
FirstBank's transfer code will save you time and help you to quickly send money to any bank in Nigeria, even without an internet connection. This USSD code guarantees all client's banking operations' speed, convenience and safety. It works on all mobile phones, regardless of operating system.
DISCLAIMER: This article is not sponsored by any third party. It is intended for general informational purposes only and does not address individual circumstances. It is not a substitute for professional advice or help and should not be relied on to make decisions of any kind. Any action you take upon the information presented in this article is strictly at your own risk and responsibility.
Legit.ng published an article about UBA transfer codes. United Bank For Africa (UBA) is one of the largest financial institutions in Nigeria. It provides its customers with a safe, hustle free and affordable way of transacting using USSD codes.
UBA is a leading commercial bank based in Lagos. The institution is keen on providing maximum customer satisfaction through hustle-free financial services. Introducing transfer codes gives customers unrestricted and secure access to their accounts anytime, anywhere, on their mobile phones or computers. This list of UBA transfer codes will make your mobile banking transactions simple and fast.
Source: Legit.ng