Pastor Paul Enenche's biography: best songs, daughters, net worth
Pastor Paul Enenche is a prominent Nigerian pastor, medical doctor, teacher, author, and the founder of Dunamis International Gospel Centre (DIGC). He is well-known for his dynamic and inspirational preaching, and his ministry has gained significant popularity in Nigeria and beyond.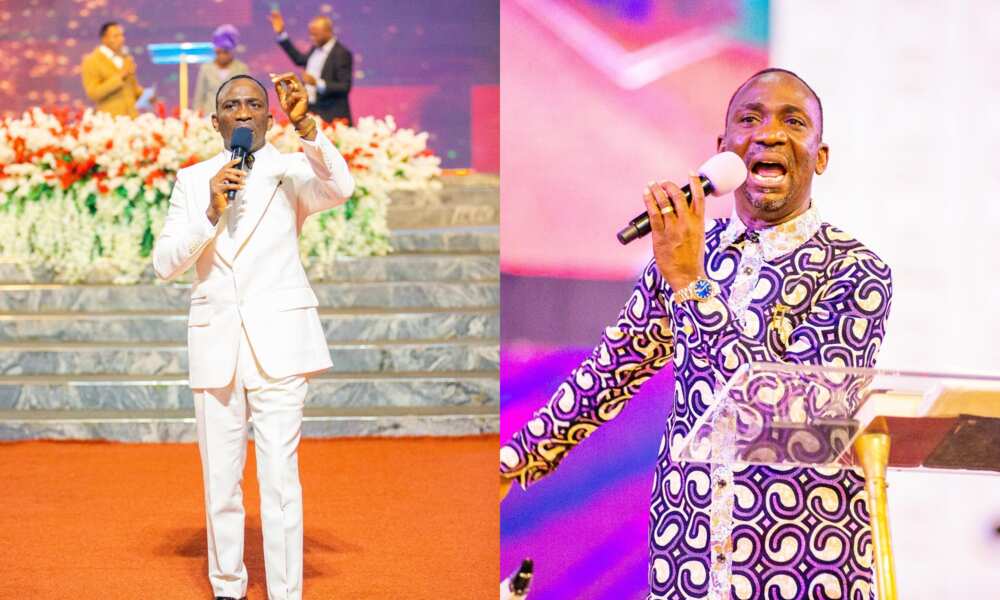 Pastor Paul Enenche, alongside his wife, Dr Becky Enenche, founded Dunamis International Gospel Centre, which has grown into one of the largest churches in Nigeria. The church is headquartered in Abuja.
Profile summary
| | |
| --- | --- |
| Full name | Paul Enenche |
| Gender | Male |
| Date of birth | 4 June 1968 |
| Age | 55 years old (as of 2023) |
| Zodiac sign | Gemini |
| Place of birth | Benue, Nigeria |
| Current residence | Abuja, Nigeria |
| Nationality | Nigerian |
| Religion | Christianity |
| Sexuality | Straight |
| Hair colour | Black |
| Eye colour | Black |
| Mother | Titi Enewa Enenche |
| Father | D.E Enenche |
| Siblings | 4 |
| Marital status | Married |
| Partner | Becky Inyangbe Ibu |
| Children | 4 |
| University | University of Jos |
| Profession | Pastor |
| Net worth | $20 million |
| Instagram | @drpastorpaulenenche |
| Facebook | Dr. Paul Enenche |
| YouTube | Dr Pastor Paul Enenche |
Paul Enenche's biography
Paul Enenche was born on 4 June 1968 in Benue, Nigeria. He was born to Chief D.E and Titi Enewa Enenche. His father was a paramount ruler of the Orokam district in the Ogbadibo local government area.
Dr Paul was raised alongside four siblings: Major General John, Evang, Veronica Aluma and Rev Sammoses Enenche.
How old is Paul Enenche?
As of 2023, Paul Enenche's age is 55 years old. His zodiac sign is Gemini.
Career
Dr Paul Enenche is the esteemed founder and senior pastor of Dunamis International Gospel Centre (DIGC), headquartered in Abuja, Nigeria. His ministry is characterized by a profound and tangible manifestation of God's presence, leading to remarkable healings and deliverances from various physical and mental afflictions.
Apart from his pastoral role, he is a gifted songwriter and an accomplished praise leader. His creative talents have also extended to writing, where he has authored and published over ten life-transforming books addressing diverse aspects of spirituality and personal development.
Dr Paul Enenche's songs
Below is a table of songs he has released.
| | |
| --- | --- |
| Year | Song |
| 2023 | You Are My Strength |
| 2023 | Heavy Down Pour |
| 2023 | Mantles Are Falling |
| 2022 | Elee |
| 2022 | You Are the God |
| 2022 | In You I Put My Trust |
| 2021 | I'll Praise You |
| 2021 | You Are Always There |
| 2021 | Turn It Around |
| 2020 | My Heart Is Panting For You |
| 2020 | Lord I Come Before Your Majesty |
| 2020 | Lord I Remain Your Baby |
| 2020 | Close To You |
| 2020 | I Am All For You |
| 2020 | Most Holy God |
| 2020 | More Lord |
| 2020 | One Life |
| 2020 | I'll Waste My Life |
| 2020 | Let Me Want What You Want |
| 2020 | Knowing You |
| 2020 | Close To You |
| 2018 | There Is a Place |
| 2016 | Anti-Depressant Praise Therapy |
| 2016 | Ainya |
| 2016 | When You Are There |
| 2016 | Nara Ekele |
Dr Paul Enenche as an author
Paul has authored several books that mainly concentrate on self-development. They include:
21 Laws Of Life
Financial Wisdom
Who Are You
The Story Of The Glory
Wisdom Of Planning And Time Use
15 Kingdom Strategies For Survival
Reason For Living
30 Secrets To The Top
10 Principal Secrets Of Principal People
21 Uncommon Keys To Financial Overflow
Why did he choose Dunamis as the name of his church?
Dunamis is the Greek word for power. The pastor believed that Dunamis could bring the idea of God's power to his Ministry. According to him, the main idea of his ministry is to bring the glory of God to the people of the Earth. His goal is to provide the word of God from his church to people worldwide.
What is Paul Enenche's net worth?
According to Carmart, Paul Enenche's net worth is alleged to be $20 million. His net worth can be attributed to his growth as a pastor, singer and author. His diverse endeavours have contributed to the accumulation of his financial success.
The Nigerian pastor possesses a collection of luxurious automobiles, including notable models such as the Lexus LX 570, Mercedes SLR McLaren, and Mercedes-Benz G-Wagon. Though details about Paul Enenche's house remain private, he resides in Abuja, where his grand multi-million-dollar church auditorium is situated.
Who is Paul Enenche's wife?
Paul Enenche is married to Dr Becky Inyangbe Ibu, a medical doctor and a preacher. Paul and Becky met at campus. They both studied the same course but were in different classes. The couple got married on 16 April 1994.
How many children does Paul Enenche of Dunamis have?
Paul Enenche has four children with his wife, Becky Inyangbe Ibu. Paul Enenche's daughters are Deborah, Daniella, Destiny Paul-Enenche and a son named Daniel Paul Enenche.
His daughter Deborah is married to Sam Uloko. Paul Enenche's daughter Deborah's wedding ceremony occurred on 17 December 2022 at the Glory Dome Auditorium, Airpot Road, Abuja.
Quick facts about Dr Paul Enenche
His native ethnic group is the Idoma tribe.
He studied medicine and surgery.
He is two years older than his wife
He is 6'0" (185 centimetres) tall.
Pastor Paul Enenche was trained to be a man of medicine but decided to become a man of God. His education and dedication helped him to create one of the biggest churches in Nigeria. Under his leadership, the Dunamis International Gospel Center continues to prosper.
Legit.ng recently published an article about Marie Temara's biography. She is an American model and online content creator who gained fame on social media for sharing engaging content, including dance videos, lip-syncs, and challenges.
Marie is also a fitness enthusiast and athlete. She has worked with various companies, including Elucid Blends, which promotes health and beauty products. Have a look at her biography to discover more about her life.
Source: Legit.ng