ISWAP Claims Responsibility for Kuje Attack, Releases Video of Its Men in Action
The Kuje Medium Security Custodial Center in Abuja was assaulted with explosives by gunmen on Tuesday night, according to the Nigerian Correctional Service (NCoS), which confirmed the attack on Wednesday
On Wednesday evening, President Muhammadu Buhari visited the scene of the sad incident and faulted the intelligence system
In a new development, the Islamic State in West Africa Province (ISWAP) in reaction, claimed responsibility for the attack and even released a video to back up its claim
An emerging report by Daily Trust indicates that the Islamic State in West Africa Province (ISWAP) has claimed responsibility for the attack on Kuje Prison in Abuja.
Legit.ng had reported how terrorists broke into the prison and released over 800 inmates, including high-profile suspects.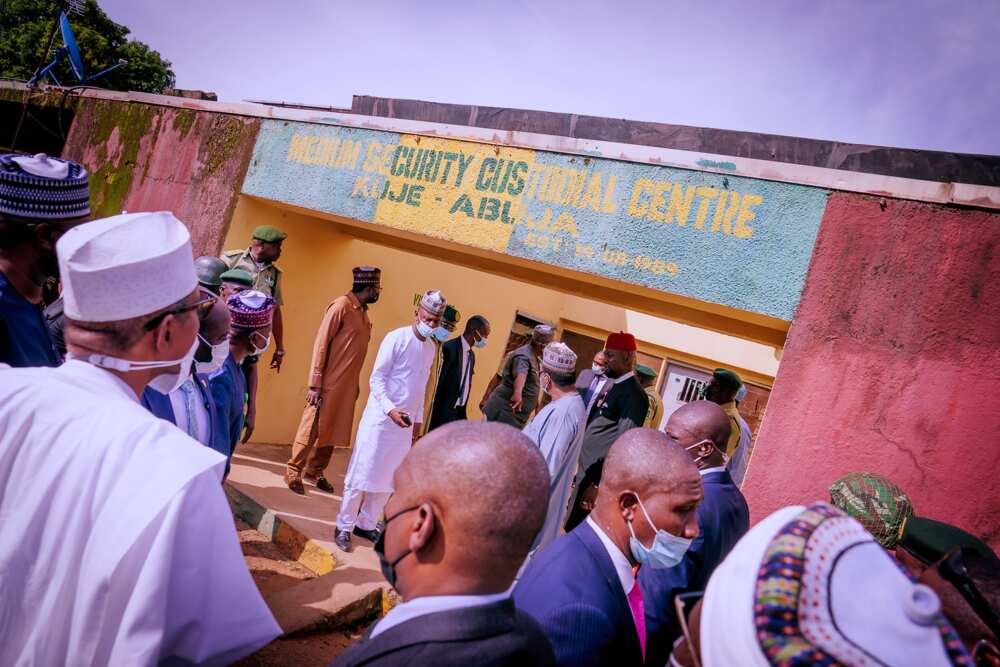 The video footage released by ISWAP
In a footage on Wednesday night, July 6, the terrorist sect showed some of its men shooting their way into the facility.
Tens of fighters were seen marching in groups while vehicles and building were on fire in the 38 seconds video.
An elderly man dressed in a native attire also joined the young men who were shouting on top of their voices.
The Islamic State's A'maq Agency released the video with the caption: "Fighters of Islamic State attacked Kuje prison in Abuja yesterday and succeeded in freeing dozens of prisoners."
The words were written in Arabic.
Nigerians react
Nigerians in their usual way reacted to the development on the Facebook page of Legit.ng. Some expressed shock at the audacious statement by the terror group others balmed the prevent administration for rising insecurity in the land.
Muhammad Tohir said
"ISWAP again
"God where can I-SWAP this country's identity ?
Somma Adina affirmed
"They know what they are doing..
"That's the strategy....
"They planned it to look more like an attack, Release the Boko harams then use them come 2023 election."
Abasiama Akpan Obot stated
"Almost all northern Muslims are in support of Shari'a. You may find this sad but the reality is that they are celebrating. If they could celebrate Taliban taking over the government of Afghanistan, what else? Nigeria, our once dear country, is now a tragedy. Last time I shared something similar they intruded my inbox with threats, but do I care?
"Only God has power, men are empty noise makers!
Omotosho Olukunle Vincent opined
"Yesterday, boko haram and iswap were fighting,
"Today, Iswap releasing Boko Haram from prison.
"Confused government."
Sebastian Shaapera queried
"Do you see what Islam is turning Nigeria into?
Martha Nan Danjuma expressed deep concern
"My pain right now is for those innocent Soldier who sacrificed there lives fighting this Boko Harram. Now it seems their efforts was just in vain."
Friday Onaemoh stated
"Nigeria problem is increasing everyday, time for preparation for defending our selves not the government any more, Nigeria as a country is gone."
Amos Eli Amos opined
"The so called religion of peace has collapsed Nigeria time for everyone to defend themselves."
How Boko Haram attacked Kuje correctional facility in Abuja
Dare-devil gunmen suspected to be members of the dreaded Boko Haram terrorist group, yesterday night around 10pm laid siege to the Medium Security Custodial Centre, Kuje Abuja, attacking the facility with explosive devices and sophisticated assault weapons.
The gunmen numbering about 300 according to eyewitnesses, rode motorcycles invading multiple military and police checkpoints in the city to successfully overpower a garrison of the Nigeria Army personnel and a contingent of Police formation who were deployed to provide perimeter security for the facility which holds high level convicts and dangerous criminals awaiting trial.
Residents of the sleepy town raised alarm around 10:20pm Tuesday night when they started hearing gunshots and explosions that shook windows and curtails blinds. They scampered for safety and fled for their lives in the attack that many initially thought was targeted at resident of Elrufai Estate, Kuje.
Kuje Prison attack: Big trouble as defence minister says all Boko Haram inmates have escaped
Boko Haram suspects detained in Kuje Prison in the Federal Capital Territory (FCT) have all escaped, according to Bashir Magashi, minister of defence.
The minister who blamed the attack on insurgents made this disturbing revelation on Wednesday, July 6, during a media briefing at the Abuja facility.
Magashi said:
"What actually happened, they came in their numbers and released some of the inmates. We are now trying to set the kind of inmates they released.
Source: Legit.ng