From Investigative Journalists to a Zanzibari Novelist, Full List of 2021 Nobel Prize Laureates Winners
Between the years 1901 and 2021, the Nobel Prizes and the Sveriges Riksbank Prize in Economic Sciences in Memory of Alfred Nobel were awarded 609 times to 975 people and organisations.
With some receiving the Nobel Prize more than once, this makes a total of 943 individuals and 25 organisations.
From investigative journalists to a Zanzibari novelist, to trailblazers on climate and touch: this year's Nobel Prizes went to 12 men and one woman, honoured in Oslo and Stockholm on Friday, December 10, The Punch reports.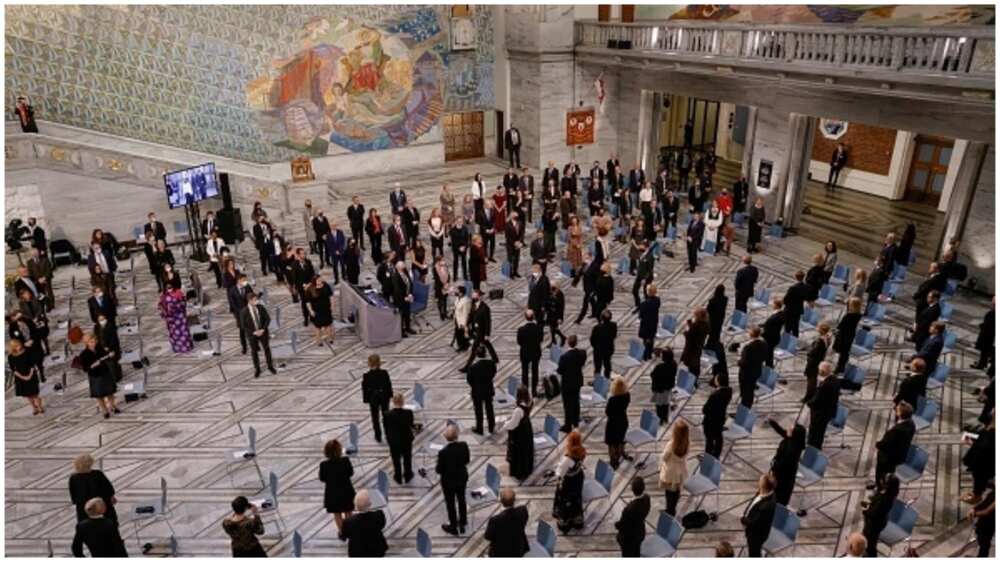 Below are the 2021 laureates:
Medicine
David Julius and Ardem Patapoutian, both of the United States, won for their discoveries on human receptors for temperature and touch.
Physics
Syukuro Manabe (Japan-US) and Klaus Hasselmann (Germany) were honoured for their research on climate models, while Giorgio Parisi (Italy) won for his work on the interplay of disorder and fluctuations in physical systems.
Chemistry
Benjamin List (Germany) and David MacMillan (Britain-US) won for developing a tool to build molecules that have spurred new drug research, scaled up production and made chemistry more environmentally friendly.
Literature
Tanzanian-born British novelist Abdulrazak Gurnah was honoured "for his uncompromising and compassionate flow of the effects of colonialism and the fate of the refugee in the gulf between cultures and continents".
Peace
Journalists Maria Ressa (Philippines-US) and Dmitry Muratov (Russia) won "for their efforts to safeguard freedom of expression."
Economics
David Card (US-Canada), Joshua Angrist (US-Israel) and Guido Imbens (US-Netherlands), won for research on "natural experiments", or observational studies, that have revolutionised empirical research in fields ranging from the labour market to immigration and education.
It is important to note that every year in October, committees in Sweden and Norway award six Nobel Prizes, each recognizing a groundbreaking contribution by an individual or organization in a specific field.
Prizes are given for physiology or medicine, physics, chemistry, economic science, literature and peace work.
Winners receive a diploma and a medal, and each prize is also awarded 10 million Swedish krona, or about $1.1 million, which is divided if there are multiple winners.
4 facts about John Bardeen, the 1st man to win Nobel Prize in Physics twice, he is one of the 'Fantastic Four'
Meanwhile, Legit.ng had earlier reported that at 120 years old, the Nobel Prize has been awarded 597 times to 950 people and organisations.
Interestingly, only four persons have received the renowned prize twice in their lifetime and John Bardeen is one of the 'fantastic four.'
Legit.ng highlights 4 interesting facts about John Bardeen, the first man who was given the Nobel Prize in physics on two occasions.
Soyinka at 87: Throwback video of Nigerian literary icon receiving Nobel Prize in Literature in 1986 emerges
In another report, Wole Soyinka wrote Nigeria and Africa's name in gold when he bagged the Nobel Peace Prize for Literature in 1986.
Wikipedia records that Soyinka's recognition made him the first sub-Saharan African to receive the global prize.
A video of the glorious moment Wole Soyinka was honoured with the Nobel Prize for Literature for 1986 has got many gushing.
Source: Legit.ng