Nigerian Society of Engineers Honour Azibaola Robert, Honouree Hails Goodluck Jonathan
Azibaola Robert, lawyer and entrepreneur, who has passion for science and precision engineering has been honoured
Robert was recognised by the highest engineering body in Nigeria for his contribution to the development and growth of engineering in the country
The Bayelsa-born entrepreneur used the opportunity to salute the contributions of Dr Goodluck Jonathan to his successes
FCT, Abuja - The Nigerian Society of Engineers (NSE) on Tuesday, December 7 honoured popular lawyer and entrepreneur, Azibaola Robert as a Fellow of the NSE.
The investiture ceremony was superintended by the president and chairman in council of the NSE, Engineer Babagana Mohammed at the International Conference Centre, Abuja.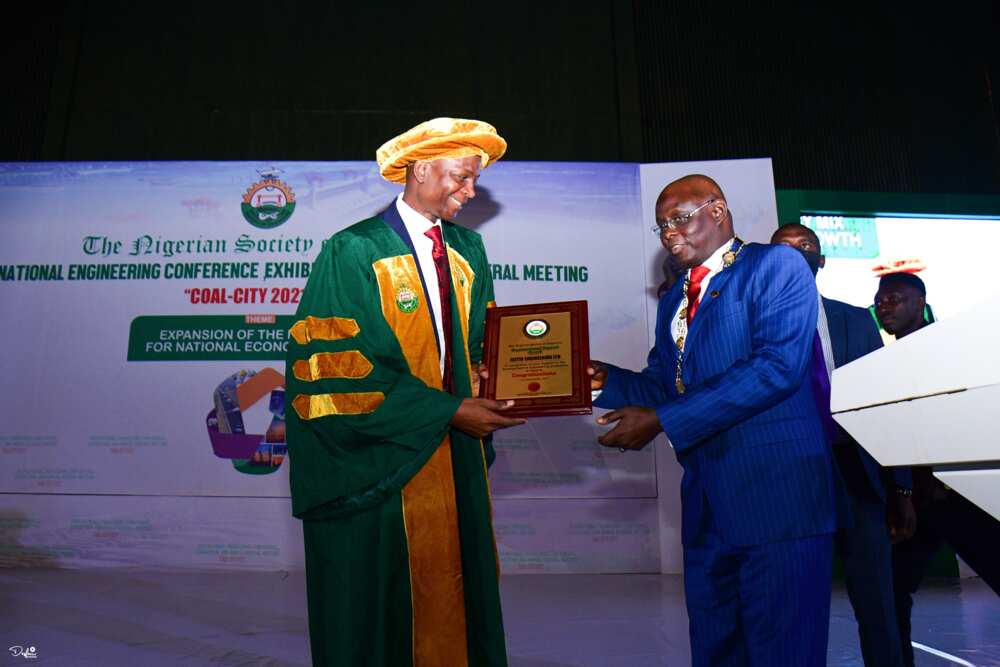 The organisers say Robert was honoured for:
"His immense contributions to the cause, development and growth of engineering in Nigeria."
Speaking shortly after his recognition by the NSE, Robert charged the government and wealthy Nigerians to improve on the infrastructural development of the country by investing in the purchase of machines that make machines, rather than spending their money on intangible things.
His words:
"Nobody will develop your country for you. It is time for us to be investing in machines that make machines. When we do, we will be able to make the machines that we need for our development, and therefore, no need to import them.
"This will create jobs for our population, it will also help us save our foreign exchange; we will not be over-reliant on imports, and we also can begin to export to other countries."
He said that his company, Zeetin, is focused on precision engineering, technology, heavy-duty and production of metals, spares that would help the engineering and infrastructural development of the automotive, agricultural, locomotive, marine, aviation industries.
Located in the Idu Industrial Area of Abuja, he added that Zeetin has installed various high-end tech, CNC-machines which will be used for producing the first Nigeria-made automobile engine.
The investiture ceremony which also witnessed the honouring of the Shehu of Borno, Alhaji Abubakar Ibn Umar Garba, as a Fellow of the NSE, was part of the activities put together to mark the body's 2021 National Engineering Conference and Annual General Meeting, tagged 'Coal City,' which began on Monday, December 6.
Robert, who is also the founder of Kakatar Group, is a relative to the former Nigerian leader, Dr. Goodluck Jonathan.
Speaking at a dinner later in the day to celebrate the milestone, the rights activist and president of Niger Delta Human and Environmental Rescue Organisation, said by honouring him, the NSE and those who celebrate him have also honoured Jonathan.
His words:
"He is my mentor, he is my brother and like I say every day, anywhere, those who follow should not deny their master. For me and Goodluck, it is till death do us part...today, tomorrow and forever. And there is nothing that you will do to me that will make me betray him.
"I was fortunate to be one of those who had the opportunity to stay close to him when he was the president of Nigeria. And, I had the opportunity of bidding him goodnight, every other night. And I know that most of the nights, dinner comes at 3 am.
"At 3 am, somebody is still working, working for the progress of this country. In the morning he will go for morning devotion by 5 am. Take a bath, go to the office by 7, 8 am, come back by 4 pm, go to the gym, from the gym, he comes back and then he starts seeing visitors until 3 am.
"Every day, there is no exception, including Saturdays and Sundays. He was an exceptional warhorse. A workaholic. In Goodluck, I find somebody I aspire to be."
Zeetin Engineering to Produce Electric Cars, Heavy-Duty Equipment in Nigeria
Legit.ng had earlier reported that the multi-billion naira Zeetin Engineering factory is already preparing to produce car engines and electric cars.
The engineering firm has acquired and installed the most sophisticated production machines (CNCs, Plasmas, 5Axis Milling, Lathes, etc) in the metal works industry in Nigeria.
Speaking to journalists during a tour of the facility, Robert said he has been able to invest his personal funds totaling about N3.5 billion in setting up the place.
Nigeria Keying Into Electric, Gas-Powered Vehicle Manufacturing, Says Jelani Aliyu
Recall that during the COP26 UN Climate Change Conference in Glasgow, Scotland, the director-general, National Automotive Design and Development Council (NADDC), Jelani Aliyu, told the world that Nigeria was advancing towards actualizing the manufacturing of electric and gas-powered vehicles.
According to the NADDC director-general, the recent assembly of Electric Vehicles by the Hyundai Kona EV and the assembly of AutoGas powered OMAA CNG Minibus by a division of KOJO Motors are all testimonies to the effort the country is making in that direction.
Aliyu also stressed that Nigeria could not afford to be left behind as nations around the world advance technologically.
Source: Legit.ng