Toyin Dawodu Asks Benin Republic to Release Sunday Igboho or Face Economic Sanctions
A deadline has been issued to the Benin Republic government to immediately release Yoruba activist, Sunday Adeyemo
Adeyemo also known as Sunday Igboho is currently detained in one of the country's prisons in Cotonou, its capital
The deadline was issued by respected Nigerian-American philanthropist of Yoruba descent, Toyin Dawodu
FCT, Abuja - Nigerian-American philanthropist, Toyin Dawodu, has urged the Benin Republic government to immediately release Yoruba activist, Sunday Adeyemo also known as Sunday Igboho who is currently detained in the country's prison.
Igboho, who was arrested by the Benin authorities at the Cotonou airport on Monday, July 19, has since been in a detention facility in the country's capital.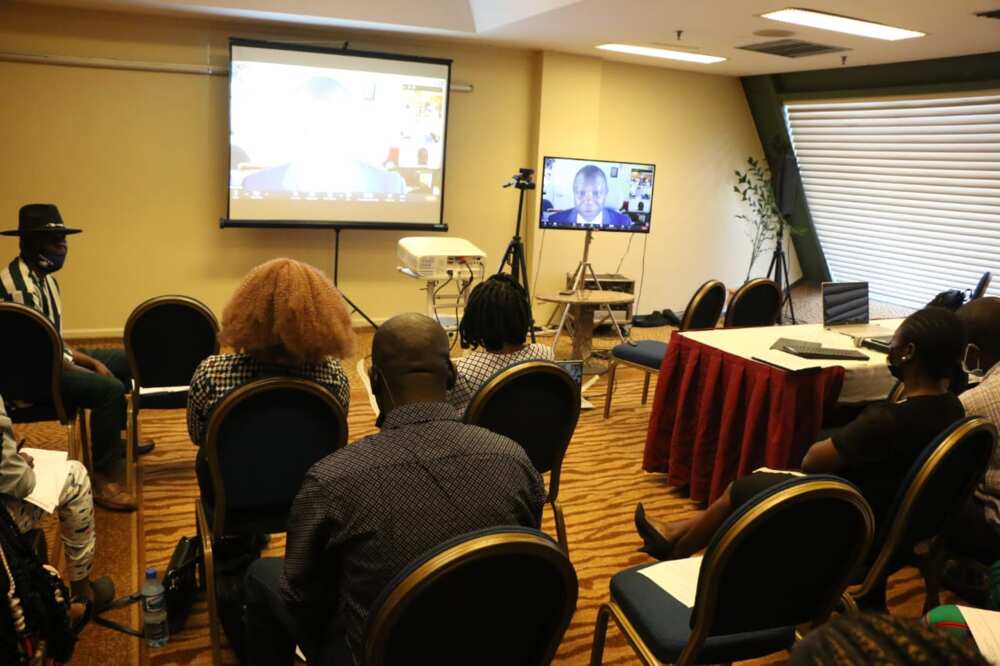 Addressing journalists including a Legit.ng reporter in Abuja on Tuesday, November 30, Dawodu, who spoke via zoom from his base in America, warned that the Beninese government must ensure the adequate release of the activist within seven days.
He said the neighbouring country would face serious consequences of the nature of an economic embargo it may never recover from, if Igboho is not released.
Do you have a groundbreaking story you would like us to publish? Please reach us through info@corp.legit.ng!
The philanthropist stated that the continual remand of Igboho might attract the fury of the Yoruba people who he said are responsible for 80% of Nigeria's revenue in the last 60 years.
This, he said will have a negative impact on the economy of the neighbouring West African state.
His words:
"This briefing is intended to put pressure on the authorities of the Republic of Benin to unconditionally release Sunday Igboho (aka Sunday Adeniyi Adeyemo) within 7 Days from the release of this statement or face serious consequences of the nature of an economic embargo that as a country, it may never recover from, in a very long time.
"Whereas I am an American citizen of Nigerian descent, my heart has always been with the land of my origin, Africa and particularly, Nigeria. I believe strongly in truth, justice, and liberty hence, the reason I have always supported in the past and present, causes that promote human rights, justice, and the wellbeing of all Nigerians.
"I believe that Sunday Igboho has not committed any offence by being an agitator for fairness and security for the Yoruba people of Nigeria. There is currently no law that is against a man's call for justice for his people.
"Therefore, I make this demand on behalf of many Africans in diaspora, particularly of Yoruba origin and all persons who detest injustice and oppression, that the Republic of Benin be mindful to do the following in the immediate:
"The Republic of Benin must immediately release Sunday Igboho unconditionally as he is being unnecessarily being persecuted by the Nigerian government, on account of his political views, which do not constitute an offence both in Nigeria and the Republic of Benin.
"The Republic of Benin must not, under any circumstances, hand over Sunday Igboho to the Nigerian authorities for them to torture or dehumanize him.
"This is in tandem with the international law principle of nonrefoulement which prevents a person that is fleeing political persecution to be forcefully returned to the country of prosecution.
"The Nigerian justice system is inherently oppressive and systemically weak against the administration of President Muhammadu Buhari that has been famous for not obeying court orders."
He added that the Benin Republic government must allow Igboho go home and exercise his right to freedom of movement to travel out of the coiuntry to any country of his choice.
He said:
"It must be clear to the authorities of the Republic of Benin that the above demands are not mere wishes or whimsicalities as there is a strong network across the world that is prepared to visit serious economic sanctions on it as a country if it fails to honour its international human rights obligations to persecuted individuals like Sunday Igboho.
"While it is also clear that the Republic of Benin is afraid to offend the Nigerian government and therefore prepared to kowtow or accede to the Nigerian government's demand to continue to detain Sunday Igboho until he is returned to Nigeria, the Beninese authorities forget that indeed 80% of its revenue as a country, in the last 60 years, have come from imports made by Nigerians through the Idiroko-Abeokuta border trades.
"Republic of Benin must realise that Sunday Igboho is an extremely popular figure among the Yoruba people of Nigeria, and they have been the ones principally engaged in the border trades which have greatly enriched the Republic of Benin.
"Therefore, the Republic of Benin must tread carefully not to offend the Yoruba people, or else, the consequences of a trade embargo imposed by the Yoruba people against the Republic of Benin will spell an economic disaster to it as a country. There is a very capacity to ensure that this is carried out."
Lawyer Reveals Life-Threatening Sickness Suffered by Sunday Igboho
Recall that Igboho was reportedly rushed to a hospital in the Benin Republic from prison on Wednesday, October 13, over possible kidney or lungs illness.
This disclosure was made on Wednesday by Yomi Aliyu, one of Igboho's lawyers.
Aliyu alleged that the embattled southwest agitator developed the sickness inside the prison in Cotonou.
Don't Hold Any Protest, Rally in My Name Now - Sunday Igboho Warns
Meanwhile, Igboho had advised his supporters against staging demonstrations in his name for the time being.
Aliyu claimed in a statement on Thursday, September 16, that Igboho also asked his supporters to ignore any message to the contrary, saying:
"There is time for everything. Chief Sunday Adeyemo, a.k.a Igboho Oosa, is desirous of respecting those murdered in his house on that black 1st July, 2021."
Source: Legit.ng