"I'm Supporting Tsatsii to Win": BBTitans Thabang Says After His Eviction, Speaks on Khosi, His Plans and More
One of the Big Brother Titans housemates, Thabang's stay en the show ended on March 26, 2023, when he was evicted
In an exclusive interview with Legit.ng, the reality show star has now spoken on some of the things that happened on the show and his plans after
Thabang also opened up on how he is supporting Tsatsii to win the game even though he thinks Khosi will go home with the money
On March 26, 2023, the journey to win the $100,000 grand prize on the Big Brother Titans show ended for one of the promising housemates, Thabang.
Thabang was one of the stars on the show who caused quite a lot of buzz on social media over his relationship with Khosi and Olivia among other things.
Many fans of the show had described Thabang as finalist material but he sadly got evicted a week before the season finale.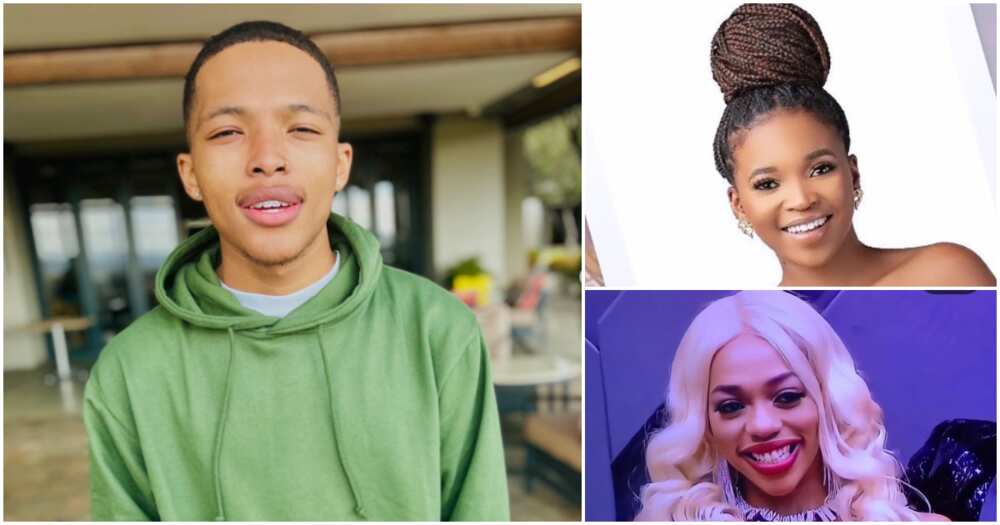 In an exclusive chat with Legit.ng, the reality show star has now opened up on some of the things that went on in Big Brother's house, his relationship with Khosi, what he plans to do after the show and more.
PAY ATTENTION: Сheck out news that is picked exactly for YOU ➡️ find the "Recommended for you" block on the home page and enjoy!
I had a great relationship with Khosi and Miracle
Recall that Khosi and Miracle were two housemates who got nominated for eviction every week on the show. Thabang shared his thoughts about them as a pair as well as individual players.
According to him, he never nominated them and only found out that his partner, Nana, had done that when Big Brother mentioned it in the Diary Room.
Thabang added that he had a great relationship with Miracle and Khosi and would have never wanted to see them leave the show.
He said:
"Honestly, I had a great relationship with Miracle and Khosi throughout my stay in Big Brother's house. The one time that Thabana (Thabang and Nana) put her up, I didn't know until Big Brother told us in the Diary Room, so if I had known, I don't think I would have put Khosicle up. I don't remember the conversation Nana and I had in particular, I really liked them together and Miracle and I's relationship was just too good and I think he was a strong player and also kept me wanting to do better, so I wouldn't have wanted him to leave."
Feelings about Nigeian housemates
Thabang also addressed some comments that made the rounds on social media that he did not like Nigerians. According to the South African BBTitans housemate, he was actually shocked to discover people felt that way.
The reality star explained that he actually had better friendships with the Nigerian housemates and he has no idea why some people felt he did not like them.
According to him, most of his discussions with Miracle, Ebubu, Kanaga Jnr, and even Olivia, was on finding out about Nigeria because he hoped to visit the country.
He said:
"Honestly, I am shocked because in the house, I was literally just trying to learn as much as I could. Because at this point, with the housemates that were there from South Africa, I think I already knew a lot about where they come from. I learned a thing or two there but I thought Nigeria is a place where I know nothing about, so that's where I spent the most time trying to learn about. Even my conversations with Ebubu and Kanaga, Miracle, even Olivia, most of our conversations consisted of me asking about Nigeria. We had really good relationships and I think maybe people might have perceived that as I might not like people from Nigeria or I don't know what reason but I actually think I got along with them a lot more than I got along with the people from South Africa. I don't know why that was the case but I just did. Not that I didn't get along with the South African housemates, I just think the strongest connections and relationships I had with the housemates on a friendship level were with the Nigerian housemates and I'm really just shocked coming out and hearing that. I had plans in the house to come to Nigeria so I'm really just shocked, that's not the case at all."
I invested a lot more in my personality
Thabang also responded to comments on him using his good looks as a strategy. According to him, he did not even know that was a thing. He added that anything could have happened and he would look differently so he only focused on his personality and on being a good person.
He said:
"It's not really something that I've looked at. I think as a person, you're more than how you look. I didn't go into the house thinking that it would be the case and I didn't even know that was the case till now. More than anything, who I actually am, my personality, I think that is what I invested a lot more in. Anything could happen and I would not look the way I look now so I think I really invested in being a genuine person and being a good person."
I and Khosi cared about each other
It is no longer news that Thabang was in a somewhat romantic situation with Khosi and he shed more light on that. According to him, he believes he and Khosi cared about each other but there were certain conversations that they were supposed to have but did not.
In his words:
"I think we cared about each other. To what extent, I'm actually not sure. Certain conversations that actually should have been had weren't had and I think till the time is right, to for now just focus on my life outside."
I'm supporting Tsatsii to win the show
Also during the interview, Thabang opened up on who he hopes to win the show and the $100,000 grand prize.
According to the former housemate, he is vouching for Tsatsii to bag the win. According to him, she has come so far in the game and it will mean so much to her that she wins.
He said:
"To win, I'm supporting Tsatsii. I think she didn't think she'd make it this far and I'm so grateful that she is probably over the moon. And even when she won Head of House to send her to the finals, you could see how much it meant to her. So I think if she wins, this will be that affirmation that tells her all the work she's put in throughout her life and all the people who doubted her were wrong and I know how much it will mean to her for her to win, I am really rooting for my sister Tsatsii."
Thabang however admitted that now that he is outside the house, it looks like Khosi will win the grand prize.
He said:
"Being out and seeing how everything is going, I won't lie, I can see Khosi taking it. Khosi is giving people a run for the money."
I'm open to everything
Speaking on his plans after the Big Brother Titans show, Thabang revealed that he will not be going back to his former job. He also added that he is open to any opportunity that comes his way including modeling, TV and radio, among other things.
He said:
"I don't think I fully understand the gravity of my life outside the house yet but I'm open to everything but would like to focus on modelling, entertainment, TV and radio when I can but I am trying to find my feet right now."
"My father tagged me a mistake", Nana shares emotional story about her background, fans react
Meanwhile, Legit.ng recalls reporting that Nana, one of the 10 Nigerians in the BBTitans house, recently got people talking online after she shared heartbreaking stories about her childhood.
The reality TV star said her father never loved or cared for her. Nana also revealed that her father called her a mistake at some point in her life.
She further disclosed that she owed her mum nothing because she never cared about her survival.
Source: Legit.ng