2Baba's African Queen: Interesting Details About 2004 Hit Song, 3 Ladies in Music Video
2Baba has remained one of the icons in the Nigerian music industry, with the hit song African Queen considered an evergreen among his fans and lovers
African Queen was a song 2Baba released under his former label, Kennis Music, shortly after he exited Plantashun Boiz
The music video released 19 years ago featured three beautiful ladies, including actress Annie Idibia, who is now 2Baba's wife
Nigerian music veteran Innocent Ujah Idibia '2Baba', formerly known as 2Face, a stage name he used until 2014, has been in the spotlight since the 2000s.
2Baba started his career as part of a boy band called Plantashun Boiz alongside Blackface and Faze.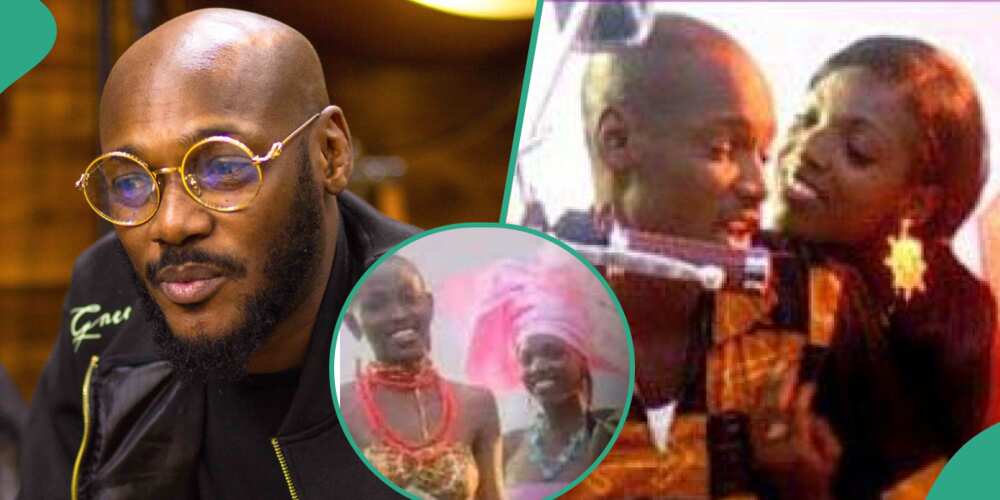 However, in 2004, the band separated as they chose to pursue individual careers. That same year, 2Baba dropped his solo debut album Face2Face, which included the evergreen song "African Queen."
African Queen is believed to be the song that paved the way for Nigeria's new school music. It gained recognition after being featured as a soundtrack in the 2006 American movie Phat Girlz.
Due to the popularity the song gained, 2Baba's former bandmate Blackface, whose real name is Ahmedu Augustine Obiabo, has repeatedly claimed he wrote African Queen.
2Baba, in 2019, couldn't help but reply to Blackface, who he said was fabricating lies even though he never did anything bad to him.
The music star, now the owner of Hypertek Digital record, further directed Blackface to sue him or keep quiet.
Short details about African Queen
The song was released under 2Baba's former record label, Kennis Music, in 2004.
The music video was simple but classy, featuring three beautiful ladies who played active roles.
Fortunately, two of the three ladies, Annie Idibia and Yvonne Jegede, have also made a name for themselves in the entertainment industry.
2Baba's former bandmate Blackface also dropped his version of African Queen on his album Rising Sun in 2020, but it didn't gain recognition like that of the Hypertek label boss.
Watch a version of Blackface's African Queen below:
Details about the three ladies in 2Bbaba's African Queen
1. Actress Yvonne Jegede
Yvonne Jegede, who is now a popular face in the movie industry, made it to the limelight after her feature on African Queen.
For those who didn't notice, Yvonne was the lady who adorned her hair with spikes holding a guitar in the music video.
While recreating her outfit from the 2004 hit song in 2020, Yvonne revealed her cameo appearance in the music video changed her career as she expressed gratitude to 2Baba and Uzodinma Okpechi, the director, for giving her a chance.
The actress from Edo state has been featured in TV series like Blaze of Glory, Behind the Siege, Everyday People, and Edge of Paradise, among others.
2. Annie Idibia, formerly known as Annie Macaulay
Annie Idibia, now married to 2Baba, was the second lady featured in the African Queen music video.
In an Instagram post in 2022, the mother of two revealed that she was struggling as a model when 2Baba asked her to feature in his song.
A look at the 2004 music video gave away the close bond between Annie and 2Baba. The duo would later get married in 2013 and now have two daughters together.
Like Yvonne Jegede, Annie has also pursued a career as an actress, featuring in movies like First Family, Pleasure and Crime, White Chapel, Blackberry Babes, and many more.
3. The unknown bald lady
The third lady in the music video has remained a mystery as nothing is known about her.
Unlike Annie Idibia and Yvonne Jegede, she appears to prefer a low-profile lifestyle. She has not been on any major project since the 2004 hit song.
Watch the video of 2Baba's African Queen below:
Why African Queen is a blessing and a curse - 2Baba spills
Meanwhile, Legit.ng previously reported that 2Baba revealed African Queen earned him the title 'King of R&B' in the country.
He, however, stated that the song's success felt like a curse because it was used as a yardstick for his other works, which seemed not to be on the same level.
The music veteran added that the hit song would always overshadow his other works in terms of success.
Source: Legit.ng