Skai Jackson bio: net worth, mom, age, pictures, movies, latest news
Skai Jackson is a famous American actress who has gained popularity over the years, more so for her role in the Disney Channel series, Jessie. She has been acting since she was three years old and so far, she has appeared in numerous films and TV shows.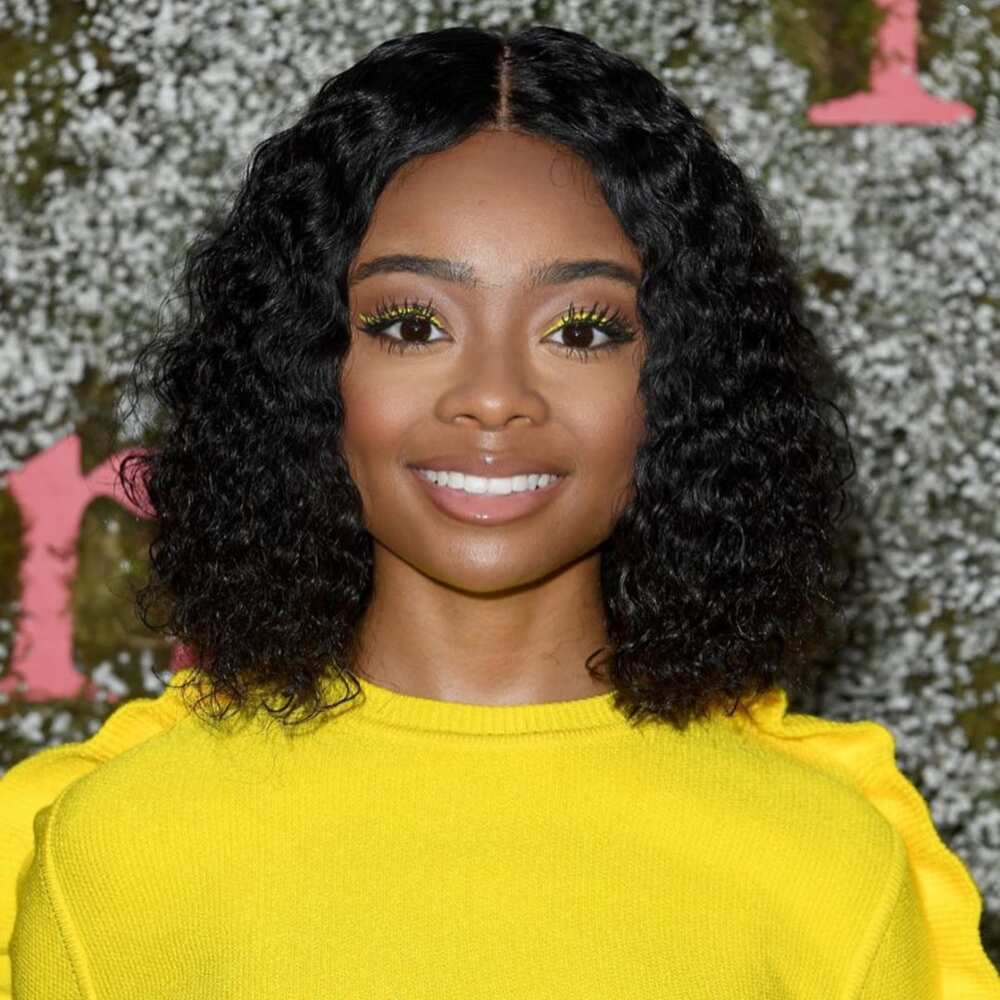 Unlike a majority of people who struggle to discover their talents, Skai Jackson had known what she wanted to do at only three years old. Since then, she has been making the right moves in the film industry, and at the moment, she is one of the most celebrated young actresses in the industry. Besides that, she has written a memoir and has a YouTube channel.
Profile summary
Birth name: Skai Syed Jackson
Age: 17 years
Date of birth: April 8, 2002
Place of birth: New York, USA
Zodiac sign: Aries
Nationality: American
Parents: Kiya Cole and Jacob Jackson
Siblings: A sister and a brother
Height: 4 feet 11 inches
Weight: 34 Kgs
Eye color: Dark brown
Hair color: Black
Profession: Actress
Family and early life
Skai Jackson was born on April 8, 2002, to her parents Kiya Cole and Jacob Jackson. She has two younger siblings. However, Skai Jackson siblings are not known by name. Skai Jackson parents divorced and she remained under the custody of her mother.
She regularly posts her pictures with her dad on her social media platforms. Details of her education are not currently available, but according to a post on her Twitter account, she is looking forward to graduating and joining college.
At just nine months old, Skai was enrolled at a model agency after her mother and friends noticed how adorable she was. She grew up preparing to be a supermodel, but along the way, she also developed an interest in acting.
Her mother, Kiya, quit her job at the post office and took up the full-time position of being Skai's career manager when she made her acting debut at three years old.
Is Skai Jackson and Michael Jackson related?
There are no relationship ties between the late pop star Michael Jackson and Skai Jackson. They share a last name, but that does not necessarily translate to them being related.
Appearance and body measurements
Her eye and hair color is black. Skai Jackson height is 4 feet 11 inches while she weighs approximately 34 Kgs. Her body measures 28B-23-30 inches. She has a slim, gorgeous body.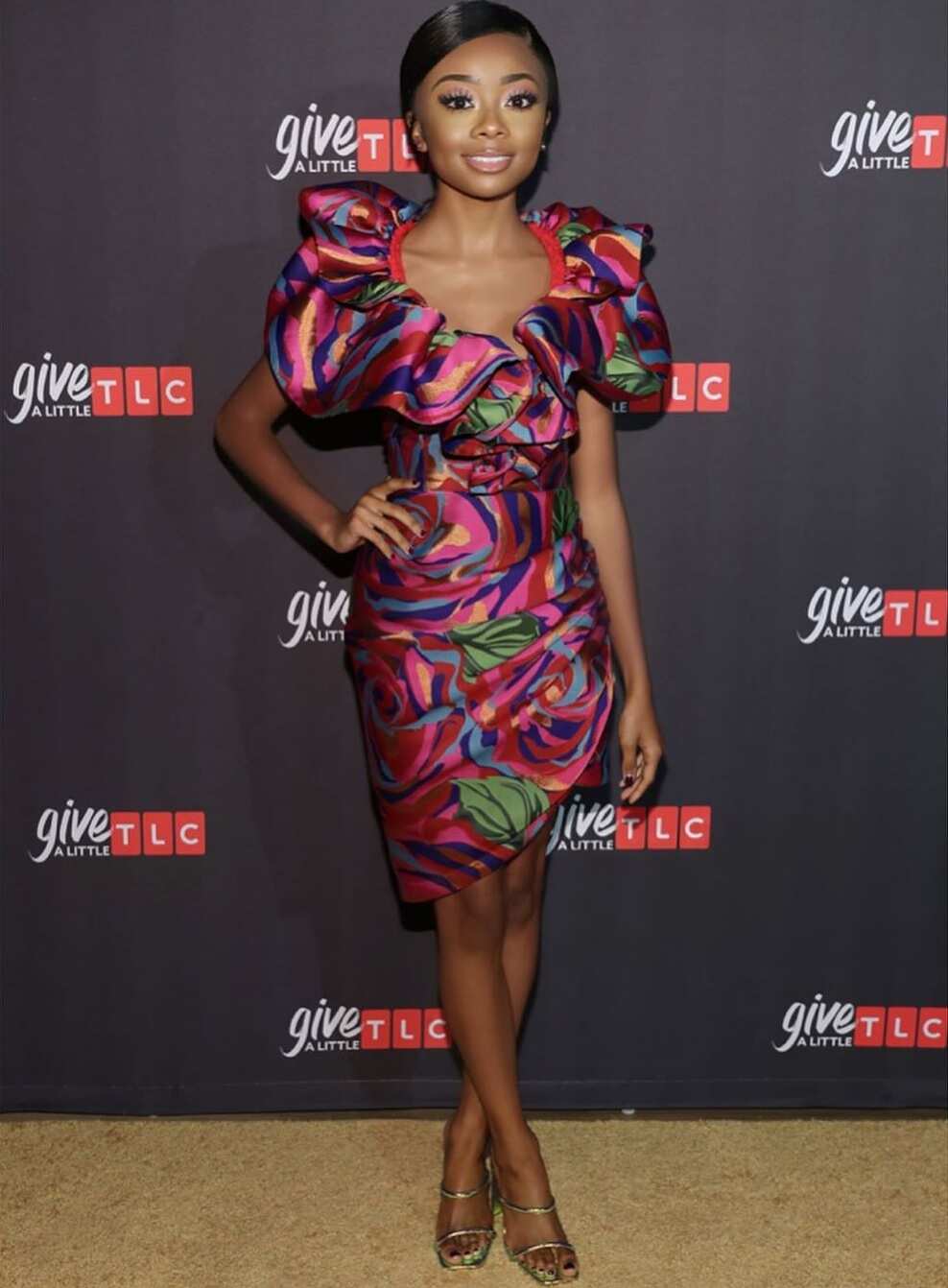 Career
Skai commenced her acting career at the age of 3 years. She was featured in the independent film called Liberty Kid in 2007.
She continued to play various roles in popular TV shows and movies such as G.I Joe: Retaliation and The Smurfs. Here is a list of some Skai Jackson movies and TV shows.
Movies
Liberty Kid (2007) as Destiny
Rescue Me (2008) as Little Girl
The Rebound (2009) as Museum Little Girl
Arthur (2011) as Little Girl
The Smurfs (2011) as Kicking Girl
G.I.Joe: Retaliation as Roadblock's daughter
My Dad's a Soccer Mom (2014) as Lacy Casey
TV shows
Team Umizoomi (2010) as Kayla - Voice role in the episode: The rolling Toy Parade
Royal Pains (2010) as Maddie Phillips - Episode: Big Whoop
Boardwalk Empire (2011) as Aneisha - Episode: What Does the Bee Do?
Bubble Guppies (2011-2013) as Little Fish - Main voice role: season 1-2
Jessie (2011-2015) as Zuri Ross - Main role
Austin & Ally (2012) as Zuri Ross - Episode: Big Dreams & Big Apples
Dora The Explorer (2012-2014) as Isa the Iguana - Recurring voice role
Good Luck Charlie (2013) as Zuri Ross - Episode: "Good Luck Jessie: NYC Christmas"
The Watsons Go to Birmingham (2013) as Joetta Watson
Ultimate Spider-Man (2014) as Zuri Ross - Voice role on the episode: Halloween Night at the Museum
Bunk'd (2015-2018) as Zuri Ross - Main character (season 1-3)
K.C. Undercover (2015) as Zuri Ross - Episode: All Howl's Eve
Marvel Rising: Initiation (2018) as Glory Grant - Voice role on episodes: Floor Toms and Spider Webs and Ghost Hunter
Marvel Rising: Chasing Ghosts (2019) as Glory Grant - Voice role
Marvel Rising: Battle of the Bands (2019) as Glory Grant - Voice role
DreamWorks Dragons: Rescue Riders (2019-2020) as Summer - Voice role
Marvel Rising: Operation Shuri (2019) as Glory Grant - Voice role
Besides acting, Skai has also appeared in the video of Lil Nas X's hit song called Panini.
In October 2019, she released her memoir entitled Reach for the Skai: How to Inspire, Empower, and Clapback. In the book, she shares details about the struggles of her life, self-acceptance, rise to stardom, girl empowerment and the classy clapback.
What is Skai Jackson's net worth?
Skai Jackson 2020 net worth value stands at 500,000 US dollars. She draws her fortune from actings.
She was a child model in commercials for leading brands and corporates such as Band-Aid bandages which earned her substantial income.
She is only 17 years, yet she has already achieved quite a lot in the film industry. She has a promising future in the entertainment industry, and thus, the chances are high that Skai Jackson net worth will rise.
Is Skai Jackson dating someone?
As of now, Skai Jackson does not have a boyfriend, and she is presumed to be single. However, the actress had a few relationships in the past that did not work out. She had dated Kid Trunks and Famous Jay.
Skai Jackson and Bhad Bhabie feud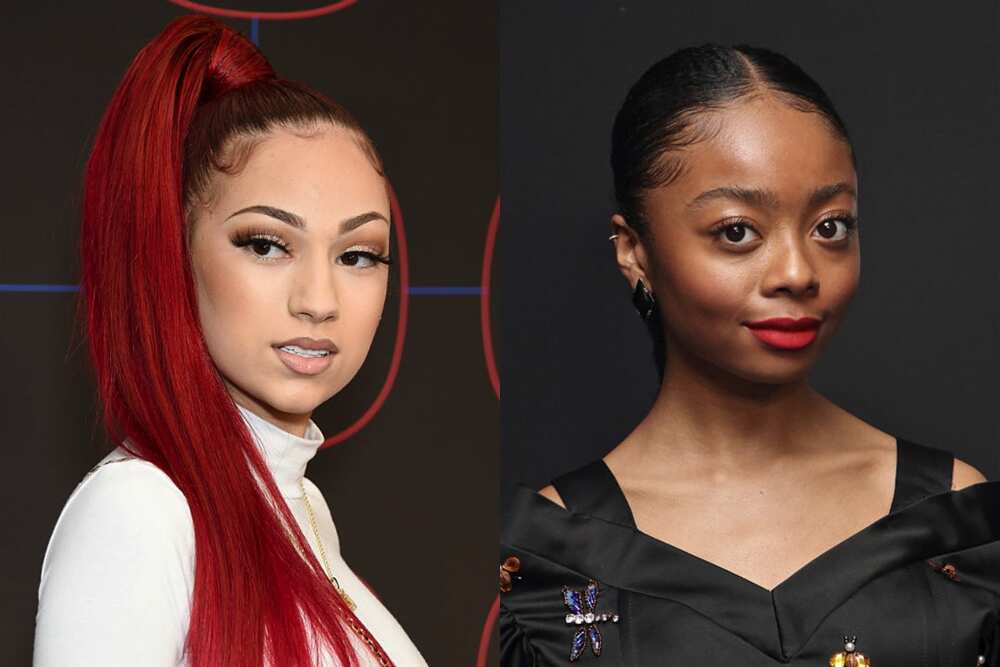 In late February, there was a heated exchange of words between Danielle Bregoli, aka Bhad Bhabie, and Skai. How did it all begin? Apparently, Skai used a pseudo-Instagram account to ask someone to hook her up with the rapper NBA YoungBoy, who had once dated Bhad Bhabie.
Bhad Bhabie did not take this lightly, and she hit back at Skai accusing her of always following up on any guy she talked to. Danielle was so upset with the situation that she posted an Instagram video in which she threatened to kill the actress.
Danielle also told Skai to never again set foot at the beauty parlor where she goes for her makeup.
The feud took a new twist when Barbara Ann Bregoli, Danielle's mother and Kiya Cole, Skai Jackson mom, were also involved in the online exchange. However, tension seemed to have quelled when the court granted Skai a restraining order against Bhad Bhabie.
Skai Jackson latest news
Late last year, it was revealed that she was among the renowned speakers set to give a talk at Irvine Valley College on March 6, 2020; the theme of the talk being 'Modifying Human Perception'. American comedian, Steve Harvey was also named as a speaker on the event.
Social media
Want to see some of the latest Skai Jackson pictures and know what she is up to? Follow her Instagram account or Twitter account.
At a young age, Skai Jackson has achieved quite a lot in her career. She is not only determined to succeed in her profession but also encourages young people to pursue their calling relentlessly. She is an enthusiastic young actress, and we can only hope to see more of her works in the future.
Source: Legit.ng