There are lots of beautiful Nigerian traditional outfits out there, and today we want to talk about the Akwa Ibom traditional attire. Find out what people from this state wear to special events in their lives, and maybe you will learn something new about the traditional wears of your country.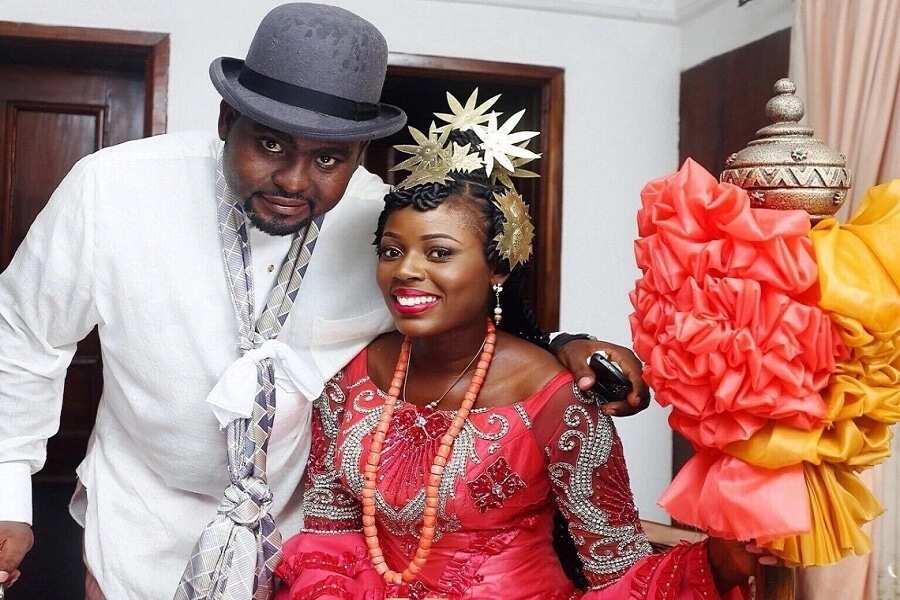 Akwa Ibom State is inhabited by many ethnic groups. It is a home for Annang, Eket, Ibibio, Oron, Obolo and even some Efik people. However, even though these are all different ethnicities, they all seem to have very similar traditions when it comes to traditional wears.
In this article, we will be paying attention to the traditional clothing of Ibibio-Efik people, as they have probably the most fascinating fashions you have ever seen, and they are often worn by people from other ethnic groups. Check them out!
Ibibio/Efik traditional attire for women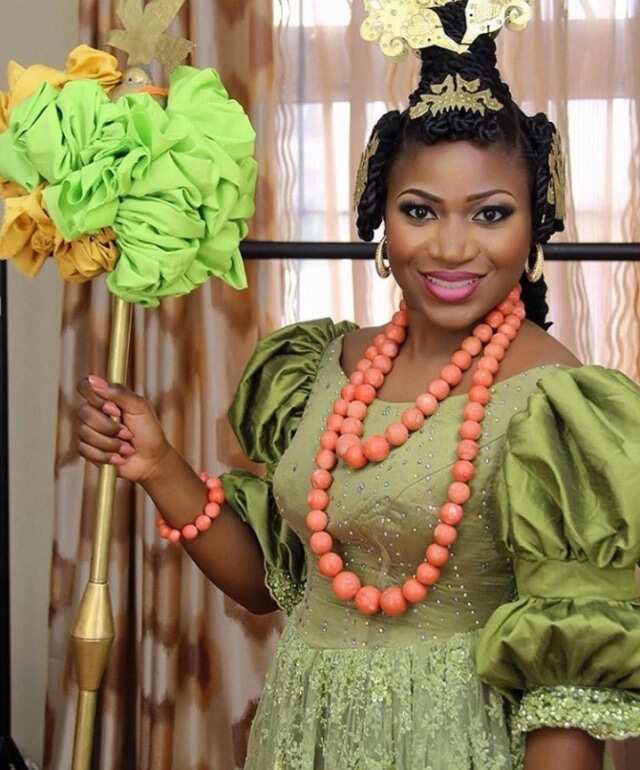 Women's traditional attire of Akwa Ibom State looks incredibly gorgeous and unlike anything you have ever seen before. Every element of the outfit is important. Usually, the women wear the traditional clothes to weddings and other important events.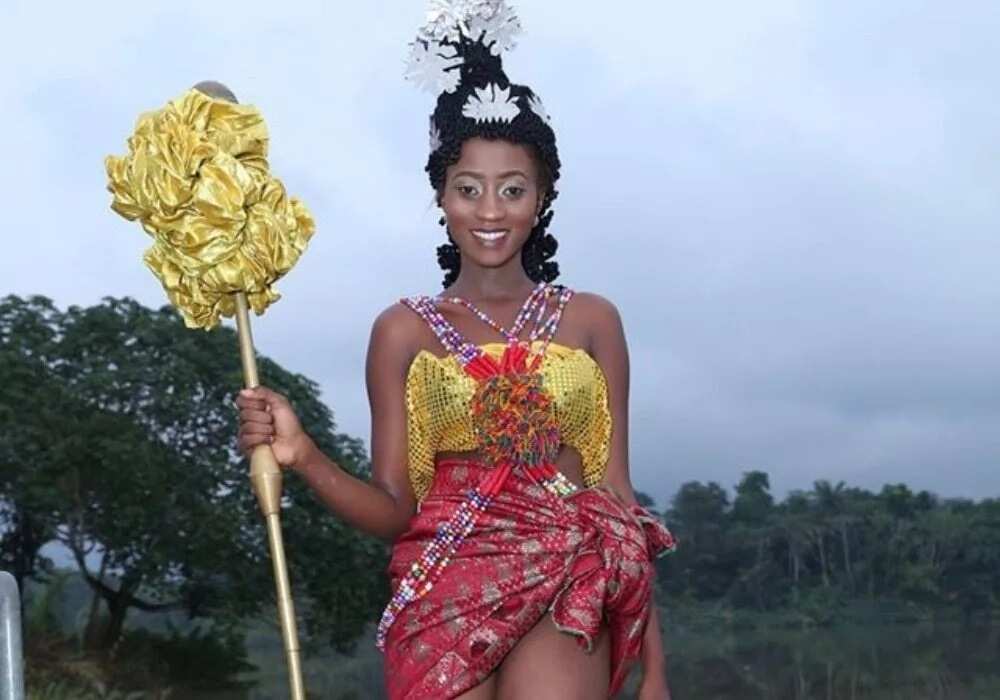 There are two quite distinct looks you can choose between (or, if it is your wedding, you can wear one after the other). The first one is called Ofod Ukod Anwang. It consists of a knee-length skirt wrapped around the waist, a short beaded blouse that only covers the top half of the torso, as well as well as fluffy accessories worn around the arms and legs called Ekpa ku kwa.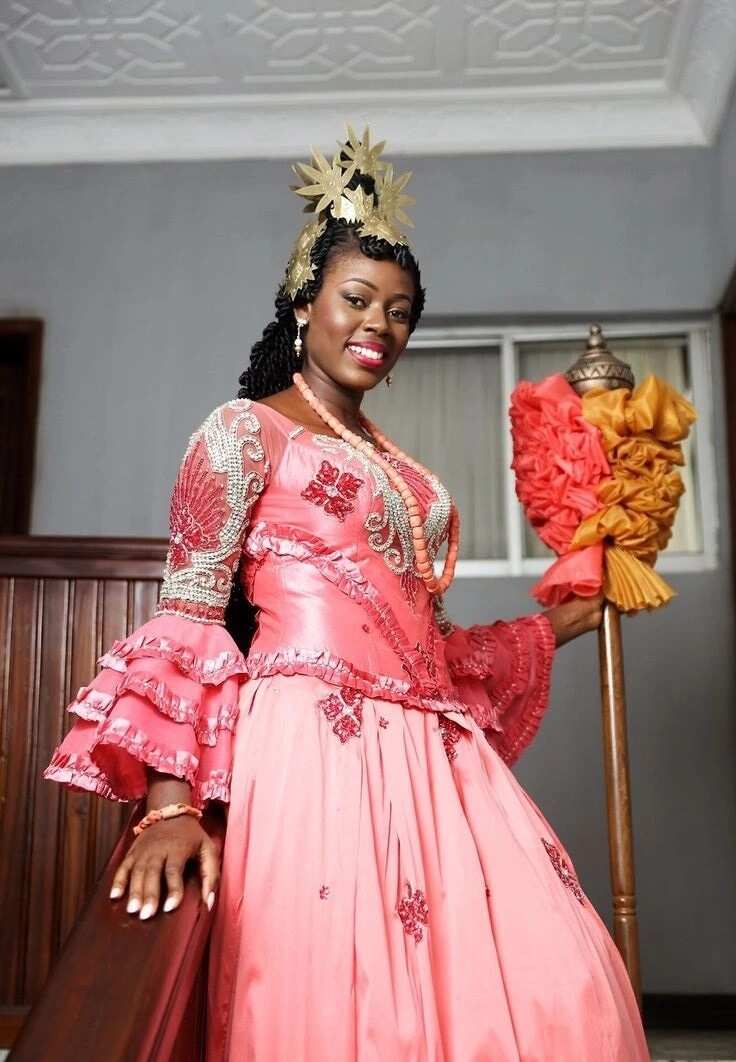 The second look is called Onyonyo, and it is usually a stunning flowing gown often adorned with lace and beads/jewels. The dress is also frequently worn with coral beads around the neck as an accessory.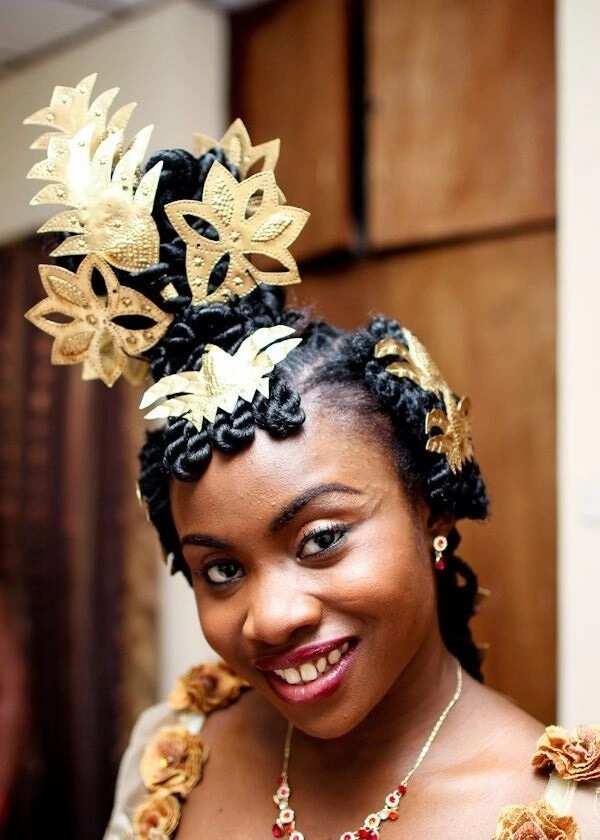 Both outfits would not be complete without the impressive hairstyle, which often consists of an updo at the top and flowing or braided long hair at the back decorated with plenty of brass combs and hairpins. A woman with such a hairstyle looks (and probably feels) like a queen on her big day. To add to this almost regal attire, women also carry golden staffs that are usually adorned with ruffled fabrics.
Regardless of what the woman chooses to wear, she can look incredible in her traditional Akwa Ibom attire. But what do men usually wear? Let's find out!
Nigerian traditional attire from Akwa Ibom State for men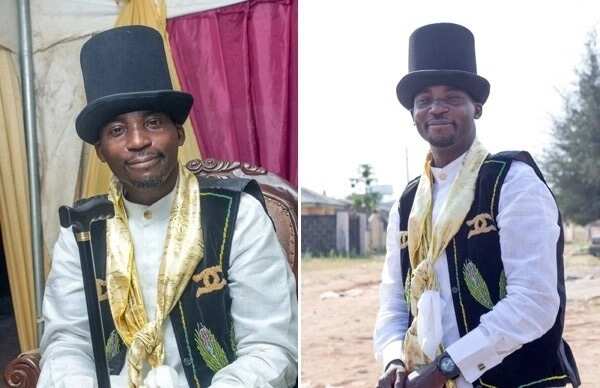 Men in Akwa Ibom State do not look any less fascinating than women do. Their looks are also always interesting, as they consist of different elements that make them special. Let's move from the head down and look at all of these pieces in more detail.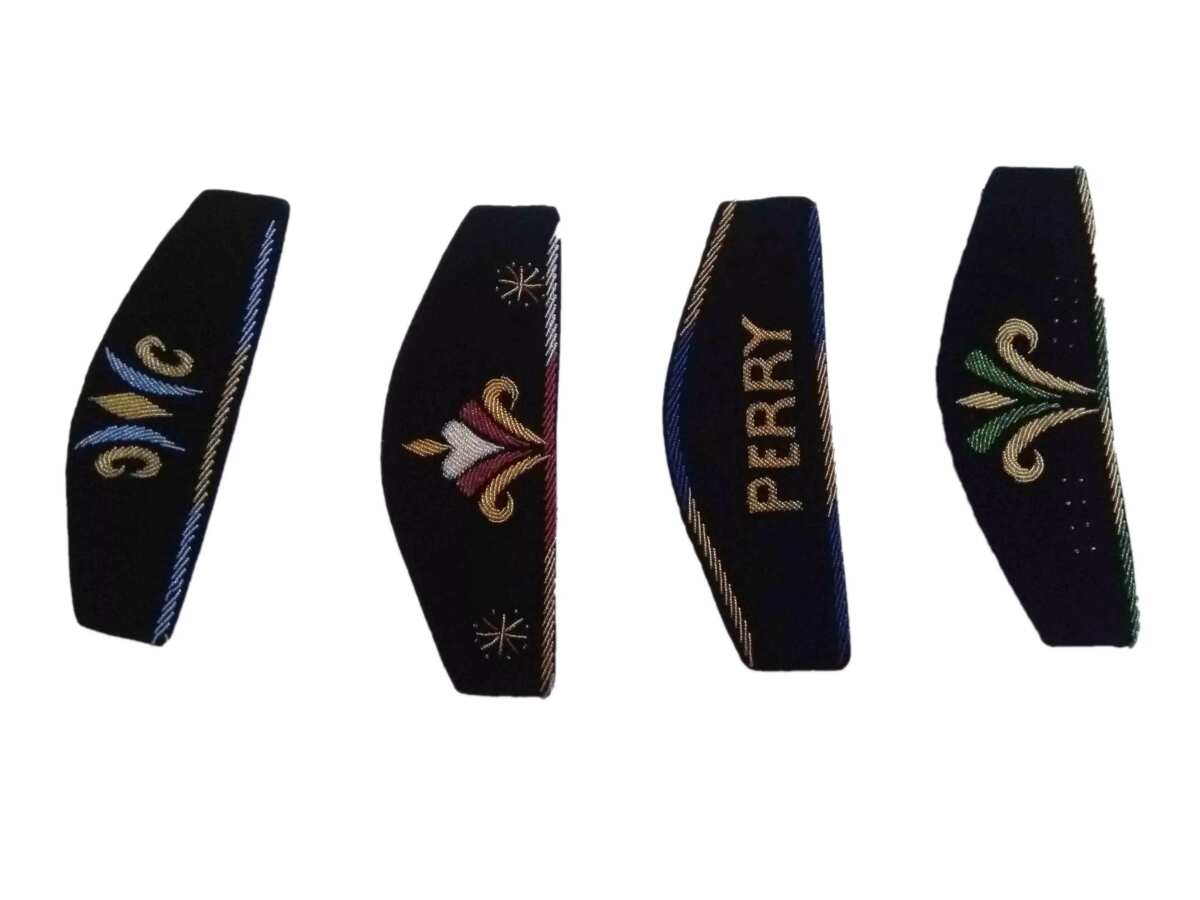 A lot of Akwa Ibom men usually choose to wear top hats to official events. Others wear beautiful beaded native caps. That said, some decide to go for bowler hats or colourful caps that are usually associated with other tribes.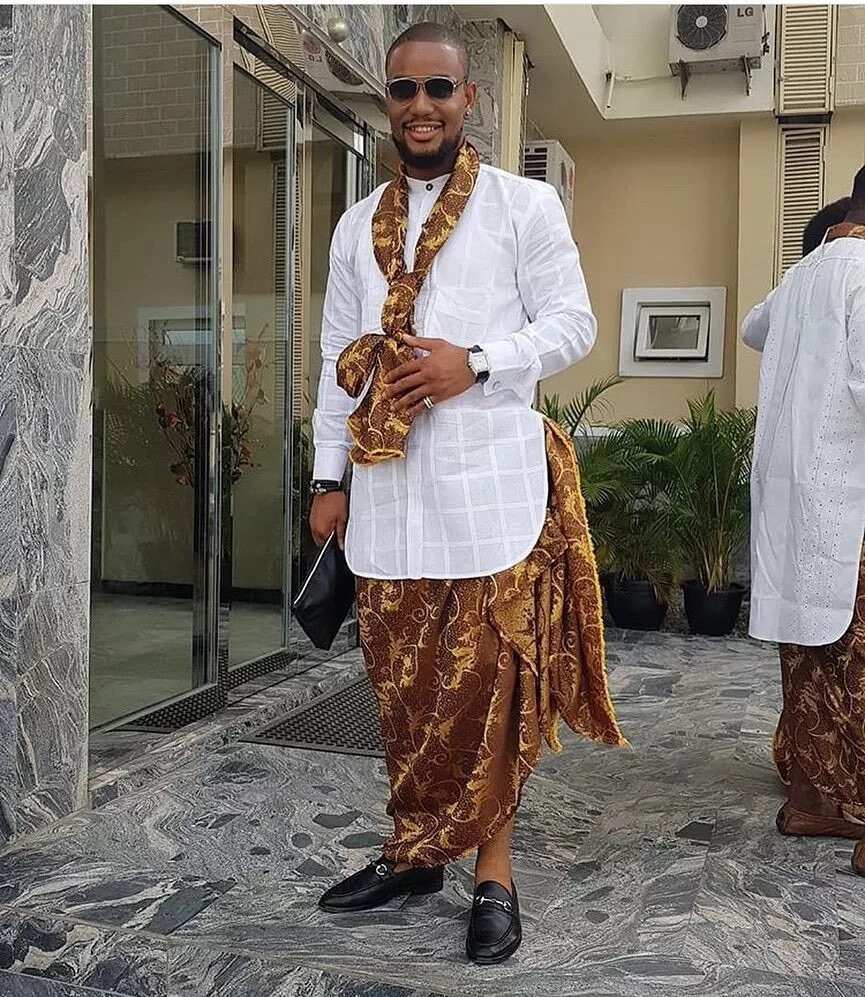 READ ALSO: Nigerian native wear designs for men
Going down, you can find a long piece of cloth tied around the neck called Okpomkpomon. It is worn like a long scarf and tied several times in knots or with other fabric. The colour of the cloth usually matches either the outfit of the bride or the wrapper around the hips. Some men choose to go for coral beads instead of the Okpomkpomon.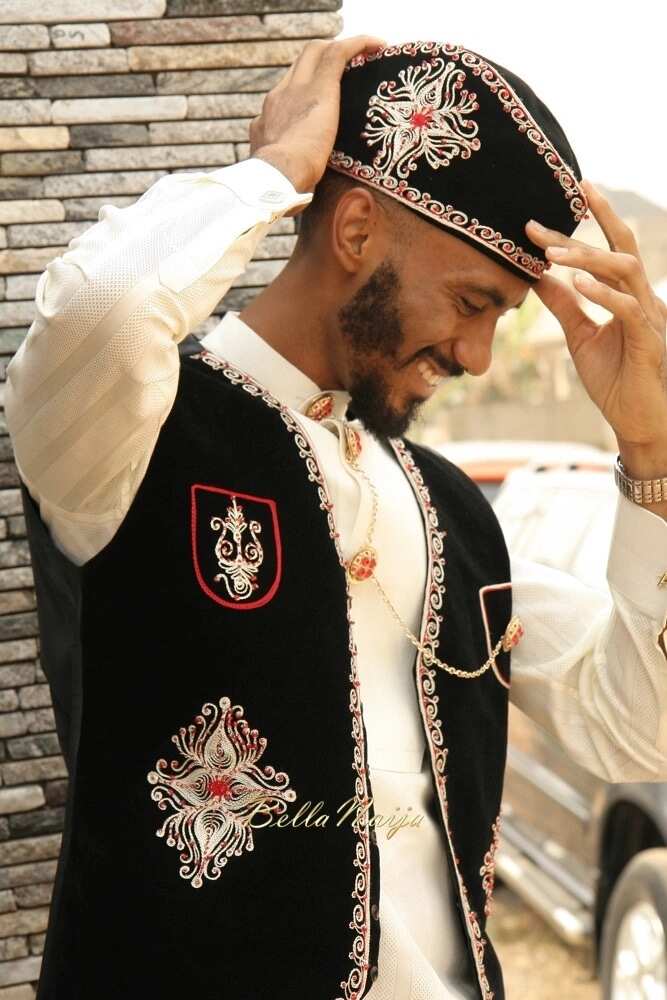 The torso in this traditional outfit is often covered with a long white chieftain shirt. It can end there, or the man might choose to wear a black beaded vest that often has the same ornamental designs as the native cap.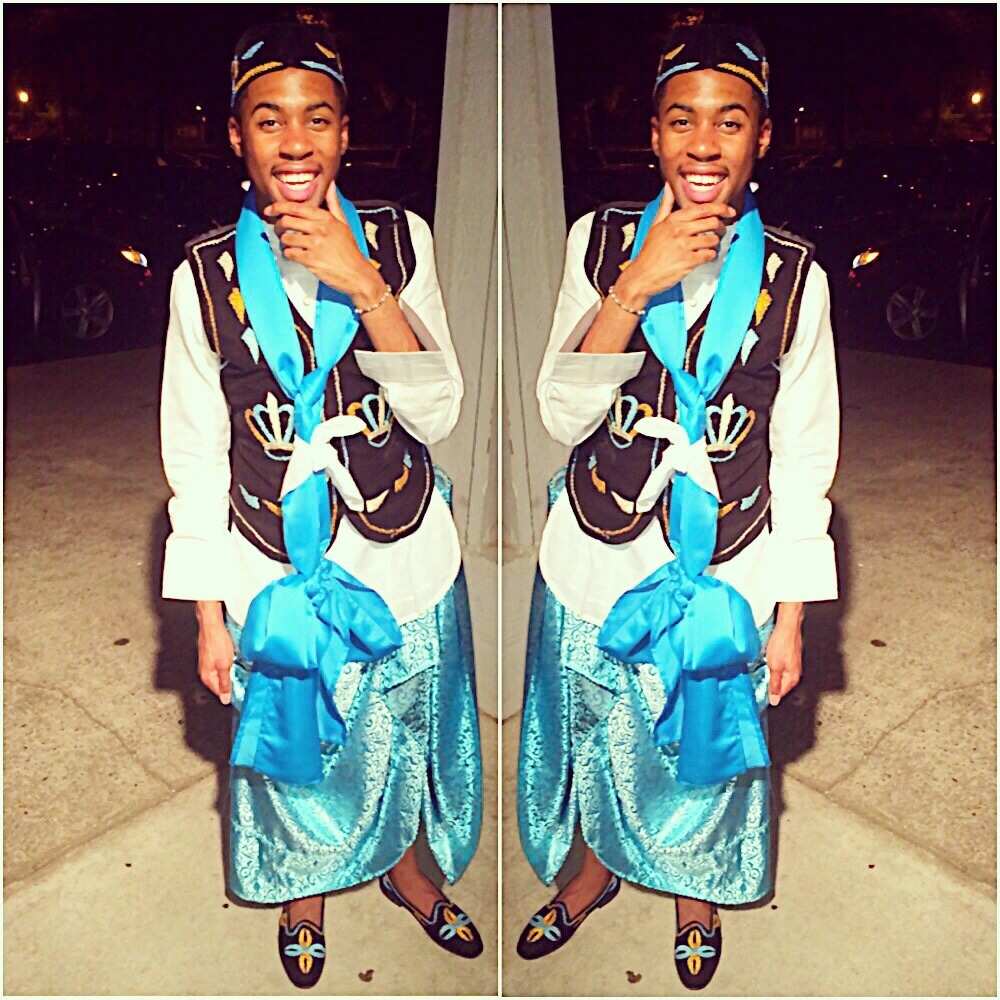 The legs are covered with a traditional wrapper called Usobo. It is a long piece of shiny cloth that reaches the ankles. This cloth is wrapped around the waist and tied at the hip.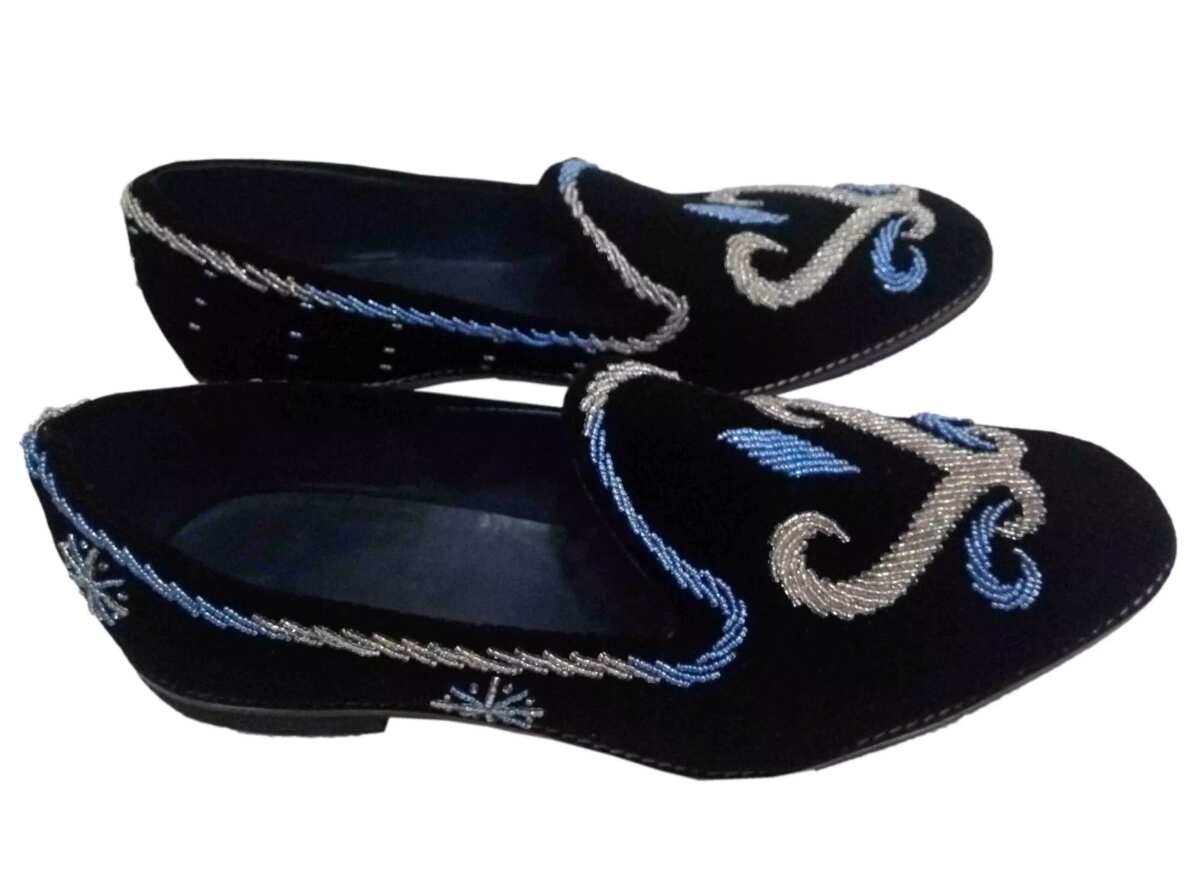 This traditional outfit would not be complete without the intricate beaded shoes (usually black with colourful designs) and a cane/walking stick. Some men also decide to wear bracelets made out of coral beads and other accessories of their liking.
As you can see, both men and women of Akwa Ibom like to dress up all fancy for special events, wearing the most beautiful traditional attire. What outfit did you like the most? Would you (or did you) wear something like this to your wedding? Let us know in the comments below. You can also share some pictures and show off your own traditional Akwa Ibom outfits.
READ ALSO: Nigerian female native wears which fascinate men