1 Died, One Spent 5yrs: Stella Obasanjo, Patience Jonathan & 3 Other First Ladies Nigeria Has Had Since 1999
Earlier today, Monday, May 29, 2023, Bola Tinubu was sworn-in as the 16th president of the Federal Republic of Nigeria along with his wife Oluremi Tinubu as the first lady
Mrs Tinubu is now the fourth first lady of Nigeria since 1999; before her, there was Stella Obasanjo, Turai Yar'adua and Dame Patience Jonathan
The just-concluded administration of President Muhammed Buhari never officially created the office of the first lady, and so she isn't fully recognised in the role
Today, Monday, May 29, was a momentous day for the Federal Republic of Nigeria.
Since returning to democracy in 1999, the country has now officially witnessed the swearing-in of five democratically elected presidents, and each Grand Commander of the Federal Republic (GCFR) has shared the mantle with their wife as the first lady.
In this article, Legit.ng has compiled a list of the five women who have come into power with their husbands as the head of state and them as the first lady of the federal republic.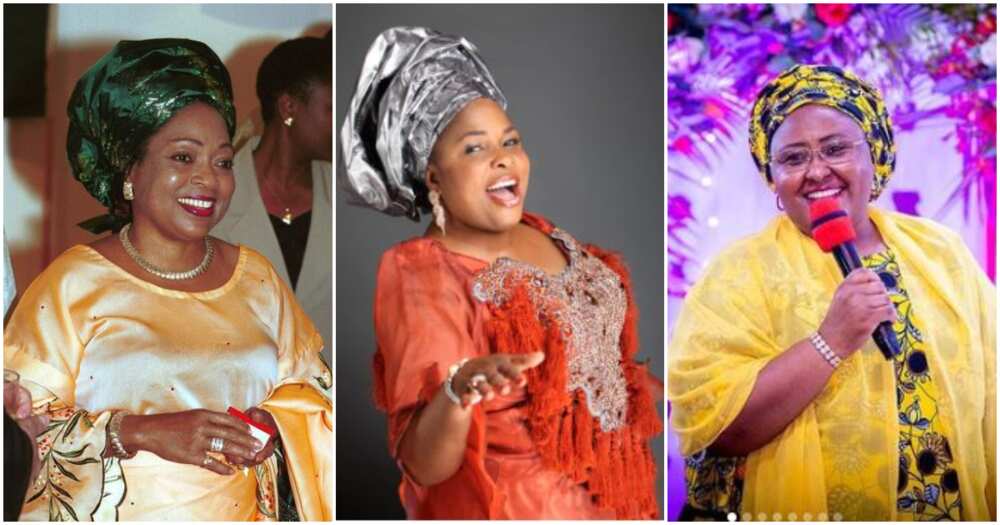 1. Stella Olusegun Obasanjo, first lady from 1999-2005 (died in power):
PAY ATTENTION: Share your outstanding story with our editors! Please reach us through info@corp.legit.ng!
Stella Obasanjo is the wife, former president of Aremu Okikiola Olusegun Obasanjo. She came into power in 1999 with her husband as the 1st first lady of the fourth republic.
She, however, didn't complete her husband's tenure as she passed away due to complications during Liposuction surgery in 2005. She is seen by many as one of the most beloved first ladies the country has ever had.
2. Turai Yar'adua, first lady from 2007-2010:
Haija Turai Yar'adua has the shortest reign as the first lady of the federal republic of Nigeria, as she was only in her role for three years.
The former first lady had to step away from power after her husband, Umaru Musa Yar'adua, passed away in 2010 while in power.
She was hugely loved for her classy, modest demeanour and persona.
3. Dame Patience Goodluck Jonathan, first lady from 2010 - 2015:
The former first lady of Bayelsa state before luck shined on her and her husband, vice-president of the late Umaru Musa Yar'adua.
Former President Goodluck Ebele Jonathan became the default ruler of the federal republic of Nigeria and his wife, Dame Patience, the first lady. The pair were re-elected to the position in 2011 before they were voted out in 2015.
Dame Patience is one of the most popular first ladies Nigeria has ever had. She was most famous for her gaffes, grammatical blunders and controversial statements.
She provided Nigerians with loads of comical content and relief for a while.
4. Aisha Buhari, first lady from 2015-2023:
Haija Aisha Buhari created a record as the first number one woman in the federal republic of Nigeria to complete her tenure of two terms of eight years with her husband.
However, her time as the first wife was unique because her husband never officially created nor allowed the first lady's office to function under his administration.
Under President Muhammadu Buhari, the first lady's office was neither scrapped nor funded.
5. Senator Oluremi Tinubu, First Lady from 2023:
As a new president was sworn in today, May 29, 2023, the office of the first lady under President Bola Ahmed Tinubu's administration has been restored.
Former Senator Oluremi Tinubu is officially the fifth first lady of the federal republic of Nigeria since the return to a democratic system of government.
Source: Legit.ng