"Was Sick, Depressed When I Produced Seyi Vibez's Chance": Dibs Tunes, 19, on Taking Music Industry by Storm
At 19, music producer Dibs Tunes already has an impressive portfolio in his arsenal that features chart-topping records from the likes of Seyi Vibes and Zlatan Ibile. But the young blood has only just scratched the surface of what he has to offer Nigeria's music industry…
"I was born into a family that loves music," Dibs Tunes recounted to Legit.ng as we threaded the childhood paths that ultimately shaped his love for creating music.
The university undergraduate admitted that he consumed a healthy dosage of 'oldskool' music by the likes of King Sunny Ade, Haruna Ishola—a rich exposure which was all thanks to his father's taste in music.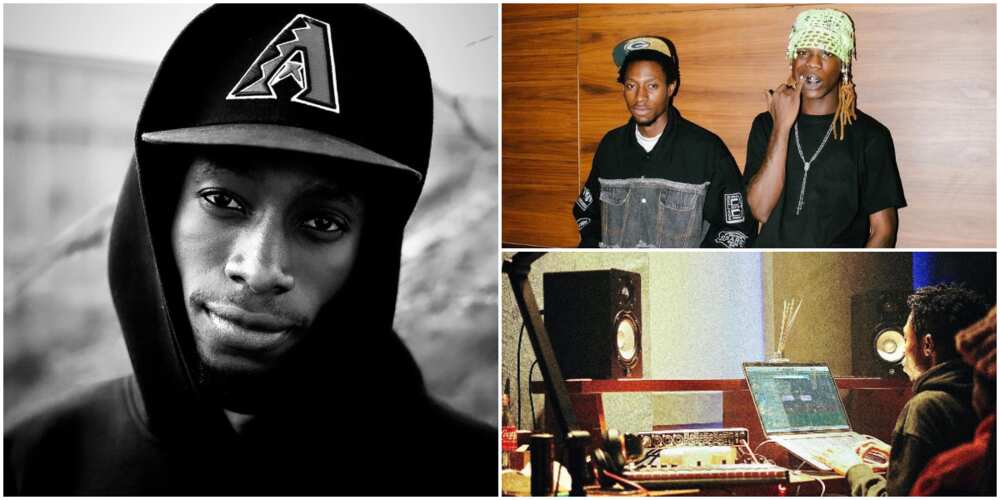 "I fell in love with music at a very young age. After school every day my dad got a CD player and loved listening to loud music of artists like King Sunny Ade, Haruna Ishola e.t.c In addition, rehearsals from church. If you've been to a C&S Church you'll know that the music is one of a kind. Then in my secondary school (Foresight International school), I was the captain of the drummer boys."
Understandably, when the time came for Tunes to make his decision, his consumption over the years had quietly shaped and tilted his interest to the music-creating side.
" I listened to a lot of music and developed an interest in how music is created. From how the beat is made, to how words are put together to make lyrics, then the melody and proper vocals. I'll say my interest in creating music was piqued from a very young age".
Producing Chance
Although relatively in the blooming days of his career, the young producer's work with afro-soul artiste, Seyi Vibez, quickly turned the attention of the music community in his direction.
"I really didn't expect Chance to be that big," Tunes admitted, "I created the beat when I was kind of depressed," the music-maker added.
He proceeded to trace the origin story of the record.
"I was preparing for school and started the beat in the afternoon before going to get stuff for school. I got back and listened to the beat and knew this was something but the question was who will kill the beat?" I had an urgent session at the studio a night before I was supposed to go back to school but it got cancelled and I had to stay in the studio. It happened that I forgot my medicine at home so I was feeling really sick. I slept till about 1am, and then someone tapped me--it was Seyi Vibez. He was like 'Dibs pele, let's do something naw' Then we headed into the studio and I played that beat for him.
"We did a few tweaks on the beat and went ahead to recording. At one point, Seyi Vibez wasn't feeling the beat and wanted us to create something else. But I was able to convince him to do four bars on it for the sake of time and he agreed. He started writing, and the moment he started recording, I knew it was a hit. We spent about an hour in the whole process and that was the first time I worked with Seyi Vibez."
The Chance hitmaker made it a point to mention his genuine interest in working with afrobeat's biggest three.
"I want to work with a lot of artists in Nigeria but Wizkid, Burnaboy & Davido make the top of my list. I've always wanted to work with them right from when I started this production p."
Although a self-acclaimed king in his lane, Tunes said he still looks up to the likes of Sarz, Skrillex and Mello & Sleazy.
"Sarz is one of the producers I've always looked up to from the beginning. He has this kind of style and bounce that stands out and he is very talented. It might be weird to say Skrillex because most people don't listen to Dubstep, but I listen to dubstep. His beats are unique. If you are familiar with Amapiano music, Mello and Sleazy shouldn't be strange. They are known for complex and hard beats. In all, I'll say I don't have works that stand out for me from the producers because I love their craft."
A visit to Dib Tunes' official Instagram shows that the page has been specially curated to reflect content that promotes his work. It's very easy to conclude that university education has long been crossed off his list.
The producer admitted that school has been the greatest challenge so far since he ventured into the business of creating music.
"The only challenge I have in the industry right now is school coming in the way of my dreams of working full time as a producer. It's really not easy, I have to juggle a lot of things at the same time but with proper time management, I'm trying to make it work. I have been getting a-lot of support really from artists that I didn't expect, its all love."
Support from his parents
For his parents, the evident result and realisation that their son is on a sustainable career part is the only reason they accommodated the idea of any distraction from his education.
"At first, they were not in support at all but seeing that this could be a sustainable career path for me, it's different and I now enjoy their support."
With the likes of Young John, Pheelz and Rexxie shifting base and becoming recording artistes themselves, Tunez maintained that it's not an idea that has remotely fascinated him.
"I don't plan on transitioning into an artist at least for now. So it's a long-time goal."
When asked how things are fairing on the money-making side of his hustle, the 19-year-old producer chose to keep things under wraps. But he is "eating good".
"Well, I'll love to keep this confidential for now, but trust me it's worth it. Generally speaking, I think I'm making enough based on the industry standard. But you know making a lot is subjective, so my too much can be another person's minor, and I hope to attain the levels of those that have been in the industry before me."
Pheelz opens up about linking AG Baby to Olamide
Meanwhile, Legit.ng reported that producer-turned-artiste Pheelz opened up on getting singer Adekunle Gold signed to Olamide's YBNL record label back in the day.
Pheelz recounted getting to know Adekunle for his graphic design skills and eventually discovering that he also had a knack for music.
The Electricity hitmaker's revelation sparked reactions from Nigerians on social media, with some people expressing their complete surprise.
Source: Legit.ng