35 Letterkenny quotes, sayings and insults applicable to our lives
Letterkenny quotes will remind any lover of the Canadian comedy series why they watch the show in the first place. The series depicts the regular routines that rural communities engage in, which is what makes it even more interesting for many fans.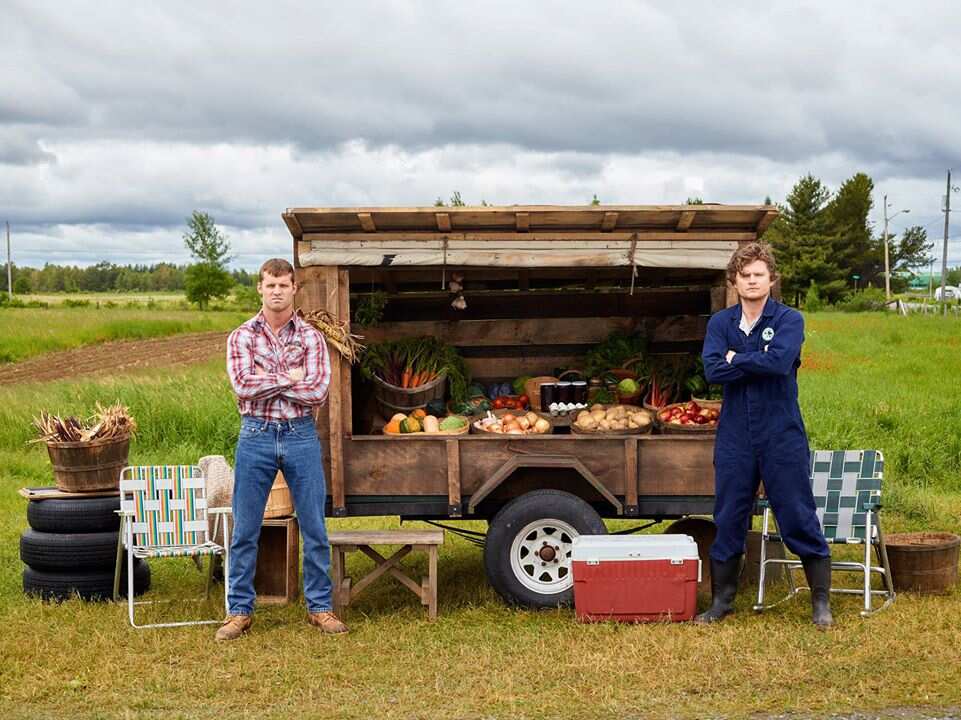 Forget the last Letterkenny meme you came across and check out the quotes below about the show. You may just be reminded of your favourite characters and the things they do to crack you up every time you tune in.
Even though the series has been around for quite some time, fans still ask, is Letterkenny over? Fortunately, no, it is not over. Fans can be excited about seeing their favourite characters in the 9th season.
Below are some of the best sayings from the show, including popular Letterkenny hockey quotes that you will definitely identify with.
The best Letterkenny quotes of all time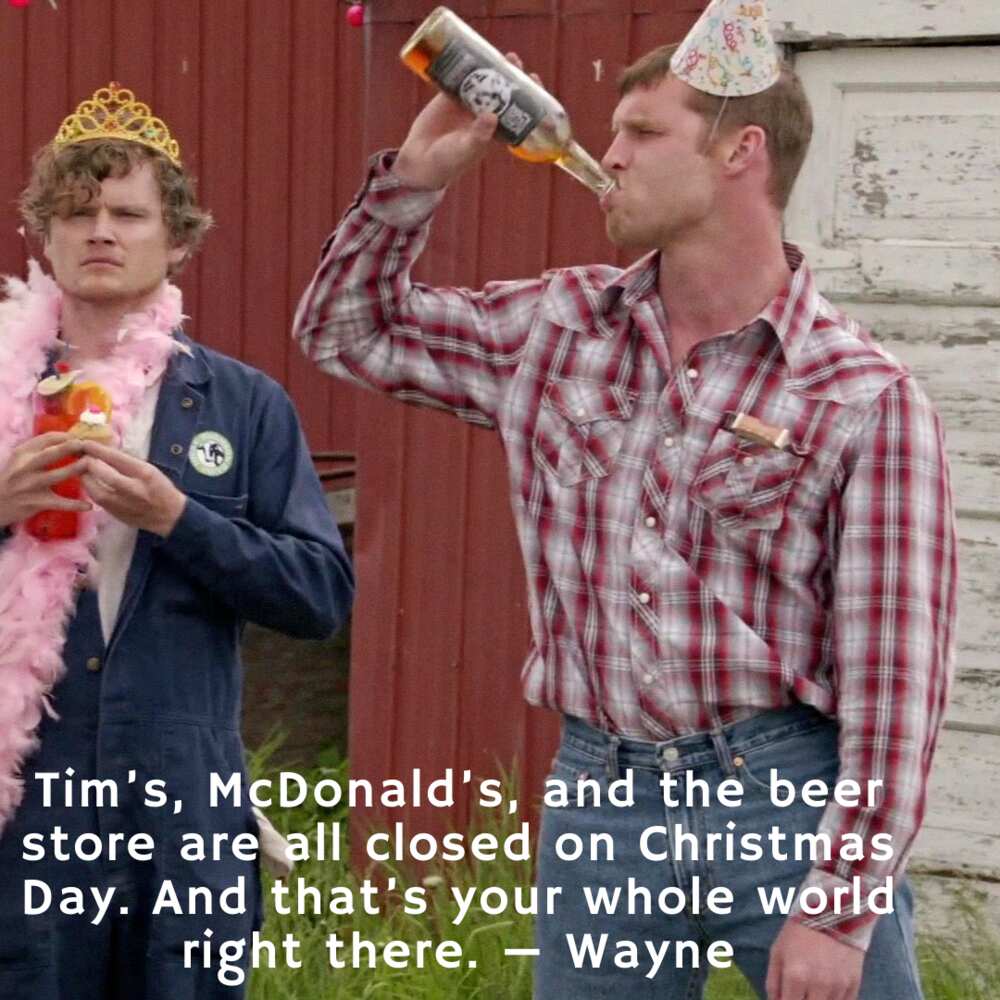 Well, if you are a regular fan of the show, you probably are conversant with Letterkenny slang. This article captures many Letterkenny sayings you may have become accustomed to.
Do you have any favourite Letterkenny Wayne quotes you feel should not miss on our list? Read on to find out if yours made it to the list of the best 35 quotes from the show below.
Some of the most relatable quotes on the show are:
Here's a poem. Starlight, star bright, why the f**k you got earrings on? Bet your lobes ain't the only thing that got a hole punched in 'em. — Wayne
Tim's, McDonald's, and the beer store are all closed on Christmas Day. And that's your whole world right there. — Wayne
You stopped toe curlin' in the hot tub 'cause you heard sperms stay alive in there, and you've seen Teenage Mutant Ninja Turtles enough times to know how that story ends. — Wayne
Your sister's hot, Wayne! There I said it! I said it! I regret nothing! I regret nothing! — Squirrelly Dan
You're pretty good at wrestlin' there, Katy, and that's what I appreciate about you. — Squirrelly Dan
You naturally care for a companionship, but I guess there's a lot worse things than playing a little one-man couch hockey in the dark. — Wayne
If I was a Dr. Seuss book, I'd be The Fat in the Hat. — Katy
And I suggest you let that one marinate. — Wayne
Seeing as this is most certainly a one-off event and not a tradition that also falls on some made-up holiday that I couldn't give a cats qu**f about, I'm out. There's happiness calling my name from the bottom of a bottle of Puppers. — Wayne
We only got one shot at this. One chance. One win. You know? Vomit on your mom's spaghetti, or whatever that talking singer says. — Coach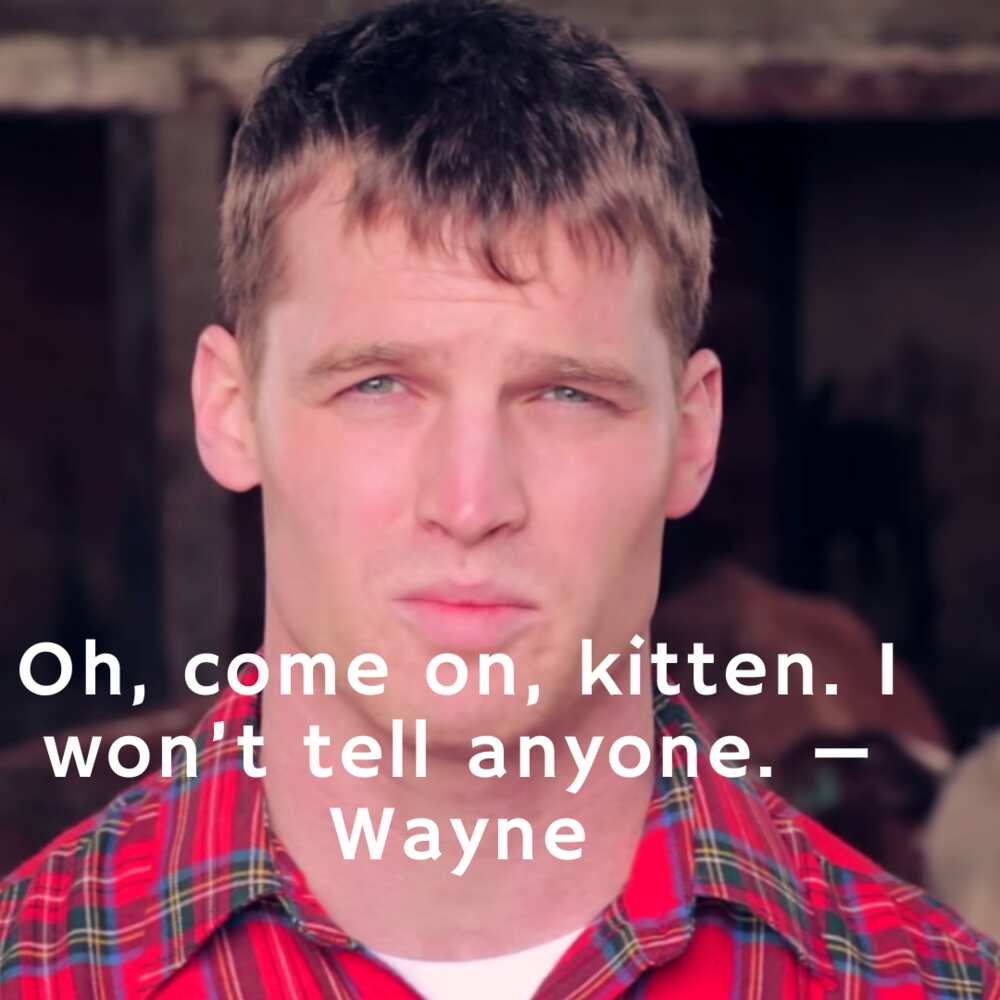 If you are a regular who watches this series, then certain phrases from the show will not shock you. Captured below are some of the most popular quotes that will make you smile.
If you have a problem with the majestic Canadian Goose, then you have a problem with me. — Wayne
Tim's, McDonald's, and the beer store are all closed on Christmas Day. And that's your whole world right there. — Wayne
Your dad says guys with big trucks have little d**ks. And that makes sense cuz you want a real big truck and got a real little d**k. — Wayne
I see the muscle shirt came today. Muscles coming tomorrow? Did ya get a tracking number? Oh, I hope he got a tracking number. That package is going to be smaller than the one you're sportin' now. — Daryl
It's a hard life picking stones and pulin' t**ts, but as sure as God's got sandals, it beats fightin' dudes with treasure trails. — Wayne
Top Letterkenny insults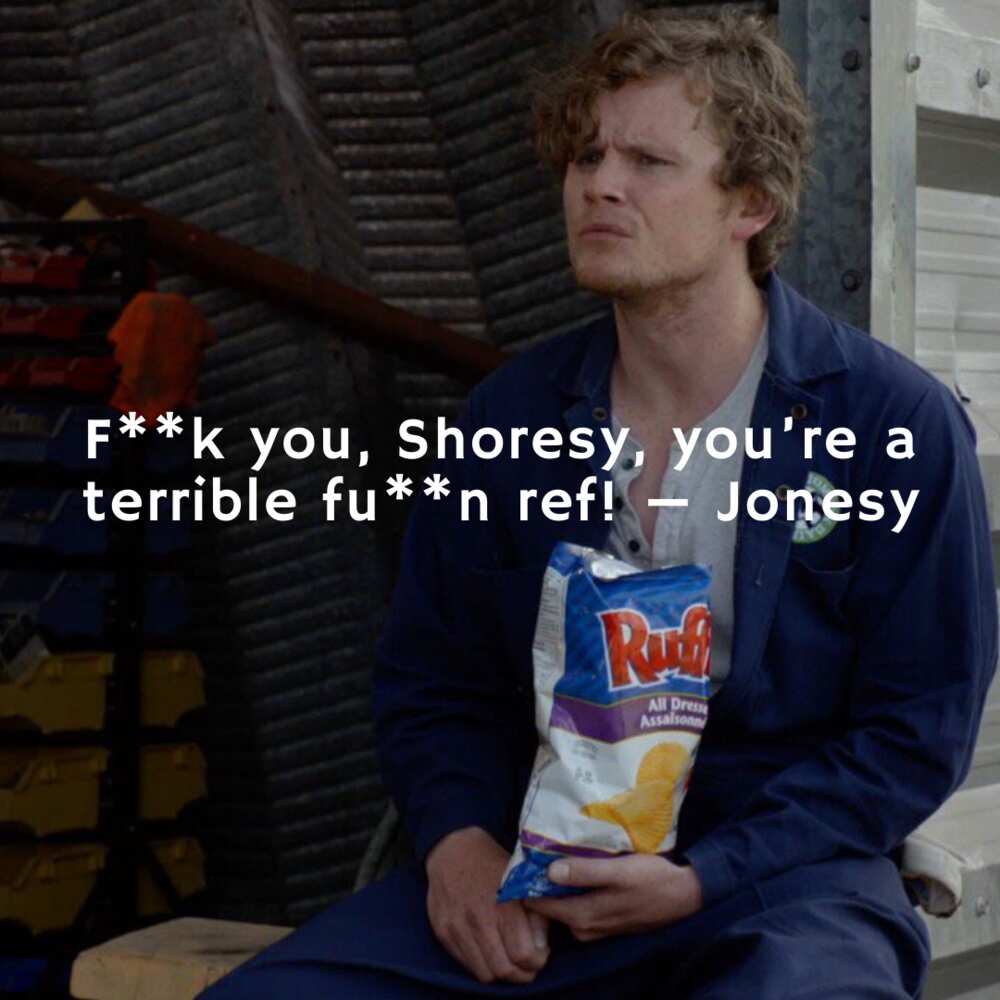 This show would best be recommended for adults only because of the content. It appears as though the characters have no limits on their insults and cuss words.
Check out the insults below. You may just pick a few to use whenever you hang out with your close buddies as long they are open-minded.
F**k you, Jonesy! Your mom just liked my Instagram post from 2 years ago in Puerto Vallarta. Tell her I'll put my swim trunks on for her any time she likes. — Reilly
It's like algebra…why you gotta put numbers and letters together? Why can't you just go f**k yourself? — Wayne
Closest you're gettin' to any action this weekend is givin' the dairy cow's t**ts a good scrubbin'. — Wayne
What's up with your body hair, you big shoots? You look like a 12-year-old Dutch girl. — Wayne
Call me a cake, 'cause I'll go straight to your a** cowboy. — Gail
Buddy, you couldn't wheel a f**kin' tire down a hill. — Wayne
Well, I'd say give your balls a tug, but it looks like yer pants are doin' it for ya. — Wayne
F**k you, Shoresy, you're a terrible fu**in ref! — Jonesy
You're made of spare parts, aren't you, bud? — Wayne
That was well brought up. Too bad, you weren't. — Katy
Letterkenny Shoresy quotes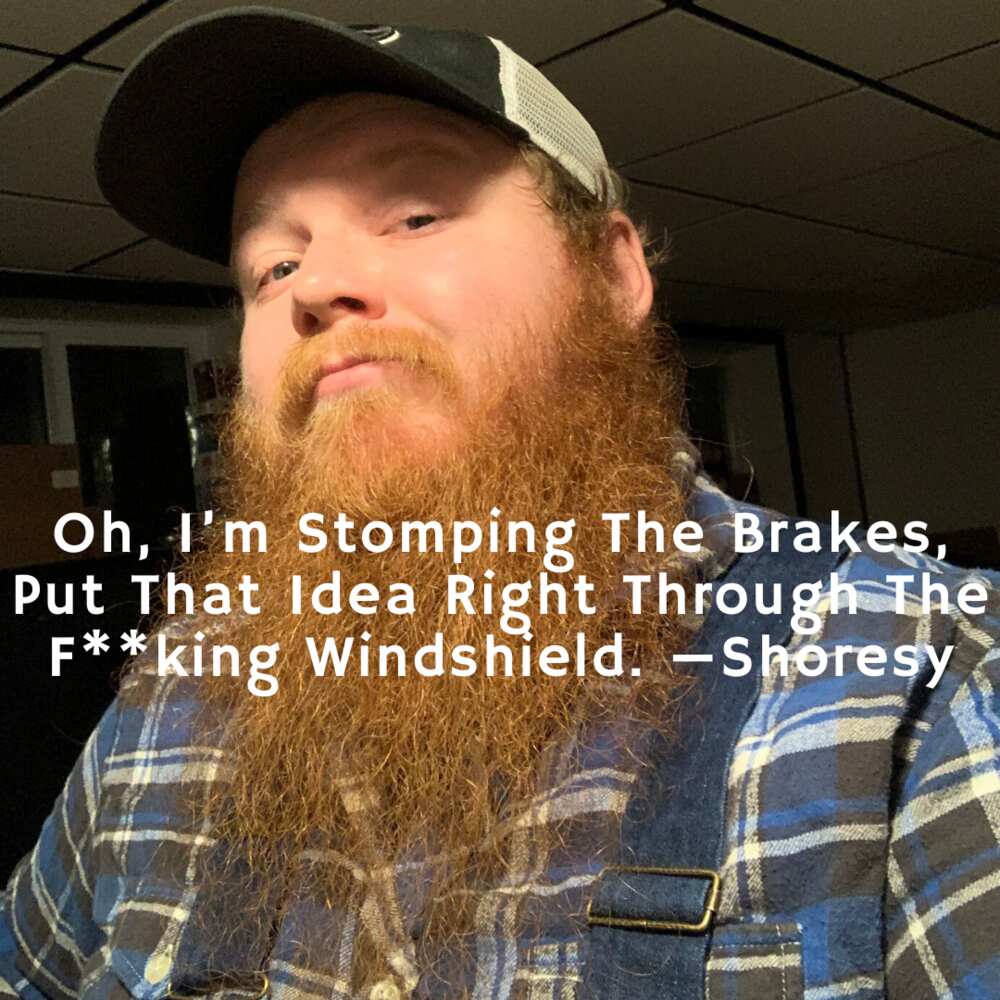 Shoresy is one of the most popular characters in the show known for saying hilarious things. Here are a few examples of his sayings that you can easily relate with.
F**k you, Jonesy, your life is so pathetic I get a charity tax break just by hanging around you!
Well, there's nothing better than a fart. Except kids falling off bikes, maybe. F**k, I could watch kids fall off bikes all day, I don't give a sh*t about your kids.
Oh, I'm stomping the brakes, put that idea right through the f**king windshield.
F**k lemony snicket, what a serious of unfortunate events you f**kin been through you ugly f**k. Boulevard of broken dreams!
You ever hoover schneef off a sleeping cow's spine? I've hoovered schneef off an awake cow's t**t.
Popular Letterkenny phrases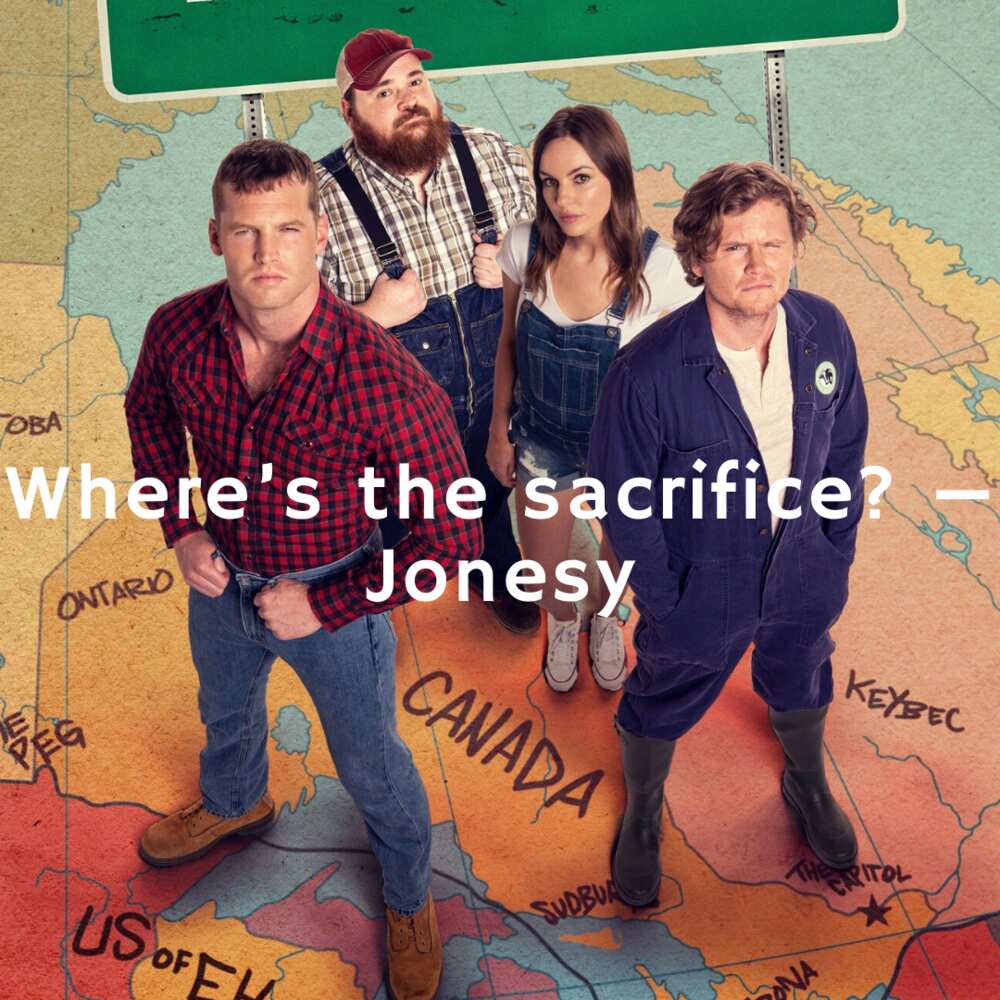 Most people that love this show tune in just to hear their characters say their favourite phrases. If you are trying to learn a few adult Canadian slang words, then this would be a great show to catch every time it airs.
You have probably heard the following phrases if you are a regular. They either crack you up or make you wonder how smart the guys can be.
Not my pig, not my farm. — Wayne
Where's the sacrifice? — Jonesy
Pitter-patter, let's get at 'er. — Everyone
You knew your pal had come into money when he started throwing out perfectly good pistachios like he was above cracking 'em open with a box cutter like the rest of us. — Daryl
Oh, come on, kitten. I won't tell anyone. — Wayne
The above Letterkenny quotes capture the nature of this very popular Canadian show. If you are one of those people who get adult jokes, then this should be a show you purpose to watch, especially because it is relatable and easy to identify with all the characters.
Source: Legit.ng