"We Didn't Ask You to Marry a Cheating Wife": BBNaija's Khloe Lambastes Nedu Over His Comment on BBN Girls
Popular Nigerian media personality, Nedu, recently made controversial claims about ladies who go for BBNaija
According to him, many ladies go on the show to look for customers and it caused a massive stir on social media
Ex-BBNaija star, Khloe, took to social media to respond to Nedu and told him it was nobody's fault his wife cheated
BBNaija Double Wahala star, Koko by Khloe, has joined many others to verbally attack media personality, Nedu, over his claims about ladies who go for Big Brother.
Recall that Nedu had earlier made controversial claims on how ladies go for the reality show to look for customers.
After Nedu's statement went viral, many ex-BBNaija girls took to social media to react, including Khloe.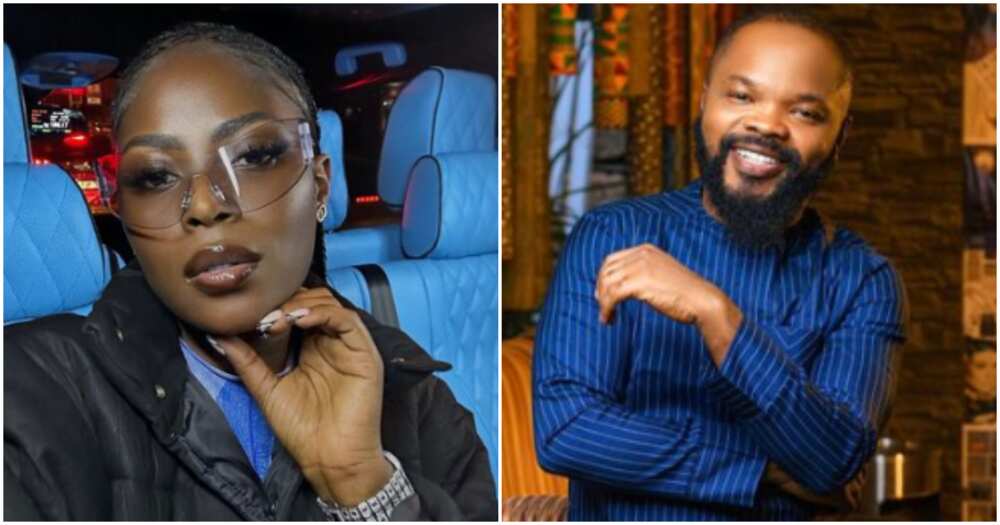 The young lady went all out as she dragged Nedu and even mentioned his drama with his ex-wife who cheated and allegedly gave him children that were not his.
Khloe noted that it was nobody's fault that Nedu's wife gave him a basta*rd child. She also called him dumb, childish and useless.
According to the BBN star, many people choose not to see it when these ladies work hard but would rather come online to support rubbish claims. She also added that whatever a woman decides to do to make ends meet is nobody's business.
Not stopping there, Khloe also addressed Nedu's earlier claims of walking in on two female celebs with one of his friends in action. According to the BBN star, he must have cooked up the story on the spot and was only able to deceive fools.
On a final note, Khloe told Nedu to heal from his heartbreak and leave women alone because they did not ask him to marry a cheating wife.
See her post below:
Nigerians react as BBNaija's Khloe puts Nedu on blast
thefoodnetworknig2:
"Keep it coming o jere! Na vawulence we kuku sign up for! Koko carry grenade come sha… bomb everywhere "
saint_nonso:
"All these big brother graduates should rest abeg, Nedu, didn't generalize, he said most of them not all."
vogue_thriftandmore:
"She should never in her life bring children into this. I'm a woman too and I felt bad about his statement but children? Na don't be mischievous babe."
like____felicity:
"The way Nedu is tackling women as if we all joined his ex wife to do him dirty tho! We apologize on behalf of your ex wife sha, Biko forgive women, May God give you the strength to carry on and forgive! Koko took this too personal tho. Everyone should just calm down and let love lead."
salawujeremiah:
"Funny enough na the ones wey person they suspect dey come out am not surprised."
izzyamazu:
"Nedu is saying nothing but the bitter truth."
tejupearls:
"Same men criticizing women are the same men chasing women up and down !! At the point I feel men are easily intimidated by powerful successful women and it's not our fault God created us with lots of Grace !!"
1demmyblaze:
"No be everything wey eye see person dey talk… A Man must learn what to and what not to say."
BBN's Kess, Deji slam Nedu
The recent viral comments by popular media personality and actor Nedu Wazobia about BBNaija girls seem to have rubbed a couple of former male housemates, Deji Morafa and Sir Kess, the wrong way.
Deji Morafa trolled Nedu saying the reason why the show host continues to attack BBNaija girls is that he applied to be on the show multiple times but was rejected.
Another BBNaija former male housemate, Sir Kess also reacted to Nedu's comment, stating that it is unfair to undermine the hard work of the female BBNaija housemates.
Source: Legit.ng