"Nobody Has It All Figured Out": Stan Nze Talks About How His Wife, Marriage Has Made Him More Patient
Stan Nze is regarded by many as one of Nollywood's fastest-rising young actors; he recently talked about his marriage, career and the political landscape of the country
The Rattlesnake action film star gave a bit of an insight into his personal life during an interview with Legit.ng
Stan, who last September celebrated his first wedding anniversary, revealed the one thing he has learnt since he got married and how his wife has changed his life
PAY ATTENTION: Сheck out news that is picked exactly for YOU ➡️ click on "Recommended for you" and enjoy!
Fast-rising Nollywood actor, Stan Nze recently got up close and personal during an interview with Legit.ng's Nosa Oke-Hortons.
During the conversation Stan spoke about his marriage, career, politics and expectations for the upcoming elections.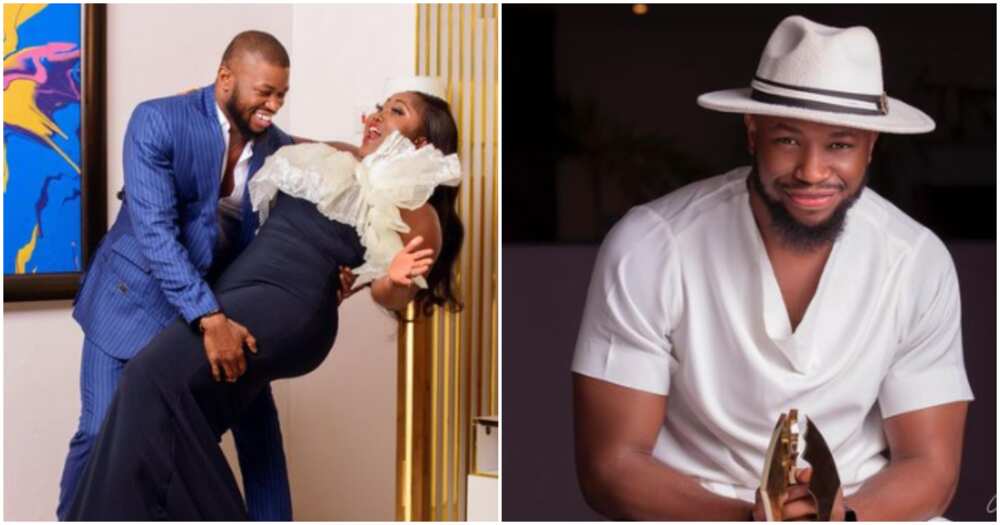 The thick-voice but soft-spoken movie star also talked about his love language, and why he doesn't enjoy doing epic movies.
Nze also had sweet words to say about his wife, Blessing Obasi, noting that she is the best thing to happen to him.
PAY ATTENTION: Сheck out news that is picked exactly for YOU ➡️ find the "Recommended for you" block on the home page and enjoy!
Read on to get the full gist from our chat with Stan Nze:
"I love language films" - Stan Nze talks about his biggest movie to date
"I love language, anything that is a language film would get my attention. I mean one of my biggest films is Rattlesnake, and it had a lot of languages, Igbo though."
Stan even cracked a joke, noting that people tease him a lot about his Yoruba and how he speaks it. However, he is working on improving it.
"People run away from sensitive movies, but we need to get comfortable talking about it" - Stan insists
The Nollywood actor further spoke about people getting comfortable enough to talk about sensitive issues.
He shared his thoughts after being asked about the need for Nollywood to start producing more sensitive films.
He said;
"People usually run away from sensitive movies because they don't know how the audience would take or receive them, but the truth is we would not run from them for much longer, people want to tell stories they can relate to, and people want to see their lives in films, people want to have people talk about their lives which could probably give them a window to discuss this sensitive issues."
"Imiela is the most challenging character I have ever had to play" - Stan Nze reveals
Legit.ng asked Stan which movie would he say has been the most challenging for him, and we were shocked when he picked his cable channel series ahead of the box-office blockbuster, Rattlesnake.
Nze said;
"People like to think my most challenging character was in Rattlesnake. Even though it was challenging, Imiela was a tougher ask because I had to play something I have never felt."
Stan also shared what his greatest motivation is as an actor.
His word;
"The fact that you want to see yourself win, the fact that you want people to see the great content that you make. The motivation to make any film is that you know that people's lives are going to be transformed when you know that people are going to watch this and learn something from it, that's one of my biggest motivations."
"Epic movies are stressful" - The Rattlesnake actor explains why he dislikes acting in native movies
"To be honest, epic movies are stressful. It is a lot of sunburns, a lot of fight sequences, but I would still do epic films, not just sure if I would be doing a lot of it."
"Taking it one day at a time": Stan talks about managing his businesses, acting and marriage
"We taking it one day at a time, we're learning. Nobody has it all figured out. I mean, I love God, and he loves me too. He gives me the wisdom to manage it all. I'm not going to say this is the ABC or XYZ. But every day, we wake up and pray for the wisdom to navigate both the things and those we don't have control over."
Stan then shared a short story about how he recently helped his wife to defuse an issue that could have escalated and become very public. He noted that he is naturally the type of person that always sues for peace.
Stan shares his marital experience and what has changed about him
"I'm more patient, I mean, I am here for the long haul I am not going anywhere. I am realizing daily that "we die here" there's no running away from any situation, things will arise to sort them out there and there."
Nze also revealed how his wife had affected his communication skills.
He said:
"I used to be a stone wall, I am that type of person that wants to sweep things under the carpet. But I am talking more now, I am more vulnerable, and I am more open to having a seat down and talking things over. When I am hurt, I would say it because I don't want to have anything bottled up. I have had times that I cried and said oh this thing is hard but we doing it. Luckily for me, I'm married to such a beautiful woman, she has such a good heart which makes it easy."
Stan also touched on the upcoming elections, noting that whoever emerges as the president should transform the country. While opposed to popular opinion, Stan stated that he foresees peaceful and successful elections
Stan Eze, wife Blessing mark 1st wedding anniversary, shares cute video
Meanwhile, Legit.ng recalls reporting that it was a moment of celebration for Nollywood celebrity couple Stan Nze and his actress wife Blessing Jessica Obasi as they marked their first wedding anniversary today, September 11.
To make it special, the two love birds took to social media to share lovely moments from their wedding.
Celebrating his wife via his social media timeline, Stan stated that marrying Blessing was the best decision he has ever made in life.
Source: Legit.ng