"Bringing the newsroom into the business of news will foster sustainability", says Rahaman Abiola of Legit.ng
Legit.ng's Editior-in-Chief, Rahaman Abiola, joined top African media leaders like Joe Ageyo of Nation Media Group, and Hoosain Karijieker of Mail and Guardian Newspaper, at the 2023 INMA Africa Media Summit
The media powerhouses came together to discuss the case study: Bringing the newsroom into the business of news, as they sought innovative ways to make the African media industry profitable and sustainable
Legit.ng continues to be a driving force in revolutionising the African media ecosystem through a digital-first strategy, as the Editor-in-Chief's insights paved way for practical actions to be taken by media companies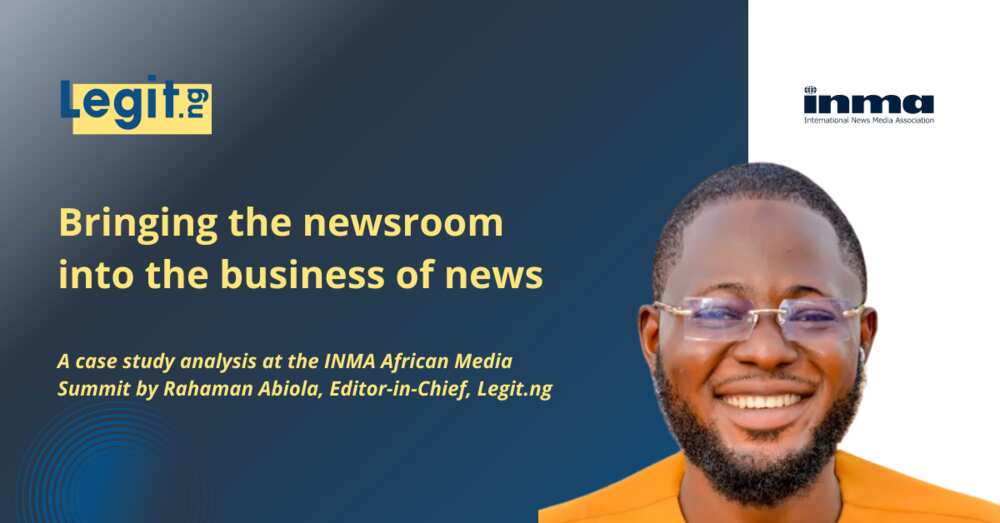 Rahaman Abiola, Editor-in-Chief at Legit.ng was a speaker at the Africa Digital Media Summit held virtually on July 6, 2023. It was put together by the International News Media Association (INMA) to address the business of journalism and its sustainability via key strategic media.
In the discussion, he joined top African media leaders like Joe Ageyo, Managing Director in Nation Media Group (Kenya), and Hoosain Karjieker, Editor-in-Chief in Mail and Guardian Newspaper (South Africa), examined the case study of "Bringing the newsroom into the business of news." The collective expertise shed light on the transformative potential of this integration and its role to revolutionise the Africa media industry.
"For media organisations to become more sustainable and enjoy the dividends of evolved, modern journalism, they must integrate the newsroom into the business of news. Namely, the integration of journalistic values, practices and expertise with the commercial aspects of running a news organisation" – emphasised Mr. Abiola.
Rahaman listed three key ingredients for maintaining media business sustainability and overall success. He advised media houses to first redefine success in quality journalism, as a key element. He stressed the need to jump on digital trends and engage the youths, and finally, he advocated the inclusion of the public's voice in the editorial process.
PAY ATTENTION: Сheck out news that is picked exactly for YOU ➡️ find the "Recommended for you" block on the home page and enjoy!
Redefining success
Redefining 'success' in quality journalism is one of the key elements. The Editor-in-Chief at Legit.ng stated that Legit.ng's approach to this has been exemplary, as the company's commitment to delivering accurate, reliable, and impactful news to its audience, has set the right standards within the industry.
"By upholding the highest ethical standards and investing in the professional development of our journalists, Legit.ng has earned the trust and confidence of its readers, becoming a standard-bearer for quality journalism in Nigeria and beyond. Our recent win and recognition at the WAN-IFRA 2023 global stage in Taiwan attest to our great efforts and unwavering commitment to preserve the truth and trust in journalism."
Digital trends and youth
The digital trend continues to shape the future of journalism and creates opportunities to strategically integrate the newsroom into the business of news. This is what Mr. Abiola accepts and cites Legit.ng's digital-first content approach and strategy demonstrating how the youth recognition as their core audience has driven the engagement approach.
"Engaging younger audiences is crucial for the future of journalism. At Legit.ng, we embrace new technologies and trends to stay connected with our younger readers, while ensuring our content remains informative and relevant. A practical example of this is the launch of our Media Literacy Project, which focused on sensitising younger Nigerians on how to distinguish between fake and real news. A commitment which we took further by engaging young university students and media enthusiasts whom we referred to as the NextGen, and trained on ethical sourcing and dissemination of news."
"Another practical example is our collaboration with top Nigerian celebrities and influencers, who have a large following made up of our young audience, to initiate positive behavioural change. Leveraging the influence that these special people wield, we are able to pass across our message to our younger audiences, through channels that easily appeal to them and once that they are quicker to receive. These are some of the ways through which we engage our younger audiences, for sustainability and relevance." Rahaman explained.
Advising other media houses to follow this trend, the Legit.ng Editor-in-Chief highlighted the importance of dynamic storytelling techniques, which has allowed Legit.ng to captivate and retain a growing base of young readers who seek instant, interactive, and authentic news experiences.
Public voice to include
Rahaman stressed that media houses must hear the public voice during the newsroom's editorial process. He said that allowing a media audience to actively participate and contribute to news stories fosters a two-way communication channel.
"At Legit.ng, we believe in the power of a participatory journalism model. We invite our readers to share their opinions, concerns and stories, enabling us to incorporate diverse perspectives into our reporting and better serve the interests of our community, without soiling the ethical standards of journalism. This inclusive approach has not only strengthened our credibility but also forged a deep connection with our audience, making them feel valued and empowered." he said.
Mr. Abiola is sure that by following these key points, the integration of the newsroom into the business of news becomes possible. Media organisations won't only adapt to the rapidly changing media landscape, but also harness the full potential of modern journalism.
Legit.ng continues to be a driving force in revolutionising the African media ecosystem through a digital-first strategy. As the media industry navigates the challenges of the digital age, Rahaman's insight will serve as a beacon for media organisations striving to remain relevant and sustainable in the ever-evolving world of journalism.
Follow Rahaman's opinions on improving the media landscape with technology. Read here
Source: Legit.ng