Legit.ng's Youngest Editor-in-Chief: How Rahaman Abiola Plans on Improving Media With the Help of Technology
After graduating from university, Rahaman just wanted to be a reporter and make a name for himself in journalism
He started his career in journalism by working for the nation's top newspapers and digital media platforms
Today, he has been appointed as Legit.ng's Editor-in-Chief, making him the youngest to attain such a role in the history of the leading digital media company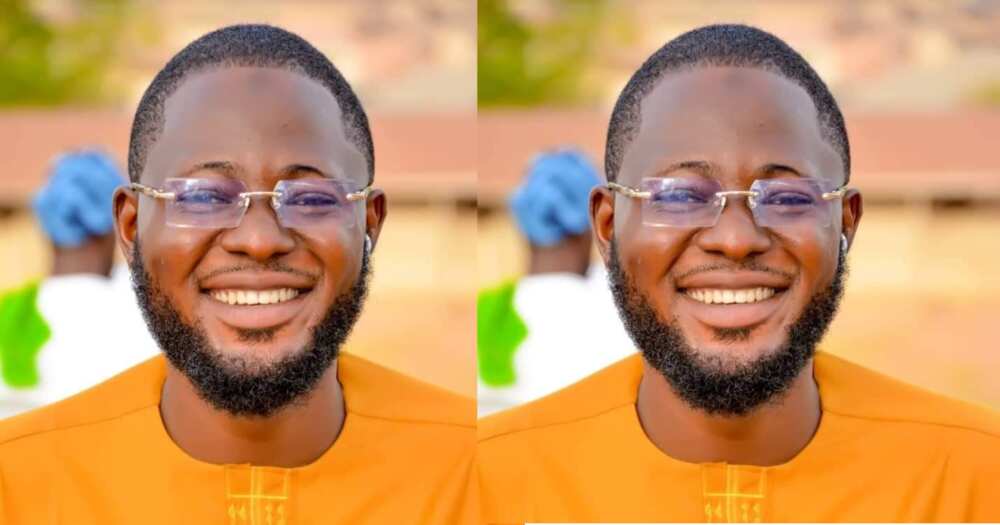 Legit.ng recently announced the appointment of a new Editor-in-Chief after a two-year hiatus from recruiting for the position. The appointee, Rahaman Abiola is a young journalist who joined the media company in 2018 as a Current Affairs and Politics Editor, and rode the wave to become the Head of Desk, Human Interest and Diaspora in 2021. For the first time since inception in 2012, Legit.ng has appointed its youngest Editor-in-Chief to lead its newsroom.
We sought out the man of the moment, Rahaman Abiola, with the hope of chatting with him about his new role as Legit.ng's Editor-in-Chief. He was more than happy to share his story with us and give us a peek into his plans for the future of Legit.ng.
PAY ATTENTION: Follow us on Instagram - get the most important news directly in your favourite app!
"Thank you once again. It's a privilege to be talking to you about this new appointment. I am more than happy to answer all your questions and share some details about my plans for Legit.ng," he says as we launch the interview.
Just like most people who started their journalism career by bagging a degree in English or Literature, Rahaman's journey wasn't any different. Straight out of Obafemi Awolowo University, Ile-Ife, with an English and Literature degree in the bag, Rahaman deep dived into the world of journalism and only kept climbing higher.
With great power comes great responsibility
Newly appointed Editor-in-Chief told the Legit.ng PR team that he felt surprised but happy when he was first informed about his promotion. He thought it came quite early in his career but also felt that it was a testament of his contribution to the growth of the company, duly recognized by the senior management team.
Rahaman now intends to bring his experience, social capital and skills to use as Legit.ng's newsroom head.
"As the new Editor-in-Chief of Legit.ng, I know I have been entrusted with a critical leadership position which carries great responsibility, challenges, and opportunities. I am in the position to shape the direction and vision of Legit.ng and ensure that it provides high-quality journalism and engages with its audience effectively," he said.
Appointment as Legit.ng's youngest newsroom head
We asked Rahaman about how he feels about being the youngest person ever appointed to take on such a role at Legit.ng. He described it as an accomplishment worthy of acknowledgement and expressed his utmost gratitude at the realisation that the company's management had confidence in his abilities to lead the company's editorial team.
Speaking to those who may doubt his level of expertise and experience, Rahaman said that his age shouldn't be a barrier to his quality of work and the successful outcome that he hopes to drive for the company.
"My age shouldn't be a barrier to success, and I have the opportunity to bring fresh ideas and perspectives to the role. I am confident in myself and my abilities, while also being open to learning and receiving feedback from my colleagues," he says.
Talent and potential over age and stereotypes
Observations from the industry upon the announcement of Rahaman's appointment shows that the younger news-reading audience are quite happy about Legit.ng's decision to appoint a youngster as its Editor-in-Chief. Some have said that entrusting the leadership of such a fast growing and digital-forward news agency says a lot about Legit.ng and its willingness to try new things for better outcomes.
Rahaman who seems to agree with the happy newsreaders in Nigeria's media landscape said:
"All I can say is that it is a bold and strategic move that demonstrates the company's forward-thinking approach and willingness to embrace new ideas and innovation. It also shows that Legit.ng values talent and potential over age and experience, and recognizes that younger generations bring a unique perspective and skillset to the table — what I have been able to demonstrate."
Meeting audience expectations as newsroom head
Further down the conversation, we ask Rahaman Abiola about his plans to Legit.ng forward as the new Editor-in-Chief, and what the audience should expect. He shares a four-pronged approach that borders on digital, content, and collaboration.
He promises to increase the Legit.ng's online community through active engagement with the audience, prioritise quality content production, foster strategic collaboration and partnerships, run a cohesive internal team to ensure the media company's mission.
"Despite the excitement and nervousness in a new role with such responsibility, I have to stay focused on my goals and maintain a clear vision for the direction I want to take the company. By doing this, I will be able to meet the expectations of our readers who always want to consume quality content."
On advancing Legit.ng's technological footprint
As the world embraces technology, and media organisations implement it in their business sustainability goals, Rahaman shares more information on how he would work with the internal stakeholders at Legit.ng to advance the organisation's work with new technology.
"One way Legit.ng has leveraged technology is by using social media and other digital approaches to reach a wider audience and engage with readers. Our approach is data-driven, so we use data analytics to track user behaviour, preferences, and trends, which really informs our content strategy and helps us produce more relevant and engaging stories. Going forward, the news agency will explore the potential of emerging technologies such as artificial intelligence and virtual reality to enhance journalistic capabilities and improve our user experience."
Our Editor-in-Chief encourages to stay passionate
Bringing the interview to an end, we ask Rahaman what his advice will be to younger media enthusiasts who are trying to find their way in the same career path. He says:
"Be passionate. The media industry is dynamic, fast-paced, and constantly evolving. It requires dedication, hard work, and a genuine love for the craft, so, it's essential to be passionate about what you do. Also, you must be adaptable, ready to build to network and hone your skills. These will help you stand out in a highly competitive field."
As Legit.ng's Editor-in-Chief, Rahaman is on a mission to ensure that Legit.ng leads the way in the Nigerian digital media landscape in the next five years.
Source: Legit.ng