Legit.ng recognized as the world's most trusted project at WAN-IFRA Awards 2023
Legit.ng, Nigeria's leading digital media platform, achieves recognition on the global stage by being honoured at the prestigious WAN-IFRA Awards 2023 in Taiwan
The Nigerian media leader was awarded as the winner of the 'Best Trust Initiative' category for its unwavering commitment to preserving and promoting quality journalism
This win not only brings immense pride to Nigeria but also solidifies Legit.ng's reputation as one of the world's foremost digital media projects, garnering widespread attention and admiration worldwide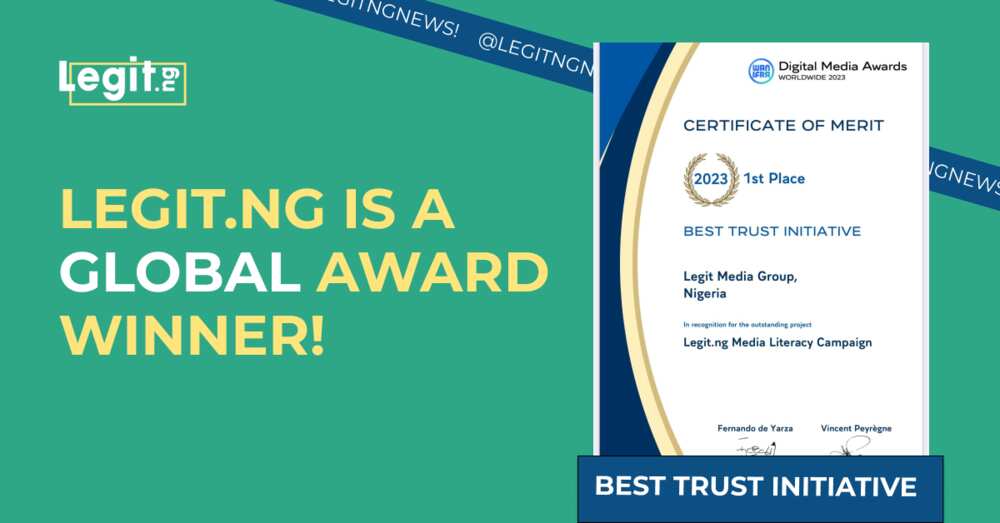 On Wednesday, June 28 2023, Legit.ng was recognized at the World News Media Congress 2023 in Taiwan with Best Trust Initiative Award. It acknowledges excellence and groundbreaking digital innovation leveraged in promoting quality journalism.
The winning initiative is known as the Legit.ng Media Literacy Project. An outstanding multimedia strategy brought together a dedicated media literacy microsite, webinars, gamification, short-form videos and partnerships with influencers and celebrities. The campaign reached over 30 million people in Legit.ng's quest to open Nigerians to the understanding of quality, ethical reporting.
Legit.ng was praised by the jury, tagging it the right campaign, for the right audience at the right time. "The need for media literacy, and the media trust it can potentially create, is never greater than during an election cycle. This initiative effectively utilised the digital spaces where young voters live to aim to create deeper engagement and public understanding of the need for "real news" and the risks of misinformation," added they.
PAY ATTENTION: Сheck out news that is picked exactly for YOU ➡️ find the "Recommended for you" block on the home page and enjoy!
The WAN-IFRA jurors also affirmed the importance of Legit.ng's win, "this is a great way to make fact-checking more appealing to people, and an innovative way of training people to do their own sense-check of information."
Speaking to the symbolism of the award and what it represents for the Nigerian digital media landscape itself, Editor-in-Chief, Legit.ng, Rahaman Abiola said,
"This award is a win for Nigeria, a win for the African media landscape, and we will continue to do our best in preserving the culture of truth and building trust with our audience across the globe. Our goal was to help Nigerian youths, generally known to be fast spreaders, learn to stop and think details through before sharing fake news. So far, we have motivated positive action and are gradually inspiring behavioural change towards how news is spread."
In 2022, and ahead of the 2023 elections, Legit.ng set out to help Nigerian readers, particularly younger audiences, improve their media literacy and be better equipped to identify and dismiss fake news.
About WAN-IFRA
The World News Media Congress is the leading annual event for media leaders, bringing over 900 editors and media executives from nearly 60 countries to discuss challenges and opportunities for the global news media industry.
The WAN-IFRA World Digital Media Awards showcase ground-breaking innovation in digital publishing worldwide, with winners drawn from regional editions across Africa, Asia, Europe, Latin America, the Middle East, North America and South Asia.
The 'Best Trust Initiative' award category was created by WAN-IFRA to spotlight how media organisations are creatively and innovatively explaining the value of research, fact-checking and transparency when gathering and reporting news in the new age of misinformation. It celebrates the initiatives that highlight the importance of news versus opinion.
Earlier, Legit.ng became a winner of the Best Trust Initiative at the WAN-IFRA 2023 African Digital Media Awards for the same project. Read more here.
Source: Legit.ng