Julia Majale is encouraging women to thrive in their greatness, as she advocates equity in the media
Before Julia assumed the role of Tuko.co.ke's Managing Editor, she had put in great time and effort, and grasped several opportunities to hone her skills in journalism.
Prior to launching her career in journalism, Julia had nursed a passion for reading and asking questions. Staying on this path led her to the media and years later, she is a top African woman in the media.
A multimedia journalist, Julia has experience as a radio show host, a photographer, a digital media specialist, and continues to add more feathers to an already colorful plummage.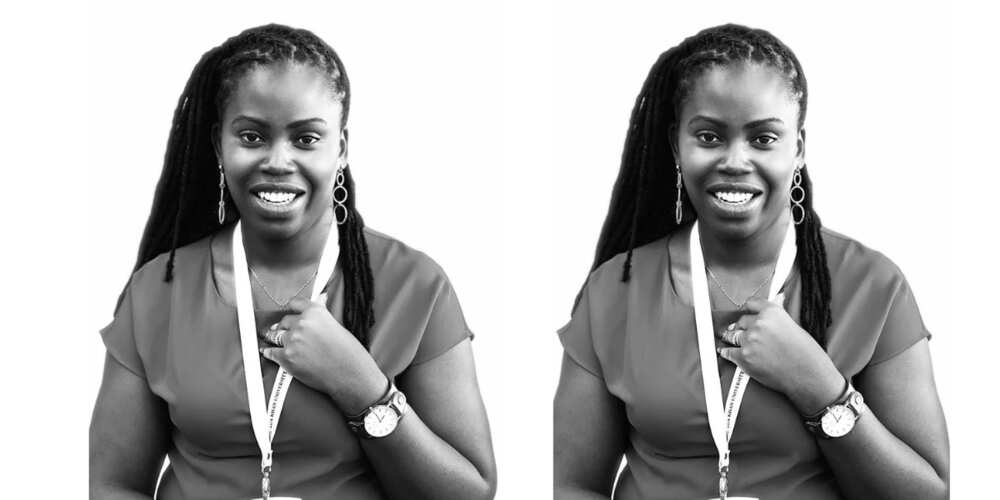 Beautiful and amiable Julia was more than happy to grant Legit.ng's project lead for the Top Media Amazon profile development, a generous time to learn about her career growth story.
"Thank you for reaching out, and thank you for your kind words. It's an honour to be considered and nominated for this profiling. I'm quite ecstatic to share my story with you," she says as we prepare to dive into our discovery session.
Julia begins her story by letting us in on her childhood. She describes the love in her home and the support from her family. She described her dad as one who had a major influence on her love for journalism, and how his encouragement boosted her confidence to pursue a career in journalism today.
"I loved reading from a young age, my dad bought me storybooks and would follow up to check if I was done reading them. I was and still am very inquisitive. I asked too many questions and also never shied from asking guests random questions. My parents joked a lot saying I'll either become a broadcaster or a lawyer.
I always had a newspaper in my hand and would read loudly for my dad. In church as a pre-teen, often I'd be tasked to read announcements which I believe boosted my confidence.
This and my father's encouragement to read and ask questions probably led me to the media," she says.
As with other women who have made our Top Media Amazon list for the International Women's Month, Julia's story is one for the books.
The journey to the present
Julia talks about her journey so far, and gives us an insight into her educational background. She reveals that studying media and communications, and exploring the various aspects of the profession helped her hone her skills as a multimedia journalist.
"I was lucky to have studied in a state-of-the-art institution in matter media and communication, at Daystar University. I grasped several opportunities to hone my skills. At one time I had two radio shows at the university radio station, I was a writer and photographer at the university newspaper publication and also sent out stories to a news website of a local radio station (Capital FM) that featured campus stories. This experience I believe gave me an edge during internship applications," she says.
Julia later landed an internship role on the digital desk at Standard Media Group and her career kicked off from there.
The risk that ushered in the win
Julia says after years of swinging between being a video editor, social media editor and sub-editor, it was time to leave the Standard Media Group. She landed the role of a junior editor at Tuko media. This she termed 'suicidal'.
"After a few years of swinging between being a video editor, social media editor and sub-editor, I moved to Tuko Media as a junior editor. The move was termed suicidal since it was a startup and shifting from a legacy media house to a start-up didn't seem wise. At Tuko Media I got tons of opportunities to grow and quickly moved through the ranks to become the Managing Editor within 4 years."
Still on risks, Julia talks about joining Tuko, a strictly digital newsroom and how uncertain the success rate of that decision was.
"Joining a digital newsroom then was very risky, this was a new phenomenon then and it wasn't clear what the future was, in my case the risk paid off and I ended up being at the helm of a leading digital media house in the country."
Now when she looks back, she is grateful for taking the risk that ushered in a major win for her career.
Difficulties and the ease the came with the job
Speaking on the rough patch she experienced in the course of growing at Tuko, Julia says there was a lot of hard work and some doubtful moments. She describes her workload then as a mammoth task that almost made her give up, and talks about the sacrifices that she had to make on the journey to becoming.
"I had to put in longer hours than I did in my previous position, to be able to learn the new dynamics and take up more roles. This was before becoming an ME. Media is not very conducive for a woman, so there were a lot of sacrifices to juggle all the roles and late hours instead of picking the easy laid-back position," she says.
But it wasn't always difficult because it got better with time and with great bosses and colleagues. Julia attributes her success to her bosses and great colleagues who never gave up on her.
"They saw my eagerness to learn and grow and I bet they used that to elevate me. Allow me to pat myself and say I was never a disappointment," she says.
Working in a male-dominated industry and navigating that
Julia reflects on practicing journalism in a patriarchal industry, the pay gap and her being a victim, and the non-eroding culture of women working within 'stereotypical desks' in various media organizations.
"Indeed men do earn more than ladies in similar positions despite the workload and results achieved. I've been a victim. I can't speak more on that unfortunately but it's an issue. There is also a clear divide with more ladies opting for light stories that are considered feminine e,g lifestyle, health and human interest stories with men covering business, sports and political stories. This seems to be an embedded culture in the newsrooms."
On equality and her stance
Julia says she believes that women shouldn't be treated differently or any less because of their gender. She speaks strongly about the capacity of women and how the ones she has come across in the course of her career have shown up and out. She even likens meeting expectations as a woman, to her position in her family as a first born.
"I don't believe women should be treated differently just because of their gender. In my experience, there have been few women who have been at par with their colleagues and have outdone them in several cases so I don't believe in treating women with kid gloves at work.
As a firstborn, I've had very high expectations from my parents and I've always met them, even outdone myself several times. I've grown up with a similar mindset that I can achieve anything, this is my self-applied rule."
A daily advocate for self-application on the job and for ladies meeting expectations, Julia stresses the need for women to give their best and match the scale wherever they find themselves.
On embracing equity
As the world advocates embracing equity in the International Women's Month, Julia agrees that women should embrace equity. She believes that the world is slow in giving the equality that women deserve but that equity is achievable with a few strides. She advises that women thrive within their environment and resources available to them.
"Equality might not be achievable in this lifetime because the world has taught and shown us that circumstances men and women face in life are so dynamic and rarely will two players of a different sex play on the same level. Equity on the other hand is achievable with a few strides. Women should embrace this since it allows them to fully appreciate themselves and their gender differences, and have that understanding that they can be able to grow and thrive in their own environment and have the resources they need to achieve their goals or dreams. This way it's not a competition or comparison but acceptance that women too can achieve with the right resources and support."
For Julia it is simple. Do the work that you can and do it well.
Navigating challenges as a leader
As we go further into the conversation, Julia shares some pointers on navigating challenges as a leader in the media space. She talks about facing challenges daily as a leader and how she is expected to navigate different situations with different methods.
"Some situations creep up on you that you've never faced before. It could be as simple as making an editorial decision or a management decision that could affect one or all the team members. Navigating such always depends on the situation at hand, thinking about the endgame or goal usually helps with decision-making."
Defining moments and 'becoming'
Julia reminisces on exciting times in her journey to becoming and talks about how they defined her career.
"There have been two defining moments in my journey so far. The first was landing my internship spot at my former employer. This set my path to digital media and led me here. Becoming Managing Editor was also defining, it is the second. It affirmed my leadership skills and moulded me into the person I am today," she says.
Speaking about how her achievements make her feel, Julia says:
"I never thought I'd be a Managing Editor this early in my career. In this industry such roles are held by those in their 40s plus. I feel humbled and challenged at the same time since this means there's more I can achieve but I also want to leave a lasting mark in this current role."
Parting words for the ladies
As we wrap up the interview, we ask Julia what her advice would be to our young female readers who are trying to find their way in the same career path. She says to let you know that it is achievable.
"A lot of women are quitting early in their careers and leaving newsrooms due to so many sound reasons, however, there is space for women in such roles. Keep at it, be strategic and very deliberate about your growth. Do not shy away from taking up roles to upskill and grow."
Catch our previous profile of another Top Media Amazons for IWD 2023 - Hannah Ajakaiye, ICFJ Knight Fellow. She shares her inspirational story about being a female fact-checker in media and how she is fighting fake news with the truth at FactsMatterNG. Read here.
Source: Legit.ng