Hannah Ajakaiye makes the truth hard to ignore in an era where fake news spreads like wildfire
Fact checker, Hannah Ajakaiye didn't just venture into journalism, she also took a path that many females hardly take - fact-checking
For Hannah, her passion had always been journalism. Not only did she devote her time to it, but she also sought creative ways to combat misinformation
From launching her journalism career at the features and investigations desk of a top-tier Nigerian newspaper to owning her fact-checking firm, she has since gotten global and local recognition for her unique practice of journalism
PAY ATTENTION: Сheck out news that is picked exactly for YOU ➡️ click on "Recommended for you" and enjoy!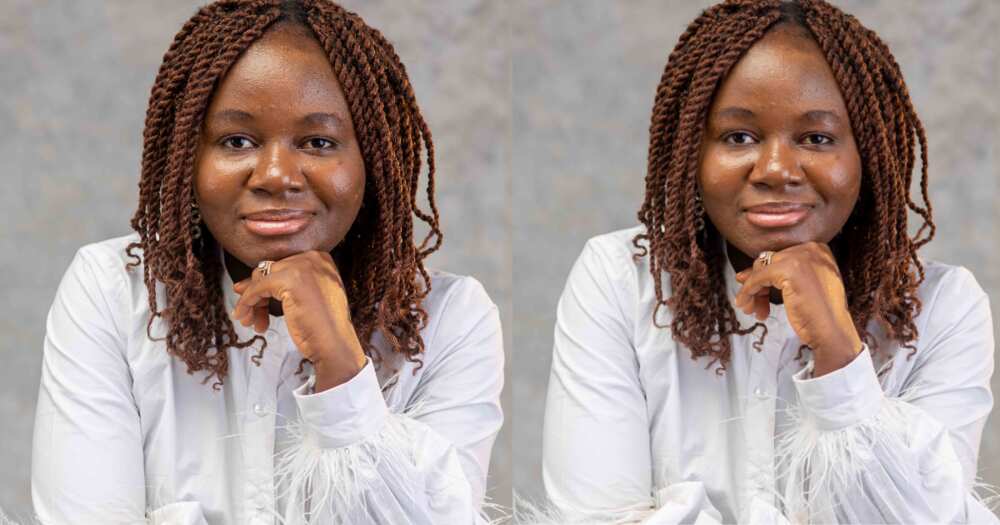 Everly pleasant and happy to speak passionately about her love for journalism, Hannah Ajakaiye expressed pleasure in speaking to Legit.ng's project lead for the Top Media Amazon profile development.
"Thank you for reaching out. I appreciate your kind consideration and nomination for this profiling. I am happy to share my story with you," she says as we prepare to dive into our Q & A session.
You see, Hannah is very passionate about Journalism. She always knew that she wanted to pursue a career in the field and she towed that path right from her days at the Obafemi Awolowo University, Ile-Ife, where she studied English.
PAY ATTENTION: Share your outstanding story with our editors! Please reach us through info@corp.legit.ng!
"My love for Journalism started when I was a student of the Obafemi Awolowo University, Ile-Ife where I studied English. I was a regular contributor to the Campus Life pages of The Nation newspaper edited then by Mrs Ngozi-Nwozor Agbo. She was an enterprising journalist who helped develop many journalism talents in Nigeria through the quarterly students writers workshop sponsored by Coca-Cola where I won a couple of awards as a student journalist," she says.
As with other women who made our Top Media Amazon list for the International Women's Month, Hannah's story is one that should be told for all to learn from.
Passion or the naira
Hannah talks about the challenges she faced right out of university, and how the seemingly unrewarding career in journalism almost made her take a detour.
"I remember having to undertake an unpaid internship for about 10 months while waiting for NYSC. Also, at the time when I left the university, I almost veered into public relations owing to the poor remuneration in the profession. I definitely did not want to depend on brown envelopes to survive," she says.
As fate would have it, passion won over the naira when her fire was stoked by her mentor who helped her stay true to her cause.
"Mr Sam Omatseye was very helpful in this regard since he sponsored some of my reporting projects I undertook at that time. Eventually, I took on side hustles like for non profits and development organisations and I was able to augment my pay. Looking back, I am grateful that I listened to my heart. Passion and perseverance kept me going and I am in a better place financially."
Preparation meets opportunity
Hannah says upon the completion of her University degree and the NYSC programme, she started her journalism career with the features and investigations desk of The Nation Newspaper. It comes as no surprise that she landed a job in the country's widest circulating newspaper, seeing that she had contributed to the newspaper's campus-focused vertical and even won a couple of awards.
"I started my journalism career with the features and investigations desk of The Nation Newspaper. From there I moved to the International Center for Journalists where I have been working on expanding the audience for fact checking since 2018."
For Hannah, it was simply a case of preparation meets opportunity.
The itch to do more
Speaking on the itch to do more, Hannah says she had to leave her workplace to follow her stronger passion point - fact-checking. She describes the decision as a risk but also calls it the best move she ever made.
Hannah mentions how she became a Knight fellow with the International Center for Journalists (ICFJ). She also talks proudly about leading FactsMatterNG, an initiative promoting information integrity by making facts go viral on digital platforms.
"At FactsMatterNG, we use humour and eye-catching videos and graphics to attract attention on social media. These techniques make the truth as compelling as fake news that can spread like wildfire on social media platforms," she says.
As a passionate fact-checker, Hannah tells us that she currently works with four newsroom partners to strengthen their fact-checking desks, leading training sessions on the production of social media videos and marketing techniques to extend the reach of fact checks.
The female Knight and her wins
While we wonder how a woman could be knighted, Hannah discloses that her Knight fellowship at the International Center for Journalists builds on her previous work as an ICFJ TruthBuzz Fellow in 2019, when she worked with Africa Check, an independent fact-checking organisation, on a program to make truth spread faster than fake news.
Knights fight battles and come out victorious. Our Top Media Amazon reveals that she has had her fair share of battles in her quest to fight lies with truth.
"My biggest risk was defying fears and threats to undertake reporting which exposed corrupt practices in high places. These stories won awards and international fellowships."
A knight and more, she speaks fondly of her numerous achievements.
"I am a recipient of prestigious journalism fellowships including the Newscorp Fellowship and the Reham Al-Farra (RAF) Journalism Fellowship hosted by the United Nations Department of Public Information. I am also a recipient of the Nigeria Media Merit Awards, the Nigerian Academy of Science Awards, the Zimeo awards and others."
She also talks about getting a Chevening scholarship from the UK government and shares more details about her Master's programme while in the UK.
"I am a recipient of a Chevening scholarship by the UK government. I bagged an MA in Media Practice for Development and Social Change at the University of Sussex, United Kingdom."
Working in a male-dominated industry and navigating that
Hannah reflects on practicing journalism in a male-dominated industry, the pay gap and her being a victim, and enduring patriarchal statements that belittled the efforts of female journalists.
"Regarding gender divide, my editor used to say I write like a man. I find this condescending and often think how does a woman write? Truth is, many expect women journalists to be on the soft beats like fashion and romance but I am glad to see younger female journalists excelling in politics, economy, crime and other tough beats."
On equality and her stance
Hannah says she believes that excellence doesn't discriminate, and that she has adopted this mantra in discharging her duties with no thoughts of gender discrimination.
"While I was working at The Nation, I was the youngest and only female reporter on my desk but I got assigned reportorial duties on an equal level with my older male colleague. The only concession I got was closing earlier than the men on production days for security reasons."
A firm believer of demonstrating capacity and excellence, Hannah stresses the need to show up and put in the work as the first step to being seen as equals in the journalism field.
On embracing equity
As the world advocates embracing equity in the International Women's Month, Hannah agrees that women should embrace equity.
"Equality is giving everyone the same pair of shoes. Equity is giving everyone a pair of shoes that fits. There are biological and societal structures which predisposes women to certain circumstances so I believe women should embrace equity."
For her, it's all about doing any work assigned to you quite well and getting known for excellence.
More career wins for the Knight
As we go further into the conversation, we ask Hannah about the most defining moment in her career. She says it was getting a grant from Code for Africa for an investigative project that she undertook.
"Getting a grant from Code for Africa to investigate the sketchy nature of sachet water production in Lagos was a defining moment. The story got me awards and global recognition."
She tells us about another high point in her career. It was her becoming an ICFJ fellow. The fellowship that knighted her.
"Being selected for the ICFJ Knight fellowship programme is another defining moment since the opportunity set me on a path of leadership in media management and digital innovation."
Parting words for the ladies
As we wrap up the interview, we ask Hannah what her advice would be to younger women who are trying to find their way in the same career path. She harps on excellence again, saying:
"Pursue excellence, work hard and seek guidance where necessary. Like I mentioned earlier, excellence does not discriminate. Also, building a strong network of support among your fellow colleagues is key. This is something I have benefited from. "
Catch our previous profile of another Top Media Amazons for IWD 2023 - Esther Awoniyi, Business Anchor at CNBC. She shares her inspirational story about being a woman in media with the Legit.ng team. Read here.
Source: Legit.ng