Lady Goes For Job Interview, Meets a Man She 'Dumped' 6 Years Ago as the Interviewer
A young woman named Rylie Jouett revealed the man she ghosted six years ago was interviewing her
The 25-year-old barrister said she ghosted the man after going on a first date and even kissing each other
Rylie regretted not giving her former flame a chance and noted she desperately needed the job
An American woman has revealed she met the man she ghosted six years ago after they went on a date at a job interviewing.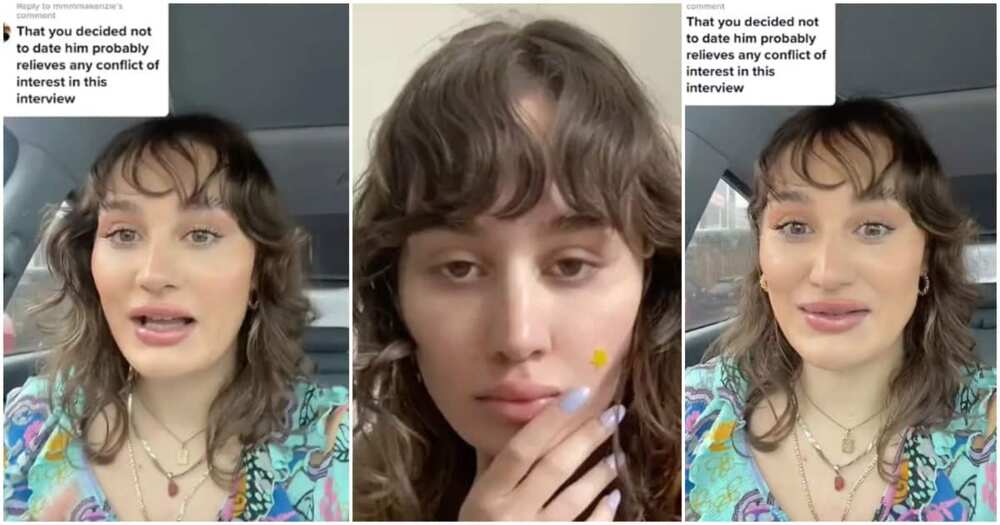 Rylie Jouett, 25, went viral on TikTok after she awkwardly revealed the person who was interviewing her for a barrister position at a company was her former flame.
Rylie was desperate for job
Rylie lamented about the situation, calling it karma because she desperately needed the job.
"Karma is the nastiest b*** I have ever met because six years ago when I was 19, I ghosted the nicest guy who had the best intentions for me, and tell me why he's the person that's interviewing me for a job that I desperately need."
After her video went viral, the 25-year-old posted two follow-up videos, describing what had occurred.
According to Daily Mail, Rylie said that when he first called to set up the interview and realised who she was, he wasn't sure if there would be a 'conflict of interest' because of their history and offered to try to get her a job in another location.
"You can't even interview me because we kissed once six years ago on a date? That's so strange to me," Rylie said.
The barrister added that she asked her former flame for the two of them to be 'adults' about the situation.
"I basically schmoozed him into letting him come interview at his location," she said.
Offered the job
Riley then posted another video detailing what had happened during the interview.
"He did offer me the job I think. He wants to set me up for an orientation next week. I'm very unsure considering the location is 30 minutes from my house and it's half the amount of pay that I was expecting," she explained.
Lady sets to sue her mother
In a related story, Legit.ng reported that a lady vowed to drag her mother to court for using her school fees to sponsor her brother's wedding.
The lady said her great-aunt left some money for her to use and pay for her fees but that her mother used it.
She vowed to take action even though she has taken a student loan to enable her to go to school.
Source: TUKO.co.ke