Buhari, Osinbajo, Governors, Others to Get N64.72 Billion Severance Packages
According to a recent report, outgoing President Muhammadu Buhari, his Vice President, Yemi Osinbajo, and others will get about N64.72 billion as final pay
Also, the ministers in Buhari's administration and special advisers and entitled to a mouthwatering largess
They include final salaries, allowances, and other entitlements on their last day
The final payment in Office for President Muhammadu Buhari, Vice President Yemi Osinbajo, state governors, and other political office holders about to leave Office may cost Nigeria about N64.72 billion.
The amount also covers pay for ministers, commissioners, National Assembly members, and other special advisers.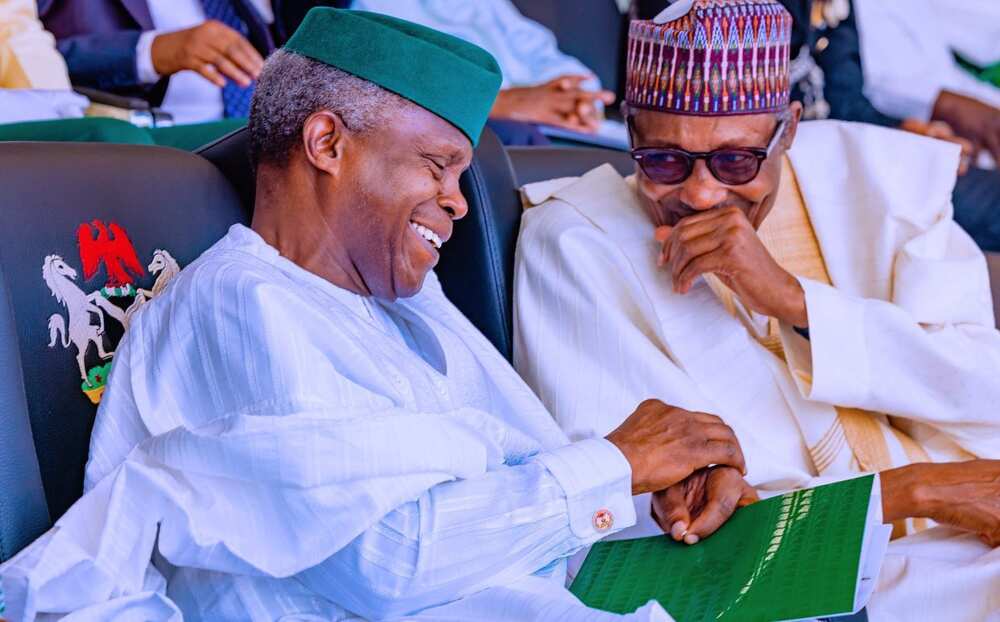 Buhari, Osinbajo, Ministers to get juicy severance pay
The payment does not include special assistants and state assembly members.
PAY ATTENTION: Сheck out news that is picked exactly for YOU ➡️ find the "Recommended for you" block on the home page and enjoy!
The analysis is according to the Revenue Mobilisation and Fiscal Allocation Commission (RMFAC) for salaries and allowances for one month and severance compensation of 300% basic salary.
Remarkably, besides the basic salary for the last month in Office, the figure includes allowances, such as hardship allowance, consistency allowance, motor vehicle allowance, and entertainment allowance, among others
As per RMAFAC, Buhari will get N1,74 million, including basic salary, a few allowances, and N1054 as severance gratuity.
His President, Yemi Osinbajo, is expected to pay N590.957, including a basic salary, a few allowances, and N5.83 million severance pay.
The special advisers in the Presidency will get N590,957, which includes a basic salary and a few allowances and N5.83 million in severance pay each.
N51.37 will be spent on the special advisers under the Presidency.
Ministers and special advisers entitled to severance pay
Buhari has 44 ministers under him, consisting of 27 federal and 17 ministers of state.
There are 44 ministers under Buhari, consisting of 27 federal ministers and 17 ministers of state.
Each minister is entitled to N6.73 million, including basic salary, allowances, and severance pay, and each minister of state is entitled to N6.5 million.
In all, the ministers will get N929.21 million, with ministers getting N181,71 million and ministers of state getting N110.5 million.
Each special adviser under Buhari is entitled to a final payment of N6.42 million. With each minister having one particular, they will spend N282.48 million.
National Assembly members to get huge payments
Punch reports that about 327 National Assembly members would not return to Office.
The number comprises 76 Senators and 251 members of the House of Representatives.
The Senators will get N7.14 million each, and the House of Representatives members will get N6.75 million each.
The final payment in the Office of the 327 National Assembly members cost Nigeria about N2.24 billion.
"Thank You": 18 outgoing governors owe N3 trillion in debt but will get jumbo pensions, benefits
Legit.ng reported that about 18 outgoing state governors across Nigeria would leave mountainous debts behind for their successors but retire into affluence and luxury, thanks to generous pension benefits provided for in their various pension laws.
These governors also owe months in unpaid workers' salaries, pensions, etc.
According to Punch reports, the governors will leave office on May 29, leaving behind about N3 trillion in debts for their successors.
Source: Legit.ng