"Thank You": 18 Outgoing Governors Owe N3 Trillion in Debt But Will Get Jumbo Pensions, Benefits
On May 29, 2023, about 18 governors across Nigeria will leave offices and handover to new ones
They will also be leaving behind trillions in both domestic and foreign debt for their successors
These governors would also be entitled to billions in pensions and benefits as provided for in their pension laws
About 18 outgoing state governors across Nigeria will leave mountainous debts behind for their successors but retire into affluence and luxury, thanks to generous pension benefits provided for in their various pension laws.
These governors also owe months in unpaid workers' salaries, pensions, etc.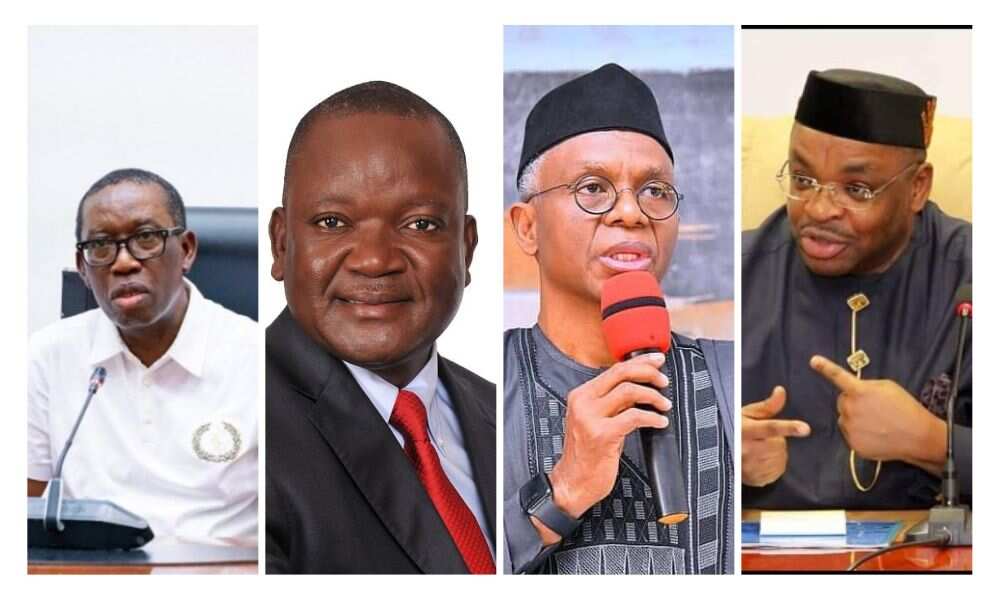 According to Punch reports, the governors will leave office on May 29, leaving behind about N3 trillion in debts for their successors.
Governors with huge foreign and domestic debt
Data from the Debt Management Office reveals that the states included N2.27 trillion in domestic loans and $1.71 billion in foreign borrowings.
The states' foreign debt amounts to about N787.51 billion using the prevailing exchange rate of the Central Bank of Nigeria at N460.53 per dollar.
The debt figure is updated up to December 2022, per the latest data by the DMO.
The outgoing governors include:
Nyesom Wike: Rivers State
Ifeanyi Okowa: Delta State
Udom Emmanuel: Akwa Ibom State
Abdullahi Ganduje: Kano State
Badaru Abubakar: Jigawa State
Bello Matawalle: Zamfara State
Ben Ayade: Cross River State,
Okezie Ikpeazu: Abia State
David Umahi: Ebonyi State
Others are:
Ifeanyi Ugwuanyi: Enugu State
Samuel Ortom: Benue State
Darius Ishaku: Taraba State
Abubakar Bello: Niger State
Abubakar Bagudu: Kebbi State
Nasir El-Rufai: Kaduna State
Simon Lalong: Plateau State
Aminu Masari: Katsina State
Aminu Tambuwal: Sokoto State
These governors will complete two terms of eight years in office by May 28, 2023, except the Zamfara State governor, who lost his re-election attempt.
They will also be entitled to mouthwatering pensions and mansions to be built in their chosen locations as well as luxury cars and domestic and security aides, among other entitlements.
These 18 outgoing governors account for 42.51% of the N5.34 trillion total domestic debt and 38.38% of the $4.46 billion total foreign debt owed by Nigeria.
Top state domestic debtors include:
Delta: N304.25bn
Rivers: N225.51bn
Akwa Ibom: N219.27bn
Top external debtors are:
Kaduna: $573.74m
Cross River: $209.53m
Enugu: $120.86m
Governors going home with juicy pensions and benefits
Notwithstanding the N225.51 billion domestic debt and $87.13 million foreign debt, Rivers State Governor Nyesom Wike and his deputy, Ipalibo Banigo, will enjoy generous pensions benefits as provided in the Rivers State Pensions for Governor and Deputy Governor Law of 2012.
The law entitles them to three new vehicles, which are changeable every four years, in addition to the payment of 100% of their basic salaries, 300% of their basic annual salaries for furniture, free medical services, and provision for entertainment.
Their deputies will also enjoy similar perks.
The law also provides that 20% and 10% of the annual salary of the incumbent Governor be set aside for utility, accommodation maintenance, and entertainment, respectively.
Ifeanyi Okowa, the outgoing Governor of Delta State, will leave about N304.25 billion in domestic debt and N$58.77 million in foreign debt.
However, Okowa is entitled to a furnished duplex in the state or any other state in the country; medical treatment for him and members of his immediate family; two vehicles, including an SUV, every two years; two armed police officers and one DSS officer; 15 days' annual vacation in any place of his choice and other perks.
Akwa Ibom State owes about N219.27 billion in domestic and $44.85 million in foreign debt.
Reports say the state spends an average of N267.78 million annually on former governors and their deputies.
Emmanuel Udom and his deputy are expected to enjoy the same perks as the state's Pension Act of 2014 provides.
They would be entitled to replace official and SUV vehicles every four years.
Kano State owes about N122.36 billion and $100.67 million in domestic and foreign debts.
The state Governor, Abdullahi Ganduje, and his deputy are entitled to 100% of their basic salaries, a six-bedroom house, and free medical treatment for themselves and member of their families after leaving office on May 28, 2023.
The Jigawa State Pension law provides that the Governor who completes his tenure without impeachment would be entitled to a monthly pension equivalent to the current salary of the current Governor, two new vehicles, which would be replaced every four years, a six-bedroom, furnished luxury mansion, domestic and security aides.
Jigawa owes about N43.95 billion in domestic debts and $26.99 million in foreign debt.
Matawalle would be entitled to the following:
N7 million monthly, while his deputy is entitled to N2 million monthly.
Matawalle will leave N112.2bn in domestic debt and $28.86m in foreign debt.
The Governor owes two months of workers' salaries.
Aminu Tambuwal of Sokoto would leave a domestic debt of N90.6 billion and external debt of $36.56 million.
Tambuwal would be entitled to:
N200 million in pension every four years and a monetization fee of N180 million for entitlements, including aides, residences, and vehicles, renewable every four years.
Abia State Governor, Okezie Ikpeazu would be entitled to:
100% of his salary:
Official vehicles worth N20 million are replaceable every four years, police orderly, two DSS operatives, and domestic workers.
The Governor owes about N103.71 billion in domestic debt and $94.28 million in external debt.
Sani Bello of Niger State will be entitled to:
Two drivers and GL 07, two personal assistants, security aides, and SUVs are renewable yearly.
He is leaving a domestic debt of N95.59 billion and a foreign debt of $69 million.
Bello Masari of Katsina State will be entitled to:
Free houses, medical services, N2.22 million monthly, vehicle, and personal aides.
Governor Dave Umahi of Ebonyi will leave N76.5 billion in domestic debt and $58.57 million in foreign debt.
Others are:
Cross River
Benue, Enugu
Taraba
Kebbi
Kaduna
plateau states, which made it to the list of debtors, have similar provisions for their former governors and deputies while owing workers.
Top 28 Nigerian state governors with the highest debt in 2022, 11 leave massive debts for successors
Legit.ng reported that about 28 governors leaving office in May 2023 or seeking re-election, including the Minister of the Capital Territory, have amassed about N5.8 trillion in sub-national debts.
The figures are based on the Debt Management Office (DMO) reports on sub-national debts.
Out of the 28 governors, 11 are eligible for re-election in March 2023.
Source: Legit.ng