Nigerians Lament Increase in Failed Money Transfers on Bank Apps, USSD, ATMs Amid Naira Scarcity
There is a surge in customer complaints over failed money transfers via bank apps and USSD codes, and ATMs.
The CBN's cashless policy has led to a sudden increase in the use of electronic channels for transactions as a result of naira scarcity.
However, customers claim many money transfers have either failed or delayed and in some instances, money has disappeared.
Customers of Nigerian banks are currently lamenting the difficulty they encounter with money transfers using Automated Teller Machines, bank apps and USSD codes.
According to Legit.ng sources, in the last few weeks, many customers have lodged complaints with their banks' customer care departments of failed money transfer transactions. In many cases where results of transfers show that money was sent, the receiver on the other end never gets to receive the money.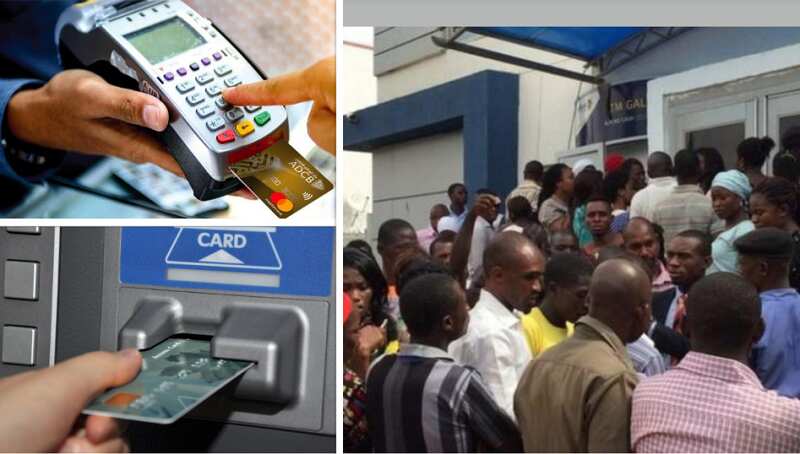 Following the difficulty in transferring money via bank apps and USSD codes, some customers who decided to visit the ATMs to make transfers have also testified of the continued failure in doing so.
The unfortunate flaws in the mobile banking system is not new, but it appears that in the recent time since the CBN enforced a cashless policy, transfer failures have heightened, resulting in more complaints by customers.
PAY ATTENTION: Share your outstanding story with our editors! Please reach us through info@corp.legit.ng!
CBN's cashless policy and resultant naira scarcity
In an attempt to make Nigeria's economy a cashless one, the CBN introduced the naira redesign policy and naira swap which required Nigerians to return old N200, N500 and N1000 notes to banks in exchange for the newer versions of the denominations.
The apex bank also introduced new maximum weekly cash withdrawal limits across all channels - individuals (N500,000) and corporate organisations (N5 million).
The policy was initiated to mop up too much cash in the system and encourage Nigerians to adopt electronic means of payment instead of physical cash.
The CBN, however failed to put into consideration Nigeria's substantially large informal sector said to be contributing about 65% to the country's Gross Domestic Product (GDP). It is no secret that this informal sector largely depends on cash transactions.
Then, there is also the issue of Nigeria's largely unbanked and financially excluded population. Their non-inclusion in the financial system was definitely going to hamper the success of the cashless policy.
Since the introduction of the policy, customers have had to fall back on alternative channels including mobile banking apps, internet banking, USSD, PoS and eNaira to carry out transactions. But the alternatives have not been without their own problems.
Customers lament transfer failures
According to data provided by the Nigeria Inter-Bank Settlement System Plc (NIBSS), the value of cashless transactions for February 2023, dropped by 4.83% to N37.67 trillion from N39.58 TRILLION recorded in January due to an increase in failed transactions.
The value of failed transactions is more reflected in the fact that cashless gateways were used only 638 million times in February, a huge drop from the 901 million times used in January.
Legit.ng received an email from a customer of a bank (name withheld) requesting for help over a transfer of N50,000 that was sent from his bank to another. According to Mr Olushina Adeojo, complaints and visits to both the sending bank and the receiving bank has not yielded any positive result. He said:
On March 6, I transferred N50,000 using my bank app to my brother's account with another bank. It showed that the transfer was completed, but my brother is yet to receive the money. I have been to my bank to complain and was told that the transfer was successful. But when my brother visited his bank, he was told that the money did not enter his account. So, we have been going back and forth with the banks since last week.
Madam Adejumo, a petty trader who sells provisions said that she has lost a lot of money due to faulty bank transfers. She said:
Due to the naira scarcity, I decided to accept bank transfers as a means of payment, but sometimes the transfers don't work. Sometimes, it takes up to 2 days to receive transfer payments made by some of my customers. There have also been instances where I would not even receive the transfers and we would have to be confronting customer care personnel.
Chioma Kalu, who sells women bags and shoes at the Lagos Trade Fair Complex in Ojo, Lagos, said that the inefficiencies with bank transfer affected her a week ago when she was purchasing items at the Lagos Island market. She said:
After making payments, I could not immediately leave with the items I had purchased because the seller did not receive the payment on time. With transfer payments, she usually has to confirm payment on her own end before customers are allowed to go with the wares. She only let me go without confirmation of payment because of our long term business relationship. It took the money two days to appear in her account.
Banks overwhelmed by increased volume of cashless transactions
Tunde Oshonaike, a business analyst, who spoke with Legit.ng stated that part of the reason for the failed transfer experienced by bank customers is the sudden increase in the volume of transaction since the CBN naira policy. He said:
Most Nigerians were not prepared for the pressure that the CBN cashless policy was going to exert on the banking system. They seem to be overwhelmed by the sudden increase in volume of transactions which is why transfers are either failing or delayed. You don't force a cashless economy. There are certain infrastructures that must be fully put in place before that can naturally happen. The CBN missed it with this policy.
A First Bank official in the Ojo area of Lagos State who spoke with Legit.ng on the condition of anonymity said that the failed transactions were as a result of some technical glitches which sometimes happens. He said:
The much I can tell you is that we are aware of these complaints and I can assure you that we have resolved most of them as we can not afford to disappoint our customers. Trust me, we are doing everything possible to ensure they don't happen anymore.
Even though some have tried to blame the failing electronic transactions on network providers, the Nigerian Communications Commission has stated that telecommunication networks in Nigeria can absorb the increase in transactions by electronic means.
Prof Umar Danbatta, the NCC's Executive Chairman, while speaking at an event to the '2023 World Consumer Rights Day' in Abuja, said:
By the time cashless banking fully took off in late 2022, the connectivity platforms on which electronic transactions ride have become robust to the extent of being able to absorb the surge in demand for cashless transactions.
It is not clear how soon Nigerians will cease to experience electronic transfer inefficiencies, but customers are advised to always contact their banks when issues arises until they finally get resolved.
Customers Troop to Banks as CBN Orders Recirculation of Old N200, N500, N1000 Notes
Many banks across Lagos witnessed a massive turnout of customers who had come hoping to make cash withdrawals, over-the-counter or via Automated Teller Machines (ATM).
The heavy turnout followed the recent directive by the Central Bank of Nigeria (CBN) that the old N200, N500 and N1000 banknotes remain legal tender alongside the redesigned banknotes.
The CBN's move complies with the Supreme Court judgment of March 3, 2023, ordering the old notes to co-exist with the new ones until December 31, 2023.
Some banks visited by Legit.ng showed scores of customers waiting on the premises of banks, hoping they would dispense the old banknotes as the CBN has approved their status as legal tender.
Source: Legit.ng