Unlike UK, Canada Releases New Policy To Help Nigerians 'Japa' With Family Members Without Stress
Canada has introduced a new policy for professionals, and student applicants to bring over family members
The new policy is expected to ease the process stress of family reunion in less than 30 days
Canada's inclusive approach stands in contrast to the recent UK's restrictive policy
In a move contrasting the recent restrictive policy announced by the United Kingdom, Canada has unveiled a new policy that will expedite immigrants bringing family over.
Sean Fraser, Minister of Immigration, Refugees and Citizenship, announced the new policy on Friday, May 26, 2023.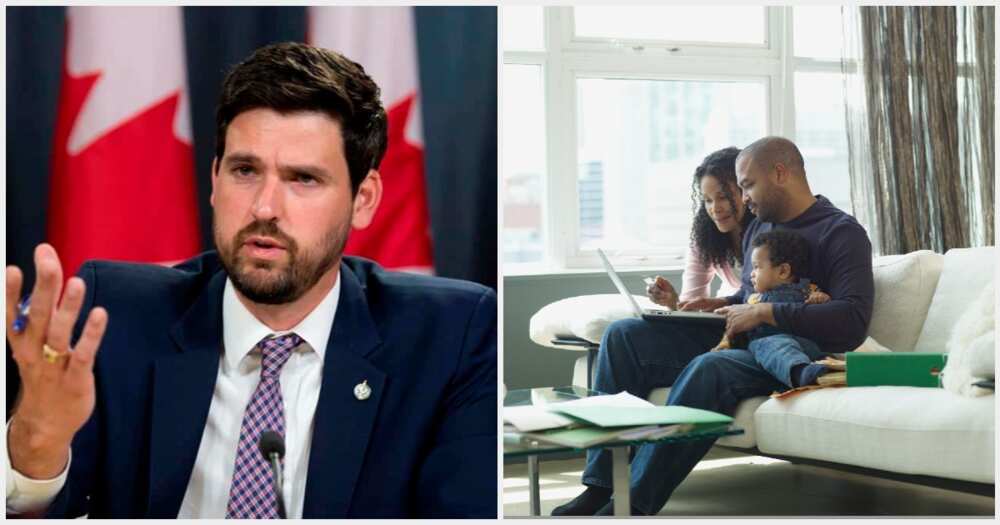 According to Fraser, family members from visa-required countries who have submitted family class permanent residency (PR) applications can apply for Temporary Resident Visas (TRV) to join their sponsor in Canada.
He noted that the new system would facilitate the approval process for spouses, children, and parents of recent immigrants looking to join family members.
Canada opens door while UK closes
The announcement comes just days after the UK government prohibited students from Nigeria and other foreign countries on study visas from bringing their families into the country.
Legit.ng had reported that the UK's new immigration policy will start from January 2024.
Canada new immigration policy
Speaking further, Minister Fraser also emphasized that the new policy leverages cutting-edge technology and analytics, enabling requests for TRV for family members of citizens and permanent residents to be processed in less than 30 days.
His words:
"Going forward, this new approach to processing TRV applications will lead to processing times of within 30 days."
"Family members will be able to travel to Canada more quickly and be with their loved ones sooner."
More new Canada Japa goodies
Canada is not only allowing Nigerians and other foreigners to bring their families but also launched a new initiative that will issue open work permits to spousal applicants and their dependent children who reside with their sponsor in Canada and have temporary resident status.
What this means is that spouses, partners, and dependents are eligible to apply for an open work permit when they submit a complete application for permanent residence under the Spouse or Common-Law Partner in Canada class (SPCLC) or other family class programs.
Previously, these open work permits were only available for the inland spousal program, but now they are being extended to those who apply outside of Canada.
Additionally, starting from June 7th, 2023, holders of open work permits whose permits are set to expire between August 1st and the end of 2023 can extend their permits for 18 months through a free facilitated process.
This extension will apply to spouses and dependents of most temporary workers, spouses of international students, and applicants for permanent residency along with their spouses/dependents awaiting the finalization of their permanent residency.
To be eligible as a sponsor, you must
Be a Canadian citizen or permanent resident of Canada
Be 18 years of age or older
Not be in prison, bankrupt, under a removal order or charged with a serious offence
Not have been sponsored as a spouse within the last 5 years.
Canada govt said:
"Spouses, common law and conjugal partners, children, parents and grandparents may all be sponsored, provided they meet the required eligibility criteria."
Breakdown of amount required to relocate to UK for singles, married
Meanwhile, in another report, Legit.ng disclosed that a Nigerian residing abroad published a comprehensive estimate of how much it may cost to migrate to the United Kingdom.
Although he clarified that it is only an estimate, his study would surely give direction to Nigerians travelling as singles, married couples, and families.
The number of Nigerians leaving for the UK is at an all-time high, mainly via studies.
Source: Legit.ng