"We Will Switch": Nigerians Speak as UK Moves to Ban Students From Travelling With Family Members
The government of the United Kingdom wants to implement new restrictions that may prevent Nigerians from bringing their families over
The crackdown is amid the rising number of international students' family members migrating to the UK
In recent years, Nigerian students have been enrolling in UK universities in growing numbers, seeking better education and quality of life
The UK government plans to ban international students, including Nigerians, from taking their families with them to study, as part of a broader crackdown on immigration.
The move has sparked reactions among Nigerians who see education as a sure route to leave the country.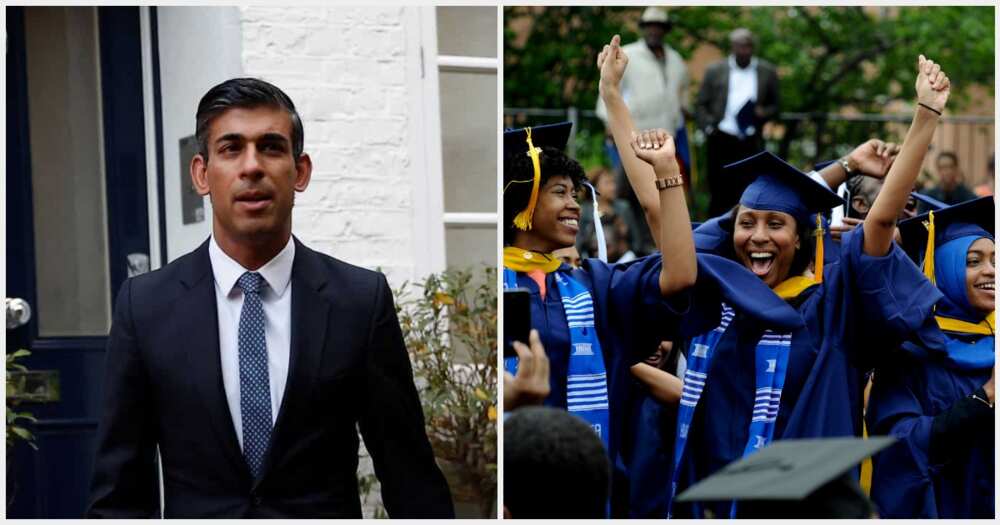 Telegraph UK reports that the restrictions are expected to primarily affect master's and other postgraduate students while exempting PhD students.
The report also stated the UK government was apprehensive about the increase in net migration into the UK.
Nigerians are the target of UK immigration ban
Rishi Sunak, the Prime Minister of the UK, promised action to bring down net migration, with announcements to be made shortly.
Sunak said:
"There has been a significant increase in the number of individuals coming to Britain relying on their relatives' student visas."
"Last year, a total of 135,788 family members were brought to Britain by students, which is nine times higher than the figure in 2019."
"In the same year, 59,053 Nigerian students brought over 60,923 relatives."
Rising number of Nigerian students in UK
Legit.ng, in an earlier report, had captured how the number of Nigerian students enrolling in UK universities has been steadily increasing over the years.
The figure hit 128,770 between 2015 and 2022, Punch reports.
Nigerian reacts
Taking to Twitter, Nigerians have reacted to the latest move by the UK government to restrict Nigerians and other international students from relocating with families.
@KMchuba writes:
"Can't we Africans start building our countries so that we can all say, no place is better than home."
@tunisky reacted:
"I trust Nigerian students they will quickly switch gear as students going to the UK will drop and the income generated by the UK govt will also drop. Shikena."
@vikyibe writes
"Japa we must, if the United Kingdom don't want our money we will look for other countries."
Breakdown of amount required to relocate to UK for singles, married
Meanwhile, in another report, Legit.ng disclosed that a Nigerian residing abroad published a comprehensive estimate of how much it may cost to migrate to the United Kingdom.
Although he clarified that it is only an estimate, his study would surely give direction to Nigerians travelling as singles, married couples, and families.
The number of Nigerians leaving for the UK is at an all-time high, mainly via studies.
Source: Legit.ng