Best Yoruba romantic movies: 10 films to watch with your partner
Movies can be a fantastic way to bond with your partner. A good romantic movie can help set the right mood and let you both unwind after a long day or week. Watching a movie with your partner can also help strengthen your relationship.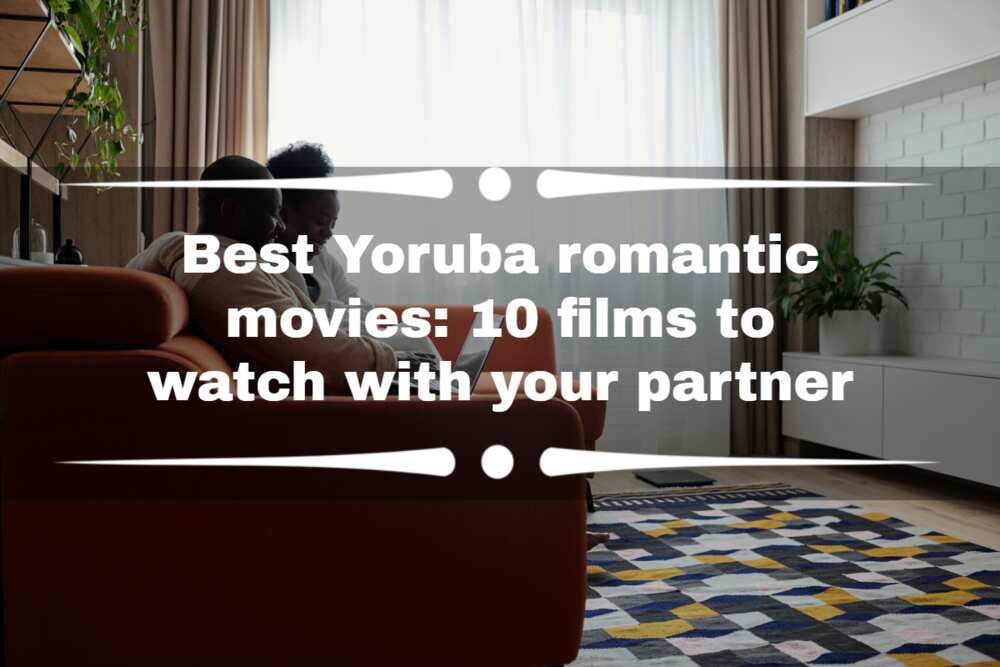 Have you ever wondered what film you could watch with your partner? Yoruba films are the best because they are fun and add a little bit of a local flare. Why watch another run-of-the-mill flick when you can enjoy something made with love and passion?
Best Yoruba romantic movies
Why do people watch romantic movies? These movies encourage emotional investment, and they give you clues about the shapes of love. Romantic movies also make you feel like you are falling in love with the person you are watching with. Here is a list of the best Yoruba romantic movies you can watch as a couple.
1. Suru L'ere
Suru L'ere is a Yoruba comedy film that was produced in 2016. The movie stars Rita Dominic, Tope Tedela, Enyinna Nwigwe, Seun Ajayi and Kemi Akindoju. The film is co-produced and directed by Mildred Okwo. It is about a graduate trainee who met a young lady he fell in love with.
The young man is poor and vows to become rich to win that young lady's heart. It also has some humour in it, which makes it more interesting to watch with your partner. It teaches patience and enthusiasm in a relationship, and watching it as a couple can strengthen your relationship because it helps you to learn to be patient with your partner.
2. Ilu Biinu
Ilu Biinu is one of the newer Yoruba romantic movies released in 2022. It features top Yoruba actors like Tyin Alausa, Yinka Salau and Simisola Ladega. It is about a loving husband who does anything for his unfaithful wife.
When one of the wife's husband's friends dies on her matrimonial bed, she does not hesitate but moves on to her husband's next friend. The movie teaches faithfulness in marriage; watching it with your partner can be a great way to bond and learn something.
3. Love Trap
This is one of the latest Yoruba romantic movies. It was released in 2022 and stars famous Nollywood actors like Ronke Odusanya, Lola Faduri, Remi Surutu and Oyindamola Sanni. It is about a charming young man caught up in a web of lies and deceit.
The young man falls victim to a racket trap set by love, which leads to the exposure of shocking truth and an unknown past. Watching such a film with your partner will help you be open with one another and avoid deceiving each other because lies have consequences in a relationship.
4. Stay With Me
If you are looking for the best romantic movie to watch with your other half, then you should try Stay With Me. The film was released in 2022 and stars Rotimi Salami, Khadija Ayoade, and others. Jerry and Lydiah meet in a very uncomfortable situation; they get attracted to each other and end up falling in love.
This film can be an excellent way to bond with your partner because it has some life lessons in it. Watching it with your significant other can be a fantastic way of catching up with them and talking about your relationship. It could help you consider giving your partner another chance to prove themselves to you if you were planning to end the relationship.
5. Aroba
Aroba is one of the best Yoruba love movies you should consider watching with your partner. The film features Nollywood Yoruba stars like Dayo Amusa, Fathia Balogun Williams, Femi Adebayo and Odunlade Adekola.
It is about an insecure man who employs tactics to know if his wife truly loves him. He does that to know if his wife is reserved and faithful to him, but something goes wrong. The film is interesting because it takes you back to the 70s. The director of the movie employed the 70s old-school theme.
6. Masida
This is the latest 2022 Yoruba romantic movie starring Lola Alao, Yewande Adekoya and Bose Akinola. Yow will surely love this film because watching it with your partner opens your eyes and teaches you a few things you might not have known.
It is about a man who gave his heart to his marriage of over 25 years. He gets the shock of his life when one of his friends is about to get married to his sister. If you want to spice up your relationship with your partner, watching Masida can help you do that, especially if you have been married for many years. It is one of the movies for mature minds.
7. Ilu Gangan
This is one of the best Yoruba movies you should watch as a couple, for it leaves you with answers to all the questions you have been looking for about marriage and relationships. The movie starts Femi Adebayo, Opeyemi Aiyeola, Peju Ogunmola, Juliet Jatto, Wunmi Olatunji and other Nollywood actors.
It is about two couples who allow pride and scrooge to fill their marriage with issues. They do not stop letting pride rule their marriage until a mind-altering incident challenges them. The film was released in 2022 and watching it can be helpful to you as a couple who want to build a strong relationship with your partner.
8. Ayomide
Ayomide is one of the 2022 Yoruba love movies starring famous Nollywood actors like Biola Adebayo, Jide Awobona and Anjorin Oluwatosin. The film is about two people named Ayomide and Iretiola who love each other deeply.
Their love is so strong that nobody can separate them. Their love is an example of how a couple should love each other. Watching this movie with your partner can strengthen your love no matter what comes your way.
9. Etanu
This is a Nollywood romantic drama which can be interesting for you and your partner to watch. It is a drama film which was released in 2020. It is about people who mask their personalities and pretend to be who they are not.
The film stars Bimpe Oyebade, Lateef Adedimeji, Omo Ibadan, Akeem Adeyemi, Toyin Alausa and others. The love between Ifeoluwa and Drasimi is strong, setting an excellent example of true love. By watching this film, you will know whether the person you are dating is your soulmate.
10. Love and Marriage
Love and Marriage is a Yoruba movie starring actors like Wunmi Toriola, Akeem Adeyemi and Seun Akindele. It is one of the latest Yoruba movies released in 2022.
The movie unravels the importance of love in a couple's life as their marriage stands the test of time when faced with a difficult challenge in their relationship. The effect of the challenges leads them to a lifelong battle full of betrayal, deceit and jealousy.
Are Yoruba movies Nollywood?
They do fall under the umbrella of Nollywood. It began as actors of various Yoruba travelling theatres began to take their works beyond the stage.
Watching romantic movies with your partner can significantly impact your relationship. This is because they can help you learn about relationships and marriage. Moreover, love movies strengthen your bond as a couple. Hopefully, you will find the best Yoruba movie to watch with your significant other.
READ ALSO: 10 famous Hollywood actors who regret working with Marvel
Legit.ng recently published an article about 10 famous Hollywood actors who regret working with Marvel. Some actors regret working with the Marvel industry for various reasons. Others have been blacklisted for badmouthing their break-out roles.
Despite Marvel Studios being a top television and film production, not everyone was excited to be part of it. Some famous Hollywood actors who hate Marvel include Wesley Snipes, Famke Janssen, Edward Norton and Christopher Eccleston.
Source: Legit.ng