50 lovely sunset quotes to use for Instagram post captions
If you appreciate nature, then, chances are you will fall in love with sunset quotes. The reason is that it reminds one of the loveliness in endings that bring new beginnings. Besides, it gives an incredibly beautiful sight. It is pure joy and exceptionally beautiful to take pictures in the sunset. Apart from being excited with the beauty of this time of the day, you can also get your Instagram page followers excited by sharing some of these quotes with them.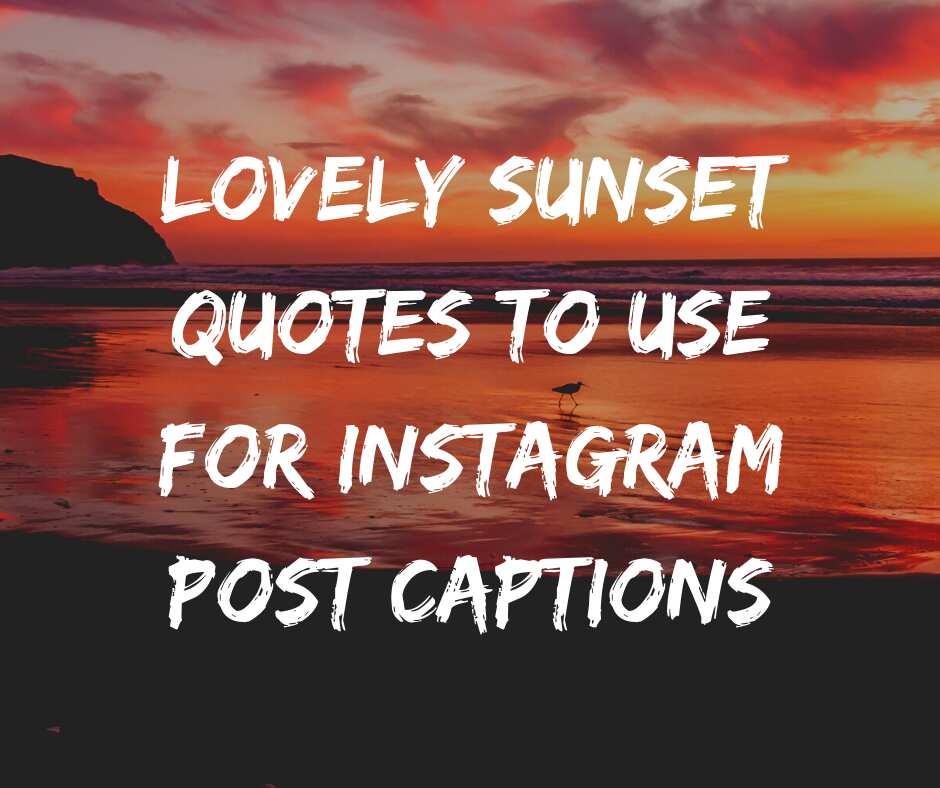 If you are looking for what to excite your followers on social media with, sharing any of these amazing quotation on sunset will not be a bad idea. If you have taken an exceptional sunset picture and you are thinking of the best caption for it, you will find these sunsets quotes specially made for you. Apart from that, whether you need sunset love quotes or the perfect Instagram sunset picture captions, you will find them all in this article.
How do you describe a sunset in writing?
Discover in this set of quote about sunset your perfect description of sunset in writing.
The perfect picture of the sky will always be sunset.
Watching the sun disappear little by little leaves me wondering where it could be.
The clouds are my earth, sunset is, but heavens smile at me.
Sunset and evening star are double the joy the day gives.
You become your own inspiration, saving time to steal a stare at sunset.
Sunset tells you that everything could have a beautiful end, even that bright shining sun.
I don't know how many evenings I have, but I will like to spend all my evenings watching the sunset.
I am nature, and sunset is nature too. I cannot but steal a little glance. I would keep all the moving pictures of sunset and me as my pure memory.
Watching the sunset is never a waste, who sees it without a sole new dream?
Eloping the world and peacefully taking a sit right before the beach at dusk is my true happiness.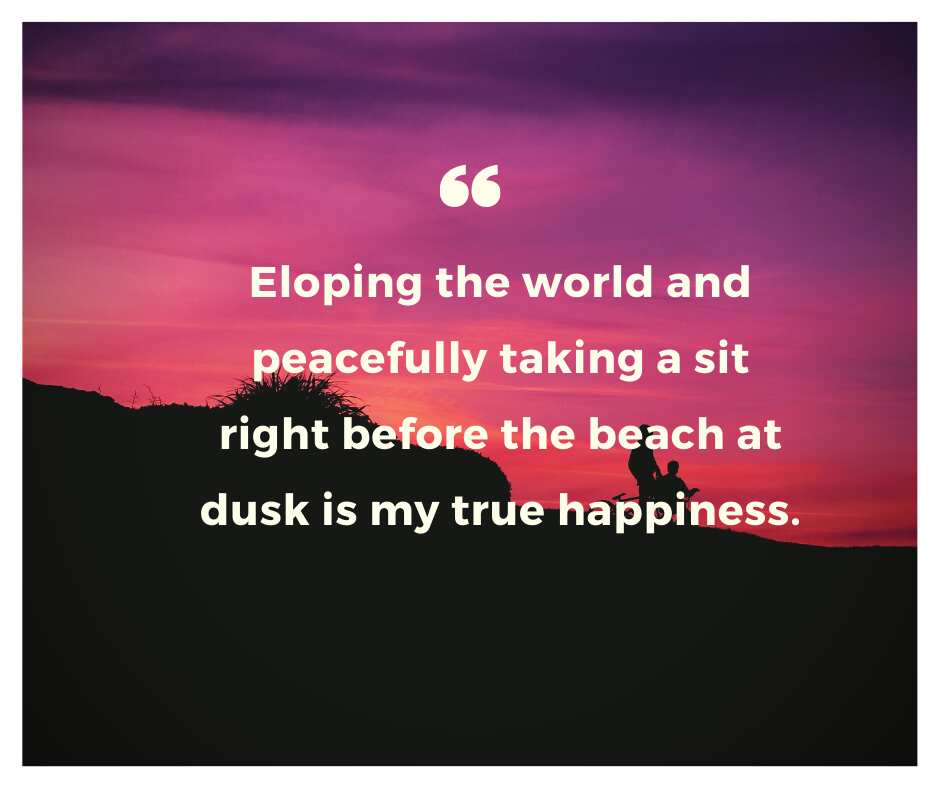 What do you caption your sunset pictures?
You have kept that great stance at your sunset picture enough, so, it is now time to grab one of these quotations on sunset for your Instagram post. Check out the following words.
11. Days are far too short, but sunset brings a time of fulfillment.
12. Parting is such sweet sorrow, but "you" sunset is very sweet when the sun parts from us.
13. A great hope of a bright tomorrow.
14. The fascinating sunsets are the ones we share together.
15. Live as the sun shines, love as it dawns.
16. The sun loved the moon that much that he departed every single night just to let her breathe.
17. I admire the sunset; it is unchanged even when not watched. It doesn't care if we sit to watch it. It would always remain the sunset.
18. Spare your evenings a little time for sunset. It is the soul's light.
19. At last, sunset calls, "it's time to rest from the world's test".
20. When one is unhappy, one can experience the pure joy of sunsets.
Love quotes about sunset
There is something dramatic and significant about sunset, and that is the fact that it reminds one of love. It is capable of bringing back fresh memories of joy with your other half. Save your memories in this quote about the sunset.
21. All I dream about is one more sunset with you in my arms.
22. She gave no one else a chance. She was madly in love with the sunset.
23. I see love when the sun kisses the ocean precisely at sunset.
24. She was my moon and sunset. She didn't need to be perfect.
25. I think about you every time, my love. Even more, I think about you when the sun goes down.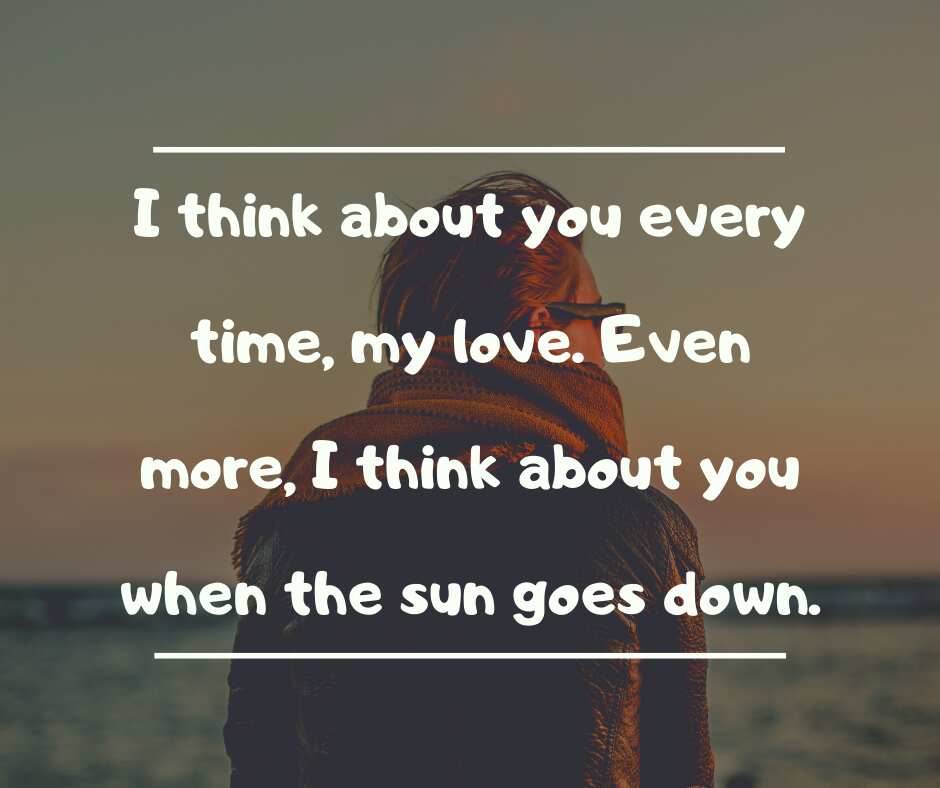 26. I see my sunset right in your eyes. That is why I know you are the only one for me.
27. She was sunset, and he was sunrise. They were made for the skies.
28. Kiss me the same way the red sun kisses the sky.
29. Love me just as I come. Sunset calls.
30. All I need is you and a little more sunset in my life.
Sunset quotes about life
Get your Instagram sunset posts some insight just by posting these sunset quotes about life. With these interesting quotations about sunset, you are good to go.
31. Life tells us through the sunset, "you overcame this day's great toil. You deserve something exceptionally beautiful."
32. I keep admiring the sky at dawn; it is my chance to dream anew, learn from the past, and embrace my sunset future.
33. Sunrise teaches us that there will always be another chance, and sunset teaches us that beautiful things might not last forever.
34. Now clouds hover into my life, not to bring rain or steer hurricane anymore, but to add colour to my sunset atmosphere.
35. There's a way sunset illuminates my life like no other time.
36. A lot of things can not wait for you. Sadly, even the beautiful sunset can not wait for you. So, get going even when you seem not to stand tall.
37. After the sun sets, there comes a time when the colour and lighting are stunningly beautiful. It lasts barely for a few seconds when the sun has just gone beyond the horizon, but its rays continue to brighten the whole world. That's you when you continue to give happiness.
38. Sunset reminds me of dawn, where life again begins.
39. When the sun's heat is too harsh, I remember sunset, my heart's delight.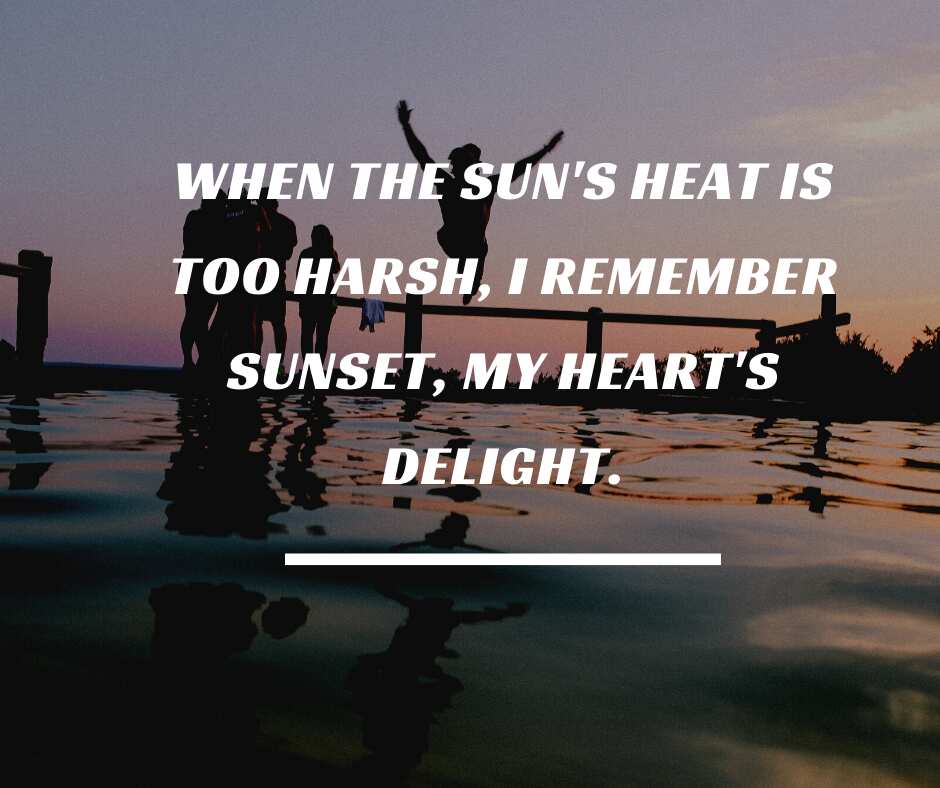 40. When you halt and look around, life is indeed pretty extraordinary.
Funny sunset puns
Have fun going through this witty list of funny sunset puns. Convey humour with these sunset captions for Instagram.
41. It's sweet Saturday sunset of a beach.
42. Seek so sweetly to see more sunsets."
43. Life's but a beach, sunset makes it best.
44. I was awake all through the night, waiting to see where the sun would go, and immediately, it dawned on me.
45. I found peace peering into the sunset right in my heart.
46. The world was in flames, and nothing could bear me but sunset.
47. If I have a smile on my face, I stole it at sunset.
48. Keep your eyes on the clouds, till the sunsets speak.
49. Peace is seeing a sea sun going to set.
50. The sunset beach sneaked up on me by the broken seashell.
You must have found the perfect sunset picture captions in these intriguing list of quotes about sunsets. You can skillfully use them as captions for your sunset Instagram posts. Watch as these sunset quotes bring cheerful comments and increase the number of "likes" that you get on your Instagram page. Make history as you bring that excitement about sunset to your friends and followers.
Source: Legit.ng