35 inspirational Moana quotes about life, love and family
Moana is the story of an adventurous teenager who teams up with a demigod named Maui and sails out on a daring mission to save her people. Probably everyone has heard of Moana, and the girl's wisdom is commendable. There are many funny, exciting and inspirational Moana quotes that you should know if you are a Disney fan.
Moana is one of Disney's best-animated films that has won the hearts of many since its release in 2016. There are many life lessons that people can draw from fantastic characters like Moana, Gramma Tala, Tamatoa, and Maui. Here are some famous Moana inspirational quotes alongside the lines you can learn from.
Best inspirational Moana quotes
Quotes from Moana are exciting and full of wisdom. The way the Polynesian girl, Moana, tries to solve the problems she encounters along the way is too motivating. Here are motivational quotes that will lift your spirit and inspire you.
Sometimes, our strengths lie beneath the surface, far beneath, in some cases.
You may hear a voice inside. And if that voice starts to whisper to follow the farthest star, then it is inside you.
Now I know why you always told me to be strong. Because you knew, you knew that one day I would need the strength to bear your loss. — Moana
You will do great things, but first, you must learn who you are meant to be. – Moana
It's called wayfinding, princess. It's not just sails and knots; it's seeing where you're going in your mind and knowing where you are by knowing where you've been.
I have crossed the horizon to find you. — I know your name. — They have stolen the heart from inside you. — But this does not define you. — This is not who you are. — You know who you are… who you truly are. — Moana
I can lead with pride; I can make us strong. I'll be satisfied if I play along. But the voice inside sings a different song. What is wrong with me? — Moana
The gods aren't the ones who make you Maui; you are.
Moana quotes about life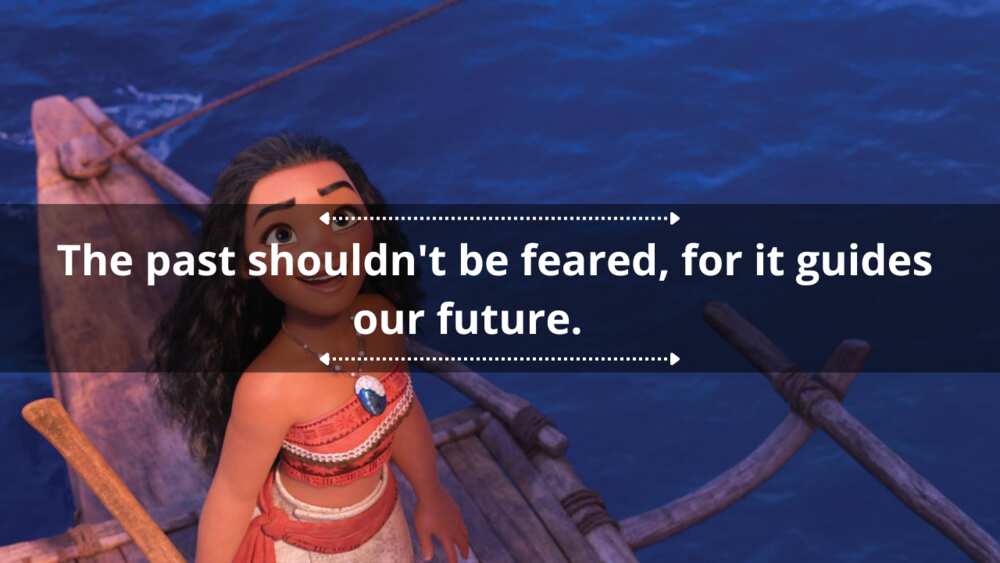 Are you going through difficulties in life or need to gain a deeper understanding of life? You can get what you need from Moana's quotes about life.
The past shouldn't be feared, for it guides our future.
Scars can heal and reveal just where you are.
You are the future of our people, Moana. And they are not out there. They are right here. — Chief Tui
There's just no telling how far I'll go.
See that line where the sky meets the sea; it calls me, and no one knows how far it goes.
There comes a day when you're gonna look around and realize happiness is where you are.
Sometimes, who we wish we were what we wish we could do is just not meant to be. — Sina
Come what may, I know the way. — Moana
Moana quotes about love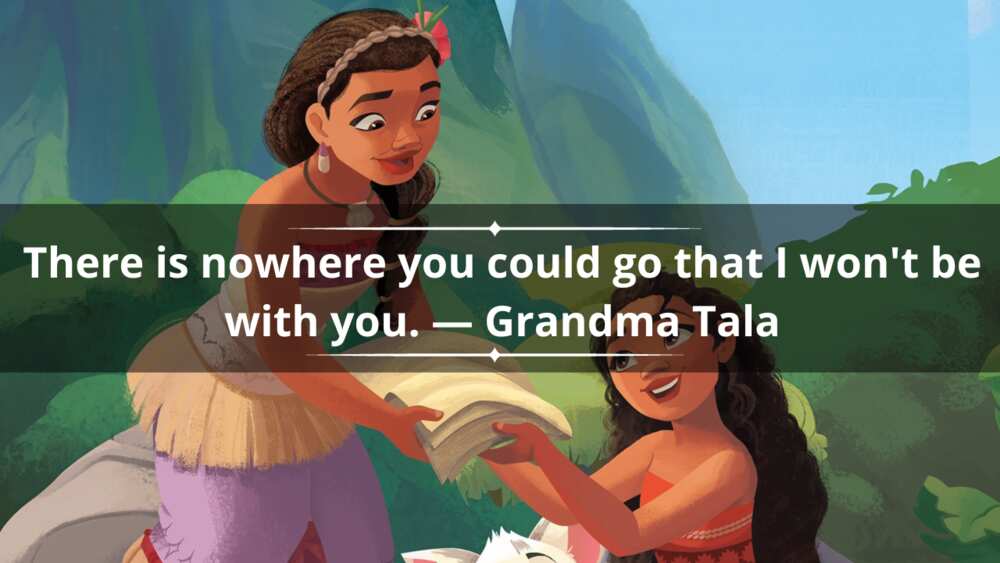 From the Moana film, it is apparent that Moana loved people from her island village deeply. She did all she could to save them from a mysterious life-dwindling disease. Here are some of the Moana movie quotes about love.
There is nowhere you could go that I won't be with you. — Grandma Tala
Bonding is not measured by the time you spend together but by the comfort you find when you realize you have each other. — Moana
Just pick an eye, babe. I can't… I can't concentrate on what I'm saying if you keep… Yeah, pick one. Pick one! — Tamatoa
I will carry you here in my heart. You will remind me that come what may, I know the way. — Moana
When I saw you, that's how it all changed.
I have crossed the horizon to find you.
I'm going to miss you, Drumstick. — Maui
Moana quotes about family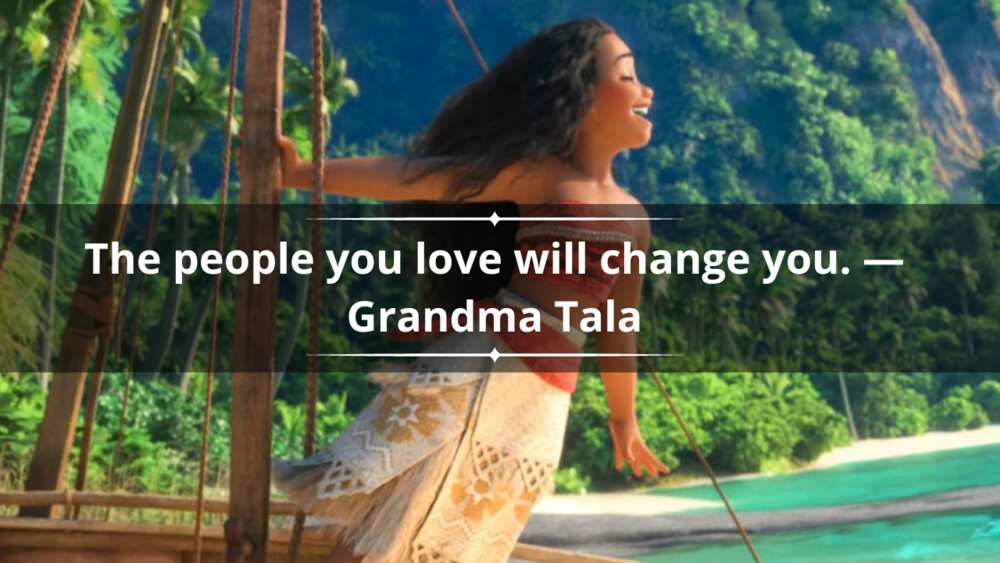 Family is an integral part of Polynesian culture and a significant theme of Moana. The movie truly represents the importance of family and friends. Below are some of the Moana lines about the family.
I ate my grandma! And it took a week because she was absolutely humongous. — Tamatoa
There will come a time when you will stand on this peak and place a stone on this mountain, like I did, like my father did, like his father and every chief that has ever been. — Chief Tui
I'm his mom; I don't have to tell him anything.
Can we be real? If my name was Sebastian and I had a cool Jamaican accent, you'd totally help me. You would, you know you would. — Tamatoa
The people you love will change you. — Grandma Tala
Moana quotes about the ocean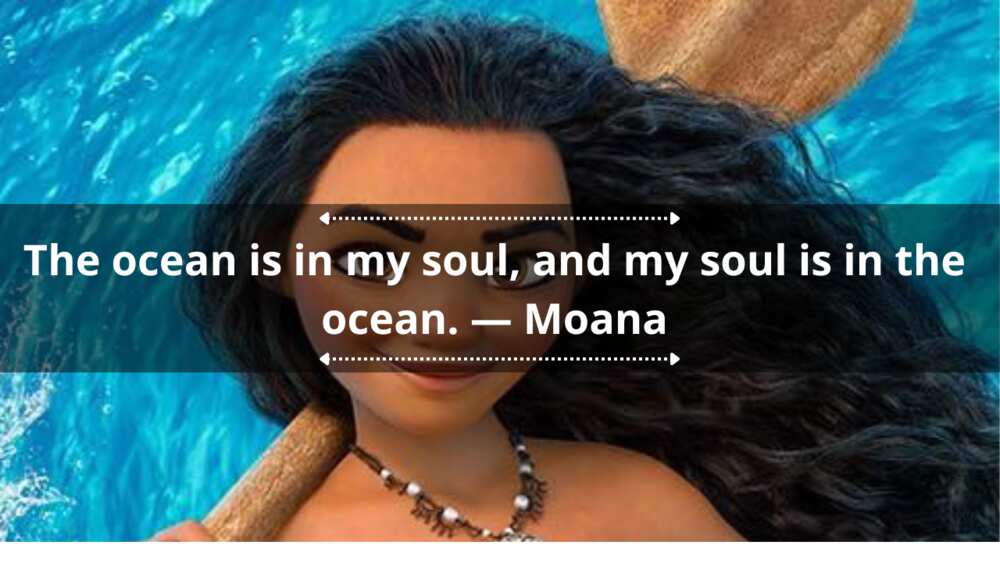 The ocean gives Moana the means to fulfil her calling when facing adversity. Here are the best Moana quotes about the ocean.
There's a whole ocean! — Moana
The ocean is a friend of mine.
The ocean is in my soul, and my soul is in the ocean. — Moana
If I were the ocean, I think I'd look for a curly-haired non-princess to start that again.
I like to dance with the water—the undertow on the waves. The water is mischievous. — Grandma Tala
My job is to deliver Maui across the great ocean. I should – I should be sailing. — Moana
The power of creation … For a crustacean! — Tamatoa
Most people use anime productions and writings for entertainment purposes. Besides this, they also contain essential life lessons. The inspirational Moana quotes above will enlighten you about life, love, and family.
Legit.ng recently published an article about the iconic Tony Montana quotes. The American actor Al Pacino is the one who plays the role of Antonio "Tony" Montana in the film Scarface. Tony enters into crime and illegal trades while chasing a better life in America.
Scarface is undoubtedly one of the best crime films ever. Most viewers find the movie's storyline relatable to their lives because it centres on Tony's struggle for success. His most inspirational quote is, 'The only thing in this world that gives orders is balls.
Source: Legit.ng