50+ thank you God quotes to express your eternal gratitude
Gratitude to God is a virtual everyone should practice and should be expressed daily. It is mainly represented by saying thank you for acknowledging all He has done in your life. Being thankful makes you feel good and improves your relationship with God and others. Here are great thank you God quotes to appreciate your maker.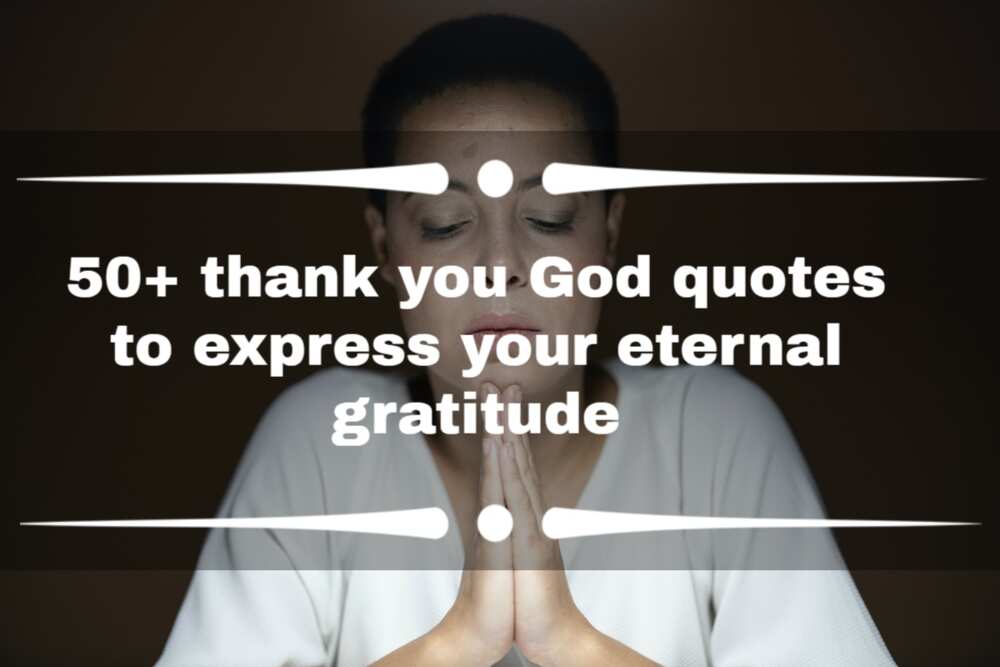 Giving thanks to God in life is one form of worship and highlights one's faith in Him. Appreciating Him for what He has done helps you attract more into your life. Quotes thanking God will help you express your appreciation to the Higher Power when you can't find words.
Thank you God quotes
Being thankful to God is important because it is a way of appreciating a higher power for the many blessings He has given you. Below are lovely quotations to thank God you can use at any stage of life.
You need to thank God because you could be fighting battles, but fighting for your life is not one of them. — Gift Gugu Mona
No duty is more urgent than that of returning thanks. — Saint Ambrose
A heart that loves God does not come to God to get things from Him but just to love Him for His sake. — Benjamin Sealey
If the only prayer you ever say in your entire life is thank you, it will be enough. — Meister Eckhart
Never give up hope. All things are working for your good. One day, you'll look back on everything you've been through and thank God for it. — Germany Kent
Pride slays thanksgiving, but a humble mind is a soil from which thanks naturally grow. — Henry Beecher
Worship is a way of gladly reflecting back to God the radiance of His worth. — John Piper
Just a thank you is a mighty powerful prayer. That says it all. — Rosie Cash
Thank God for allowing you to see another day. No matter what, keep trusting, keep believing, be strong, and have hope. The best is yet to come. — Germany Kent
If there were ever a secret for unleashing God's powerful peace in a situation, it would be developing a heart of true thanksgiving. — Lysa TerKeurst
Before you fall asleep at night, thank God for three things that happened during the day. — Robert Morgan
Happiness is the realization of God in the heart. Happiness is the result of praise and thanksgiving, faith, acceptance, and a quiet, tranquil realization of the love of God. — White Eagle
Anybody can thank God for good things. But when you can thank God even in the bad things, your faith grows, and your spiritual roots go deeper. — Rick Warren
Don't complain about it; pray about it! Thank GOD for what you have, and let it go. — Give it to God. Joanna C Smith
God thank you for everything quotes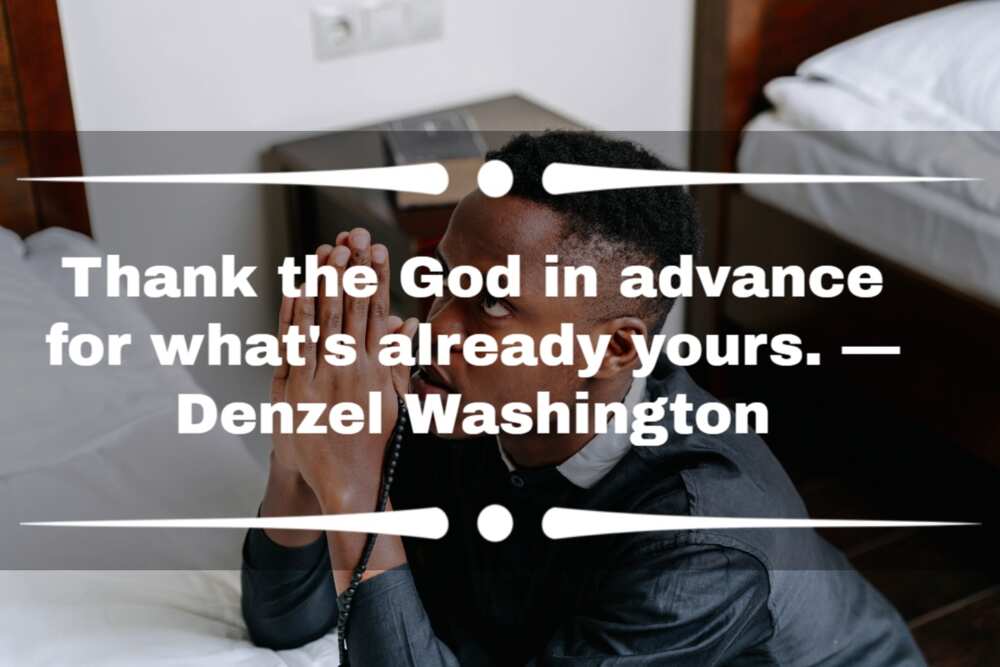 Appreciating God for everything He has done for you gives you confidence and hope for tomorrow. Below is a list of quotes to express gratitude to the Almighty.
Today and every day is a gift of God to be thankful for.
Dear God, thank you for everything.
Thank you, God, for everything in life. The good and the bad. Some were blessings, and some were lessons.
Don't think of the things you didn't get after praying. Think of the countless blessings God gave you without asking.
In everything, give thanks. For all that God in mercy sends. For health and children, home and friends.
God will make a way when there seems to be no way. Thank you, God.
Keep praying, but be thankful that God's answers are wiser than prayers.
It's nice to wake up in the morning realizing that God has given you another day to live. Thank you, God.
Be thankful, but be careful not to become so enamoured of God's good gifts that you fail to worship the giver. — Aiden Wilson Tozer
Thank you Lord quotes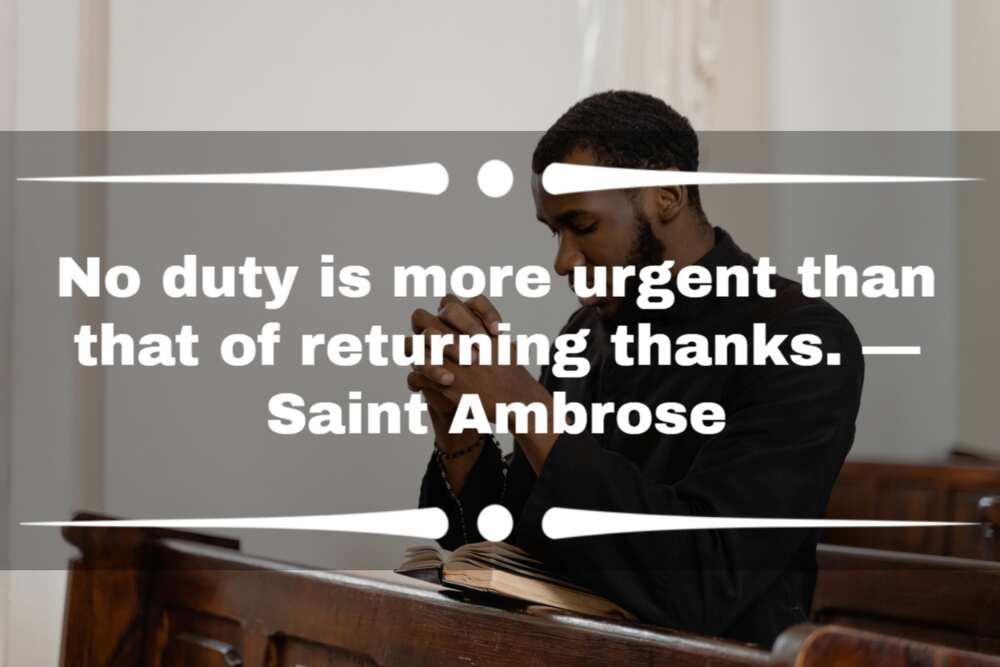 In life, there is always something to thank the Lord for. Whether it is a difficulty He got you through or His provision, it is good to give thanks. Check out these great thank you Jesus quotations.
Thank you, Lord, for life, for love, family, friends, everyone and everything, and for always being there in times of happiness and sadness.
The Holy Spirit, thank God, often enables people to forgive even though they are not sure how they did it. — Lewis B. Smedes
You don't blame God for placing you in a dark corner. You instead have to thank him for giving you the light to make it bright! — Israelmore Ayivor
You can't get around pain and opposition, but you can try to be joyful in the trial, thank yourself for the trial, and thank the Lord for the strength to get through it. — Mary J. Blige
You need to thank Lord for everything in your life. Before you even noticed, He was kind enough to bless you with every small need.
When one is thankful for the blessings in their life, they choose to attract more positivity and abundance. — Michael Austin Jacobs
You need to thank Lord for the mercy he bestowed upon you. The kind act of making your life worth living is praiseworthy. He blessed you with everything you have.
Don't take things for granted today. Take them with gratitude. — Joni Eareckson Tada
Thankful quotes to God for his blessings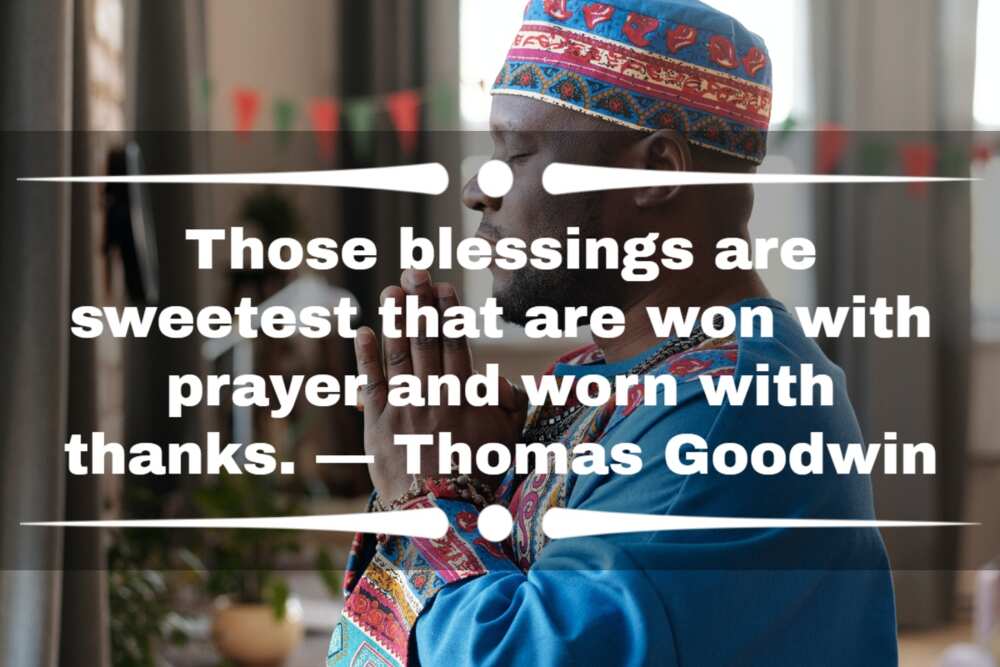 God's blessings are immeasurable, and they surpass human understanding. When you cultivate an attitude of gratitude, more gifts from God come your way. Here are great thankful quotes to God when you feel blessed.
Those blessings are sweetest that are won with prayer and worn with thanks. — Thomas Goodwin
Thank you for the wisdom to make the right decisions. Today, don't beg or ask; just thank God in silence for all the blessings in your life. — Paulo Coelho
Happy moments; praise God, difficult moments; seek God, quiet moments; worship God, painful moments; trust God, every moment; thank God.
Every morning is a gift from the almighty God. Before you think about anything else, remember that life comes from the one above and thank him for all that he blesses us with. — Kim Bathers
Testimonies help others. They build your faith and also serve as witnesses to God's power to bring you out of trouble. — Scott Gordon
The unthankful heart discovers no mercies, but the thankful heart will find, in every hour, some heavenly blessings. — Henry Ward Beecher
Find time to thank God for all the blessings you receive on a day-to-day basis. — Steven Johnson
A spirit of thankfulness is one of the most distinctive marks of a Christian whose heart is attuned to the Lord. Thank God during trials and every persecution. — Billy Graham
Man is the miracle in nature. God is the one miracle to man. — Jean Ingelow
It's never too late. Don't focus on what was taken away. Find something to replace it, and acknowledge the blessing you have. — Drew Barrymore
Quotes of gratitude to God from the Bible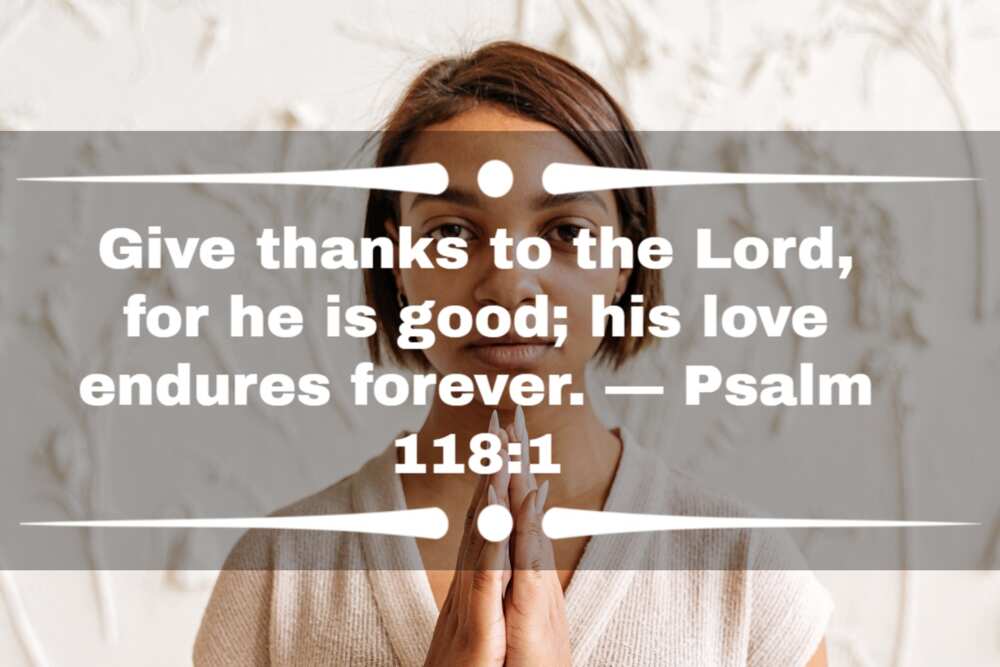 The Bible has numerous verses on thanksgiving and many instances of people giving thanks to God. Here are some grateful quotes to God from the Bible.
Give thanks to the Lord and proclaim his greatness. Let the whole world know what he has done. — 1 Chronicles 16:8
And let the peace of Christ rule in your hearts, to which indeed you were called in one body. And be thankful. — Colossians 3:15
Give thanks to the Lord, for he is good! His faithful love endures forever. — 1 Chronicles 16:34
Give thanks in all circumstances; this is God's will for you in Christ Jesus. — 1 Thessalonians 5:18
Don't worry about anything; instead, pray about everything. Tell God what you need, and thank him for all he has done. — Philippians 4:6
Give thanks to the Lord, for he is good; his love endures forever. — Psalm 118:1
Be thankful in all circumstances, for this is God's will for you who belong to Christ Jesus. 1 —Thessalonians 5:18
Whatever you do, in word or deed, do everything in the name of the Lord Jesus, giving thanks to God the Father through him. — Colossians 3:17
Sing to the Lord with grateful praise; make music to our God on the harp. — Psalm 147:7
It is good to give thanks to the Lord, to sing praises to the Most High. — Psalm 92:1
With praise and thanksgiving, they sang to the Lord: He is good; his love toward Israel endures forever. And all the people gave a great shout of praise to the Lord because the foundation of the house of the Lord was laid. — Ezra 3:11
Devote yourselves to prayer, being watchful and thankful. — Colossians 4:2
And whatever you do or say, do it as a representative of the Lord Jesus, giving thanks through him to God the Father. — Colossians 3:17
Saying thank you to God expresses gratitude and appreciation for His blessings. Everyone has something to be grateful to God for every day. Thanking him for what He has done in your life creates new opportunities for you to receive more. The above thank you God quotes will help you appreciate him and express your eternal gratitude.
READ ALSO: 77 crazy funny family quotes that are just too relatable
Legit.ng recently published an article about crazy funny family quotes. Family is the safest haven any individual has in life. You can trust your family, and you can be yourself with them. One way to bond with them is to crack jokes and laugh together. These crazy funny family quotes will bring you closer to your relatives.
Family gatherings are the best time you can have as you spread love and have fun you're your loved ones. Everyone is happy to see each other as it is impossible to always see each other for various reasons. Share these funny family quotes the next time you see them or in family chat groups, and laugh together.
Source: Legit.ng