50 memories quotes about sweet unforgettable moments from your past
Sweet memories quotes are a great source of inspiration for every day. While thinking about pleasant things from the past, we get distracted from mundane troubles and regain energy and courage to take on what lies ahead.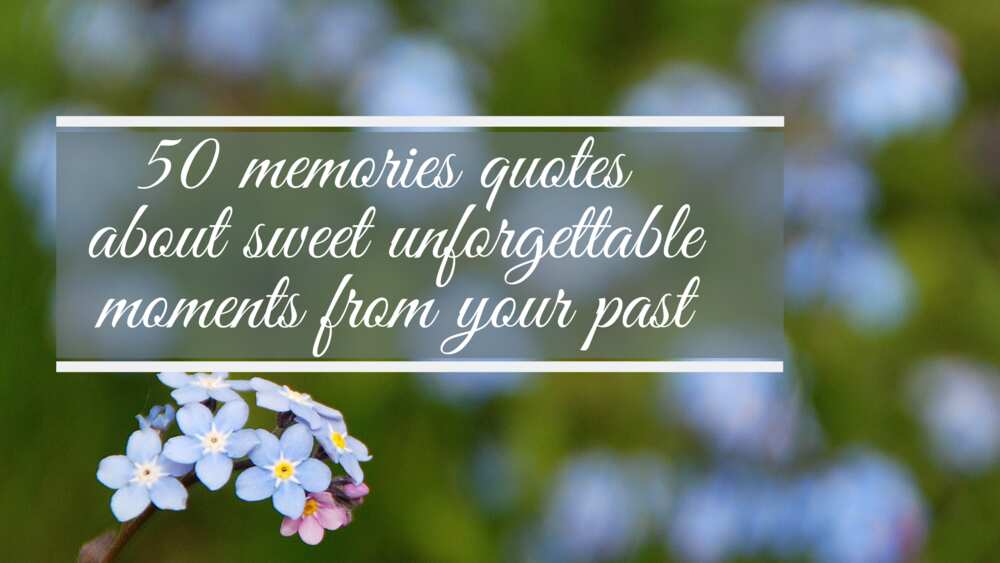 Many famous writers and influencers have given us good quotes on memories, but you can also find very nice samples that belong to anonymous users of the internet.
Such wise sayings give an idea of how every moment of our life may turn into a recollection, and how it is up to us to make it as good as we wish.
The most inspiring memories quotes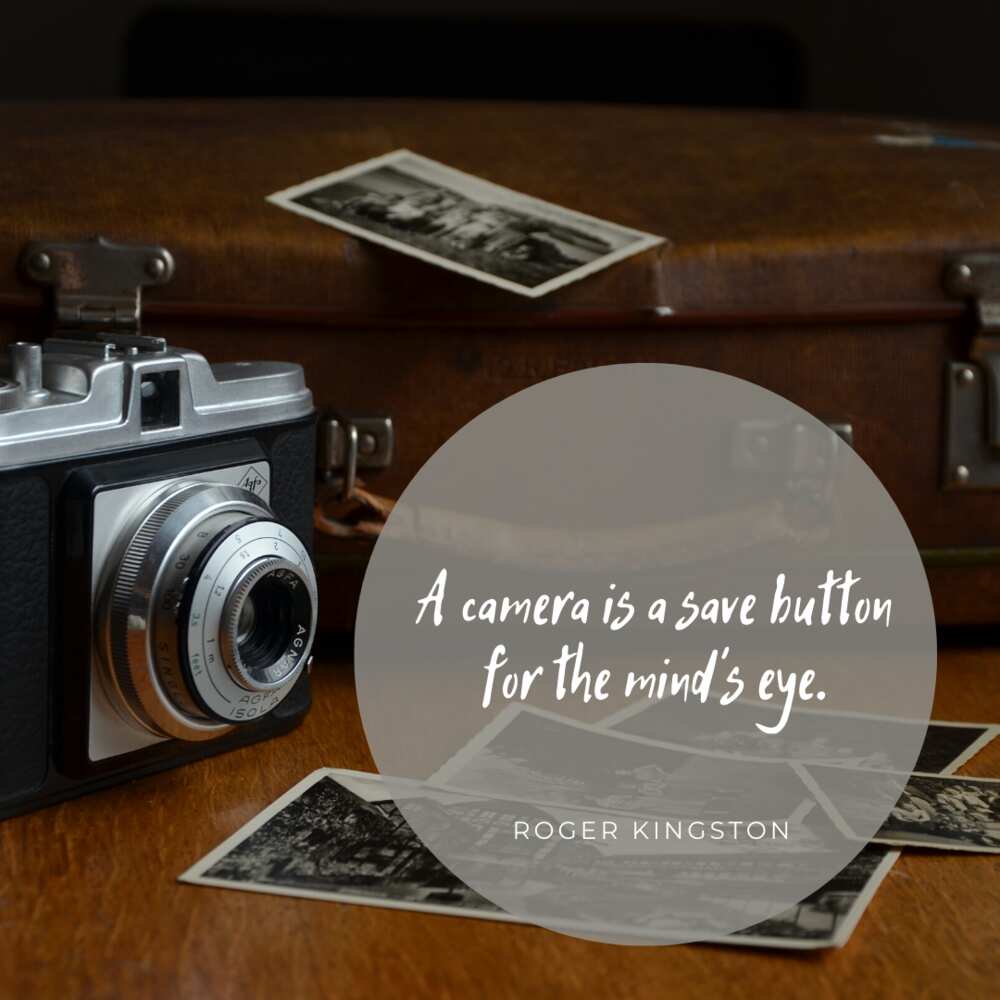 Here is a collection of inspiring and touching sayings that will make you treasure your sweet recollections even more:
Capture the moments of today; they will wow your heart tomorrow.
The best thing about sweet memories is making them.
Sweet recollections are a timeless treasure of the heart.
Enjoy yourself today. These are the good old days you are going to miss in the years ahead.
Happy times come and go, but the sweet recollections they leave behind will stay forever
Create good memories from the moments of today, so that you can have a great past.
We do not remember days. We remember moments.
The most treasured heirloom consists of the sweet reminiscences of our family that we cherish and later pass down to our children.
Beautiful, witty quotes on old memories usually trigger the process of remembering our past. This process can be uplifting or upsetting, depending on our current mood and the recollections themselves.
If you are upset or depressed, even the happiest things from your past may seem darker and gloomier to you than they really were.
At the same time, happy things from your past may affect your mood positively. Some of the best old memories quotes can make you look back at happy times and feel happier.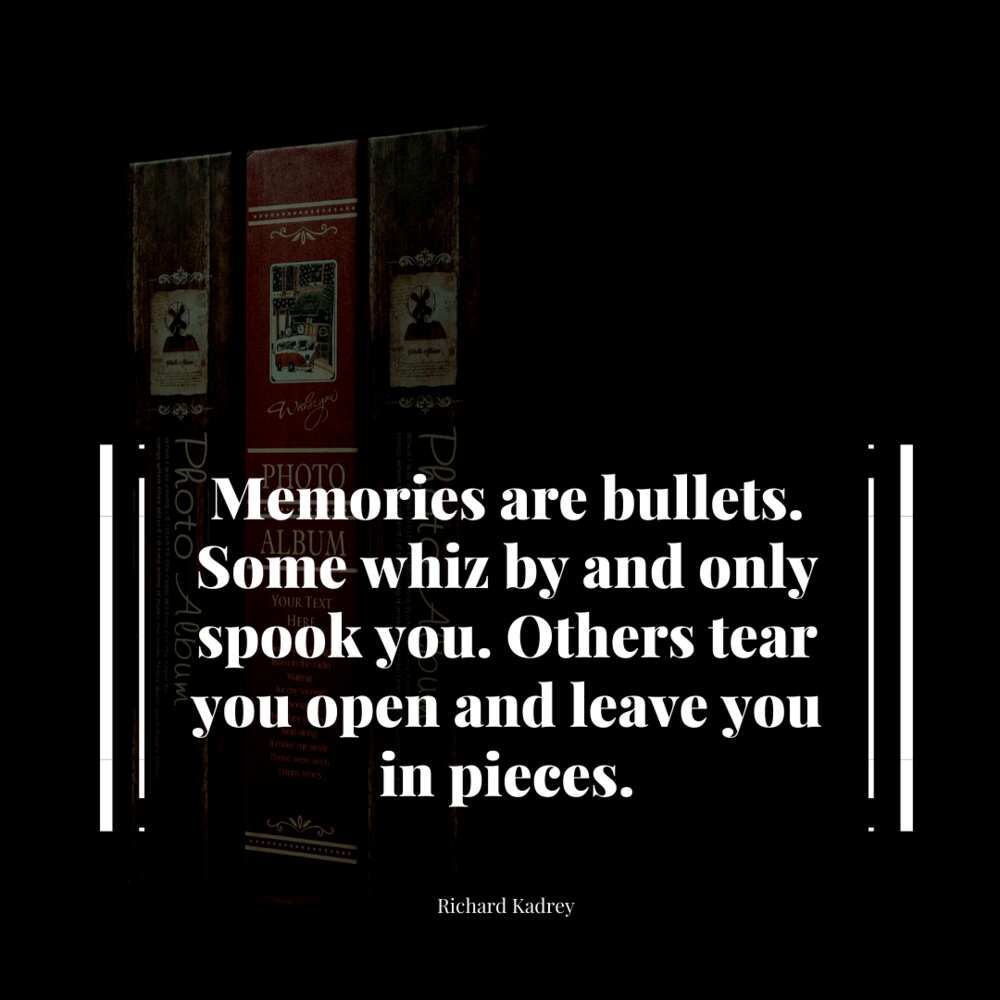 It is always good to be a part of somebody. People may forget precise dates, but they will always have the sweet recollections you have given them.
No matter what happens, the memory of some sweet moments can never be replaced.
Death leaves a heartache no one can heal. Love leaves a memory no one can steal.
Your recollections are something that no one can take from you. Create them every day to have something to remember when the years go by.
You may think that you have a poor memory, but you will never forget what is sweet and dear to you.
When real moments disappear, recollections are always in our hearts, no matter how long we live.
Sweet reminiscences revive all the roads we have walked and the people we have loved.
Love memories quotes make us think back about the ones we have loved. Such reminiscences can be full of sweetness or pain, but they are among the dearest in one's heart.
Why do we cherish them so much? They give us experience and knowledge, and we can avoid mistakes in the future if we remember the ones from the past.
The most inspiring good memories quotes speak about love. We gain new strength when we look back at the most powerful emotion one can experience: love.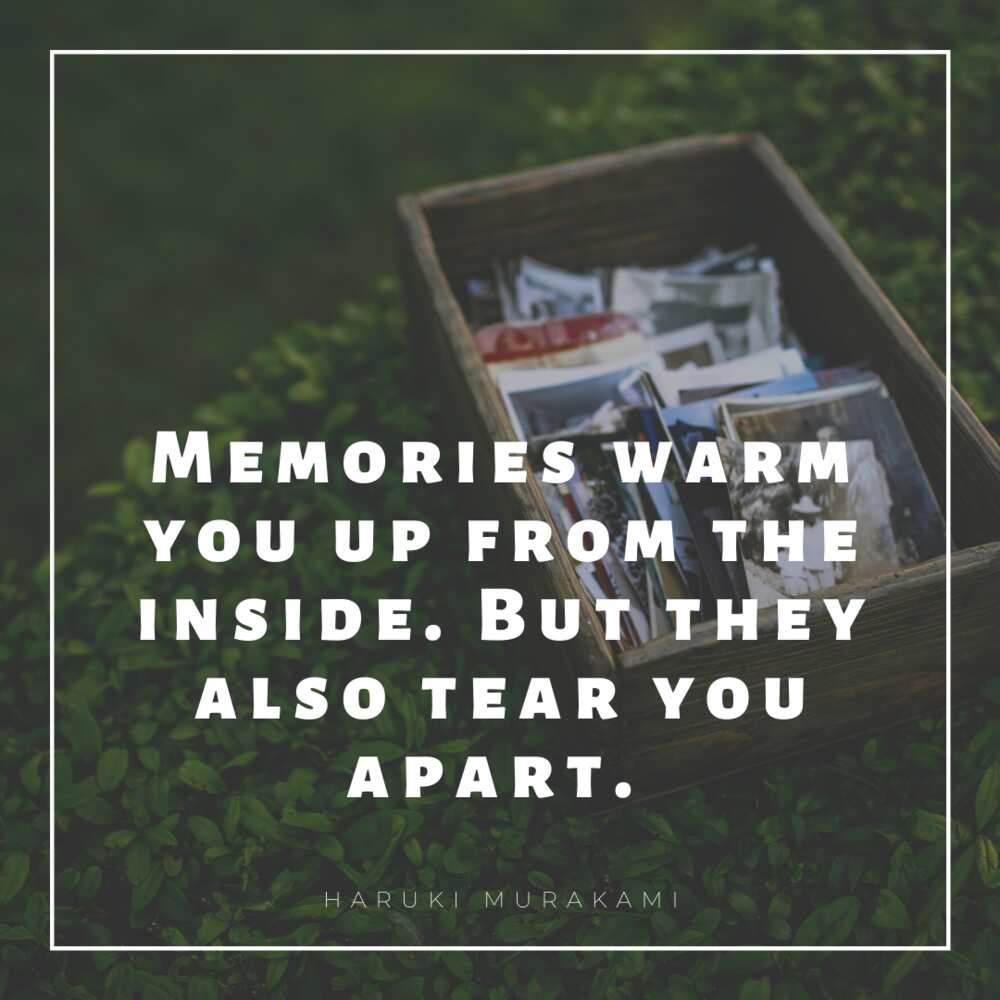 Keeping good moments in your mind and heart is a way to hold onto the things and people you never want to lose.
We all love those small sweet recollections that make us smile no matter what we are going through now.
It sometimes happens that the tiniest things occupy the most room inside your heart and stay there for good.
Time and distance do not matter for the things that are so sweet. Special moments are never forgotten; they always live in one's heartbeat.
Life is full of smiles, tears, laughter, and pain. Tears will dry out, smiles and laughter will fade, the pain will be forgotten, but the sweetest recollections remain with us forever.
If your childhood lives somewhere deep inside your heart, you will never become old.
Why do childhood memories quotes inspire us so much? The magic is in the way we can see through our inner child's eyes when we recall this special time of our lives.
Children are happy when they wake up in the morning, just to be alive and free like birds. They are sure they can do everything with the power of their imagination.
As adults, we often need this boundless faith in our own life, and for this reason, a couple of sweet memories quotes can inspire and support us emotionally.
Sometimes, recollections about times, things, and people seem to be better than the reality of them.
Smart quotes about memories say that good times turn into good reminiscences. Bad times turn into good lessons.
Be careful about the people you choose to make memories with. Those things can last forever.
The sweetest recollections are the ones that make your heart wring when you hear an old song, see an old picture, hear a beloved voice.
Sometimes, the best recollections will sneak out of your eyes and roll down your cheeks.
They say bad recollections cause you the worst pain. It is not true; only the best ones can drive you insane.
One day, each one of us will be just a memory in the hearts of other people. It is up to each of us to be a good one.
It is so strange that looking back at tears may make one laugh, but looking back at some laughs may bring one to nostalgic tears.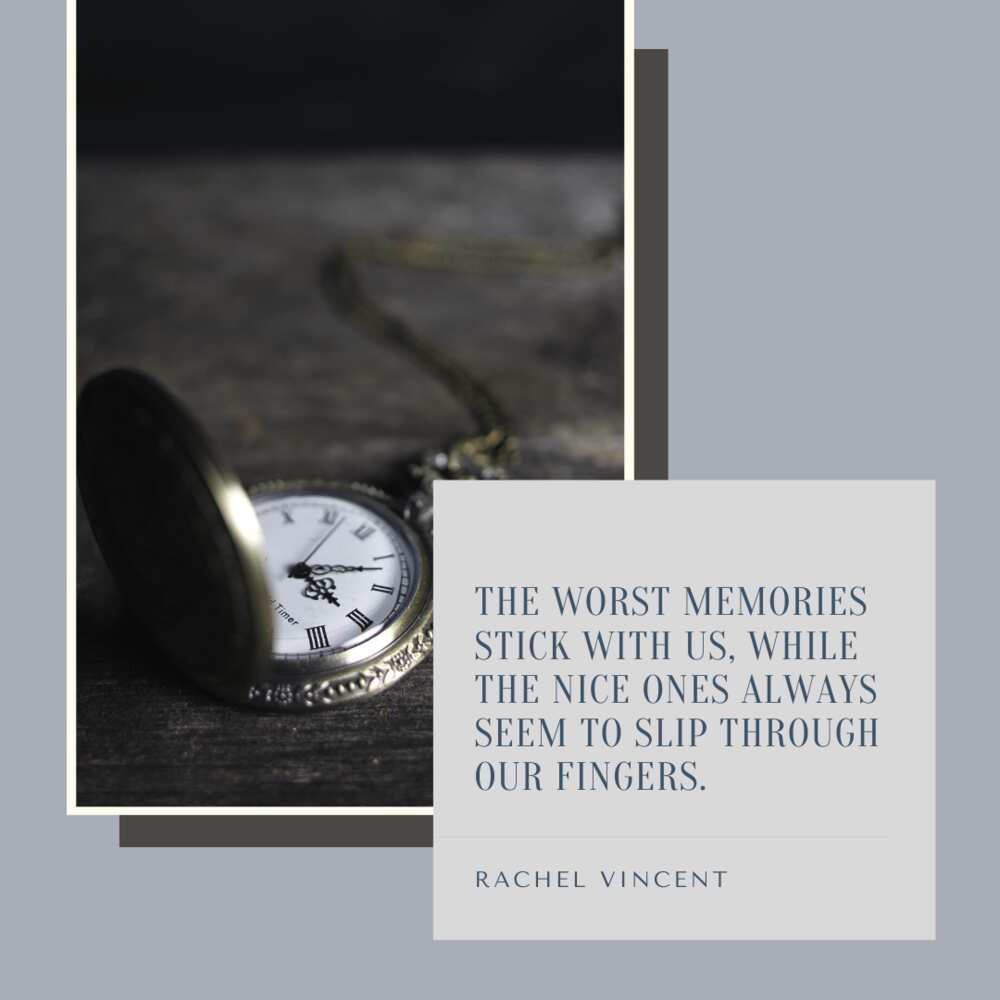 When everything is gone, there is still a recollection.
Childhood friendship is one of the most adorable and beautiful reminiscences that will never be replaced by any other.
Everybody had a moment of desire to wipe away some memory and live a special moment again, like for the first time.
A photo can be worth mounds of gold and thousands of words, but only reminiscences are priceless.
One cannot change the past, whatever has happened in it. The best one can do is keep all the good reminiscences and take lessons from bad ones.
Pleasant recollections will always be a safe haven when you need to hide from everyday worries.
Recollections will fade as the days go by, but faces and places they keep are never a day older.
You can always turn your back to reality, but reminiscence will always be with you.
Wise people say that memories are keys, but not to the past. They open the future.
Your reminiscences are not material things, and this is their best feature. You can carry them with you wherever you go.
One should always have a couple of old memories and a bundle of young hopes.
Most memory quotes hint that every recollection that we have is a source of inspiration. Why does this happen, why do we feel so uplifted after thinking about some events in the past?
While remembering good events, we feel pleasure. This very emotion gives us empowerment and strength to go on and defeat obstacles.
When thinking about something bad from the past, we feel sorry that nothing can be changed but are grateful for the experience. We need both positive and negative emotions to stay balanced and live a good full life.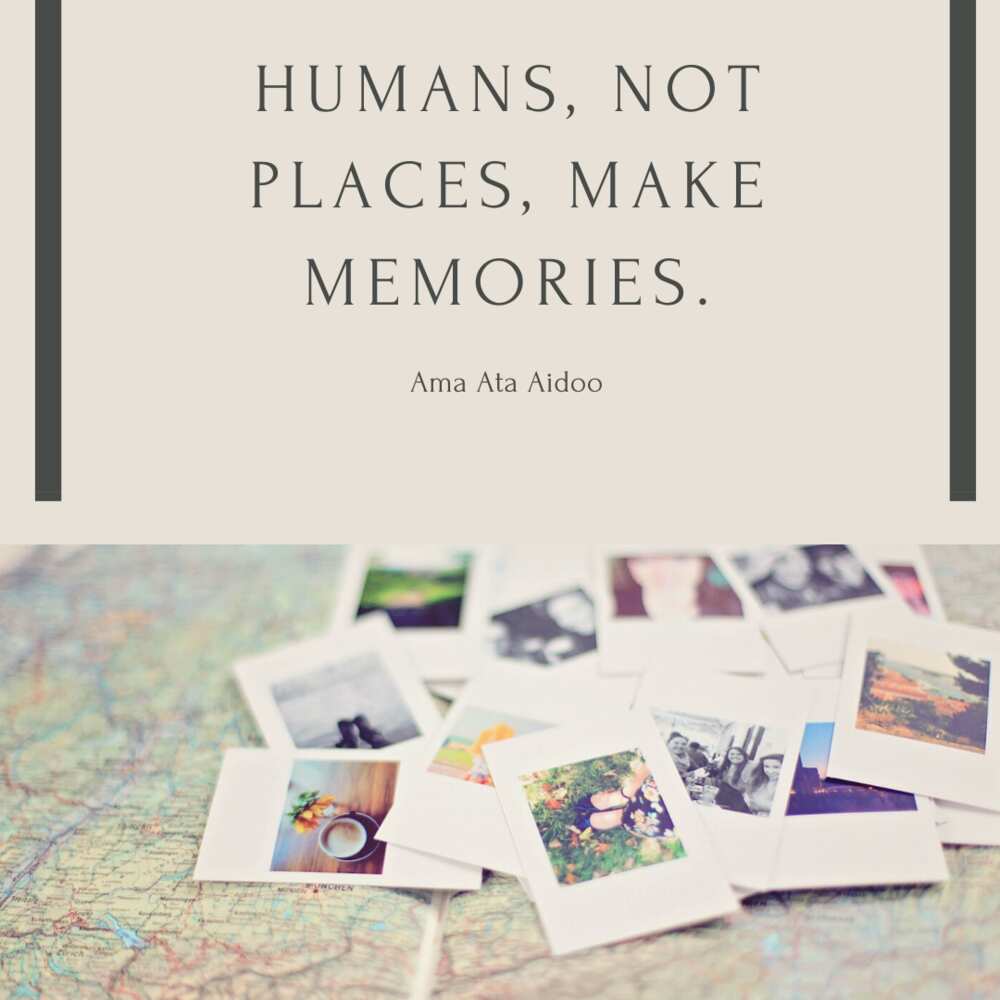 With time, every one of us will be just a face in old photographs, a piece of a dim recollection.
Everything we do outlasts our human mortality. All our deeds are like Egyptian pyramids made not of stone, but of reminiscences.
When you are lost in recollections, you may want to turn back the past and take away the sadness and pain. This is impossible not only because we cannot change the past, but also because pain may be a part of the sweetest things in your life.
God gave humans the ability to remember the best things in their lives in exchange for having no roses in December.
The pleasure you feel now will pass like a flower that fades. Your recollection of the moment is a perfume that never wears off.
Unforgettable memories quotes speak about the moments that stay with us for good. As a rule, we have no clue which moments will be kept by our brain and which will be omitted.
To create unforgettable moments, do the following:
Stay open to everything that happens to you.
Interact with new people and new places.
Value moments over things.
Exist in the present.
Find delight in simplicity.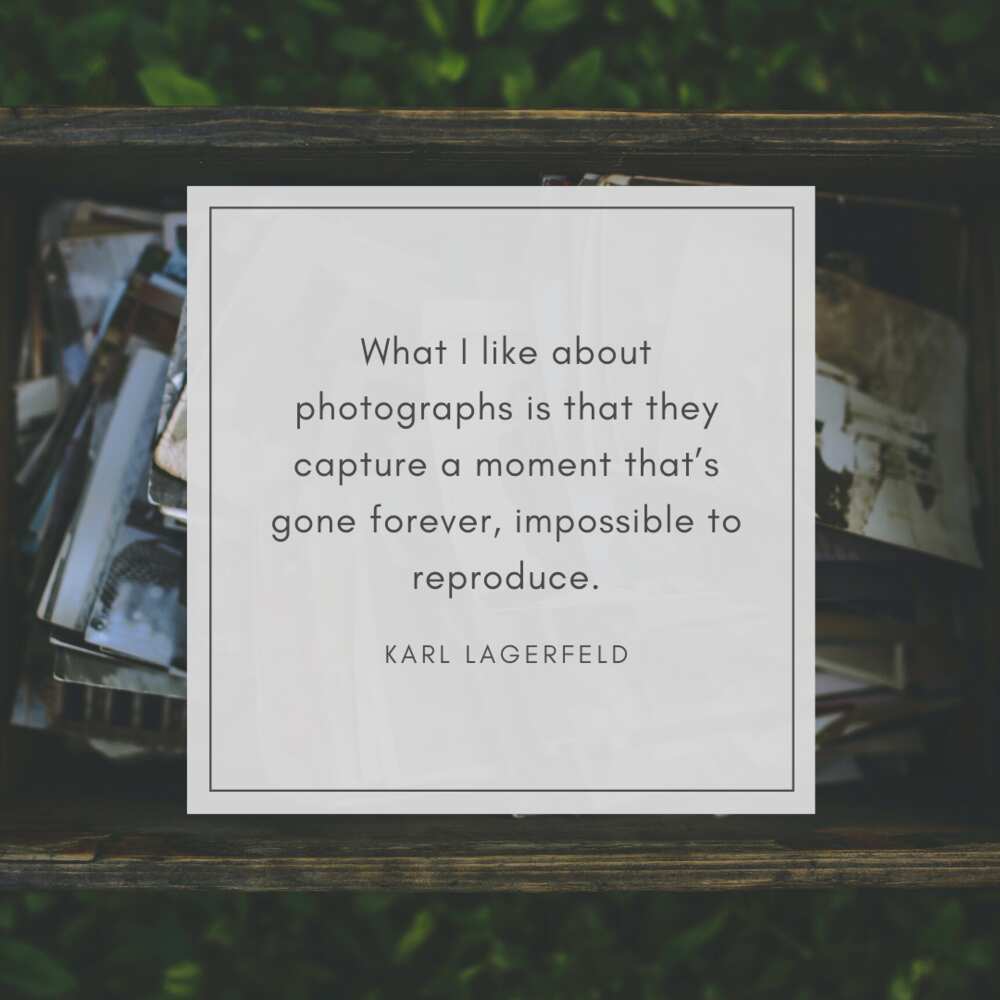 You can crop people out from pictures, but the trace they leave in your heart is eternal. One day, after many years, it may even seem to be sweet.
If you are bothered by bad old recollections, you always have a chance to create new and much more pleasant ones.
Everybody should have a friend to hang with and say, "Do you remember once…"
This saying is one of the most touching quotes on memories with friends that will most certainly bring a smile to one's face. Thinking about good old days is pleasant, but the pleasure doubles if it is shared with someone dear to you.
The one who does not do stupid things as a young person will have little fun to remember as an old one.
The best memories are the ones that you preserve in your heart, not in your camera.
Why we enjoy remembering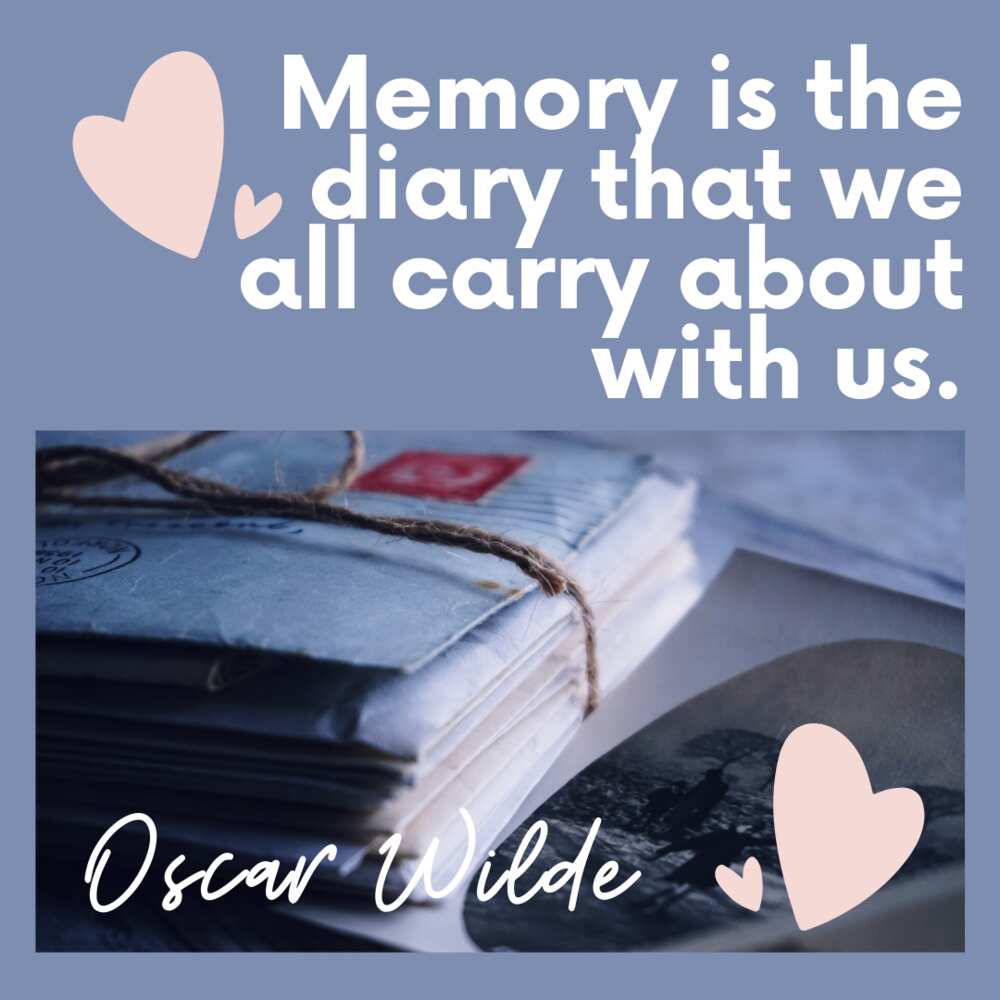 Why are memories important in life? All the recollections we have make us who we are.
In movies, for example, people suffer from amnesia after some misfortunate events and lose their identity. Every detail from our past that we retrieve with the help of our brain is a piece of our personality.
How do sweet memories of life give us pleasure? When we recall some moments from the past, we re-live them again.
These emotions are exactly what quotes on memories speak about when they mention the delight of looking back at past times.
The best moments we keep deep in our hearts rarely fade away. When recalled, they seem to be even better than they really were.
The grass is usually greener in the good old days; the sky is clearer; the sun is brighter, and so on.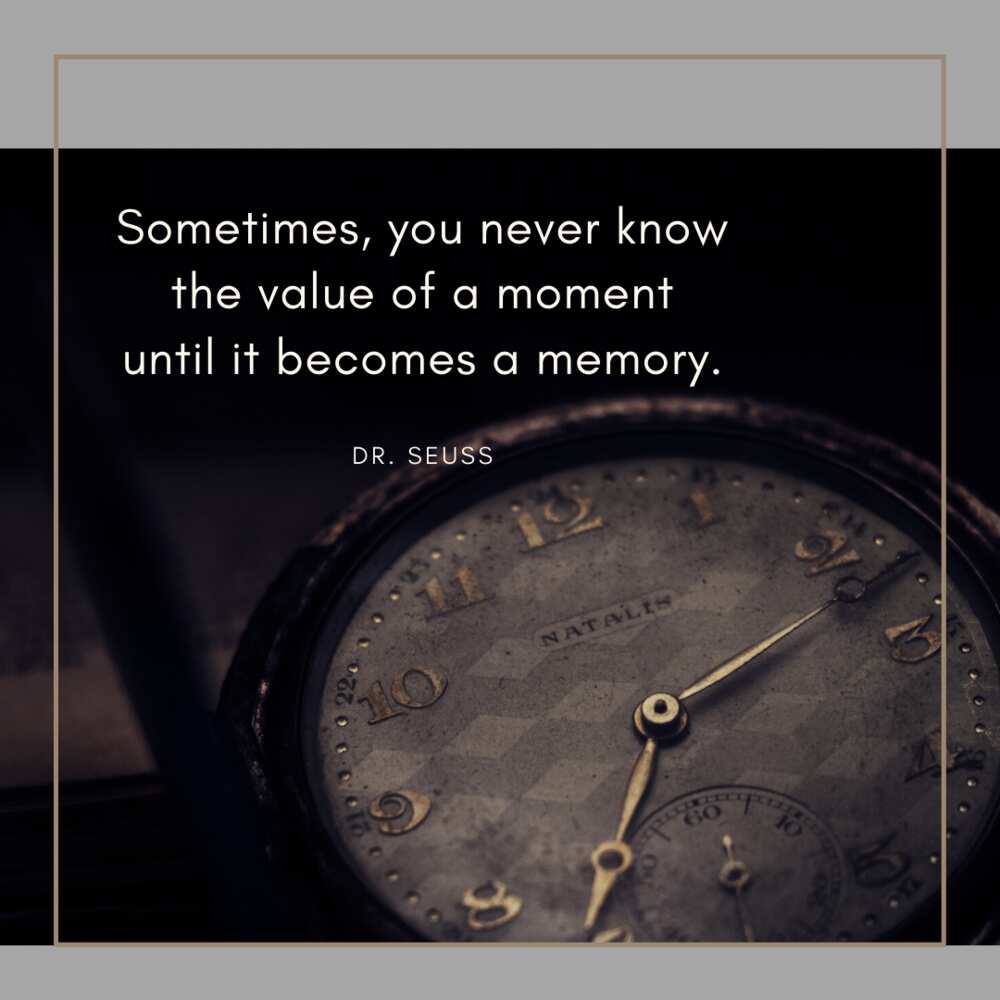 For this reason, we feel pleasure when we return to those moments again and again. They are like a safe, comfortable place where one may always recover from mundane troubles.
Sweet memory quotes have a similar effect. They make us concentrate on our best reminiscence.
Hopefully, these memories quotes have given you some inspiration and showed you how important it is to focus on every moment in your life. It is up to you to create precisely those memories which will make you happy in the future.
Source: Legit.ng