History of Oduduwa in Yoruba land
The history of Yoruba people is probably one of the most fascinating ones out there. One of the particularly interesting elements is the history of Oduduwa. Check out this article to find out more about who (or what) Oduduwa was. We will tell you everything we know.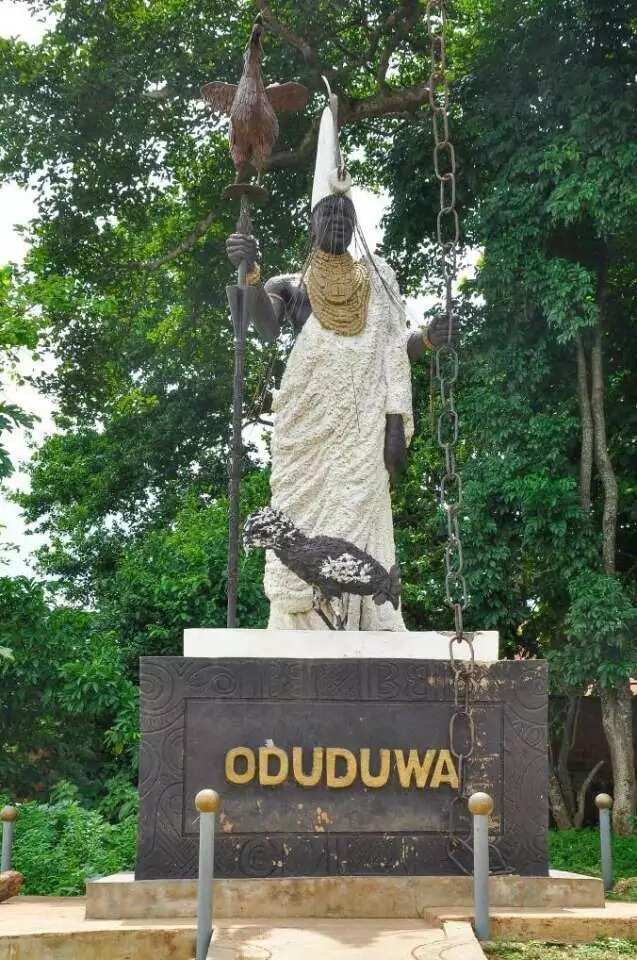 Who or what was Oduduwa?
So who or maybe even what was Oduduwa? Well, he was the progenitor of kings in Yorubaland and the first Ooni of Ile-Ife. You might also know this person as Odudua, Ooduwa or Oòdua. He is considered to be the founder of Yoruba race. He represents omnipotence, as well as the power of the womb.
According to some Yoruba traditionalists, Oduduwa was more than just the founder of Ile-Ife. They believe that he was responsible for its creation, as he was one of the deities responsible for the creation of earth. As the legend goes, Oduduwa was sent by Olodumare, Lord of the Skies, to finish the mission of his brother Obatala, King of White Clothes.
The latter was sent to earth to create land but got drunk from the palm wine he made himself from the newly grown palms. Thus, Oduduwa took over the mission and completed the task. It is also believed that when he descended to earth, he landed in Ile-Ife, which is why it is considered not only the spiritual heart of Yorubaland, but also the centre of the world.
But how did this person get to the point where people think of him as a deity? Let's find out, as we continue with our short Oduduwa history.
How the Oduduwa story began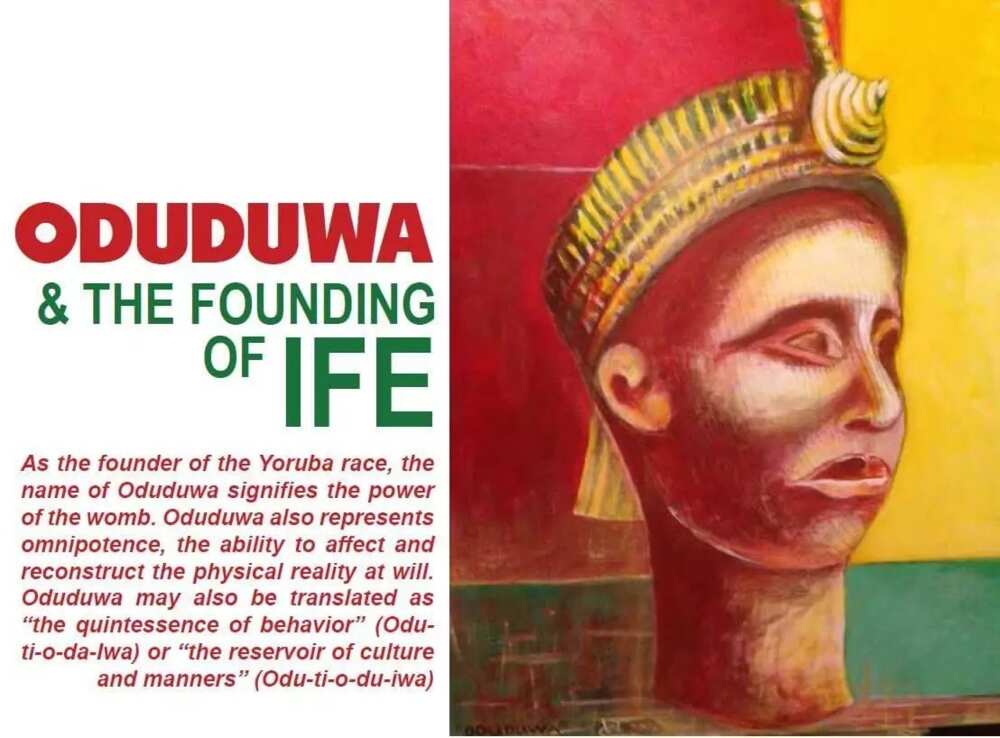 READ ALSO: History of Osun State
According to the oral history, Oduduwa's father Lamurudu came from the east. Sources cannot agree whether he came from Arabia, present day southern Sudan, Benin, Egypt or Ethiopia, but they do agree that he was an important prince in his land.
When his position as a pagan was threatened by the arrival of Islam, Lamurudu decided to take his family to a new land. However, he was not able to finish the journey, which was where Oduduwa stepped up. When he brought his family to the present day Ile-Ife, he conquered the people who lived there before that and became the first Ooni (ruler) of Ife. This signified the start of the Yoruba dynasty and empire.
At the same time, Ife tradition tells a completely different story of how Oduduwa rose to greatness. According to it, he came from Oke-Ora, a community in the eastern part of the cultural area of Ife. He descended into the valley of Ile-Ife on a chain, which earned him the oriki Atenworo (literally meaning 'one who descends on a chain').
When Oduduwa arrived, there was a confederacy, which consisted of thirteen communities, each with their own Oba. After he cemented his position in Ife, Oduduwa with the help of his people conquered most of the communities, deposed Obatala and became the first Ooni of Ife.
Oduduwa in Yoruba history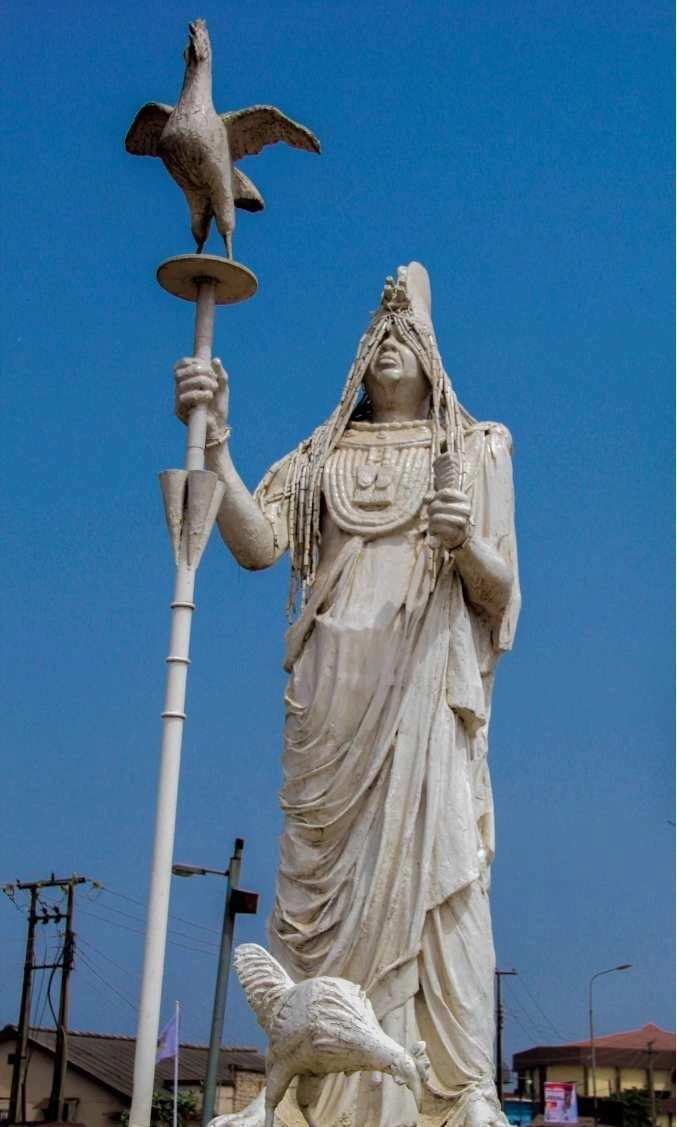 During Oduduwa's reign, the Yoruba people have risen and evolved. Unfortunately, there is very little information about the details of his reign, which is not surprising, considering how long ago it was and how contradictory the whole Oduduwa story is. That said, all agree that during his time as Ooni, Yorubaland (and particularly Ile-Ife) strived.
However, even great rules cannot live forever, so when he went to sleep with his fathers, his offspring dispersed across the land and took over the various city-states that they founded themselves. All of his children and grandchildren made their states in the image of Ile-Ife, that way consolidating the Yoruba confederacy of kingdoms.
Among his many children, Oduduwa had seven most prominent sons who, in turn, became the Olowu of Owu, Alaafin of Oyo, Orangun of Ila, Oba of Benin, Alaketu of Ketu, Olopopo of Popo and Onisabe of Sabe. Some people also like to include the Olu of Warri, Awujale of Ijebuland and Alake of Abeokuta to this list, but they are considered to have come at a later date.
This is all we know about the legendary Oduduwa. Did you know something new about him? Do you have some other fascinating stories to tell about him? Let us know in the comments. We would appreciate your feedback.
READ ALSO: History of Ijebu Ode land
Source: Legit.ng