150+ most touching love messages for girlfriend that she will love
Love has often been said to be among the strongest of all human emotions. Since ancient times, people have written endless stories, done memorable deeds, and gone to great lengths to pursue those they fell in love with. Today, men still show adoration and love for the women they love through various actions. How can I melt my girlfriend's heart? Crafting nice love messages for a girlfriend is among the best ways to tell her how much she means to you.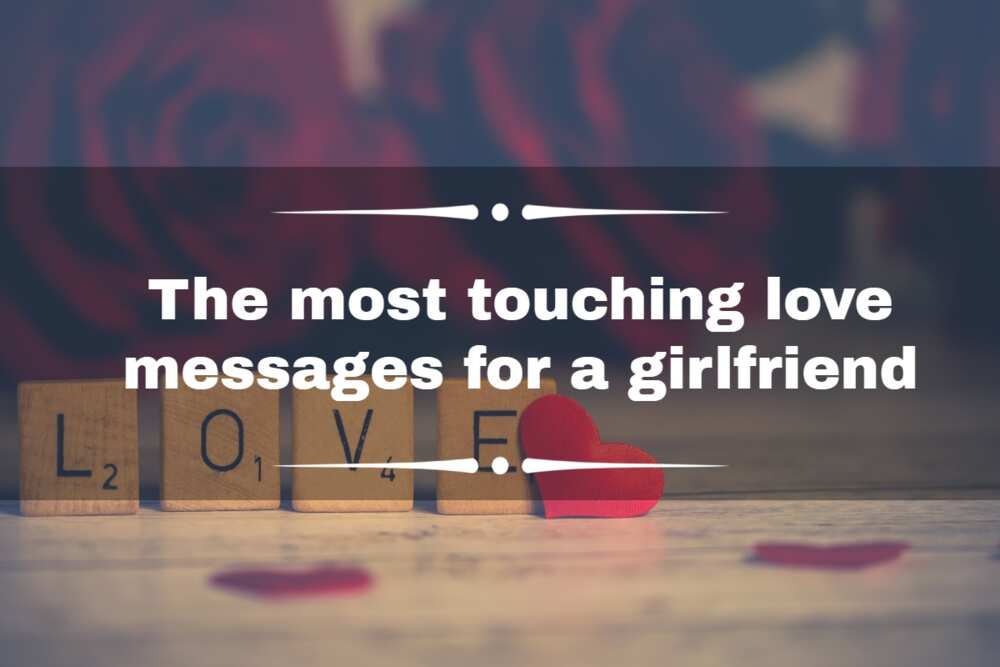 Whether you are looking to tell her face to face, SMS her, or send her a text via social media, figuring out the right thing to say is essential.
The best love messages for a girlfriend
What can I write to my girlfriend to make her feel special? Here is a collection of the most touching love messages for a girlfriend.
Short heart-touching love messages for a girlfriend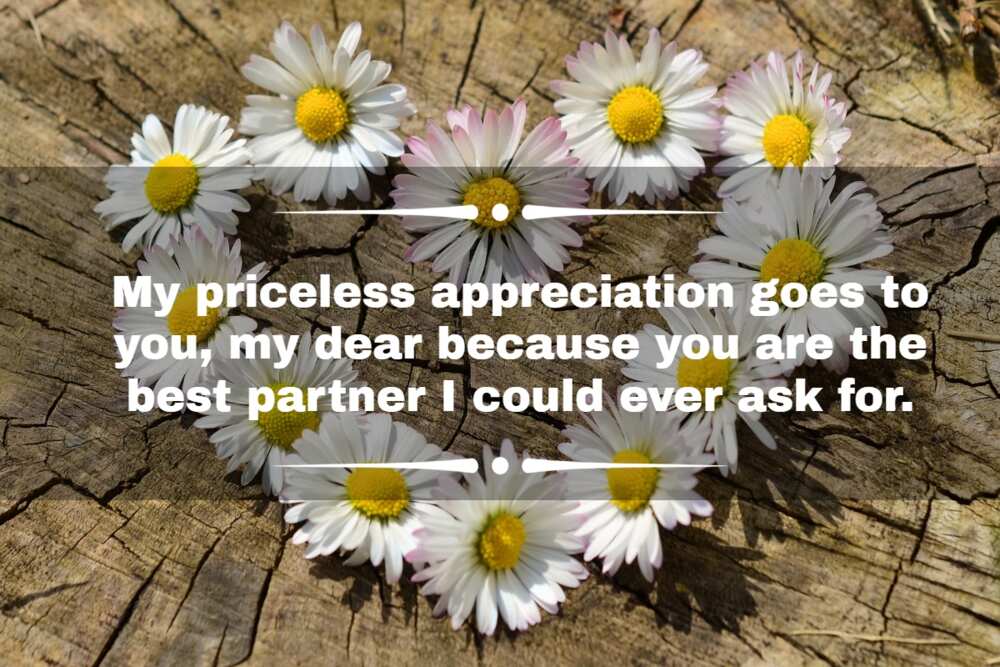 The perfect love message for your girlfriend can be short. A few precise words will work perfectly, given they come from the heart. Here are some amazing examples of concise relationship love messages you can send your girlfriend.
You have always loved me as if your life depended on it, and that is why I have nothing but adoration for you.
You are the natural drug for my panic, anxiety, and anger. You are my love!
It is a blessing to have you in my life; I love you more than anything.
You are all the thoughts in my mind and all the love in my heart.
Time has tried and tested our relationship. That we are still together is a testament that you have not ceased to amaze me.
There is my heart, and then there is you, and I can't tell the difference.
My priceless appreciation goes to you, my dear because you are the best partner I could ever ask for.
My life has been an amazing story since I became yours. Cheers, honey!
Life is much sweeter with you around. You remain my sweetness and the reason for my happiness. I love you, princess.
Just like the earth begs for rain in drought, I express my love to you because you are the most loving girlfriend.
In case you ever foolishly forget, I am thinking of you.
I cherish you more than words can express.
I love that you are my person, and I am yours and that whatever challenges we come to, we will always face them together.
I am afraid that I could start fires with what I feel for you.
Every single day spent with you is like a moment in paradise. I cherish you, my dear princess.
Dear girlfriend, here is a fun fact for you. I will never finish falling in love with you.
Being kissed by you every morning is among the best benefits of being your girlfriend. I cherish you, my queen.
Emotional love messages for her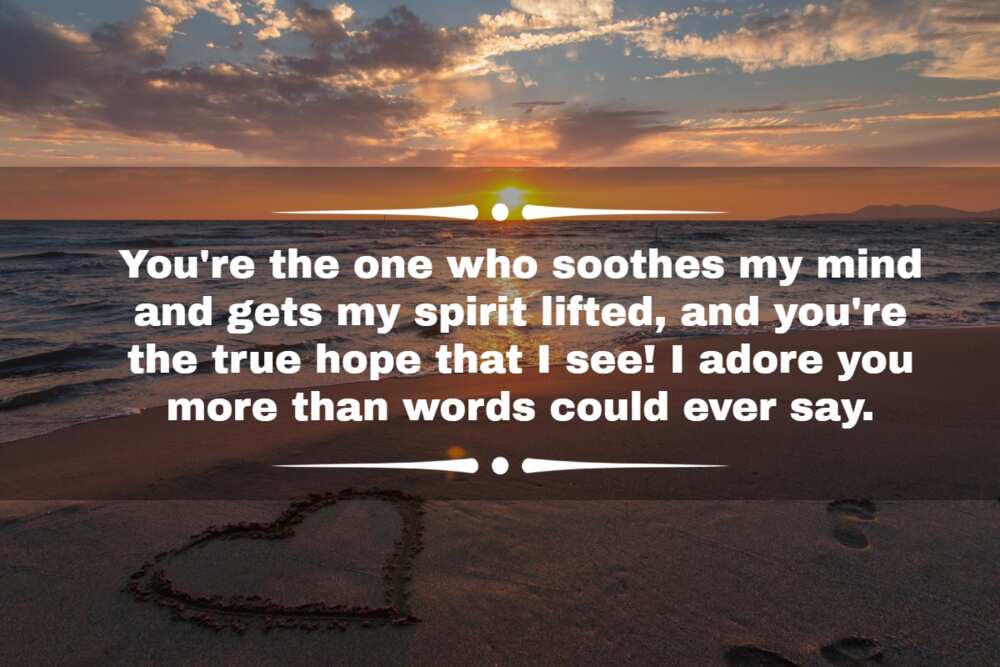 Love messages are said to evoke nice emotions within the hearts of the two people involved in a relationship. How do I text my girlfriend a love message? Here are some deep love messages for a girlfriend.
You've built yourself a castle in my heart; my love for you starts from the depth of my heart! I cherish you, honey.
You're the one who soothes my mind and gets my spirit lifted, and you're the true hope that I see! I adore you more than words could ever say.
You are the only person I can imagine spending my whole life with.
You are my future, my life, my everything. My world revolves around you and will continue to spin around you forever. I cherish you
Words are not enough to express what I feel for you. How my body comes alive when you are around me is extraordinary. You are my dream woman, and I will adore and cherish you forever.
When in the crowd, you are the only one I see, my princess. I adore you.
They say that love fades away with time, but darling, it has been years, and I still cannot wrap my head around how wonderful you are! You mean everything to me.
The thought of you makes me come alive, and when I'm with you, there's nowhere else I would rather be! You melt my heart, baby.
Thanks for loving me for who I am and believing in me even when I couldn't. I will cherish you with everything I have!
You are everything I have in this world and much more.
My heart races at the thought of you. I can't wait to see you later tonight.
I wish you were here with me to grab my arms and pull me into your warm cuddle. I miss you, baby.
I thank God every day for bringing you my way; there is no way I would have done this on my own. You will be my woman forever. I cherish you loads.
I searched for the woman who would complement me in all ways and found you. Ever since I allowed you into my life, it has been all bliss and no regrets.
I pray for you this morning. Have a bliss-filled day, and always remember that someone somewhere misses you and wishes you well.
I love you so much. You are the most amazing woman I have ever known. I cannot believe that we found each other. You are my life, and I hope to be by your side forever.
I fall in love with you all over again every time I see you. The thought of you makes me feel better on a bad day. I'm lucky to have such a great guy like you.
I don't need a million reasons to feel special. All I want is for you to reside in this world. You're the sunshine of my life.
I dare to say that I can scale many hurdles and beat all odds just to see you happy. That's how much you mean to me.
Every emotion I feel starts and ends with you; you are all I need for life. My love for you is true!
Darling, there's something I have not told you; those little minutes with you are so valuable to me.
Darling, I realized of late that it takes a woman like you to cherish a man like me. Thanks to fate for bringing us together.
Long love messages for her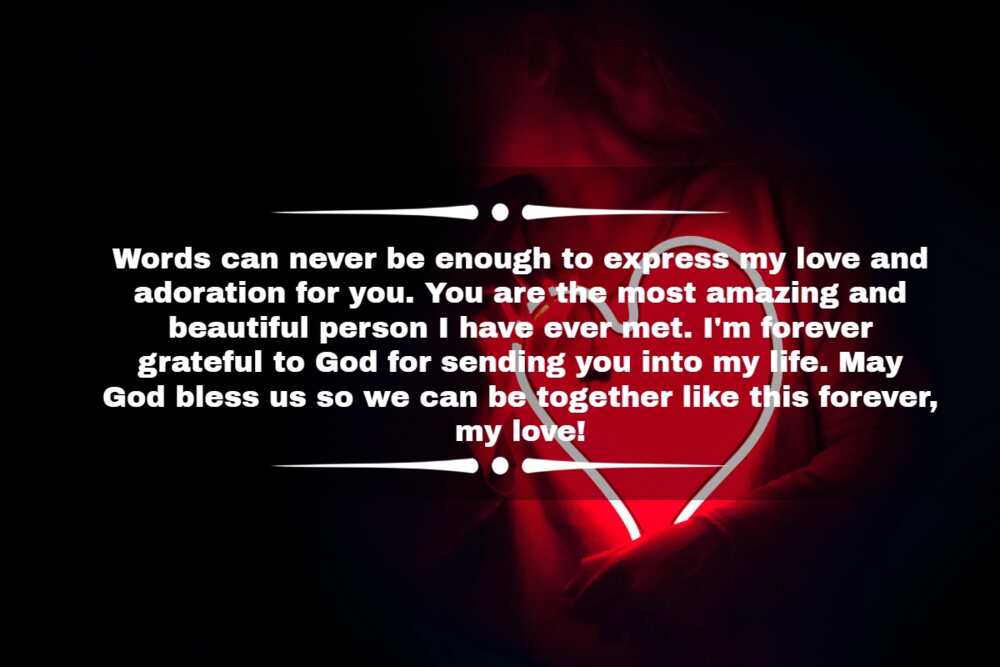 A relationship without the sharing of charming words is like being in a garden without flowers. You need to frequently tell or send her a love message to melt her heart. Do you need the perfect long sweet message for a girlfriend? Here are some incredible options.
Your love is my motivation. Without you, I cannot think about how my life would be. I am happy God gave me as exceptional one as you are.
You came into my life at the right moment. When I was about to give up, you held my hand and showed me the way. Every day I cherish you more and more.
You came into my life and turned it around. You made it happier and filled it with love. You make me feel special with the things you say and do for me. I adore you, sweetheart.
You are the part of my life I will never let go of. You have been with me through thick and thin. Thank you for never abandoning me. I adore you so much.
Words can never be enough to express my love and adoration for you. You are the most amazing and beautiful person I have ever met. I'm forever grateful to God for sending you into my life. May God bless us so we can be together like this forever, my love!
When I close my eyes, I see you. When I open my eyes, I see you. There is nothing I can do without thinking of you.
The secret to my success is you, my love. You are my good luck, support, strength, and heartbeat. With you, nothing in this world is impossible. Your smile is amazing.
The distance between two hearts is not an obstacle. It is simply a reminder of how strong their affection can be.
Thank you for being there for me. It makes me happy to know that you're there for me, and I can count on you for the little (and big) things. It means the world to me, and I just wanted to express gratitude for how incredible you are as a partner.
I would rather be in your heart forever than in your mind. For the mind, you can sometimes forget, but the heart will remember forever. I cherish you, my dearest one.
I would be so lost without your love. It lifts me when my spirit is down. It helps me to get through the toughest times. I'm so madly stupidly in love with everything you are and everything you do, baby.
I love the way you make me feel. I have never felt this way before. I never want you to stop loving me. I love you, babe.
I have never felt like this before. You make me feel so alive, so beautiful, and so inspired. I can't stop thinking of you; I feel like I know what it means. I love you, and it's crazy, but it's true.
For me, you are the definition of love. Everything you do makes me feel so much love and appreciation for what I have with you. There's nothing more important than us, baby. I will love you till the end of time.
Explaining how much and why I adore you would be like me describing how water tastes. It is just impossible.
Lovely messages for a girlfriend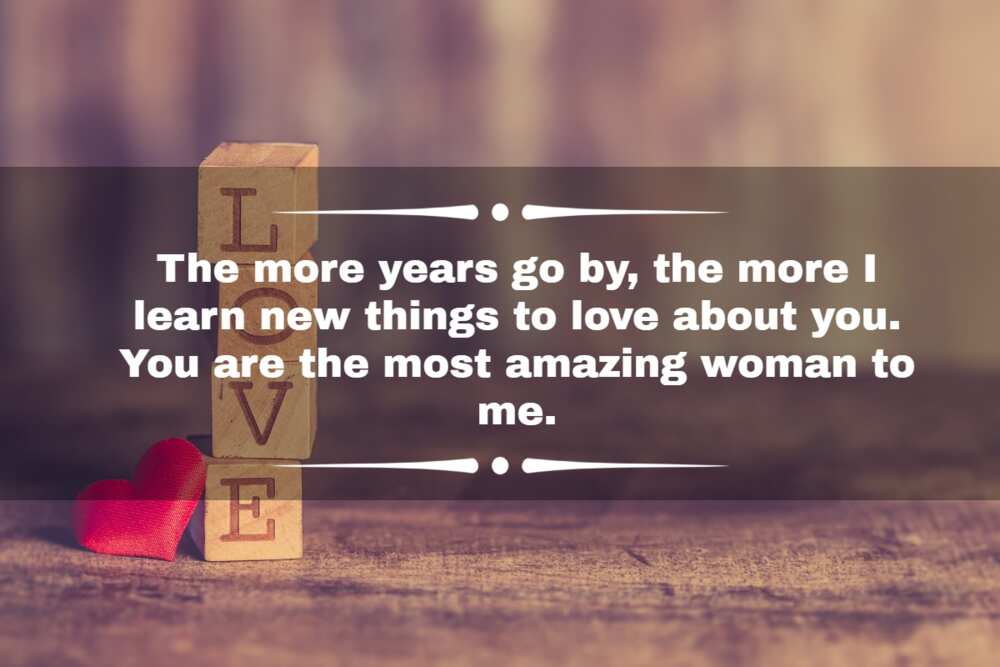 A random love message to your girl is perfect for keeping the fire in your relationship burning. It lifts her mood and makes her feel special and loved. Here are some beautiful love messages you can send her.
You have filled my life with happiness and love. You mean a lot to me.
You are my most precious gift from God.
You are my heaven on earth. I cannot wait to explore life with you.
When it is cold, your love keeps my heart warm, and when it is hot, your love melts my soul and keeps me secure. I cannot help but love you forever.
There is an ocean in your eyes, and I can see myself inside of it. It is impossible to measure the depths of the love that I feel for you.
The most important decision I ever took in life was getting married to you because you are the best person on earth.
The more years go by, the more I learn new things to love about you. You are the most amazing woman to me.
The impact of your love is undeniable. It has made me realize how much I adore you. My life with you has transformed my dreams into realities.
Thank you for standing up for me and supporting me, even when the whole world is against me. Even after all these years, I can proudly say, "my darling girlfriend, you are my hero."
Sometimes God is too generous, and sometimes people are just lucky. For me, both are true!
Nobody can believe that I adore you the way I do because it is hard to imagine that a love like ours can exist. I am honoured to share my life with you forever.
I will forever be thankful to God for gifting me with you. You are not just my girlfriend; you are my best friend. I know I can always count on you. I cherish you so much.
I love you, my girlfriend. You are one in a million, baby.
I have received many gifts in my life, but none can be compared to you!
I do not know how long my life will be, but I know that every second will be worth a lifetime because it will be spent with you.
I am grateful for your love, I am grateful for your understanding, I am grateful that you are so much fun to be around, but most of all, I am grateful you are my girlfriend.
Flowers need sunshine; violets need dew; all angels in heaven know I need you. Years may fly, and tears may dry, but my love for you will never die.
Each time I look at you, I smile to myself and think, "I certainly could not have done better". You are perfect, and I love you, honey.
Being able to love you is the most incredible honour of all. I love you in every moment of my life, and I do not ever want to let you go!
Before I met you, I never knew what it was like to look at someone and smile for no reason. I cherish you, my girlfriend!
Romantic love messages for your girlfriend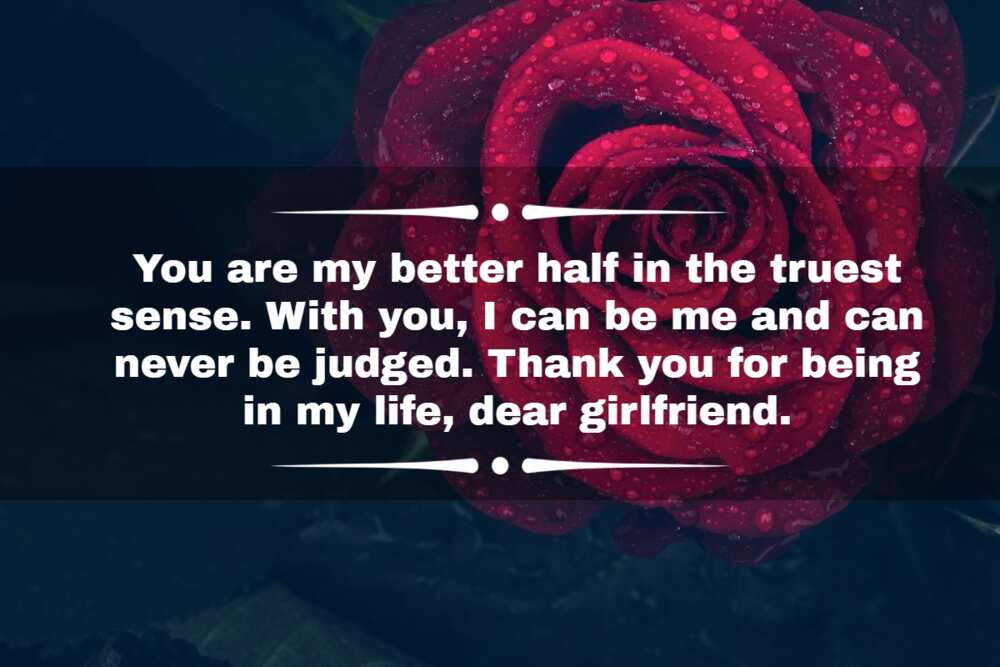 There are numerous romantic gestures one can make to keep their girlfriend happy. One of the most common is by sending or telling her some romantic words. Here are some great options to choose from.
You gave me everything I wanted. You taught me everything I needed to know. You helped me with everything when I was down. What more can I ask for?
You are my better half in the truest sense. With you, I can be me and can never be judged. Thank you for being in my life, dear girlfriend.
What does a man need to be happy? He needs a woman who will light his heart and beautify his life. I am one happy man.
Thinking about you reminds me of how lucky I am to have you in my life.
The emptiness in my life vanished when you entered my life. Thank you for removing the void.
All the love from the deepest ocean of my heart will fall short when I want to say how much I adore you, my beautiful girlfriend. Just be with me forever and ever.
Like a flying bird, you came into my life. Your smile was the strength that let me take the plunge. I did not think that I would ever be this way, but you have changed everything for me.
I wish there were nothing else in the world to do except to lose myself in your eyes. I would do that for the rest of my lifetime.
I know I will see you tonight at home, but I cannot help missing you the entire day.
I do not say it enough, but I want you to know that I adore you.
I am not sure how long I will live, but I know that every single second will be worth a lifetime because it will be spent with you.
I am having one of those days that make me realize how lost I would be without you.
I am a gifted person to have you as my gifted girlfriend. I thought about you today, and it made me smile.
Every time I see a smile on your face, every time I get up by your side, I get happy. It is impossible not to sleep with you. I want to be with you until we are old, and although we will no longer be the same, I know that I will still care for you very much.
As long as there is me, your heart will be the best it can ever be. To keep your heart unbroken is a promise I am willing to keep.
Sweet things to say to your girlfriend when you miss her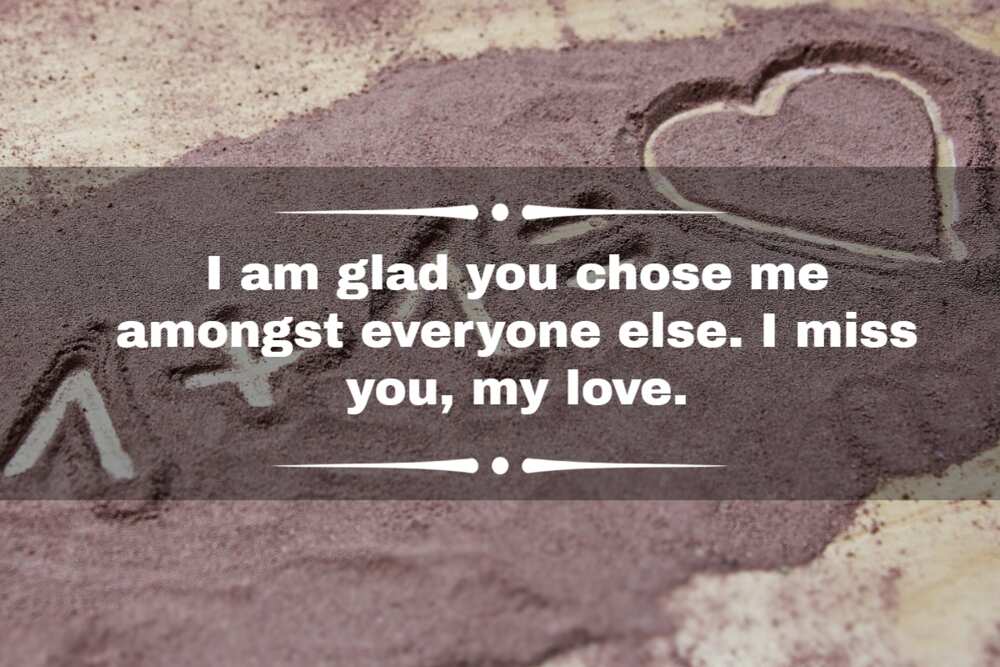 Whenever you find yourself away from your girlfriend, for whatever reason or duration, you can always send her some sweet messages. These are meant to let her know how much you love her, miss her, and cherish her. Are you looking for the sweetest I love you message? Here are some nice options to choose from.
Being with you, talking with you and laughing with you is what I adore most. I miss you so much, princess.
I adore everything in you, from the top of your head to the tips of your toes. I look forward to seeing you, my love.
I am glad you chose me amongst everyone else. I miss you, my dear.
I cannot wait to fall asleep beside you.
I could search my whole life and never find someone I adore like you.
I like all the stars in the sky, but they are nothing compared to the ones in your eyes.
I adore you for all that you are, all you have been, and all you are yet to be.
I miss you more than words could ever say.
I want to kiss you right now.
I will hold you in my heart until I can hold you in my arms.
I wish you could see yourself through my eyes, and then maybe you would understand why I cherish you.
It is not my fault I fell for you–you tripped me!
Let us flip a coin: Heads, I am yours. Tails, you are mine.
My face hurts from smiling so much whenever I am with you.
The concept of soulmates seemed so far-fetched to me until I met you.
When I fell in love with you, everything about you became beautiful.
When I think of you, I realize all my dreams are coming true. I cannot wait to see you!
You know me so well, inside out. Your deep acceptance of me is what I admire most about you.
You warm my heart. I cannot wait to get back to you in the evening.
Your beauty attracted me, but I admire you also for the person you are and the joy you have brought into my life. I miss you so much.
Heart-warming love messages for a girlfriend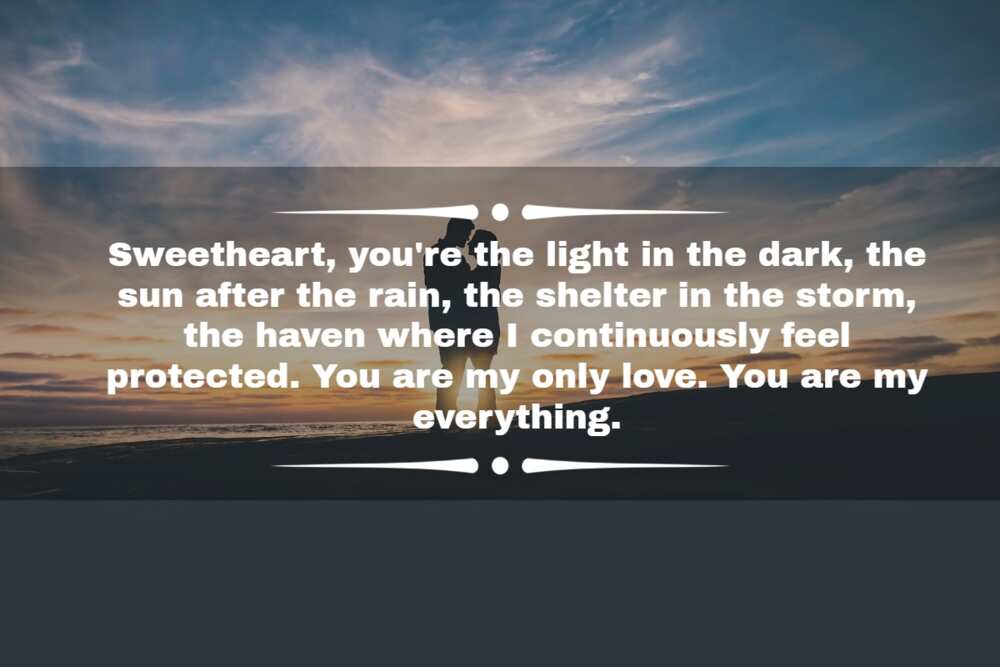 How do I create the perfect love message for my love? As you draft your love message, consider including what your partner likes or loves to hear. One approach to demonstrate your love language is to send her heartfelt text messages. Here are some beautiful options.
Your smile is better than that of a flower, and your voice is sweeter than that of a cuckoo. You are more innocent than all the babies, yet there is no one dumber than you are. You are just the best, and I adore you just the way you are.
You make me so incredibly grateful for everything I never appreciated. You are the reason I believe in affection.
You are my sunshine drop of joy and the pad of my life. I would not have been able to do anything without you.
When I wake up, the first person I think about is you. You are so precious to me. I appreciate and adore you, dear.
Sweetheart, you're the light in the dark, the sun after the rain, the shelter in the storm, the haven where I continuously feel protected. You are my only love. You are my everything.
My heart was torn to pieces, but you came to heal its wounds and fill them with the purest and most sincere affection that has ever existed. Thank you, sweetheart!
I will keep caring, adoring, and loving you forever during the easy times and the challenges we will face. We are in this together, and you are my partner for life.
I will go to the ends of the world for you, just so that l can prove my love for you. I promise to cherish you with everything that I have.
I want to see you under the moonlight so that the stars of the sky become witnesses of the great affection that we have.
I may not be your first love, first kiss, or first date, but I just want to be your last everything.
I just want to remind you that you do not have to tell Facebook or Instagram a good night. You can just go to sleep right away and save some time.
From the deepest corners of my heart, here is the truth: I love you now and, hopefully, forever.
Even today, years later, I still pinch myself when I wake up next to you. I am the luckiest guy alive.
Early to bed and early to rising makes you healthy, wealthy, and wise. Not just that, but it is also early to see someone awesome like you.
I hope you finally realize that I will love you until the end because you are not just my woman; you are also my best friend.
They say that you only live one life, but I live it every morning when I wake up by your side.
If I send all the things I love about you, it will cost me my life earnings to pay for data. I like your eyes, smile, and voice. Those are the ones that shape my life.
To see your beautiful eyes, to hear your deep voice, to breathe in the smell of your body one more time. This is all I want.
I do not need expensive presents or fancy stuff; I just need you by my side. That's enough for me.
You are my Juliet, and I am your Romeo: you make me happy in the craziness of this world.
Cute messages to make her fall in love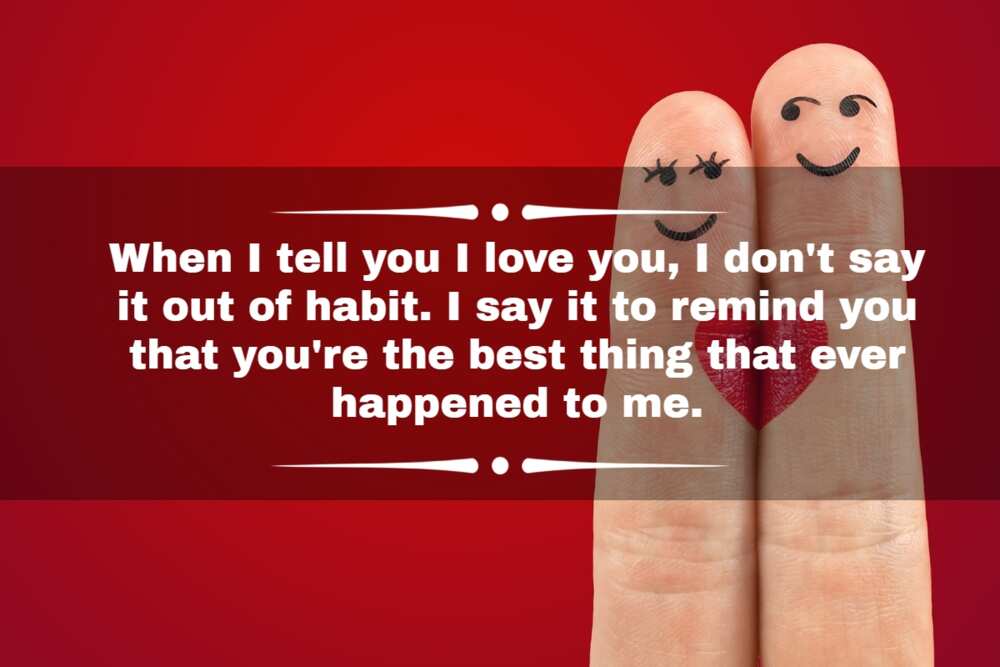 How can I touch her heart with words? The answer is to send her a well-thought, cute, and romantic love message for her. Here are some great true love messages to choose from.
Your beauty and grace aside, I treasure the time that you give me. I didn't know it was possible to love everything about someone until I met you.
You must be an angel. You look like one. You glow like one. You soar like one. And like the angel you are, you take me to heaven every time I am with you.
You deserve all the best things in the world. I am one of the best (wink, wink). I promise to be good if you accept to be my girlfriend.
When you fall in love with someone's personality, everything about them becomes beautiful. I am in love with you, baby girl.
When I tell you I love you, I don't say it out of habit. I say it to remind you that you're the best thing that ever happened to me.
They say that the best things in life are free. However, I want to prove my worth to you before you accept me, as you cannot be free.
There's no better place to be than in your arms, a reserved parking space before I take the red carpet and walk into your heart.
Sometimes I think about how different my life would be if I hadn't met you. I am so grateful to have you. Have a great morning.
My morning wouldn't be just right without telling you how much I love you. I hope your day brings you as much joy as you bring me.
If I asked for anything in this world, it would be to be curled up with you. Your skin must be the softest thing on God's green earth.
I wish I could turn back the clock. I would find you sooner and love you longer. To say that you are special is an understatement.
I want to love you forever and always, as you are the only girl I dream of every night. Come and experience this life thing with me.
I love your eyes. I adore your smile. I admire your legs. Do you want to know more about what I love? Come over, so I tell you in person.
I love you from the bottom of my heart. Not many people make me all soft and mushy inside when talking to me. You do that, and I believe that you are the one God kept for me.
I know you get lots of messages in your inbox every day. Still, I believe I am the best person to love you. Please be my girlfriend and witness all the good stuff.
I know things have been a bit harsh on your side, and I hate that you are going through all that. I can be your shoulder to cry on. I want to be by your side forever.
I have been seeking a girl who can make my life complete, and behold; The Lord sent you. I have been following you online for a while, and I am convinced you are the one for me.
I fancy the way your eyes shine when you smile. You are one flawless human being. I sometimes think that you are an angel.
I dream of a world where you and I would live for a million years, loving each other. I know I'll never be tired of loving you.
I always want to say hi when you are around, but your beauty blinds me. Can I come to say hi in person over the weekend? That will truly make my day.
Good morning, baby! I hope you had an awesome and beautiful sleep! Mine was perfect because you were in my dreams.
From the day we met to this very moment, you have had me captivated. Do you mind if I take you for a coffee tomorrow?
Darling, I realized of late that it takes a man like me to love a woman like you. I thank fate for bringing us together.
Coming up with the perfect love messages for a girlfriend can be a bit challenging. Luckily, we have come up with a nice collection of such messages to help you in your romantic endeavours.
READ ALSO: 150+ lovely text messages for him that will make your partner smile
Legit.ng recently published an article about the best text messages one can send their boyfriend or husband. Some well-thought flirty, cute, and sweet text messages will certainly have him thinking of you throughout the day.
Getting him to smile is not as difficult as you think. If you have been scratching your head on what to say to make him feel special, check out this incredible collection of love messages for him. Sometimes, thoughtful words are the only thing you need to get to his world.
Source: Legit.ng