How to delete 1xbet account permanently: step-by-step process
1xBet is a popular online gambling and betting platform that provides a wide range of services to its users. However, if you've decided to move on from the platform and wish to delete your 1xBet account permanently, it's essential to follow the correct steps to ensure your account is completely removed. In this article, we will guide you through the step-by-step process of deleting your 1xBet account.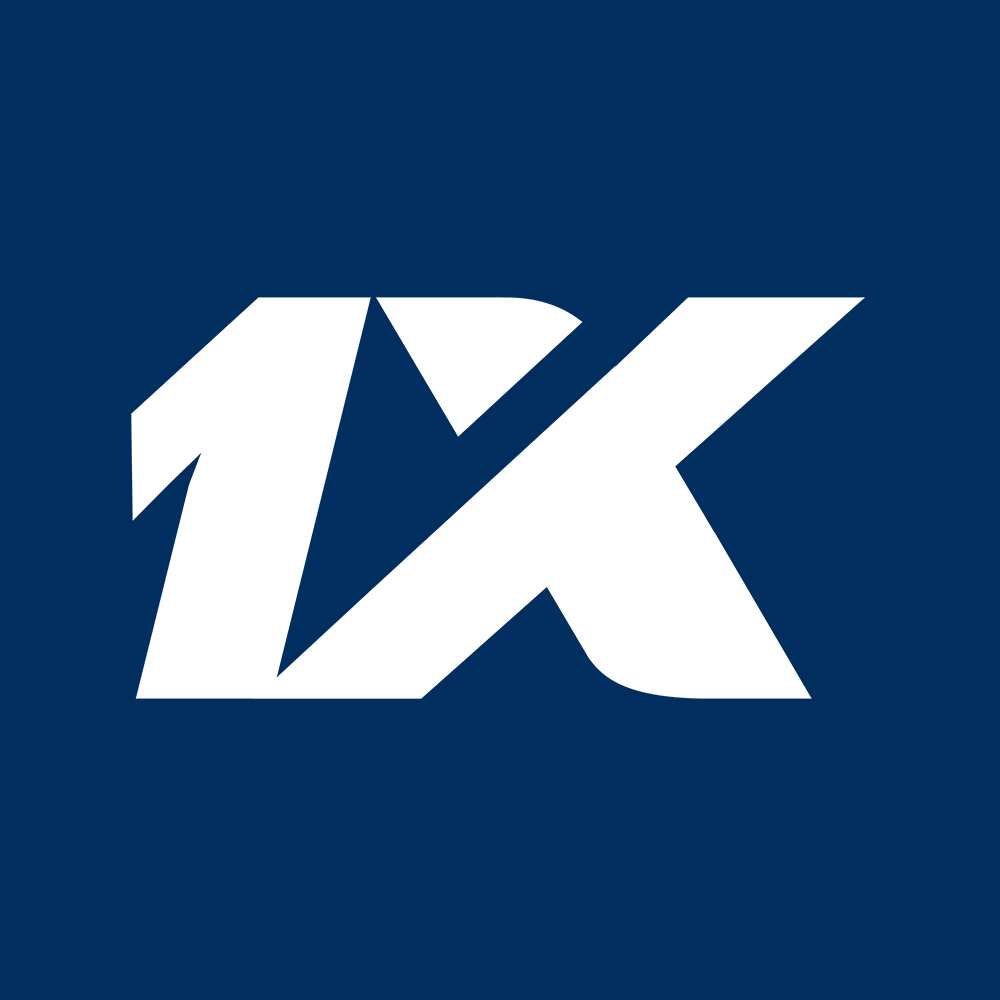 Implications of Deleting a 1xBet Account
By deleting your 1xbet account, you will lose access to your betting history, funds, ongoing promotions, and bonuses. Account recovery is not possible, so think carefully before proceeding.
Before deleting your account, make sure you withdraw any remaining funds. Check your account balance and process any pending bets or wagers to ensure you have a clear understanding of your account's financial status. Familiarize yourself with the available withdrawal methods and any associated fees to facilitate a seamless fund transfer.
Experience seamless betting on your smartphone - click here to get the 1xBet app now!
How to delete my 1xbet account?
There are three methods that you can use to delete your 1xbet account.
Delete your account via email
To delete your account via email, follow these steps:
Log in to the email account that you used to register your 1xBet account.
Compose a new email explaining the reason for deactivating your account.
Assign the email's Subject line as either "Delete My Account" or "Deactivate My Account".
Input the recipient's address as info-en@1xbet-team.com.
Compose the body of the email, citing legitimate justifications for terminating your account. Feel free to mention any problems faced, such as encountering glitches, financial losses, or falling victim to fraudulent activities.
Click on the "Send" button to submit your email.
Here's an email template you can use:
To: info-en@1xbet-team.com
Subject: Delete My 1xbet Account
Dear 1xBet support team,
I am writing to request the permanent deletion of my account as I no longer wish to utilize the services provided by 1xBet. [Write your reason here].
Username: XXX
Email: XXX
Kind regards,
Once the customer support team of 1xBet acknowledges your inquiry, they will initiate the process of removing your account. The completion of the account deletion procedure may span from several hours to a few days.
Experience the thrill of online betting – click here to get the 1xBet mobile app!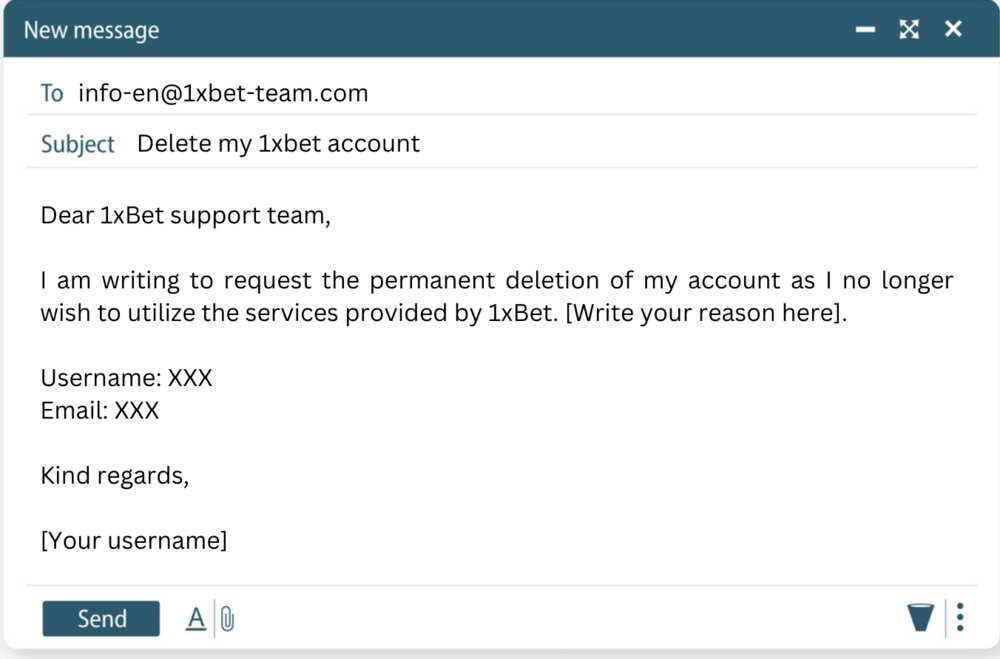 Delete your account via the contact form
Here's a step-by-step guide on how to delete your 1xBet account by using the contact form on their website:
Visit the 1xBet website.
Look for the "Contacts" link, usually located in the footer or header of the website. Click on it to access the contact information page.
On the contact information page, you will find a contact form provided by 1xBet. This form allows you to submit your queries, requests, or complaints directly to their support team.
In the contact form, provide the required information to submit your account deletion request. Include details such as your email address, and account username. Make sure to accurately and clearly express your request for account deletion.
Click on the "Send" button to send your account deletion request to the 1xBet support team.
After submitting the contact form, the 1xBet support team will review your request. They typically respond within 24 hours, so be patient and keep an eye on your email inbox or the communication channel you provided in the contact form.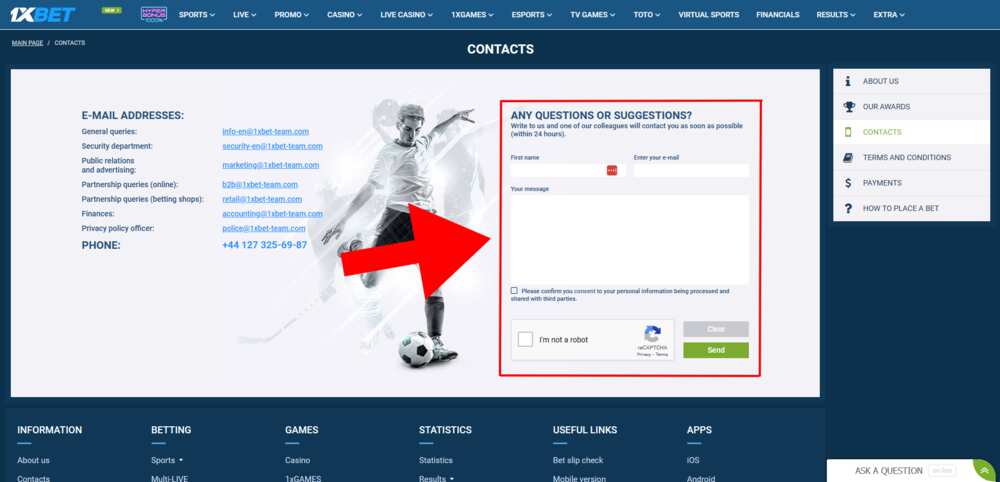 Delete your account using the live chat box
You have two options to access the 1xBet chat box: you can either use their mobile app or visit their official website.
Open your browser and navigate to the official website or launch the 1xBet mobile app.
On the homepage, locate and click on the "Ask a question" option, usually found at the bottom of the page.
Click on the "Call consultant" button. You will receive live assistance from a 1xbet consultant.
Write your account deletion request. Do not forget to explain why you want to close your 1xbet account.
Send the message to the consultant.
Ready to take your bets on the go? Click here to download the 1xBet mobile app today!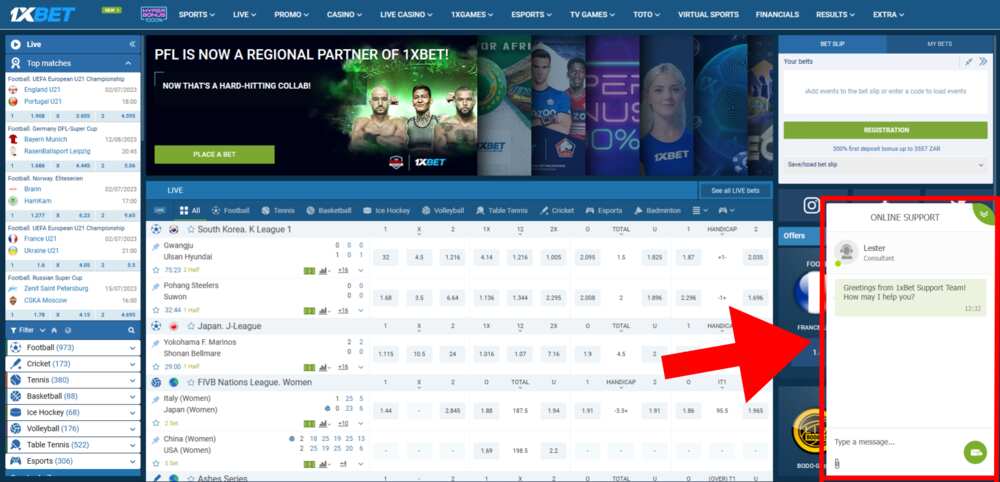 Self-restriction instead of account deletion
1xBet provides an alternative solution for managing your account by offering a self-restricting feature. This feature allows you to temporarily close your account for specific durations, such as a week, a month, six months, or a year.
However, please note that your account can only be blocked once it has been fully verified. To initiate the self-restriction process, you are required to attach the following documents to your application: a photo of your ID or passport. It's important to be aware that once this feature is activated, you will no longer be able to engage in gambling activities on 1xBet.
Additionally, the platform takes measures to prevent the creation of new accounts and will block any new accounts that are detected. Once the selected period for self-restriction has elapsed, your account will be automatically unblocked. To enable this option, please get in touch with block@1xbet-team.com.
Can I have two accounts on 1xbet?
Per the 1xbet terms and conditions, having multiple accounts is forbidden. You must merge your accounts by contacting the support team at info-en@1xbet-team.com.
Attach a photo of your passport's main page and registration page, along with your account number, phone number, email, and an explanation of your situation. Make sure to use the email address linked to your gaming account when reaching out.
Take your gambling experience to the next level - click here to install the 1xBet app and start playing!
Disclaimer: This page may contain advertising (including affiliate or referral links) for sports betting operators from whom we may receive compensation. Nothing in this article constitutes any guarantee of winning any online sports betting bet or wager that you may undertake, nor is there any intention to induce you or any other person into engaging in any sports betting activities. Please see our Betting Disclaimer for more details.
Gambling can be addictive. If you have a problem, go to the website GamblersAnonymous.org.
Source: Legit.ng