Matt Stonie bio: age, height, partner, net worth, how does he stay in shape?
Matt Stonie is one of the most famous American competitive eaters and YouTube content creators. He is ranked as number four in Major League Eating. So how is Matt Stonie not fat even after eating huge chunks of food? Have a look at his biography to find out this and more.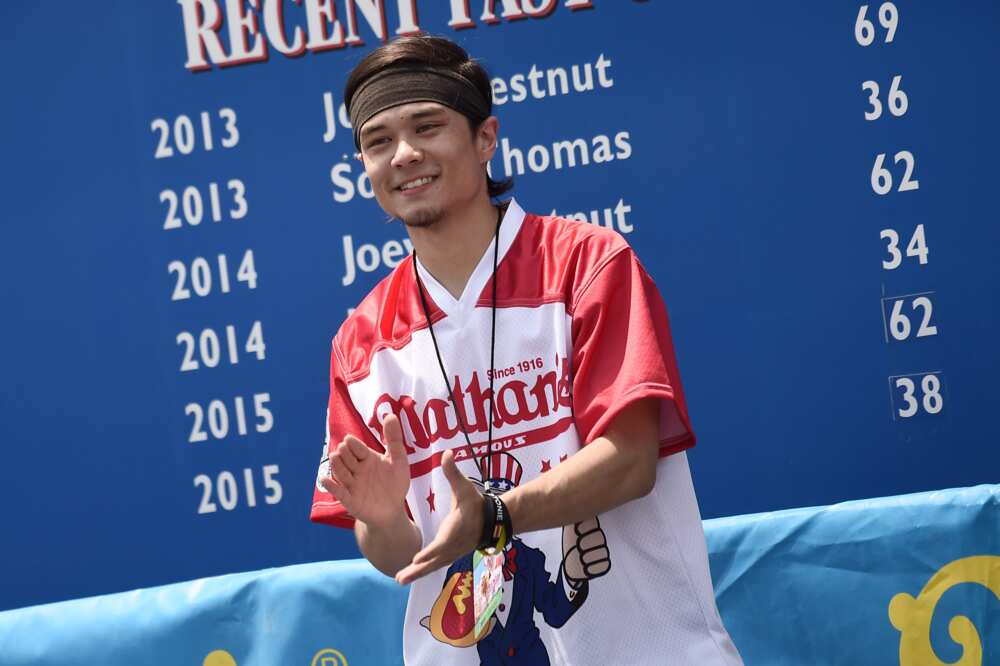 Competitive eating is becoming a popular sport nowadays as people are very interested in seeing someone eat loads of food in a short period. One such man who makes his viewers stand amazed by his fast eating skills is Matt Stonie. He has gained fame from his YouTube channel, where he uploads video footage of his eating challenges.
Profile summary
Full name: Matthew Kai Stonie
Date of birth: May 24, 1992
Age: 29 years (as of 2021)
Place of birth: San Jose, California, US
Nationality: American
Ethnicity: Mixed
Profession: Competitive eater, YouTuber
Height: 5 ft 8 in
Weight: 58kg
Net worth: $700,000
Matt Stonie biography
Stonie was born on May 24, 1992, in San Jose, California. Matt Stonie age is 29 years old as of 2021.
The YouTuber was named Matthew Kai Stonie at birth, and his parents are Cathy and Dorian Stonie. He is the firstborn in the family, and he has a younger brother named Morgan Stonie.
Morgan is often involved with helping his brother produce and upload his challenges on his YouTube channel. The two siblings are very close.
Education
The YouTuber is a graduate of Evergreen Valley High School in San Jose. As a student at Mission College in Santa Clara, California, he studies nutrition and plans to become a dietitian.
Career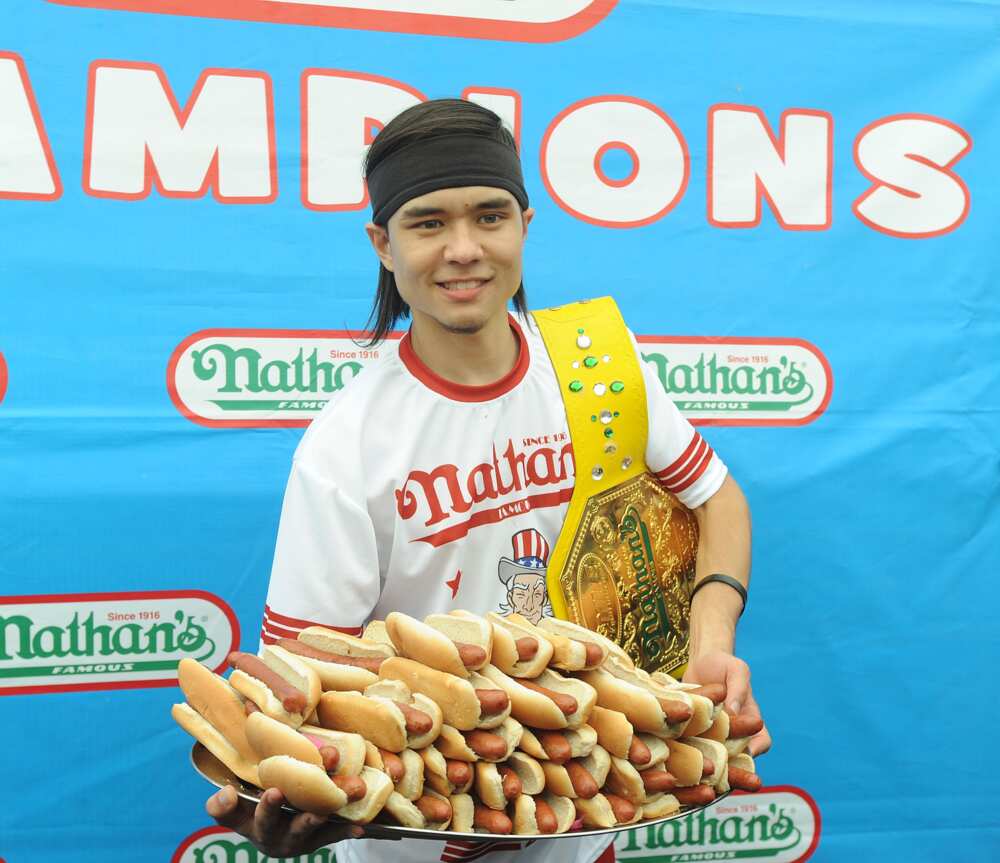 Matt is a YouTuber and a competitive eater. He began his competitive eating career in 2011 when he participated in the Stockton Deep Fries Asparagus Championship in California.
He won his first competition in a lobster roll eating contest in Hampton Beach in 2010. Since then, he has participated in an endless number of eating contests.
The YouTuber has held world records for eating birthday cake, frozen yoghurt, gyros, pumpkin pie, Twinkies, a McDonald's Happy Meal, bacon, pepperoni rolls, pork rolls, carne asada tacos, McDonald's Big Macs, pancakes, moon pies, peeps, and more.
Stonie also has a famous YouTube channel where he posts most of his eating challenges. The channel was launched on August 24, 2012 and has over 14 million subscribers so far.
Who is Matt Stonie wife?
Like many public figures, Matt has been keeping his personal life private. The YouTuber has never mentioned anything about relationships or marriage and usually dodged questions related to it.
However, he has frequently appeared on Mei's Instagram posts. The two seem to have been together for a long time from the frequent posts they have shared.
Matt Stonie girlfriend shared a photo on valentines day stating,
"Happy Valentine's Day~ even though you're in Japan and I'm here in California, lol. 5 years and 2 days ago, we had our first conversation."
Matt Stonie height and weight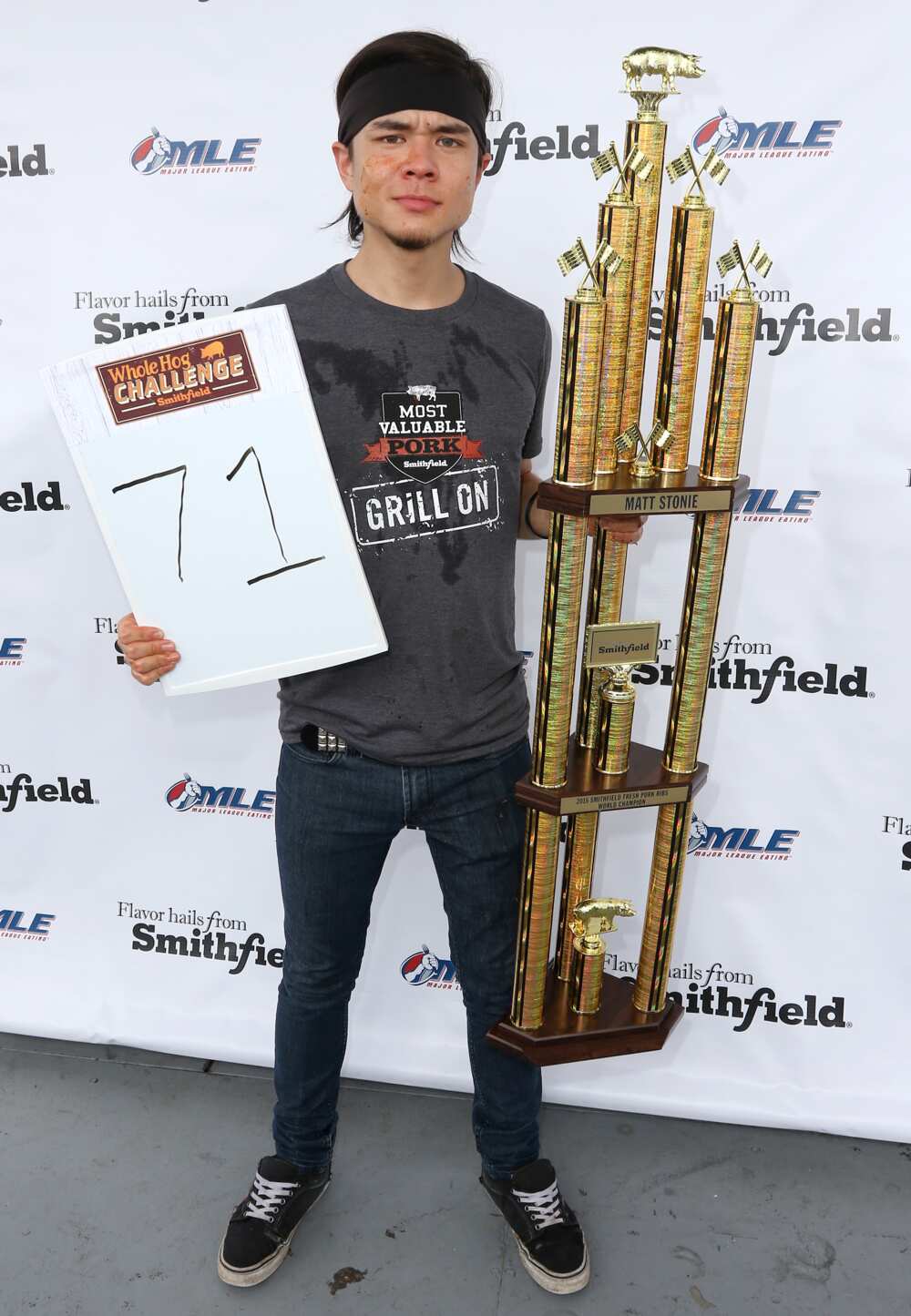 How is Matt Stonie skinny? The American competitive eater maintains a low-end weight despite his incredible eating ability. Matt Stonie weight is 58 kilograms (130 lbs). He is 5 feet 8 inches tall.
Matt's profession is based on eating, but how does Matt Stonie stay in shape? The YouTuber is very keen when it comes to what he consumes.
In an interview, he stated that:
"It really just comes down to diet and watching what you are eating after a contest. But I'm definitely in the gym five times a week doing cardio or weights. I' have made this my full-time job, and I spend a lot of time taking care of myself. It is hard, it's not like we have superhuman metabolisms."
So is Matt Stonie healthy? Yes, he is. The YouTuber has managed to maintain a healthy weight. According to his website, he quotes that the few minutes he spends on stage during his contest requires hours of physical training, mental discipline and special dieting.
How much does Matt Stonie make?
Matt is the best eating competitor, and he earns money from his competition and YouTube channel. According to Celebrity Net Worth, Matt Stonie net worth is estimated to be $700 thousand.
Social media
Matt enjoys an incredible following on various social media platforms.
His verified accounts are:
Matt Stonie has attracted a massive following on social media platforms. He is one of the best competitive eaters in the world. Given his capacity and talent, he is expected to become a millionaire soon.
READ ALSO: Raina Huang biography: age, ethnicity, boyfriend, competitive eating
Legit.ng recently published an article on the biography of Raina Huang. Raina is, without a doubt, one of the most famous female competitive eaters in the world. She has an incredible following on her various social media accounts, thanks to the awesome content she posts.
Despite her expansive social media presence, many of her fans do not know much about the YouTuber, for instance, her age, relationship status, and much more. Her biography here will provide an in-depth look into who she is.
Source: Legit.ng