Dangote vs Rabiu: BUA Gains $3.8billion in Six Years as Dangote Loses $3.90billion
- In the last six years, Africa's richest man's fortune has been dwindling when compared to that of BUA founder
- Aliko Dangote lost over $3.9 billion, as his wealth tumbled from $15.4 billion to $11.5 billion
- The wealth of Abdulsamad Rabiu had increased by almost the same amount lost by Dangote in six years
PAY ATTENTION: Join a community of CEOs, founders and decision-makers: subscribe for a free monthly business newsletter Digital Talks and succeed BIG!
In the past years, the rivalry between Abdulsamad Rabiu and Aliko Dangote have become intense, from cement battle to sugar price fixing claims. Within these years, their fortune have also changed as business progresses.
Both billionaires have businesses that compete against each other in the Nigerian market. BUA Cement jostle for market share against Dangote Cement, which is the market leader, while BUA sugar and that of Dangote also go head-to-head.
Dirty rivalry between Dangote and Rabiu
Dangote and Rabiu have are now looking to compete in the fertilizer and oil business. Recently, both had been at loggerheads, as Rabiu accuse Dangote of price-fixing, an allegation that went without an investigation from the Federal Competition and Consumer Protection Commission.
BUA also accused Dangote of trying to deceive the Ministry of Trade into revoking its license because it didn't participate in the price-fixing allegedly planned by the company owned by the richest man in Africa.
PAY ATTENTION: Install our latest app for Android, read best news on Nigeria's #1 news app
Dangote denied the price-fixing claim, stating the company has never been involved in such anti-consumer activity, but the company said it reported BUA's sugar business because it has a moral obligation to do so.
The governor of Kano State, Umar Ganduje, had to intervene in their rivalry recently following the counteraccusation. Both businessmen are Kano indigene.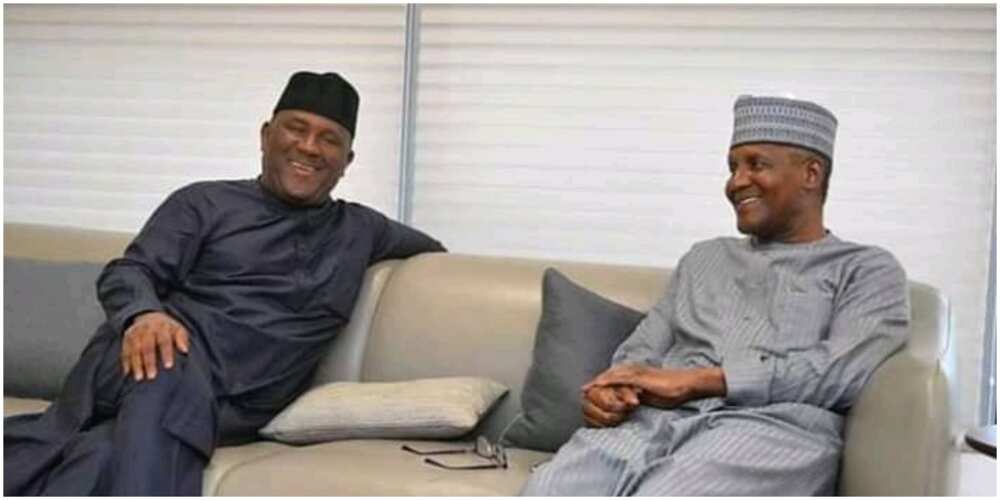 Dangote and Rabiu fortune amid rivalry
Legit.ng confirmed that in the past six years, since 2016, Dangote's wealth has been fluctuating, although, it has been mostly declining when compared to Rabiu, the founder of BUA cement.
Footprint of Dangote's wealth
In a check on Forbes list to measure the wealth rate of both billionaires, Dangote's net worth was put at $15.4 billion in 2016, but the wealth has dwindled to $11.5 billion as at April 2021 - in 2014, his wealth was estimated around $25 billion.
The businessman lost over $3.9 billion within the period under review (six years). In 2017, his networth fell to $12.2 billion, a year later, it rose to $14.1 billion, but declined again to $10.4  billion in 2019.
Last year, the fortune dwindled further to $8.3 billion before rising to $11.5 billion as at this month, April 2021. This capped the loss in Dangote's wealth at $3.9 billion.
Footprint of Rabiu's wealth
Compared to Dangote's wealth movement over the years, Rabiu's networth has been on the rise. Although, the net worth for 2017 and 2018 was missing. However, within the years available, his wealth didn't dwindle.
In 2016, Rabiu's wealth was $1.1 billion as of April, in the next three years, this amount climbed to $1.6 billion. The rise continued into 2020 despite the COVID-19 period also saw Dangote's wealth decline.
Last year, the fortune of BUA founder was put at $2.9 billion, and it went up further to $4.9 billion this year, as at April 2021.
This means Rabiu recorded an additional $3.8 billion in his wealth - this seems like migration of wealth from Dangote to Rabiu within the years under review.
Note that despite losing a significant amount in his fortune, Dangote remains the richest man in Nigeria and Africa, while Rabiu occupies the third position in Nigeria.
It's left to be seen how Dangote and Rabiu's wealth respond to the full reopening of the economy. Although BUA founder seems to have better projection considering his fortune rose at a period that of Dangote dropped, including during COVID-19 period in 2020.
Meanwhile, Legit.ng had earlier reported that the Central Bank of Nigeria directed deposit money banks and forex dealers to receive old dollar notes from customers.
The apex Bank said it had been inundated by complaints from persons trying to exchange their old dollar bills, stating the banks and forex dealers refuse to collect the old but legal tender.
The financial regulator warned that every commercial bank and forex dealer that turn the old US dollar will be hit with sanction.
Source: Legit