Taribo West biography: age, hair, church, net worth, where is he now?
Taribo West is a renowned Nigerian former footballer. He also doubles up as a businessman, preacher, investor and philanthropist. He played at the centre-back in his early career and was one of the best defenders during his international career. The football player is also known for his unusual and colourful hairstyles.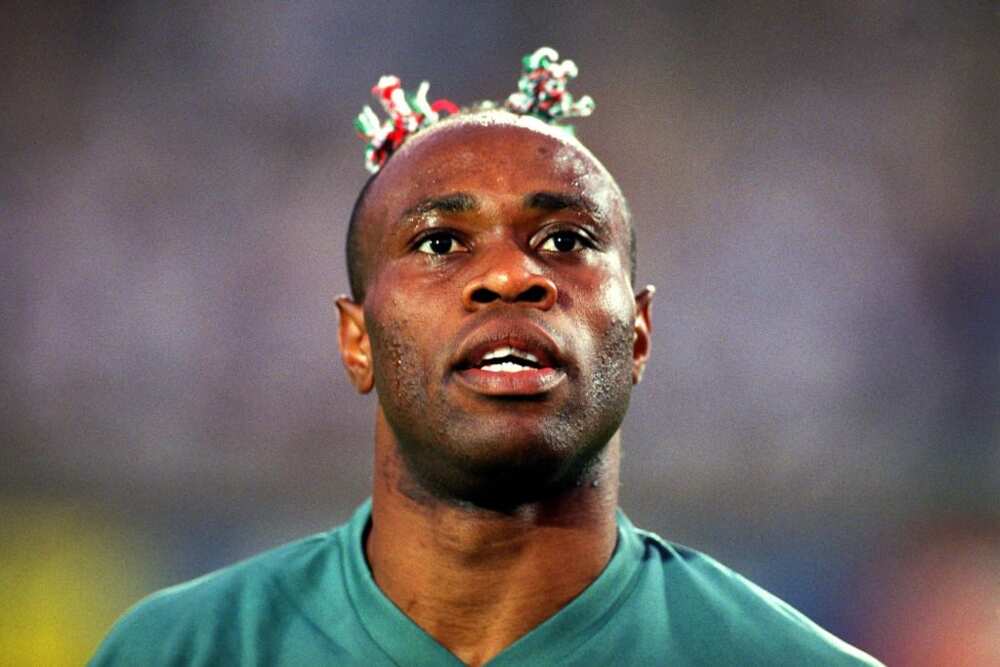 For the better part of his career, both at the local and international levels, he was regarded as of the best centre-backs, especially in Nigeria and one of the best defenders in Europe. Between 1997 and 1999, Taribo was a crucial member of the Inter Milan football squad.
Taribo West profile summary
Full name: Taribo West
Date of birth: 26th March 1974
Place of birth: Port Harcourt
Taribo West age: 47 years (as of 2021)
Nationality: Nigerian
Ethnicity: Black
Profession: Former professional football player, investor, entrepreneur, philanthropist
Net worth: $15 million
Taribo West biography
The footballer was born on 26th March 1974 in Port Harcourt, River State, Nigeria. He is the son of Wakaji Batubo West (mother), but he has not offered any information about his father. There are no publicly known details about his siblings.
The defender attended St Andrews Elementary School in Diobu for his primary school education. He has not offered any information about his secondary or college education. The football player helped his mother sell beans, garri and beans cake while in primary school.
Career
Taribo displayed expertise and unmatched talent on the pitch while playing for different Nigerian football clubs. His excellence saw him became an international player. His career at the club and international levels are as follows:
Early years
The talented football player started his career in sports after Monday Sinclair discovered his talent. Monday recruited West as a player for the Sharks Football Club based in Port Harcourt, River State. He began his professional career in 1989 as a player for Obanta United.
A year later, he returned to Sharks FC. In 1991, he played for the Enugu Rangers FC and joined the Julius Berger FC in 1992.
Auxerre Football Club
After several attempts, he joined Auxerre in early 1993. He played his first competitive game for Auxerre Football Club on 5th March 1994 in a 0-0 away league at Toulouse. In the season that followed, he became a first-team regular and made 31 appearances in all the competitions.
During the 1995/1996 season, he helped the team take home their first league title. They collected a double after winning the national cup. The player made seven appearances during the 1996/1997 UEFA Champions League even though it was eliminated at the quarter-finals.
Internazionale and Milan
In June 1997, the football player signed a four-year deal with the Italian Internazionale. His career at this club was as follows:
3rd September 1997 - He made his competitive debut.
9th November 1997 - He scored his first goal during a match against Atalanta.
1997/1998 season - He scored an extra-time winning goal against the Schalke O4 football club.
During the 2000 winter transfer period, he switched to one of the Internazionale's rival football club, Milan. On 24th March 2000, he made his debut as an injury-time substitute. On 14th May 2000, the player scored his only goal for the club during a 4-0 win against the Udinese Calcio football club.
England and Germany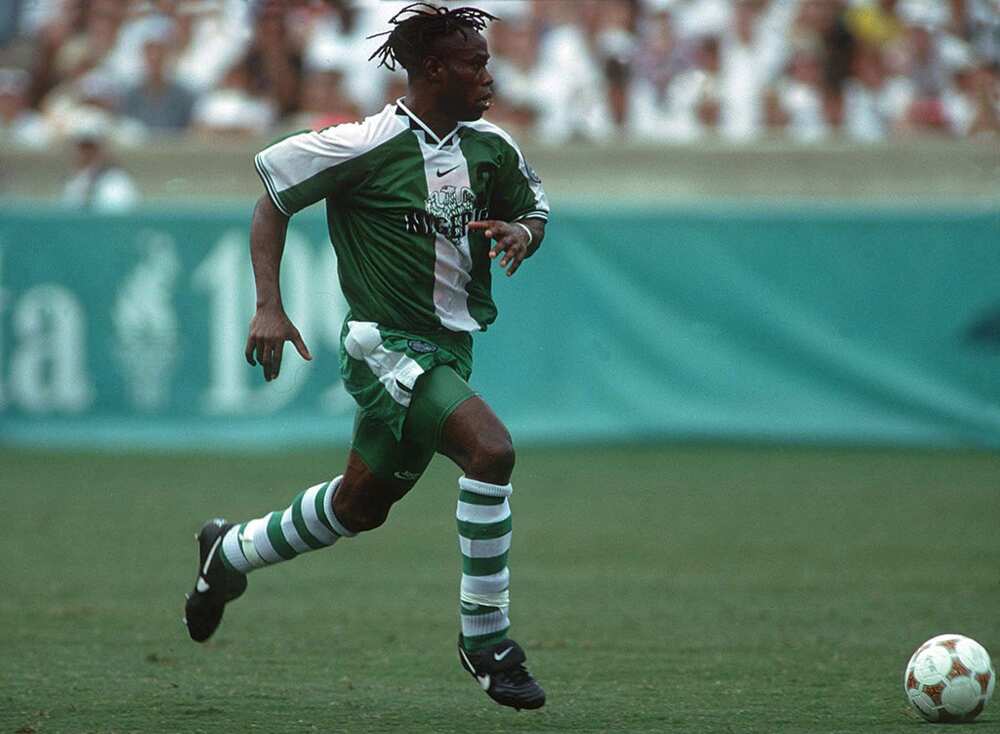 The player moved to Derby County English Club in November 2000 on an initial 3-month loan. He debuted on the team on 18th November 2000. In January 2001, he signed an extension contract to stay with the club until the end of the 2000/2001 season.
In November 2001, the football player became part of the FC Kaiserslautern club 1 on a free transfer. He debuted at the club on 17th November 2001. After a disagreement, he was released in April 2002.
Partizan
Taribo signed an 18-month deal with Partizan on 30th January 2003. He made his debut on the team on 1st March 2003, where he played the full 90 minutes during a match against Radnički Obrenovac. Some of his club's highlights were:
7th May 2003 - He scored his first goal.
He helped the club reach the group stage of the 2003/2004 UEFA Champions League.
He recorded three appearances in Group F.
February 2004 - He left the club after a mutual agreement.
Later years
In his later years, Taribo played for various football clubs as follows:
August 2004 - He signed a one-year deal with Al-Arabi Qatari football club (debuted on 4th November 2004).
July 2005 - He signed a one-year deal with Plymouth Argyle (debuted on 27th August 2005).
August 2007 - He signed a one-year contract with Paykan (it was terminated before making his debut on mutual agreement).
International career
At the 1993 African Youth Championship, Taribo was a member of the Flying Eagles. He made his debut on 5th May 1994. He was a member of the Olympic squad that bagged a gold medal during the 1996 Summer Olympics.
He has also taken part in the following matches:
2000 - African Cup of Nations
2002 - African Cup of Nations
2002 - FIFA World Cup
In January 2004, the footballer suffered an injury as he was training for the African Cup of Nations. On 17th August 2005, he returned to the national team and made his Super Eagles' final appearance in a friendly match against Libya national football team.
Honours
The football player's excellence at the club and international levels has not gone unnoticed. He has received numerous awards as follows:
Auxerre Football Club
1995/1996 season - Championnat de France football contest
1993/1994 and 1995/1996 seasons - Coupe de France football contest
Internazionale and Milan
1997/1998 season - EUFA Europa League Cup
Partizan
2002/2003 season - First League of Serbia and Montenegro
International career
1996 - Summer Olympic Games
2000 - Africa Cup of Nations (Runner-up)
Church and religious beliefs
The footballer has been a devout Christian throughout his life. He admitted to performing his sacred rituals before every game.
Like a lot of footballers, I was very superstitious, and before every game, I would light a candle and hold a magical stone that one of my friends had brought me back from Israel.
After leaving the sports arena, he became a pastor. In 2014, he founded his church known as the Shelter in the Storm Miracle Ministries of All Nation (SSMMAN). Initially, the church was based in Affori, a northern suburb of Milan. The star moved back to Nigeria to establish a branch of this church. The church is situated in Lagos, Nigeria.
Taribo West hair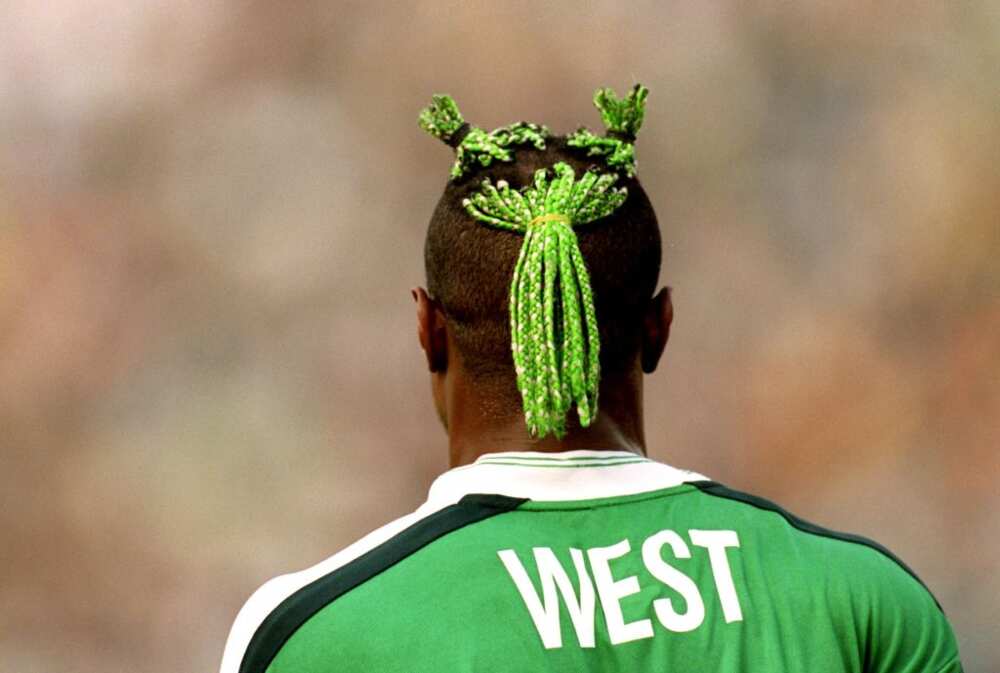 Apart from his excellence on the pitch, the player is known for his unusual and colourful hairstyles. His brightly coloured braids were the defender's trademark in the field. Some of these colours were red, green, yellow, blue and white.
Taribo West controversy
Taribo West real age has been a controversial topic over the years. In 2010, it was alleged that the football player among other Nigerian internationals such as Obafemi Martins, Jay-Jay Okocha and Nwankwo Kanu were older than they claimed.
In April 2013, the former FK Partizan general secretary, Žarko Zečević, alleged that the football player was 12 years older than his claimed age. Shortly after the secretary-general made these allegations, Taribo came out to deny them.
Taribo West net worth
Taribo has earned a significant sum of money from his career as a football player. When he was active in the sports industry, he signed huge deals at the local and international clubs, thus increasing his wealth. His net worth is roughly $15 million as of 2021.
Where is he now?
Taribo is preaching the gospel and helping the needy in society. After he retired from playing football, he has engaged in pastoral duties and philanthropy. In November 2017, the Nigerian Football Federation (NFF) appointed him as the Technical Study Group's vice chairman.
Taribo West is a retired football player. He has played in many football teams and won several honours at the club and international levels. He has also engaged in several philanthropic undertakings and pastoral duties.
READ ALSO: Yemi Alade biography: age, net worth, husband, where is she from?
Legit.ng recently published the biography of Yemi Alade. Yemi is a household name in Nigeria. She is a famous Nigerian singer who performs in Afropop and R&B style.
She became extremely popular after her victory at the Peak Talent Show in 2009. One of her best and widely known songs is Johnny.
Source: Legit.ng