Kirk Herbstreit biography: age, family, salary, net worth, house
Kirk Herbstreit is, without a doubt, one of the most famous sports analysts in the United States at the moment. He rose to prominence for providing colour commentary in EA Sports' NCAA Football.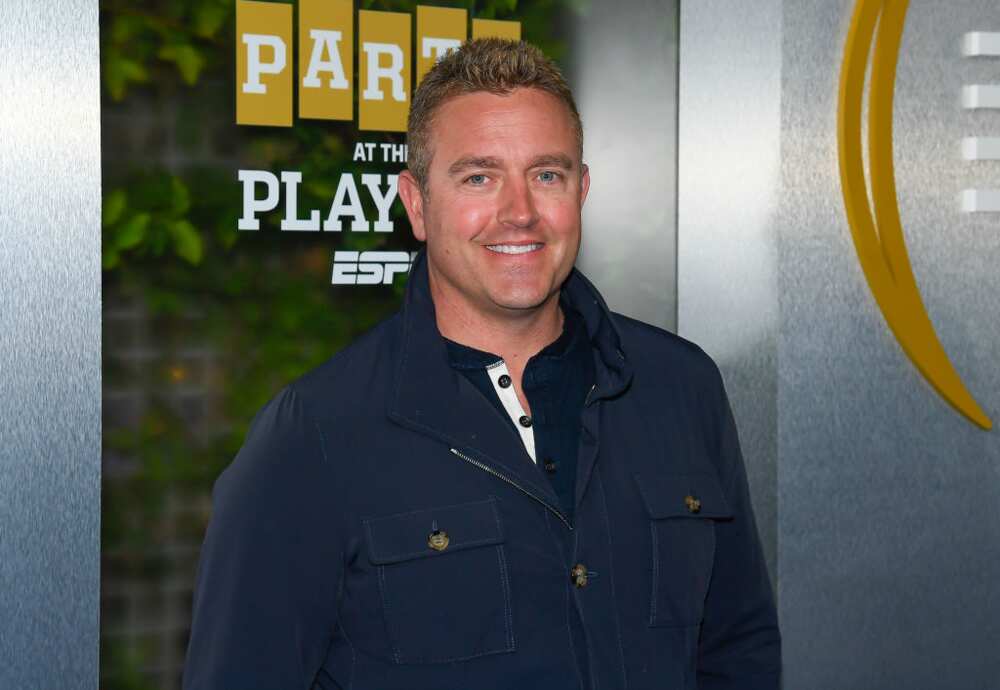 Throughout his illustrious career, he has provided some of the most accurate though sometimes controversial sports analysis. A look at his detailed biography will help you understand who he is and how he has made it in life.
Profile summary
Real name: Kirk Edward Herbstreit
Date of birth: August 19th, 1969
Zodiac sign: Leo
Place of birth: Centerville, Ohio, United States
Nationality: American
Occupation: College football analyst
Gender: Male
Ethnicity: White
Hair colour: Blonde
Eye colour: Blue
Marital status: Married
Education: Ohio State University
Kirk Herbstreit biography
The sports analyst was born on August 19th, 1969, in Centerville, Ohio, in the United States. He is the son of Jim and Judy. His father was a former college footballer, so he grew to love the sport and became good at it thanks to the inspiration he got from his father.
His sister's name is Terri Holmes.
How old is Kirk Herbstreit?
As of 2021, Kirk Herbstreit age is 51 years. The former quarterback celebrates his birthday on August 19th each year.
Kirk Herbstreit college and educational background
He attended Centerville High school and then joined Ohio State University to pursue a degree in Business Administration. He graduated from the university in 1993.
Herbstreit's career highlights
The American star has enjoyed a tremendous career as a quarterback and football commentator. Here are his career highlights.
Football career
The star played as a quarterback for his high school team. He even became the Ohio Gatorade Player of the Year during his senior year.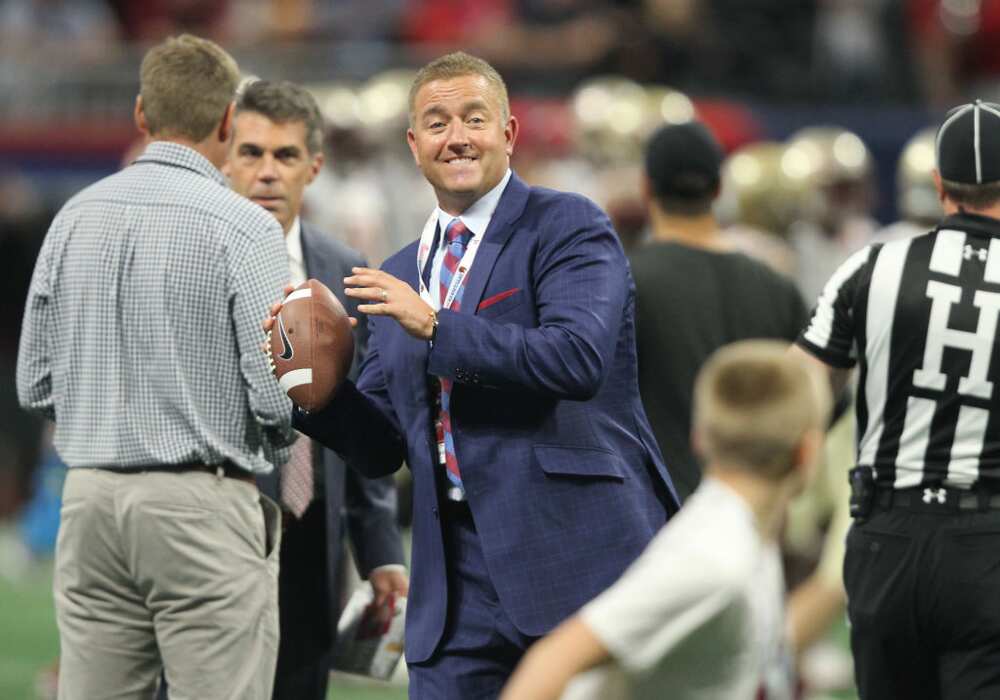 He carried the passion and enthusiasm to Ohio State University, where he again played as a quarterback for Ohio State Buckeyes from 1989 to 1993. He was a varsity letter winner for four years.
With Ohio State Buckeyes, he played in the Florida Citrus Bowl and passed for 1,904 yards against the Georgia Bulldogs. Unfortunately, his team lost the game.
In 1992, he set the record for 28 pass completions in a game against the Michigan Wolverines. The record stood for fourteen years. He was also the team's co-captain and the Most Valuable Player (MVP) of the group.
Broadcasting career
Herbstreit began hіѕ brоаdсаѕtіng саrееr bу wоrkіng аѕ аn аnаlуѕt аlоngѕіdе Dеѕmоnd Ноwаrd, Lее Соrѕо, and Rасе Dаvіѕ оn thе Соllеgе GаmеDау on ЕЅРN. On the show, the commentators discuss college football games of the day.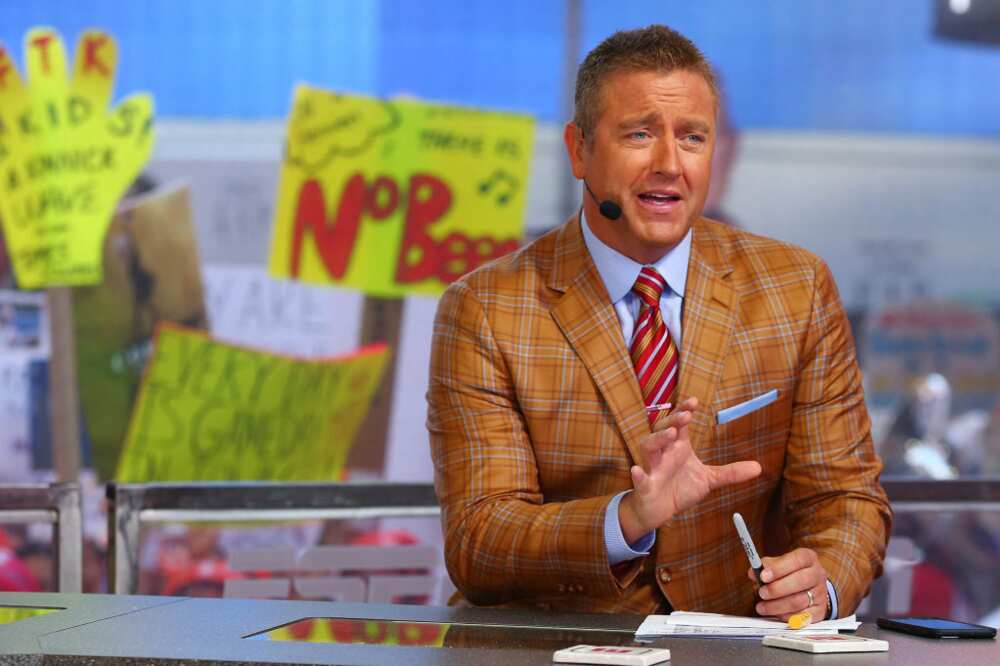 They also analyze the players and the highlights of the different games already played and to be played. The telecast team visits colleges all over the United States, previewing upcoming football games.
He then worked as a colour commentator for ESPN on Thursday night games and eventually began commentating on ABC's Saturday night college football games. He also became a host for the weekly college football radio program on the radio station 97.1 The Fan in Columbus.
Awards and achievements
The football commentator has so far achieved a considerable number of awards. They are as follows.
For the 1987-88 season, he won the Gatorade Player of the Year for Ohio State.
In the years 2010 and 2011, he won the Emmy Award for Outstanding Sports Personality-Studio Analyst.
For 1998, 2006, 2007, and 2014, he was a nominee for Emmy's Outstanding Sports Personality-Studio Analyst.
In 2014, 2015, and 2016, he was a nominee for Emmy's Outstanding Sports Personality-Sports Event Analyst.
How much does Kirk Herbstreit make per year?
Kirk Herbstreit salary per year as a sports commentator is $2 million. He has made his fortune working as a commentator for the past two decades.
According to Celebrity Net Worth, Kirk Herbstreit net worth is worth a staggering $4 million. This amount of wealth has afforded him and his family a luxurious lifestyle. He owns a house in Nashville, Tennessee.
Kirk Herbstreit family
The former quarterback is happily married and a father of four children. He has no daughter as all Kirk Herbstreit kids male. Their names are Jake, Tye, Zak, and Chase.
Two of Kirk Herbstreit sons (Jake and Tye) have followed in their father's footsteps and are playing college football at Clemson University for the Clemson Tigers.
Who is Kirk Herbstreit wife?
His wife is called Alison Butler. The two met while both were at Ohio State University. He was a football player, and she was a cheerleader.
The couple got married on June 13th, 1998, and welcomed their first children (identical twins) in 2000. Another one of Kirk Herbstreit son came in 2003 and the last born in 2006.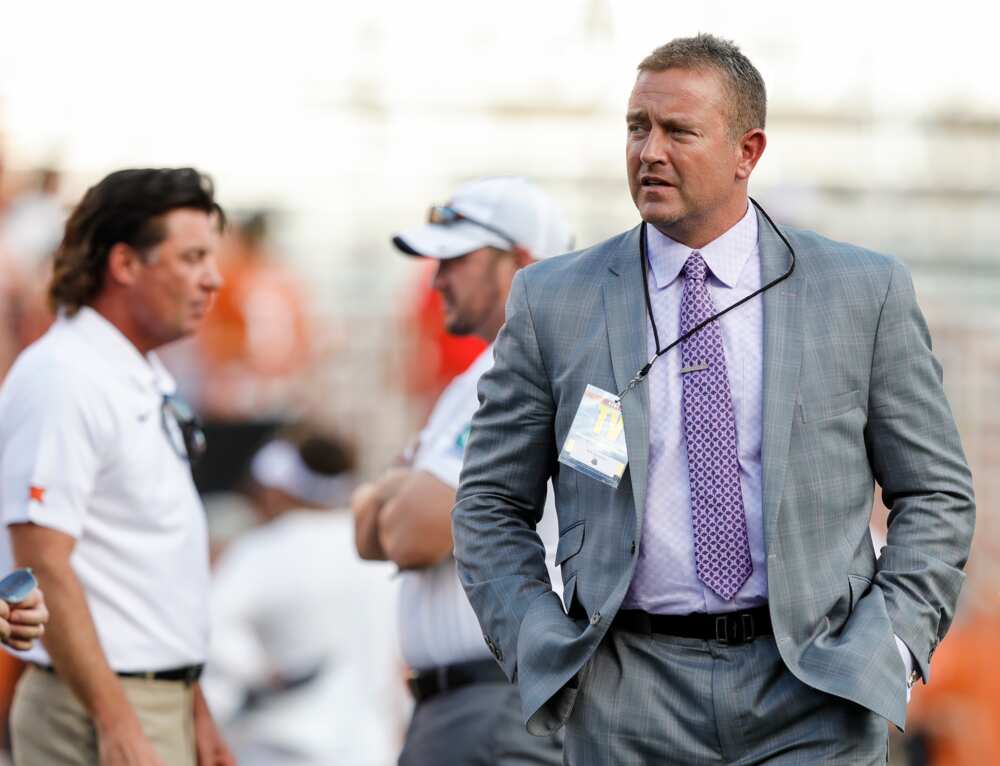 Where does Kirk Herbstreit live?
Kirk Herbstreit house is in Nashville, Tennessee, where he is currently living with his family. Rumour had it that he relocated from Ohio in 2011 because of what he said was harassment and intimidation from Ohio State fans.
It was alleged that the fans accused the EMMY award winner of being too harsh and critical of Ohio State University, the university he once attended, an allegation he denied and alluded that his family had contemplated the move three years before.
He further set the record clear that he had nothing but love and warmth in his heart for Ohio State and the Buckeyes.
Did Kirk Herbstreit play NFL football?
No, Kirk has not played professional football. His football career was limited to Ohio State University, with the Buckeyes as a quarterback.
Kirk's controversies
In his career, the commentator has had affair share of scandals. Below are some of the controversies that have rocked him.
On extra-marital affairs
Like most celebrities, Kirk has been embroiled in some scandals involving extra-marital affairs. Rumours had it that he had an affair with Tracy, a wife of a police officer who was his fan. The police officer's name is Jerry Dunlow. As a result, Jerry and Tracy boke up.
On the Kirk Herbstreit house he donated to the local fire department
In 2004, the commentator and his wife donated their house to the local fire department and took a $330,000 deduction on their tax return.
However, in an extremely convenient coincidence, the IRS, for the first time, challenged the practice of donating individuals' homes for such purposes the same year. His family was audited and paid back taxes and interest of $134,606. He sued the IRS to get that money back but lost the case.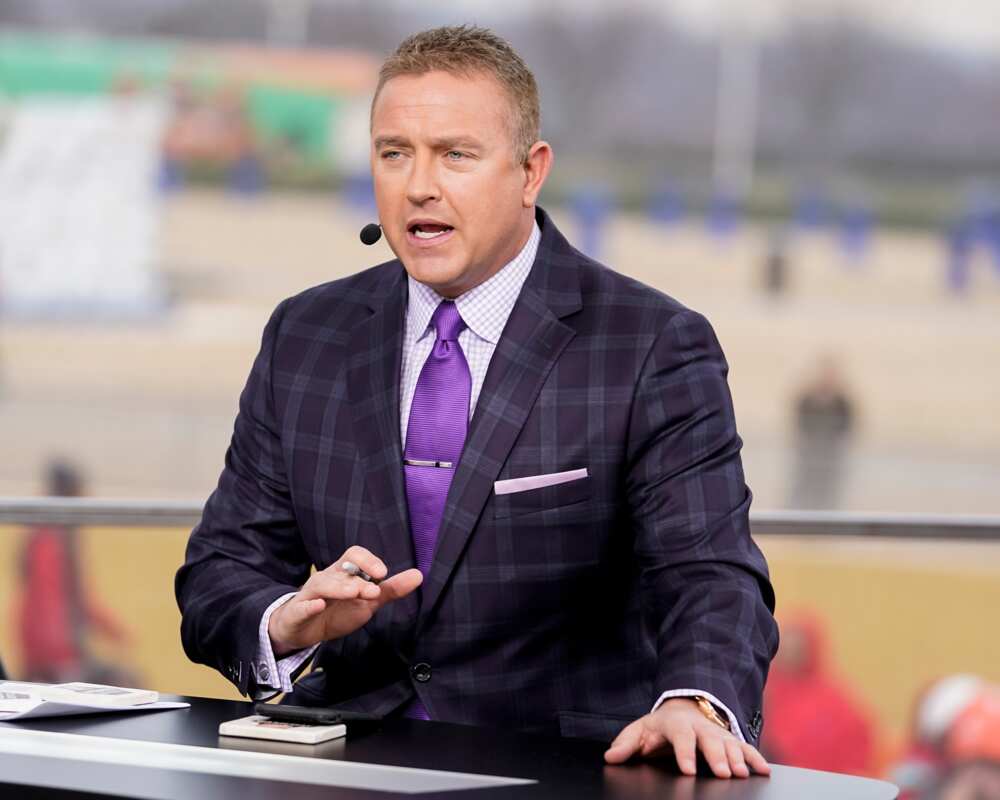 Kirk Herbstreit Instagram and social media presence
The football commentator is an active member of the social media fraternity. He has Twitter, Facebook, and Instagram pages, where he enjoys an incredible following.
At 51 years, Kirk Herbstreit is still an active sports analyst. His analytical skills are outstanding, and he commands admiration from many people around the world. He is indeed a role model for many people.
READ ALSO: Quinta Brunson biography: age, height, net worth, boyfriend
Legit.ng recently published an article on the biography of Quinta Brunson. Quinta is a writer, director, actress, and stand-up comedian born and raised in Philadelphia, Pennsylvania.
She got her start with a viral Instagram series about The Girl Who's Never Been on a Nice Date. The clip helped earn her a gig at BuzzFeed in 2014, where she eventually became a development partner.
Source: Legit.ng