Vicky Stark biography: age, husband, net worth, career, fishing
Vicky Stark is a renowned fishing guru and social media influencer. She rose to fame for sharing photos and videos of herself participating in fishing activities on her Instagram page and YouTube channel.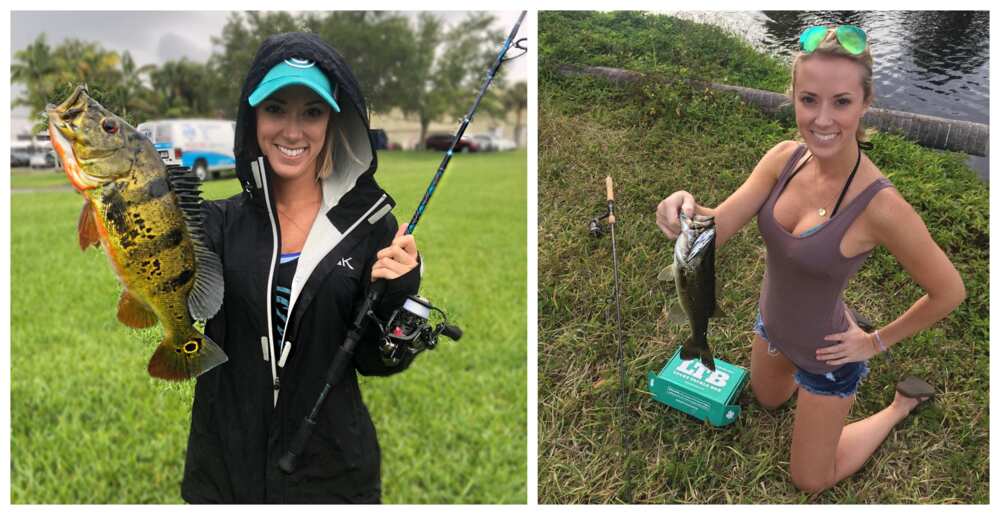 The Instagram star has received a huge following for posting photos of herself holding giant fish while wearing bikinis. What more is there to know about her?
Profile summary
Full name: Vicky Stark
Date of birth: August 5, 1985
Vicky Stark age: 35 (as of 2021)
Famous as: Fishing expert, YouTube and Instagram star
Nationality: American
Ethnicity: White
Height: 5 feet 7 inches
Vicky Stark biography
The fishing expert was born and raised in South Florida in the United States of America. Vicky Stark birthday is August 5, 1985.
Stark has not shared more about her family background or her educational accomplishments.
Vicky Stark fishing
Vicky started engaging in fishing as a young girl. She let people into her area of prowess by creating a YouTube channel in 2011, where she started posting fishing-related content.
A year later, she started showcasing her fishing activities on her Instagram account. She started attracting a huge following in 2016 after posting her photos holding giant fish while wearing bikinis on the Florida coast. She features herself traveling to various places for fishing activities such as Miami, Venice, and Cabo San Lucas, catching various fish breeds.
Vicky's pictures that showcase her fishing skills also show off her gorgeous and shapely body. Along with her exceptional fishing skills, Vicky Stark hot photos are part of why she has gained such a massive following on her social media profiles.
Stark's growing popularity was also fueled by the fact that Daily Mail featured her on their website and reported about her fishing prowess and popularity on Instagram. She also got the chance to film with Two Conchs for their Sportsman Channel in 2019. Currently, she has 220k+ followers on her Instagram account and 480k+ subscribers on her YouTube channel.
Vicky enjoys the thrill of going into the water without knowing what she will get to catch. She gets excited about fishing in extremely shallow water since this provides a greater challenge.
Stark's growing popularity has brought various sponsorships her way, and she has been involved in promoting different brands through her social profiles. Some of the brands that she has worked with are G Loomis, Smith Optics, One One Swimwear, Xtratuf Boots, Scales Gear, Orca Coolers, FarOut Sunglasses, and Peacock Bass Adventures.
Sharing her fishing experiences has not only increased her popularity but has also increased the scope of her fishing experiences. Stark now travels often at the invitation of new fishing friends and when various brands offer to sponsor her.
The star has had her share of challenges regarding sharing her fishing experiences with the public. Some people criticize her for her fishing methods, claiming that she does not know how to fish.
Others also say that she uses her posts to show off her body. Stark, however, is not out to seek anyone's approval, and she ignores some of the comments, deletes others, and sometimes even blocks people who are too inappropriate with their comments.
The fishing star is involved in a fishing-related business. She runs an online store which deals in various fishing equipment, including hooks, sinkers, and lines,
Vicky Stark net worth
Stark has a net worth of about $350,000. Her income is attributable to her fishing work, business, and social media work, which attracts multiple sponsorship deals. As she keeps up the great job, her wealth is expected to keep growing.
Is Vicky Stark married?
Vicky is one of the celebrities who are not very vocal about their personal lives. She has not shared whether she is single or in a relationship with anyone. Consequently, Vicky Stark husband is yet to be revealed.
However, her silence on the matter hasn't kept people from being suspicious. Rumors have it that she is romantically involved with Captain Ryan Eidelstein, who is part of her fishing crew.
The rumor is not from nowhere, as Vicky has shared several pictures of herself accompanied by Eidelstein. Ryan is a realtor who also loves fishing and has been fishing for more than twenty years. The two have not addressed the rumors claiming that they are romantically involved with each other.
Vicky Stark height and physical appearance
She stands tall at 5 feet 7 inches. She has blonde hair and brown eyes.
Vicky Stark is the embodiment of passion in action. She has remained true to her passion for fishing and has gone ahead to make a living out of it. She can only be expected to keep flourishing given her passion and diligence.
READ ALSO: Cindy Gruden biography: What is known about Jon Gruden's wife?
Legit.ng recently published the biography of Cindy Gruden. Cindy is famous as the wife Jon Gruden. Her spouse is a popular name in America's NFL. He is a former Oakland Raider and ex-analyst at ESPN. Jon Gruden also worked for more football teams, including Green Bay Packers, Pittsburg, Pacific, Philadelphia Eagles, and San Francisco 49ers.
America celebrates the philanthropic work Jon Gruden's wife has done to help cancer patients. She and Jon raise funds for several charity organizations. The couple is worth millions of dollars.
Source: Legit.ng