Cindy Gruden biography: What is known about Jon Gruden's wife?
Cindy Gruden is married to Jon Gruden. Her spouse is a popular name in America's NFL. He is a former Oakland Raider and ex-analyst at ESPN. Jon Gruden also worked for more football teams, including Green Bay Packers, Pittsburg, Pacific, Philadelphia Eagles, and San Francisco 49ers.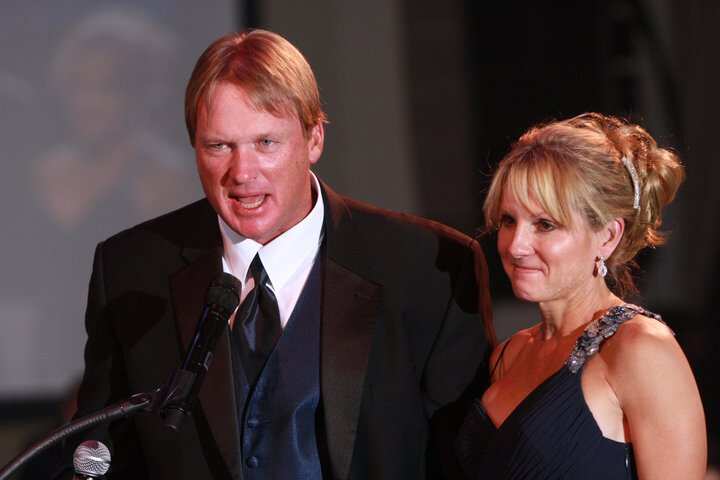 What is known about Jon Gruden's wife? America celebrates the philanthropic work Jon Gruden wife has done to help cancer patients. She and Jon raise funds for several charity organizations. The couple's wealth is worth millions of dollars.
Profile summary
Full name: Cindy Brooks Gruden
Career: Fitness instructor
Nationality: American
Marital Status: Married
Children: 3
Cindy Gruden biography
Cindy Gruden hometown is Knoxville, Tennessee. She was born and raised in the same town. Furthermore, Cindy did an Educational Administration degree at the University of Tennessee. At the same time, she pursued Classical Piano and Music Education in the same institution.
Career
Besides her dedication towards charity, she was the National Cheerleader Association's head instructor and a fitness instructor. She was an active member of the cheerleaders' squad during her college years.
The colleges and high schools she served acknowledge Cindy's expertise, outstanding reputation, and professionalism as a fitness and cheerleaders' instructor.
Net worth
Cindy Gruden's net worth is more than $1 Million, while her husband is worth over $22 Million. Jon's annual salary is estimated to be $6.5 Million.
Cindy and Jon Gruden family
She met Jon at the University of Tennessee, where he worked as the school's football team's graduate assistant. He promised to marry her when he got a full-time football coaching job.
The couple tied knots on 6th July 1991 after the university made him a coach, and they have three sons named Deuce, Jayson, and Michael. Jon Gruden Wife Cindy Brooks marriage is free from extramarital scandals.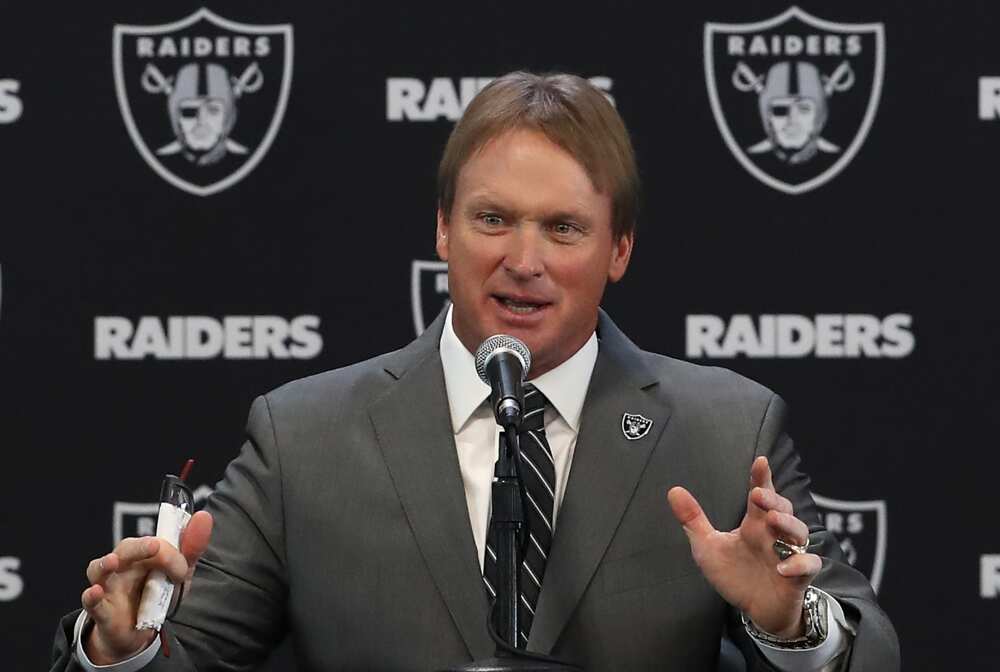 Cindy Gruden's son, Deuce, takes after his father's talents and passions. He was Washington Redskins' coaching intern, got promoted to the coach position, and let the team for Oakland Raiders later.
Cindy Gruden's family photos
Cindy Gruden photos are rare to find on social platforms because she avoids the limelight and getting caught between controversial issues. However, there are several pictures of her family members on the internet.
1. Cindy's spouse and sons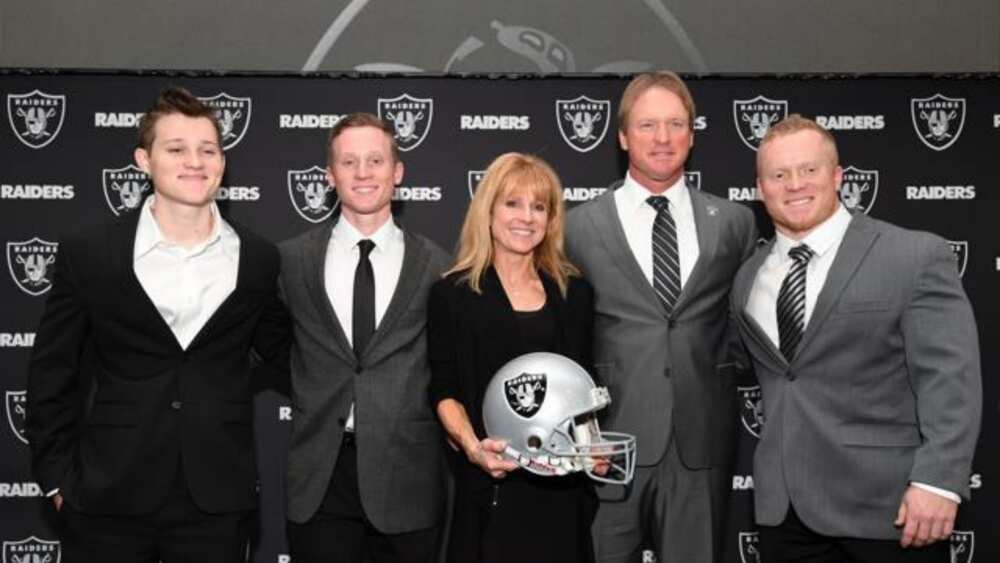 The family shares a strong bond. Jon is the only family member who is active on social media platforms. The rest of them do not own social media accounts for now.
2. Deuce Gruden's picture with some men in the background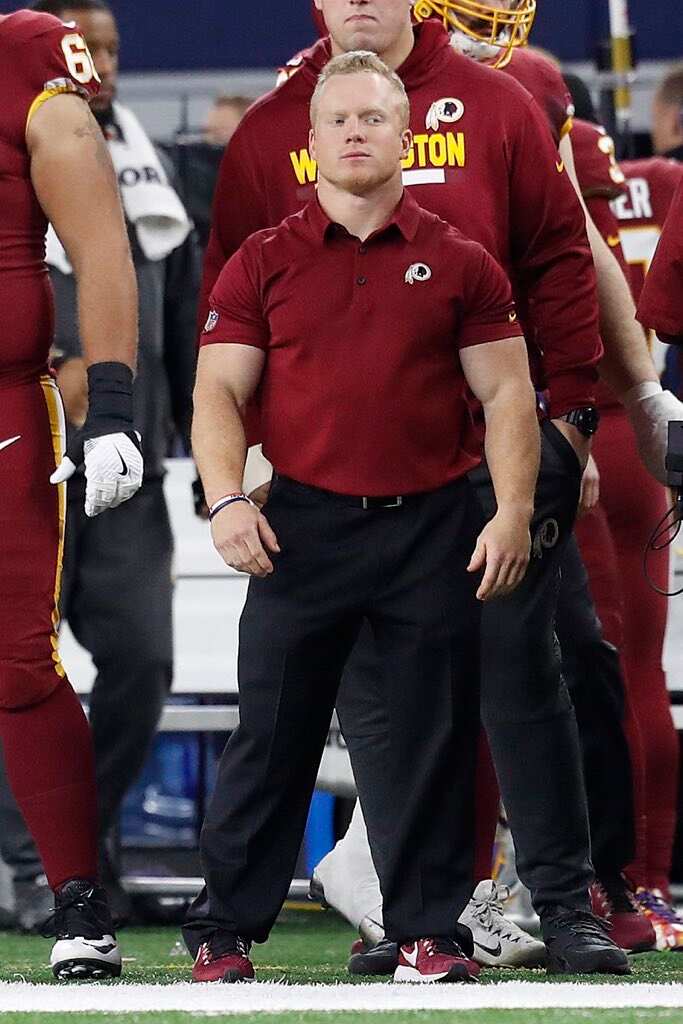 Jon Gruden's fans were excited to see his son join him at Oakland Raiders as a coach. They described Deuce as one of the best strength and conditioning coaches. His brother, Jayson, is an aspiring Muay Thai kickboxing fighter.
3. Jon Gruden dressed in casual attire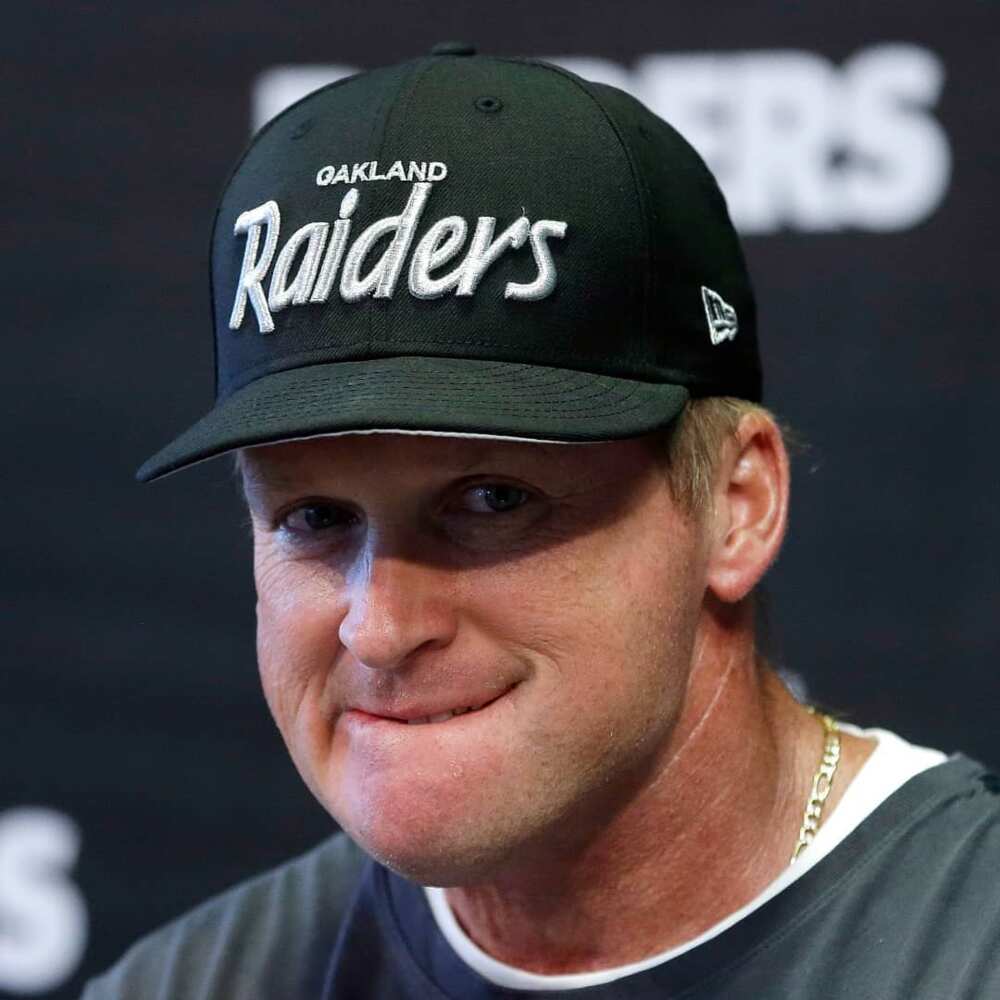 Jon's flexible dressing style is admirable. He always strikes a captivating balance between casual and official looks depending. You will realize that he often dresses casually on the field if you take a keen look at his Instagram posts.
Cindy Gruden possesses a divine heart. The world needs more people like her because her actions inspire more people to join charity works.
READ ALSO: Maribel Guardia biography: age, net worth, relationships, career
Legit.ng recently published in-depth details about Maribel Guardia's biography. Who is Maribel Guardia? Fashionistas can't help but admire her sense of fashion. Maribel Guardia turns the worst fashion designs into fashion masterpieces.
The Costa Rican-Mexican lady is a model, actress, and singer. The Almighty must have created her on a special day since she has almost all the features women consider beautiful. Please tap on the link to see her beautiful pictures.
Source: Legit.ng