Quinta Brunson biography: age, height, net worth, boyfriend
Quinta Brunson is a writer, director, actress, and stand-up comedian who was born and raised in Philadelphia, Pennsylvania. Quinta B got her start with a viral Instagram series about The Girl Who's Never Been on a Nice Date. The clip helped earn her a gig at BuzzFeed in 2014, where she eventually went on to become a development partner. Here is all you need to know about Quinta Brunson.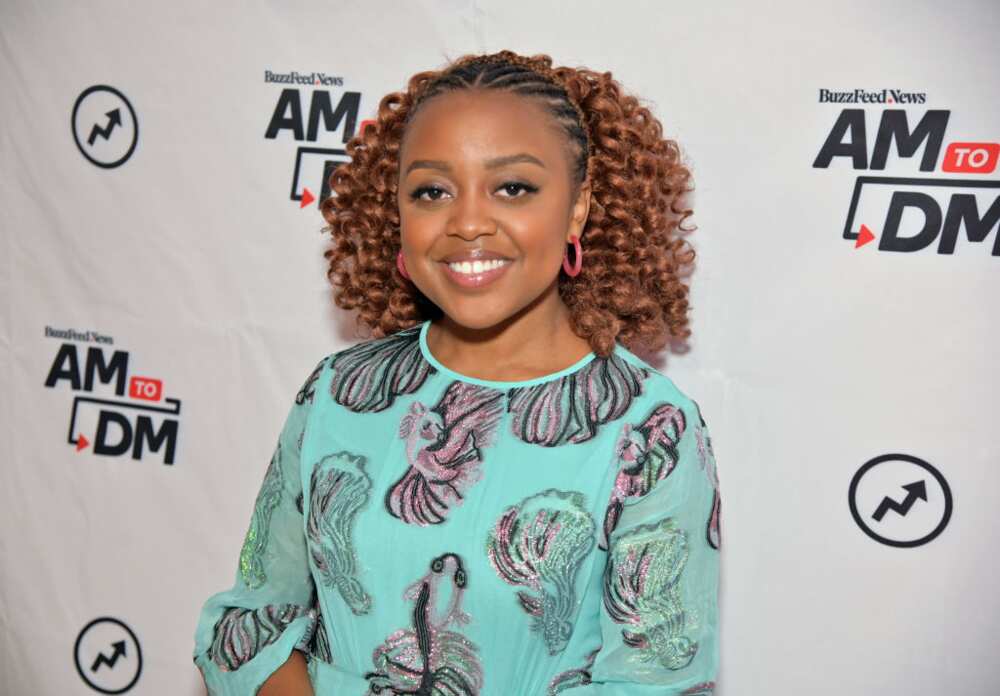 Quinta started studying comedy in Chicago at the Second City. She then moved to LA in 2013, and in 2014, her viral series The Girl Who's Never Been on a Nice Date launched her into fame, eventually landing her a job at BuzzFeed Motion Pictures, where she became an internet video star, racking up millions of views for funny, relatable fare like 9 Perks of Being Short and When You're Forced to Hang Out With a Child. Together with the digital publisher, she has sold shows to YouTube Red and Verizon's Go90.
Profile summary
Birthday: Dec 21, 1989
Birthplace: Philadelphia, Pennsylvania
Age: 31 years old (as of 2020)
Birth sign: Sagittarius
Nationality: American
Quinta Brunson height: 5'0" (152 cm)
Weight: 49 kgs
How old is Quinta Brunson?
The writer was born on December 21, 1989, in Philadelphia, Pennsylvania, USA. As of 2020, Quinta B age is 31 years old.
Family and upbringing
She was raised in Philadelphia along with her brothers and sisters. As a child, Brunson loved watching sitcoms. She also developed interest in comedy and realized quite early that she wanted to become an actress.
She revealed:
In high school I had an obsession with comedy no matter what form. From Martin to Anchorman to Chaplin, I was obsessed — that was the first sign that I wanted to be in the arena. I could make my boyfriend and friends laugh, but the real testament was when I took an improv class, was effortlessly good and happy, and the teacher pulled me aside and gave me money out of her own pocket to keep doing it. Someone giving you free money to do something is very motivating.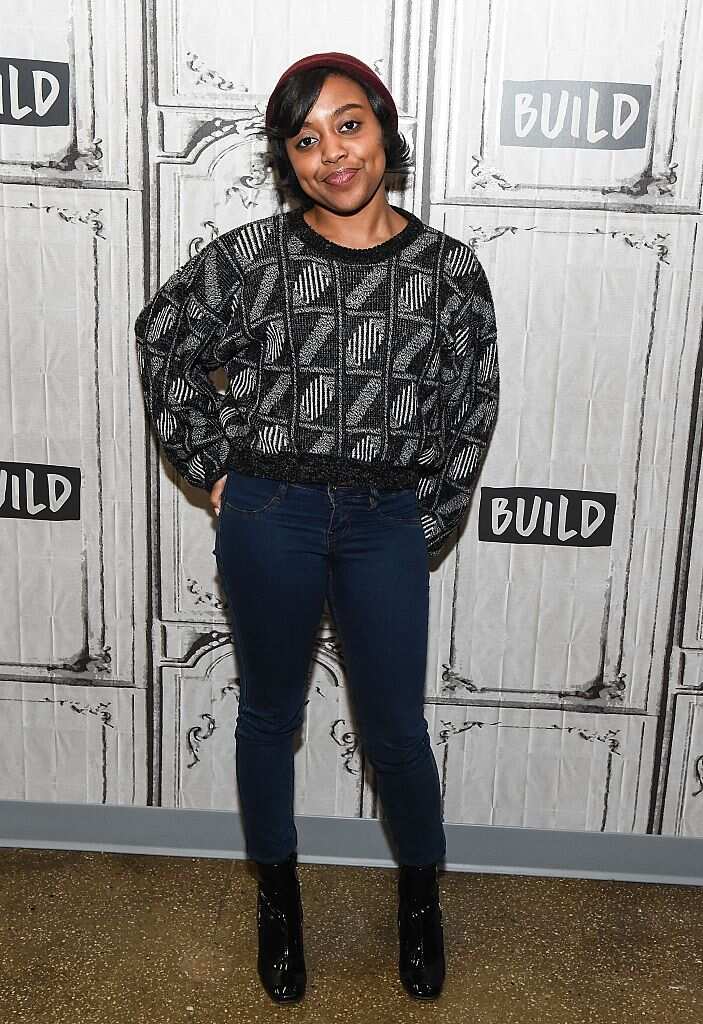 Education
Brunson studied marketing at Temple University, where she first caught the comedy bug while performing at the school's comedy show, Temple Smash. However, she dropped out of the university to pursue her dream of making it in the entertainment industry.
Career
After dropping out of college, Brunson moved to Chicago, where she took improv classes at Second City, and tried to find success in the city's standup comedy circuit.
In 2014, she created a character, "The Girl Who's Never Been on a Nice Date," for a stage bit at the Comedy Store, then shot it as a short sketch at the suggestion of a friend, and uploaded it to her Instagram account.
The sketch went viral, and eventually landed her a gig at BuzzFeed Motion Pictures. After creating a number of popular videos for the site, including Real Things All Couples Do, How to Get Out of the Friend Zone, and Drinking: 20 vs. 25, Quinta launched the web series Broke on YouTube, about the misadventures of Brunson and her two male roommates (Maurice Williams and Paul Dupree) as they navigate living "first-world poor in Los Angeles." The series was a smash, and established Quinta as a creative comedic voice to be reckoned with.
She is the creator, writer, and star of her own Facebook Watch series, Quinta Vs. Everything; was a staff writer and voice actor on Adult Swim's Lazor Wulf; and guest stars in the third season of Big Mouth.
Did Quinta leave BuzzFeed?
Yes, she did.
When did Quinta leave BuzzFeed?
She left BuzzFeed in 2018 with ambitions beyond a 9-to-5 gig and landed roles on the traditional silver screen, co-starring alongside D.R.A.M. and Vince Staples in Adult Swim's Lazor Wulf and guesting on iZombie.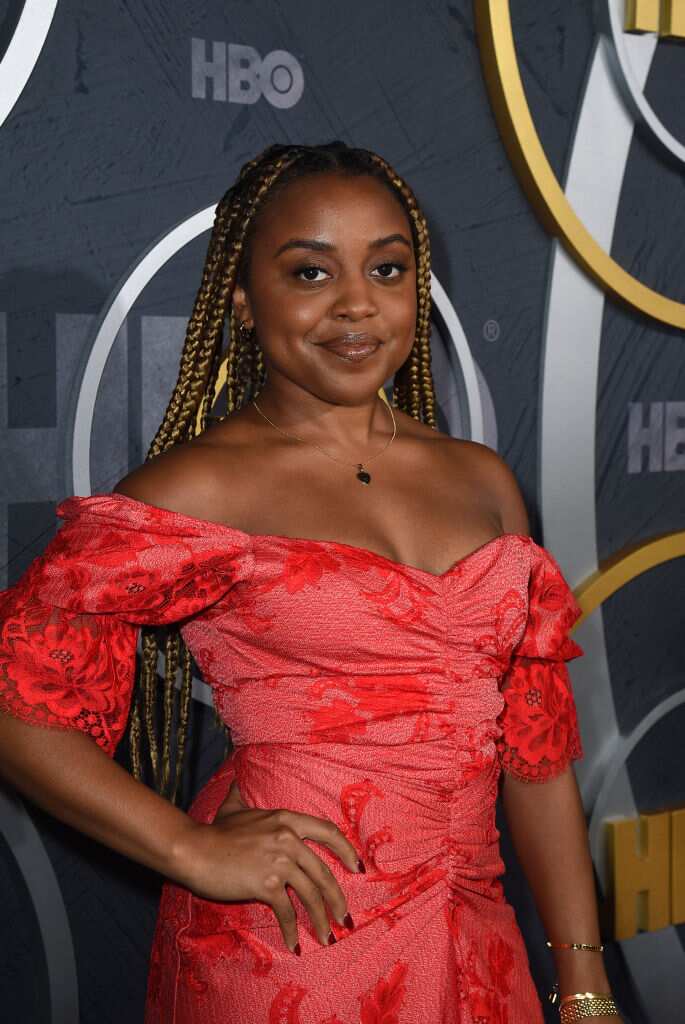 Acting career
Brunson has also been a core cast member in A Black Lady Sketch Show. She also plays the lead role of Ruby in The CW pilot The End of the World As We Know It and recurs on ABC's Single Parents and The CW's iZombie.
Acting credits
Her acting credits include:
2019-2020 - Big Mouth (TV series) - Quinta / Girl
2020 - Magical Girl Friendship Squad (TV series short) - Alex
2020 - An American Pickle - Female Interviewee
2020 - Thundercat: Dragonball Durag (Video short)
2018-2020 - Single Parents (TV series) - Bess
2019 - A Black Lady Sketch Show (TV series) - Various Characters
2019 - iZombie (TV series) - Dr. Collier / Dr. Charlie Collier / Laila
2019 - The New Negroes (TV series)
2019 - Lazor Wulf (TV series) - The Youth / Blazor Wulf / Pearl / ...
2018 - The End of the World As We Know It (TV movie) - Ruby
2018 - New Girl (TV series) - Annabelle
2017-2018 - Quinta vs. Everything (TV series) - Quinta
2015-2017 - Zack & Justin (TV series)
2017 - Up for Adoption (TV series) - Michelle
2016 - Broke (TV series) - Miloh
2015 - You Do You (TV mini-series) - Quinta
2014-2015- BuzzFeed Video (TV series short)
2015 - Americans Watch Country Music Videos for the First Time (Video short) - As herself
2015 - Things That Make Servers Want to Hide in the Back (Video short) - Exceedingly Patient Waitress
2014 - How to be the Perfect Woman (According to Men) (Video short) - As herself
Writing credits
She has written the following:
Lazor Wulf ( 1 episode, At the End of the Day)
Quinta vs. Everything (3 episodes, Quinta vs. Family, Quinta vs. Self-Care, Quinta vs. Womanhood)
Up for Adoption (2 episodes)
Broke (1 episode, 2016)
Awards
In 2017, she was nominated for a Streamy Award under the Best Acting in a Comedy category for her role in Broke (2016).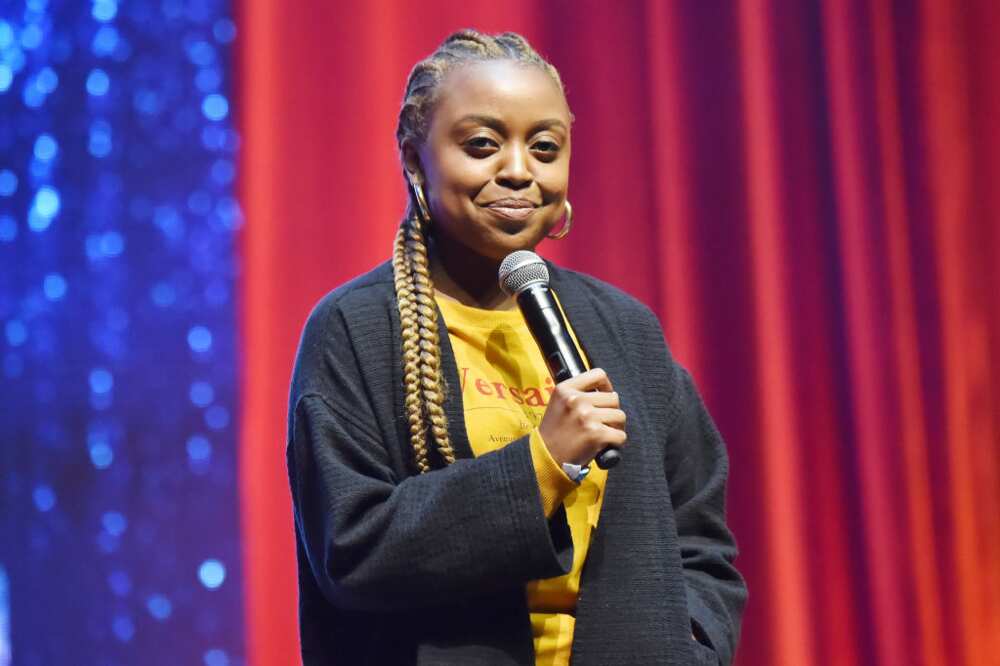 Quinta Brunson net worth
According to Idol Celebs, the writer's net worth is guesstimated at $1 Million - $5 Million.
How tall is Quinta from BuzzFeed?
Quinta B height is 5 feet, which translates to 152 centimetres or 1.52 metres.
Quinta BuzzFeed boyfriend
Quinta Brunson is not yet married. However, during an interview in 2019, she confirmed that she has a boyfriend.
She said:
I'm fortunate because I have a person in my life—my boyfriend—who doesn't really use social media all that much, so spending time with him really makes me feel good.
Quinta Brunson quotes
Here are some of her popular quotes:
"I have a vision for what I want. I've had it forever. I don't know what my life would be without it, so I have to stay on the path."
"I have wonderful friends and comedians around me who are always open to adding their talents to the projects, so they actually happen, which is cool."
"I rant about things going on in my life. I'm just very honest, and there's always honesty in comedy, so people find it funny."
"I developed an interest in comedy at a very young age, thanks to my brothers and sisters. They had me quoting Martin Lawrence's and Jamie Foxx's characters at the age of 3 in my car seat."
"Things that happen to me and to friends are really inspiring right now because I think that personal stories are a huge catalyst for change in our climate."
"As far as stand-up being male-dominated and me being a black woman, I've always found that it was cool that I always had a different perspective than most people in that world."
"I saw myself becoming an actress or an automotive engineer. I was very into cars in my teens. Later on, I just wanted to be an assistant at Pixar."
"In reality, I'm a child of the internet. I was born with it, I love it and I use it every day. I don't want to abandon it."
Quinta Brunson is an extremely talented entertainer who excels at everything she tries. She is one of the most popular comedians today, and rightfully so.
READ ALSO: Victoria Principal biography: age, net worth, where is she now?
Legit.ng recently published a piece that delves deep into the life of Victoria Principal, a well-known retired actress who left Hollywood to pursue her passion for skincare. Victoria is famous for her role as Pamela Barnes Ewing on the long-running soap opera Dallas. She also appeared in the films The Life and Times of Judge Roy Bean and Earthquake.
Victoria Principal is a shrewd entrepreneur, talented actress, and a philanthropic worth many accolades. Despite no longer being in the entertainment industry, she is still an icon.
Source: Legit.ng