Ashley Purdy bio: age, height, girlfriend, why did he leave BVB?
Ashley Purdy is one of the most famous American rock stars. He came to the limelight as a member of the popular rock band group Black Veil Brides. The band has produced numerous chart-topping hits and won several awards.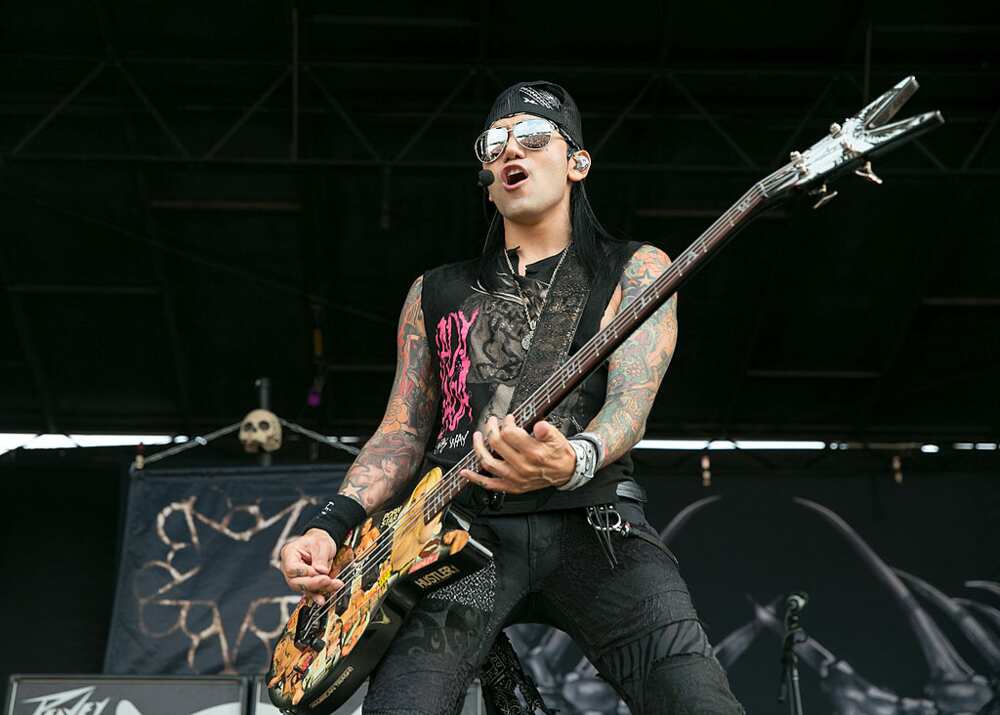 From losing his parents at a young age to being one of the most popular figures in the world, his life journey is an inspiration to many young and upcoming artists. Here is his biography to give an insight into who the popular rock star is.
Profile summary
Full name: Ashley Abrocket Purdy
Date of birth: January 28th, 1984
Ashley Purdy birthday: January 28th
Zodiac sign: Aquarius
Place of birth: Berger, Missouri, in the United States
Nationality: American
Ethnicity: White
Gender: Male
Profession: Bassist, vocalist, designer, entrepreneur, and songwriter
Eye colour: Dark Brown
Hair colour: Black
Education: Otis College of Art and Design
Ashley Purdy biography
The American artist was born on January 28th, 1979, in Berger, Missouri, in the United States. He lost his parents when he was very young. Therefore, she was raised as an only child by his grandparents.
How old is Ashley Purdy?
As of 2021, Ashley Purdy age is 42 years. The American artist celebrates his birth anniversary on January 28th every year.
How tall is Ashley Purdy?
Ashley Purdy height is 5 feet 10 inches (1.78 m). He weighs 70 kilograms (154 lb).
Educational background
The artist went to the Academy of Art in San Francisco then transferred to Otis College of Art and Design in Los Angeles. He graduated with BFA in Communication Design, majoring in marketing and advertising.
Professional career as a singer
Upon graduating from college, he moved to Los Angeles with the dream of becoming a graphic designer. He began his career as a graphic designer and worked for a while. However, as he did so, he was also active in the underground rock scene of the city.
He was a bass player for several small-time bands, including Children of the Beast. He didn't achieve much at this point, but he was less concerned because he only wanted to gain experience and form his own band later on. After gaining the experience, he was unsure where to begin his quest to find the right band members, so he picked the internet.
How did Ashley Purdy join the Black Veil Brides?
In 2009, while he was looking for band members on the internet, he stumbled upon an ad by Black Veil Brides founding member and frontman Andy Biersack. On the ad, BVB required an LA-based bassist. He joined the band the same year and was impressed by how Andy Biersack and other members had similar interests.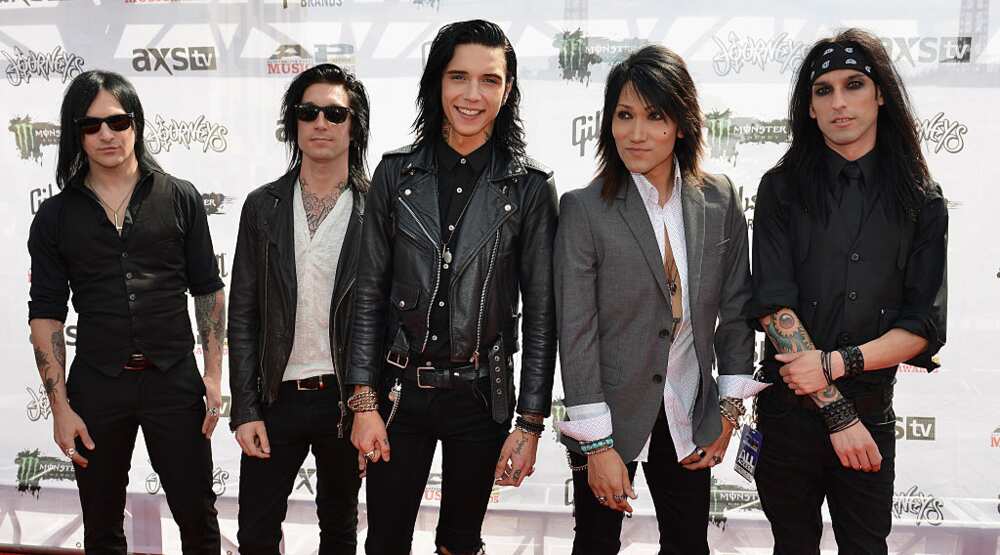 He devised a strategy to convince the other members into living BVB to join his band. However, with time, the hidden agenda slowly faded away, as he became a genuine friend to Andy and the rest of the guys. Ashley Purdy Black Veil Brides' role was as a metal bassist and backing vocalist.
For the last two decades, Black Veil Brides have been one of the most influential rock bands. With their emo aesthetic, they are more than just rockstars - they are true icons. The group is popularly known for hits such as Knives and Pens, In The End, and The Legacy.
Ashley Purdy BVB's tenure saw the band bag numerous awards, including Revolver's Golden God Awards: Best New Band 2011 and the WGRD's 2011 Favorite Listener Band of The Year in 2011. The band has also been nominated for several awards.
Why did Ashley Purdy leave BVB?
Black Veil Brides Ashley Purdy's relationship was cut short in 2019. In November that year, BVB took to Twitter to announce Ashley Purdy's departure to their numerous fans after ten years with the band. According to their statement, the decision was mutually agreed upon between Purdy and the band.
Ashley Purdy's exit came shortly after spending time in a psychiatric hospital to go through grief counselling and therapy. While speaking to Sonic Perspectives, he agreed that he was not part of the band anymore but alluded he "technically" didn't leave. Perhaps to insinuate that he still owns part of the business.
He further said that since BVB wanted him to leave, then they had to compensate him. Something that they had not done, and therefore, they were still in negotiation.
He also expressed disappointment at the timing of his departure. He said,
What s*ucks was the timing of it all... They didn't have anything to do with each other. There are legal aspects of what I can say about the departure.
Since his departure, the accomplished rock star has continued with music. He released a new solo song dubbed Nowhere.
His career as a designer
Besides music, he is a renowned designer, and Ashley Purdy tattoos are an example of his ingenuity. Before he left the band, most of the attires you saw the band wear, tattoos, and cover albums were his ideas.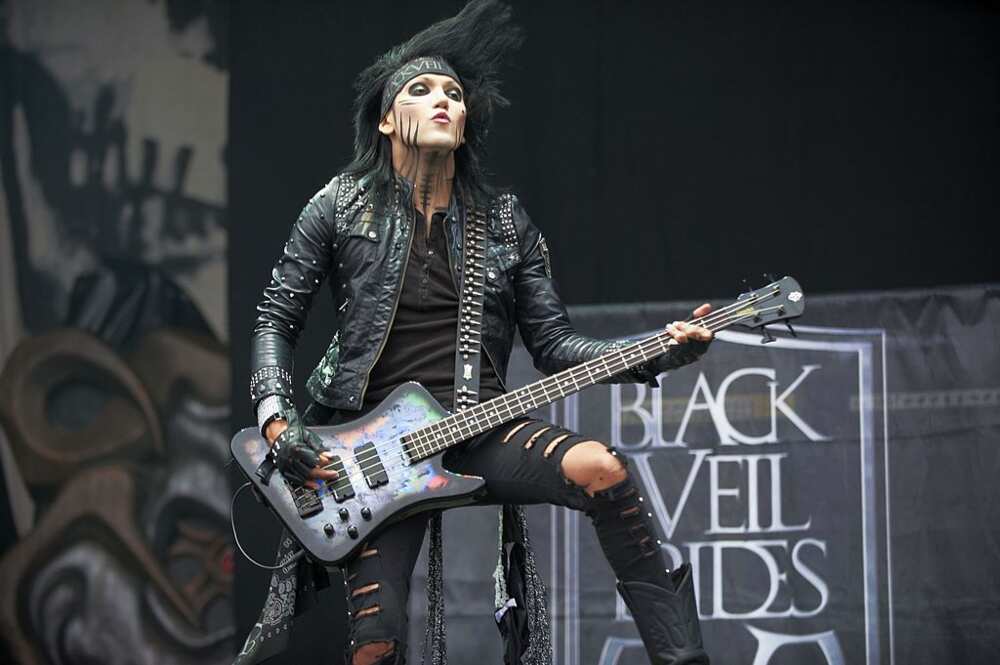 Most fashion critics have cited him as one of the most influential fashion figures in rock music. He is willing to break barriers between different styles and perfectly fusing them. In 2013, he officially launched Ashley Purdy Fashion Inc., and today, he has several clothing lines for both men and women.
How much is Ashley Purdy worth?
As one of the most celebrated rock stars, the singer must have made a killing out of his career. Ashley Purdy's net worth is $4 million. He has made his fortune being a professional bassist, vocalist, designer, entrepreneur, and songwriter.
Is Ashley Purdy single?
The artist is possibly single because nothing concerning his romantic relationship has surfaced lately. However, he was in a relationship, but he broke up with his ex-girlfriend. Ashley Purdy girlfriend was called Kina Tavarozi.
Sexual assault allegations against Ashley Purdy
The American singer has faced numerous assault accusations from multiple women. The first allegations against Purdy came to light on June 20th, 2019, when a Twitter user named Pearl Carolina (@Pearl_Carolina_) first publicly aired her story online.
In her story, Pearl Carolina terms the artist a verbally abusive musician. She backed her statement with the claims that the singer constantly criticized her before opportunistically s*exually assaulting her while she was "extremely intoxicated".
However, the former Black Veil Brides bassist issued a statement denying sexual and emotional abuse allegations. In his statement, he acknowledged that he was aware of certain derogatory statements on social media about his character. He dismissed the accusations and urged his fans to be patient while he sought legal action against the perpetrators.
Social media presence
The artist is an active member of the social media fraternity. He boasts of a massive following on various social media platforms.
Ashley Purdy has made a name out of his active involvement in rock music. He has emerged as one of the most accomplished rock stars of our time. He has won the hearts of many music lovers worldwide.
READ ALSO: Rhonda Worthey bio: What is known about Troy Aikman's ex-wife?
Legit.ng recently published an article on the biography of Rhonda Worthey. Like most celebrities' wife, Rhonda Worthey became popular because of her marriage to Troy Aikman. However, their marriage was not meant to last for a lifetime.
Troy is a sportscaster and retired professional American Football player. He played for the Dallas Cowboys during his prime. It was then that he met her. Here is her biography to help discover a lot about her.
Source: Legit.ng