50+ adorable happy birthday grandma wishes for your meemaw
What should I write in my grandma's birthday card? There are many wonderful things that you can write on her birthday card. If you have been looking for the most amazing ones, then you have come to the right place, as this list contains the best happy birthday grandma wishes ever!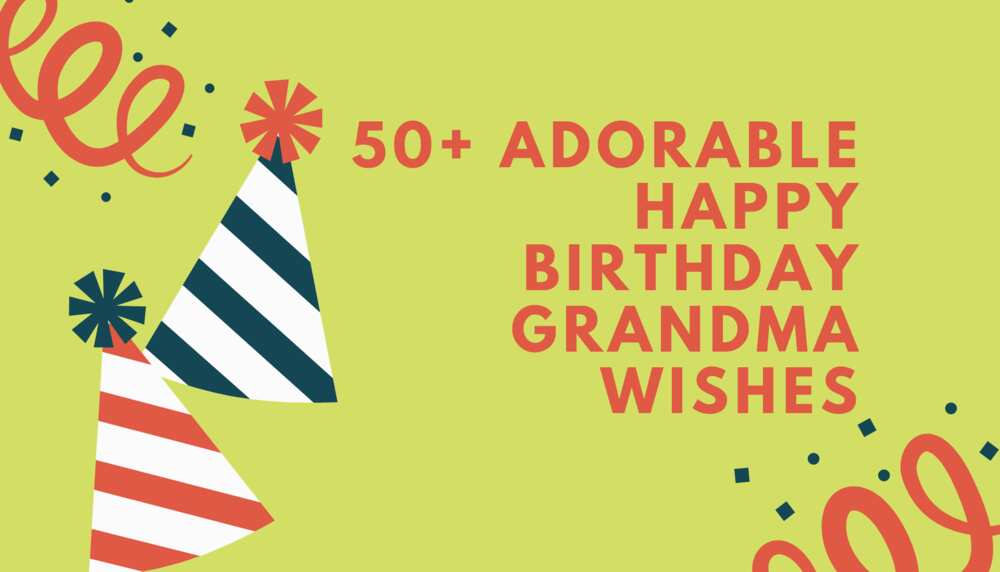 Are you wondering, "How do you say happy birthday to your grandma?". Here is a list that will help you figure this out. Check out this collection of the most heart-felt grandma birthday quotes, wishes, and messages.
Wonderful happy birthday grandma wishes
Here are some adorable birthday wishes for grandma that she will definitely love and enjoy reading:
On your birthday, all I can say is that I love you more than you'll ever know. Nothing in this world can ever change my love for you or take your place in my life. You are the reason happiness resides in my heart. Happy birthday to my grandmother.
To the one who loved me in the darkest of my day. Happy B-Day Granny.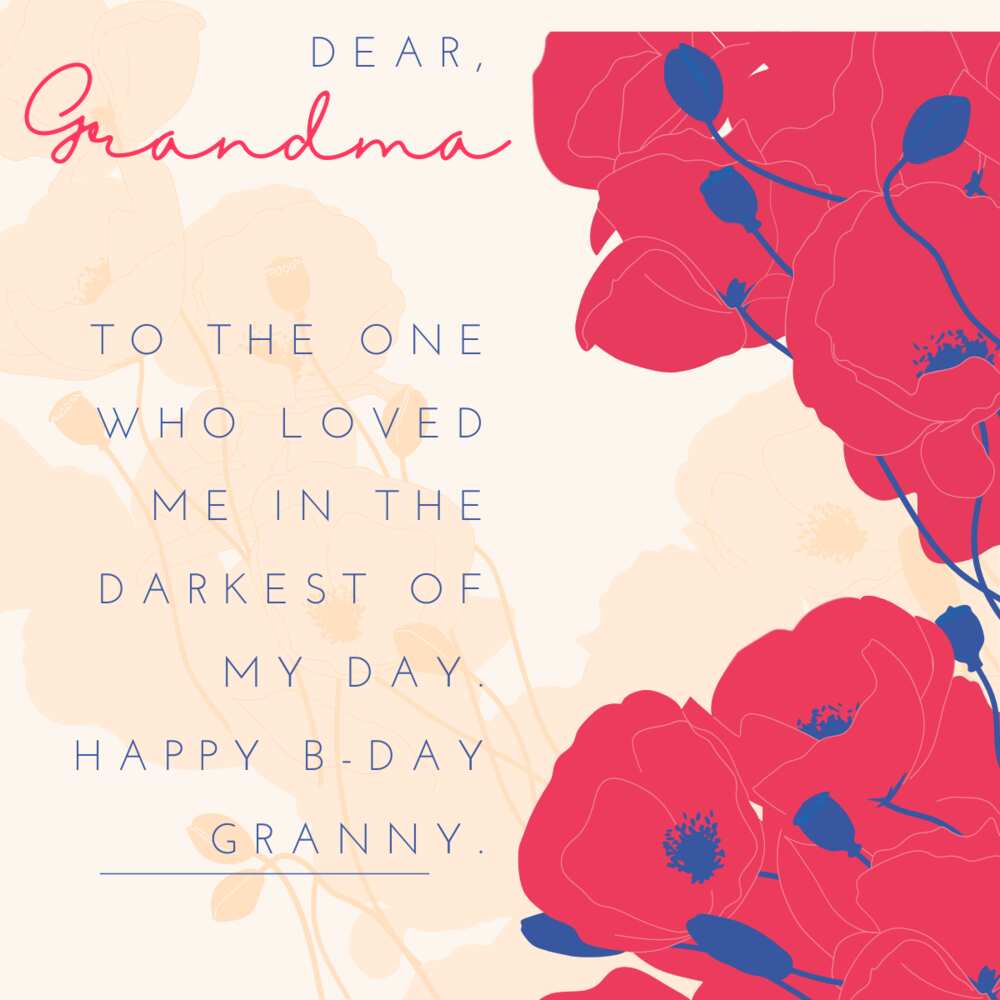 Happy bday to my super-hero. Have a lovely day Super-Grandma!!
There is not a single day that I don't think about you and all that you've done for me. Happy bday, dear granny!
When I needed you were always there to help me. When I was crying, you had always a warm hug for me. Happy bday Grandma, I will always have a warm hug for you too!
I'm sure you are tired counting the years of your age. May these years be endless and full of happiness!
Whether it's your 60th, 80th, or 100th birthday, you look as beautiful as ever, Granny. Happy bday to a splendid woman!
A grandmother is the second mother in a child's life. For me you were my mother, sister and friend! I am very happy to be your grandchild!
You are the best Grandma in the world. If I had a chance to choose a new grandmother, I would choose you again! Happy and warm bday!
I am very proud of you Grandma. Your kindness, love and wisdom are the things I wish to inherit from you. Happy and warm bday.
Happy Birthday, to the best grandma that there is! You are magnificent! Enjoy your special day!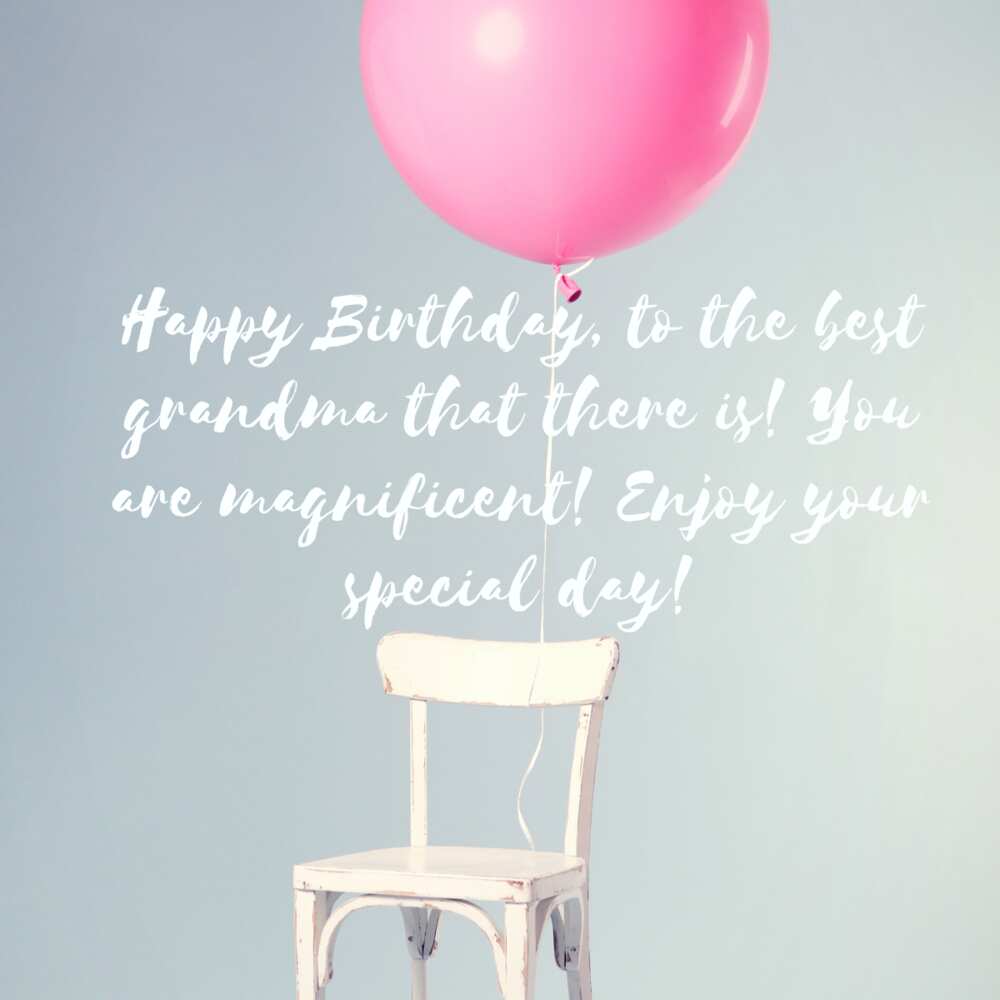 Despite the saying that nothing lasts forever, I want to assure you that my love for you is everlasting. I love you, grandma. Have a birthday that is as lovely and as glorious as you are.
Grandma, if I were a songwriter, I'd write a thousand songs for you. If I were a poet, I'd write a thousand poems for you because you mean the world to me. Happy bday. I love you.
Love and happiness to the woman who gave me great attention and many warm hugs all these years. Happy loving bday!
Happy bday to my grandma! You are the sweetest, kindest woman that I know! Enjoy this day, knowing that you are loved by me!
The difference between a Grandma and a Mum is that a Grandma cuddles You more when You deserve it less. Have a super B-Day.
Wishing my wonderful grandma, a Happy Birthday! You are the most important member of our family! You are the one that holds us together!
Grandma, you are the reason this family is happy, and your love makes the world more beautiful. I want you to know, today especially, that I love you. Happy birthday granny.
Here's to a wonderful woman on a wonderful day. Happy birthday, Grandma!
When I look in to your beautiful eyes I can see an experienced woman who offered me love and protection! Happy birthday Grandma!
Your face and skin is the only thing that shows your age. But your heart is still young as a little child. Happy birthday my Grandma!
My sweet Grandma you took cuteness and kindness to a new level. I deeply love you and may you have another million birthdays.
Happy birthday to one of the few people in my life whose birthday I don't need social media to remind me of.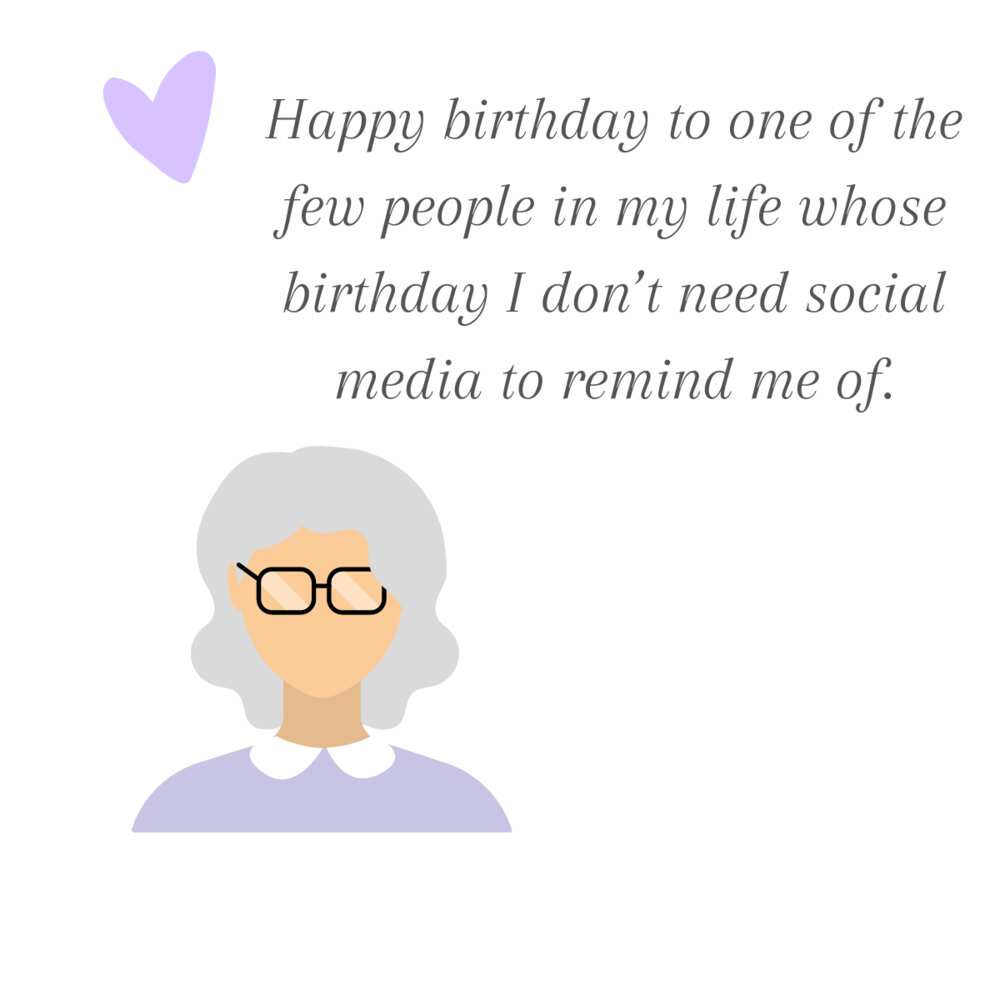 I am so lucky to have a loving granny like you, who is also forgiving and kind. You are my everything in this entire world, and I hope this message brings a smile to your face as I wish you many happy returns on your birthday.
Grandma, you are the rare jewel in our family! There is no one more devoted to providing love, hope, and comfort to all of us! May you receive a multitude of heartfelt wishes on your most, special day!
Thousands of bright suns are not equal to the light which you bring, Grandma. May your birthday be full of light and music, just like you. Happy birthday!
Long birthday messages for grandma
If you'd prefer sending her a long birthday message for grandmother, then here are some long ones:
Grandma, you have provided valuable lessons to our family! You have taught us how to look out for each other and stay united, no matter what happens in our lives! On your birthday, we all come to you with grateful hearts and express thanks!
Happy Birthday, Grandma! Thank you for giving me a stable environment to grow up in! Due to you, I have become a well-adjusted adult! You have shown me what it means to give to another and what love really is!
On your birthday, all I can say is that I appreciate and love you more than you can ever imagine. Everything means more to me with your love making the world brighter. Happy birthday grandma. I hope you enjoy your special day.
You are not only great as a grandmother, but simply as a person, too. You have been good to not only the members of your family, but to everyone else. I wish a fantastic birthday to a fantastic person and, of course, an awesome Meemaw!
Best wishes to a grandma who does not have to say much, in order to get her point across. Your actions have reminded me of the vitality of the truth, and that it is better to know who you, than to try to be someone that you are not! May your birthday reveal new things to you, that are important in life, at moments that matter the most!
Happy birthday to my grandmother! Although I know that it has been a difficult year for you, I also know that you are a survivor! Nana, you have the inner strength to go on, when many others would not be able to! May you have a birthday that reminds you of your courage, and to always have hope!
Dear grandma, I wish I could reward you for all the love and kindness you have shown me, but I can't. Not even all the wealth in this world can pay you back for the sacrifices you've made for me. All I can say is thank you. Happy birthday. You're truly the most wonderful person I've ever known.
You are a part of all of my most favorite chapters of the book of my life, Nana. I hope your birthday is just as memorable as you've made life for me. Happy birthday! Thanks for all the wonderful memories. Many, many more to come.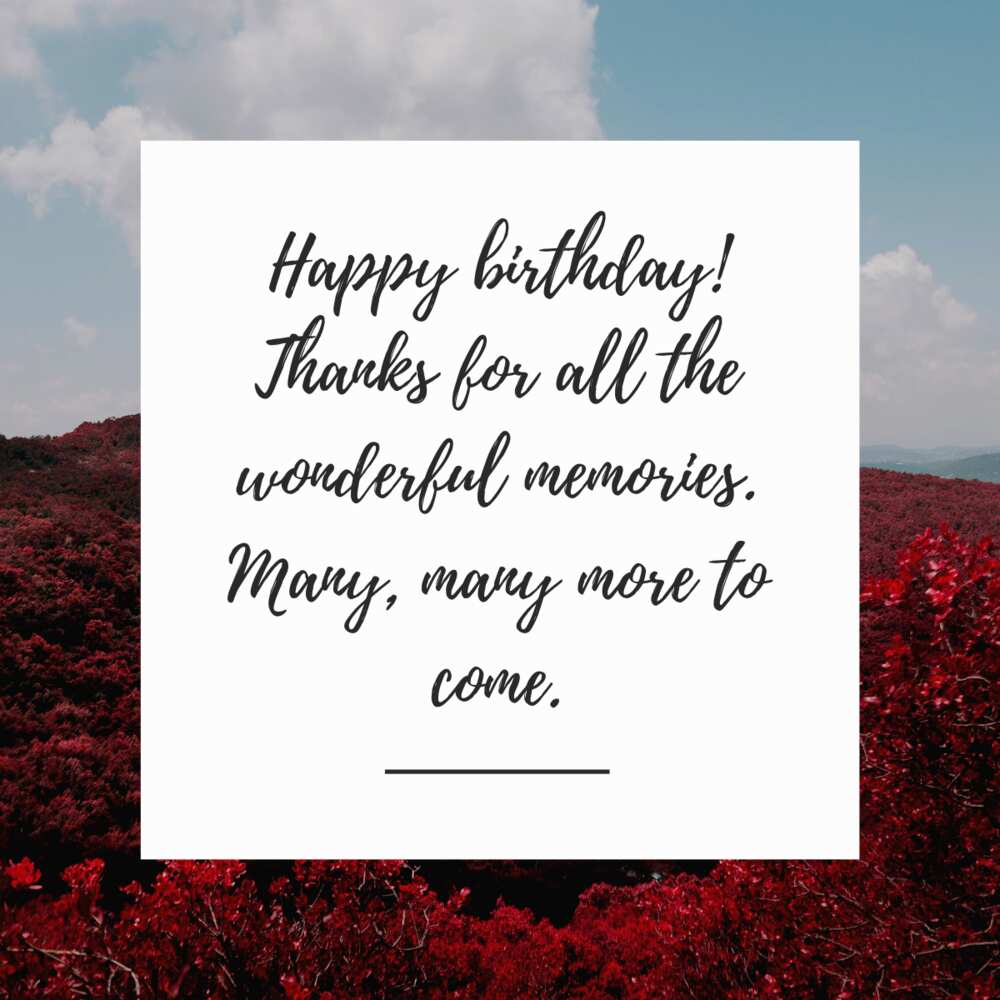 Nana, I don't think I often express my gratitude to you for all the amazing things you've done for me over the years. Today being your special day, I just want to let you know how grateful I am to you for all the good things you have done for me and continue to do. Happy birthday!
On your birthday, Meemaw, remember what you have taught me: That it is vital to go after your dreams! I know there are countries that you would still like to visit. Grandma, you still can go! I've learned from you that it is never too late to have new experiences in life!
Thank you, Granny, for all the stories in which the good has triumphed over the bad, where the people with bad habits got punished, and where the wicked have gotten their lessons. They've all helped me to grow into a good compassionate person just like you. Thank you for all the lessons. Happy birthday, Nana!
Can we ever thank you enough for what you have done for us? Can we ever repay you for the love which you have bestowed upon us? Never! But this won't stop us from trying our hardest. Happy birthday to the woman who has given us everything. We love you!
Funny birthday wishes for grandma
Check out these funny wishes:
Nana, may God keep blessing you with good fortune, and may your abundant good fortune keep making your enemies miserable. Happy birthday.
Happy Birthday! May your dentures stay in your mouth, when you bite into your birthday cake! May you dance without needing a hip replacement, tomorrow!
Dear granny, I thought that your birthday won't be special without me, but I realized that you have more beautiful, smart, and talented grand kids in your arsenal. May God continue to bless you.
At this age, I can say with absolute certainty that you are now officially too old to ever die young. Have a marvelous birthday!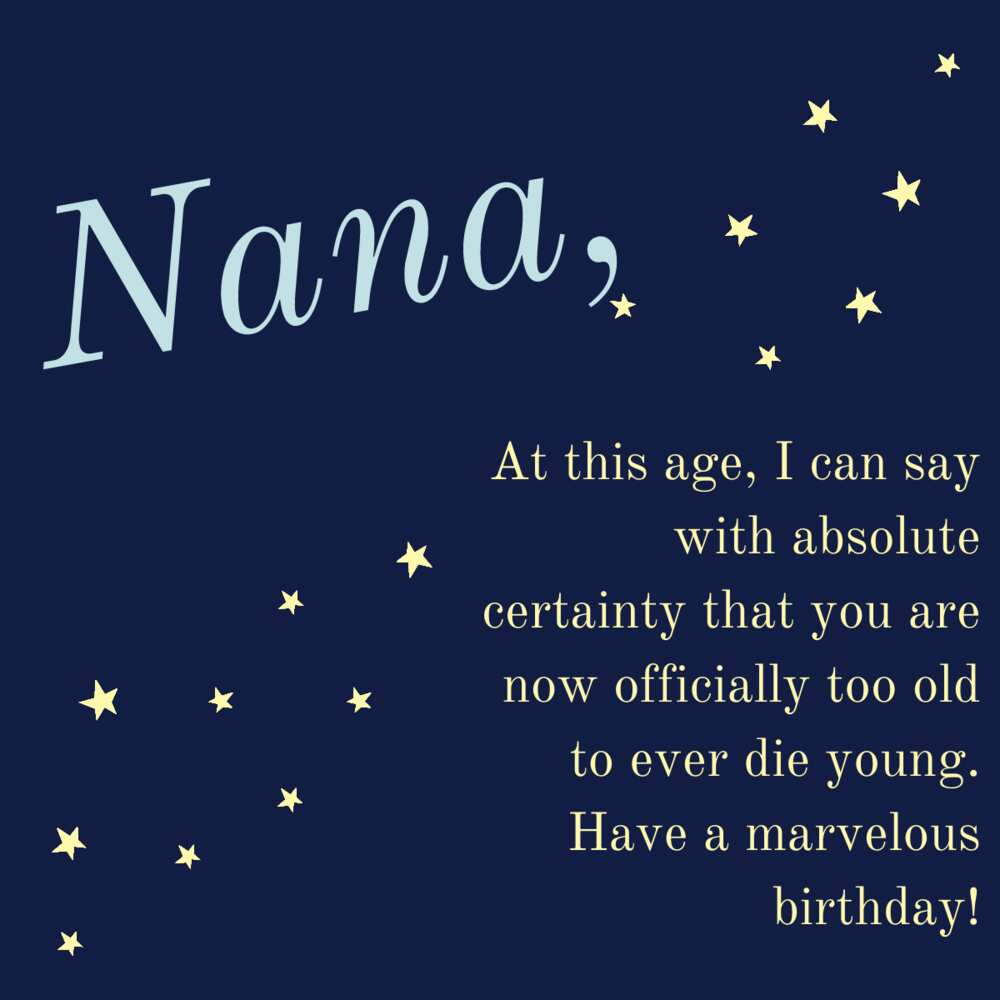 To the old lady who is my father's mother, Happy Birthday! May this be the first day that you use a watch, instead of a sundial! May you ride in a car, instead of a horse drawn carriage!
Thank you for calling me out on my silly, puerile and dumb stuff. All the credit goes to you for grounding me in reality and making me a pragmatic person. Have a blast!
When I realized that it was your birthday, Nana, I was shocked! The number of years you have accumulated left me speechless! Happy Birthday, oldie!
I want to tell the world that if there was a Miss Universe pageant for grannies, you, my beautiful granny would have no trouble taking the crown. Have a blast, granny.
It's your birthday, Nana! Here is to cover up all the wrinkles, and the arms! Please don't forget to cover up your arms!
If most women were to age gracefully like you, meemaw, then companies that produce beauty care products would be out of business by now. Happy birthday.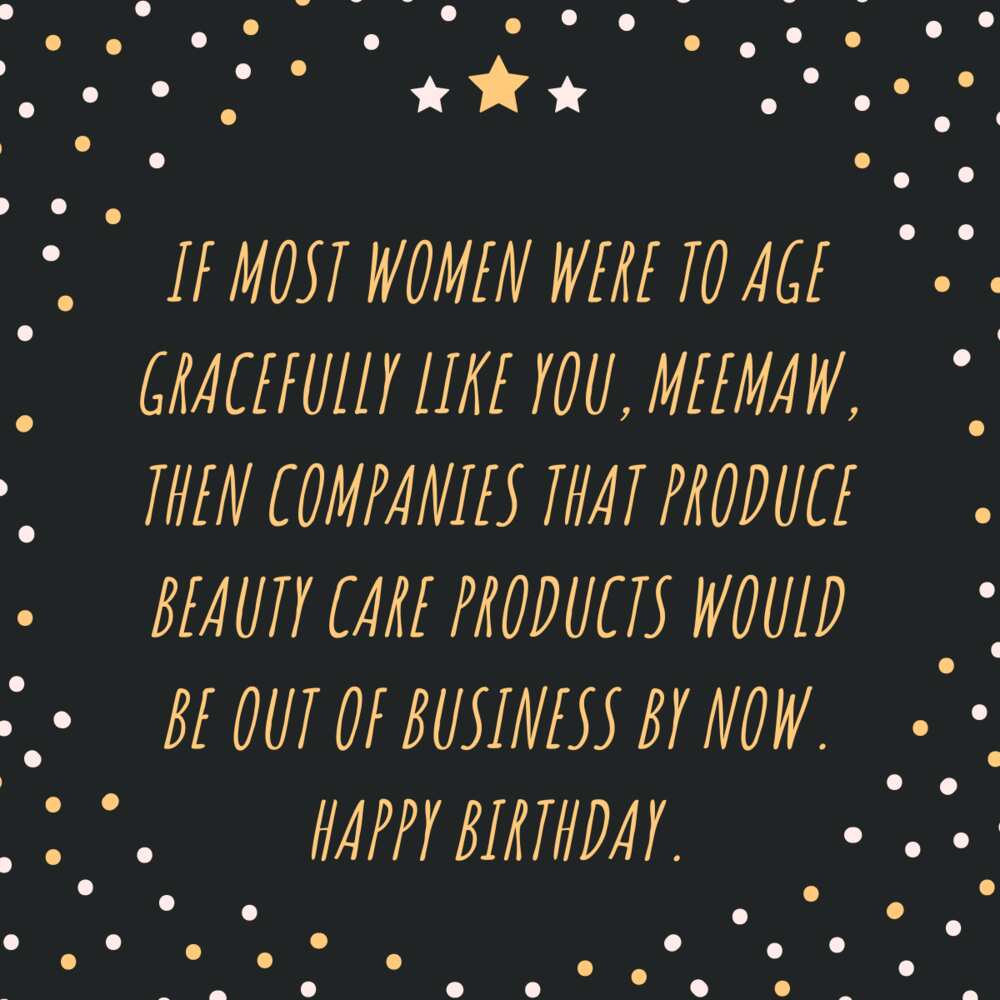 Nana, did you know that you are a 16 year old girl who finds herself in the body of an old woman?! Well, now you know, let the party begin. You and I are going to boogey like there's no tomorrow! Happy birthday.
Sweet meemaw I see that you are growing more youthful, athletic, and agile than most of us. We will love to have you on our baseball team this year. Wishing you a happy birthday!
Yay! Nana, you have reached that point in life where you bid farewell to full price and welcome senior citizen discounts. Hmm…how I envy you! Happy birthday.
Happy birthday nana. I love you more than Jet Li loves kung fu, and the guy really loves kung fu!
Happy birthday grandma poems
You could also send her one of these cute poems:
1.
Happy birthday dear grandmother,
You truly make us better
You love us, watch us, and spoil us
We think you're the greatest and coolest,
We wish we could do all that you do for us,
So we got you a card, and hope that, maybe one day, we can be like you.
2.
A wonderful birthday that's simply perfection – Is wished for you, warmly with love and affection. Have a very happy day Nana.
3. Grandmother Is by Catherine Pulsifer
A Grandmother is someone special in your life
Someone who always has time,
Time to listen, time to play
Time to visit the zoo
Time to linger and look at the things I want to do
Time to laugh, time to sing
4.
Dear meemaw, let me say
something on this special day
Though we are far apart,
You'll be always in my heart.
5. B - Is For Birthday
H - is for the Happiest of all days
A - is for All the wishes and praise
P - is for the Presents you'll open with delight
P - is for the Party that will last into the night
Y - is for the Year leading up to your day
B - is for the Balloons a celebration they'll say
I - is for the Ice cream to have with your cake
R - is for the Ribbons and decorations you'll make
T - is for the Theme you'll decided to throw
H - is for the Hats made with confetti and a bow
D - is for the Day you know will be fun
A - is for Another great year that is done
Y - is for Your special day.
Happy Birthday! Happy Birthday! Hip-hip hooray!
Aren't these happy birthday grandma wishes the best? Which one will you send to your meemaw? Let us know in the comment section below.
READ ALSO: 30+ great queen quotes by and about iconic historical figures
Legit.ng recently published a list of some of the most famous queen quotes ever uttered. These quotes are undoubtedly full of wisdom that may help one navigate through life.
Everyone can stand to learn from these wise sayings. If you would like to get some wisdom from them, check out the list of queen quotes by Legit.ng.
Source: Legit.ng